These timepieces all tell the time regardless of where you are, but as you probably know by now, not all watches are made equal
Sure, one can always adjust his watch and change the time depending on the country and time zone he's in, but for jetsetters, we know just how infuriating it can be. Thus the category of travel watches, essentially timepieces that do the legwork for you, telling the time of the country you're in and your home country at a single glance. But what's the difference between world timers, GMTs and dual time watches, and more importantly, which should you pick? We suss the various brands out and select the best.
World Timers
The system combines a chapter ring on which names of the 24 principal cities are printed with an inner ring with numbers 1 to 24. Both are geared to the hour hand and advances as it does. Local time is read off the hour and minute hands just as you would with any normal time-only watch while home time is the one synchronised with the city that's positioned at 12 o'clock.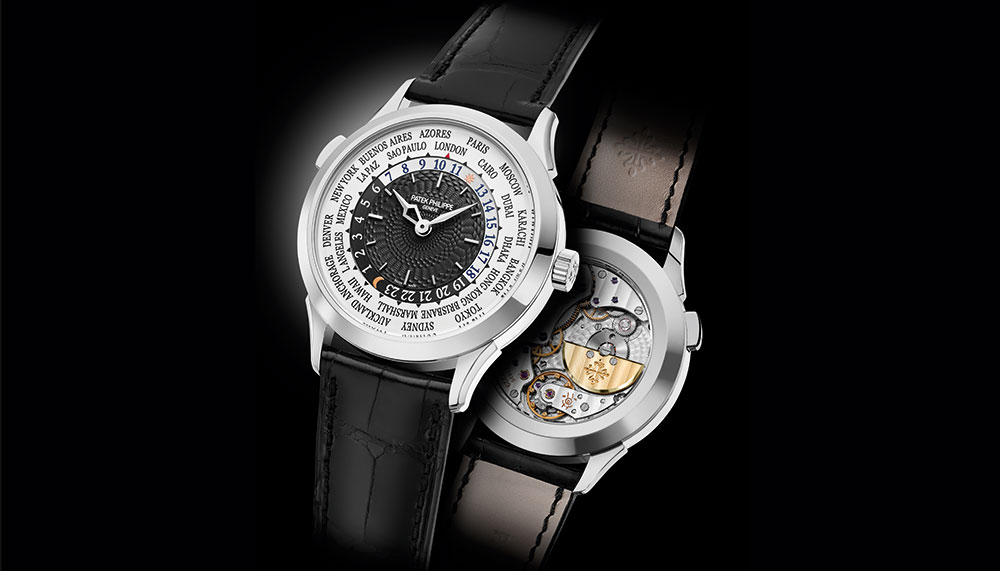 Patek Philippe Worldtimer Ref. 5230G
It's impossible to talk about world timers without mentioning the ones made at Patek Philippe. Since the first world timer released in 1953, it's made numerous variations of this complication, with Worldtimer Ref. 5230G being the most updated reference today.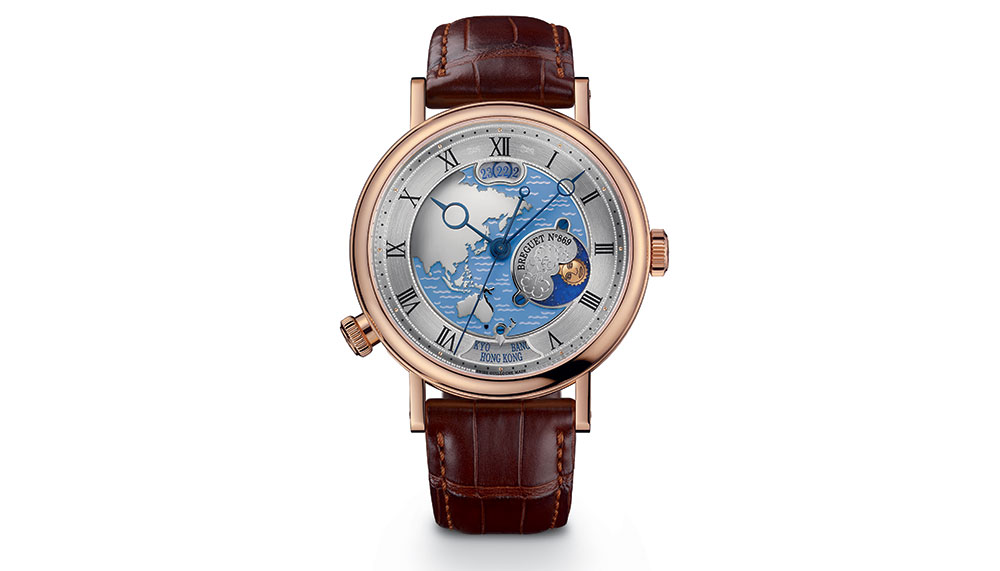 Breguet Classique Hora Mundi
This is an exceptional example of the world timer where functionality and elegance have been perfectly balanced. Rather than displaying all the 24 cities and time zones, only the selected longitude will be shown through two apertures, along with the phases of the moon. The rest of the dial is occupied by a world map beautifully crafted in a combination of different traditional metiers d'arts.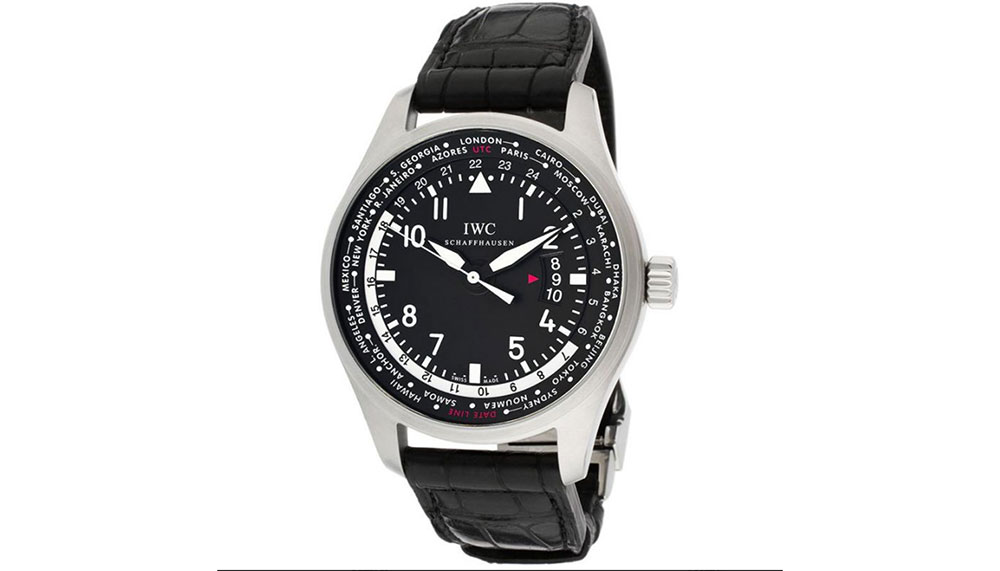 IWC Pilot's Watch Worldtimer
Complete with a triple date display and clear indications of the International Date Line, this watch upholds aviation tradition by using UTC instead of GMT. What's the difference? UTC, which stands for Universal Time Coordinated, is a time standard while GMT, which stands for Greenwich Mean Time, is a time zone.
GMT Watches
That Greenwich was selected as the point of prime meridian was a matter of convenience for much of the world. In horological terms, GMT refers to a category of watches that provide a second time zone reading on a 24-hour scale. A simplified version of the world timer, it does not display all 24 time zones simultaneously, but rather, only home time and local time.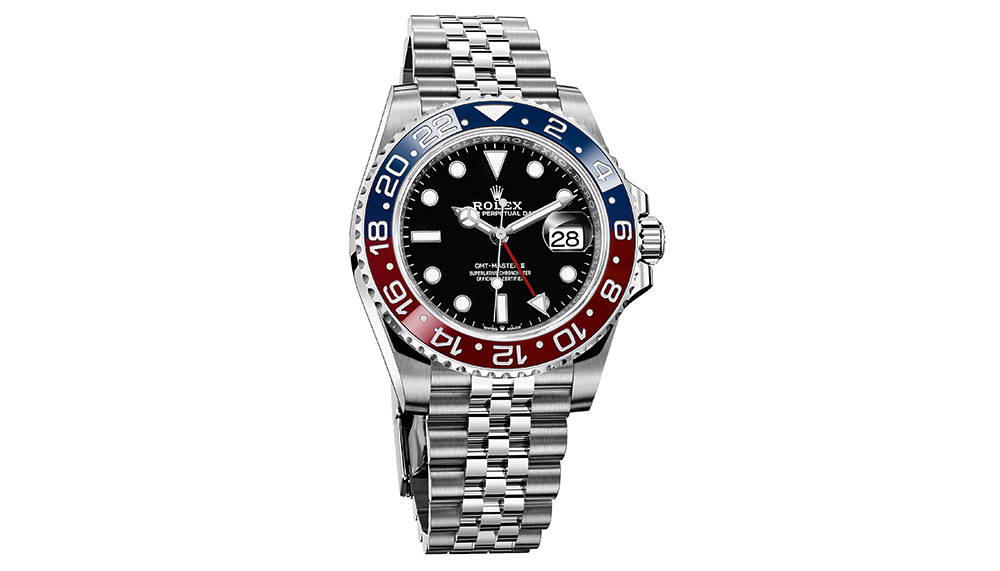 Rolex GMT-Master ref. 6542
Rolex was the company that made the world's first GMT watch. Released in 1955, the GMT-Master ref. 6542 with its distinctive red-and-blue rotating bezel was intended for the pilots of Pan-Am Airlines. A stalwart in the luxury watch world, it has received consistent updates over the past few years including a bi-colour Cerachrom bezel, a Jubilee bracelet, and further improvements to the movement.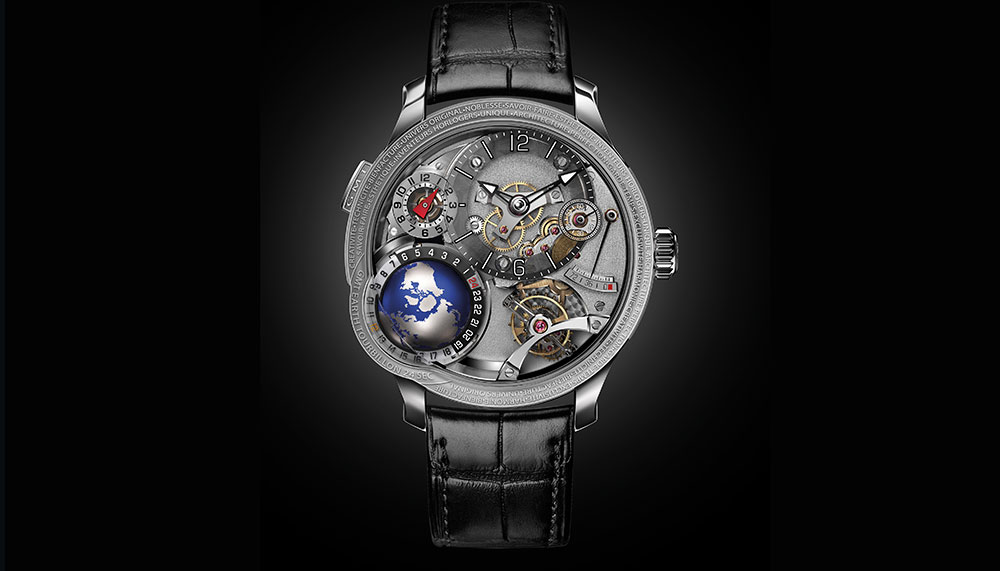 Greubel Forsey GMT Earth
This timepiece one-ups the classic format by offering not two but three time zones plus a 24-degree inclined tourbillon to boot. A large off-centred dial offers local time and a smaller one with a red hand displays the second time zone. Finally, a three-dimensional globe synchronised with a 24-hour chapter ring displays the third.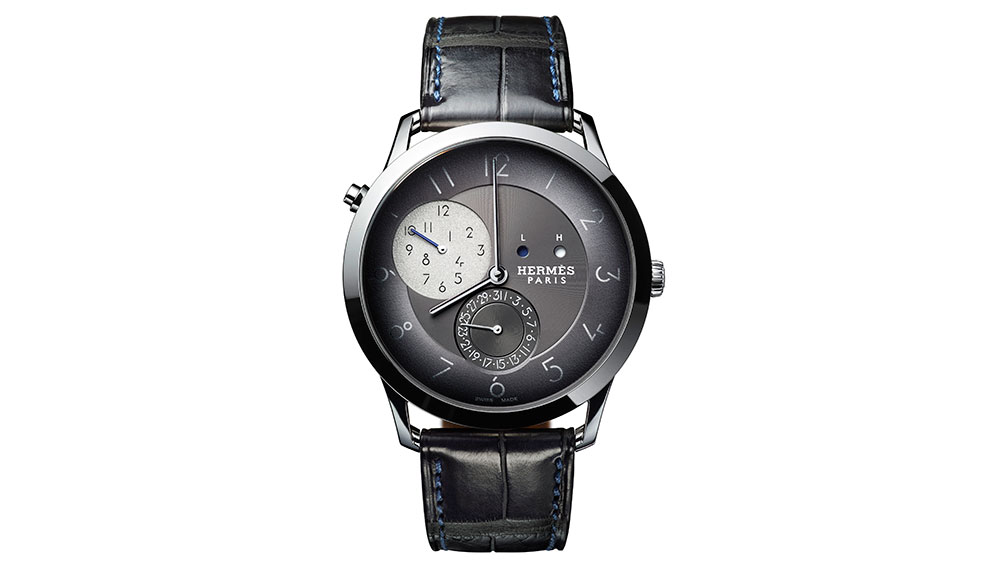 Slim d'Hermes GMT
The Slim d'Hermes GMT eschews the common format by replacing the centrally-mounted GMT hand with a GMT sub-dial that appears to be in complete disarray. Of course it's merely a playful touch by its imaginative designers who love to put a unique spin on anything traditional. Without a 24-hour indication, however, it would be more accurately described as a dual time complication.
Dual Time Watches
GMT and dual time are two terms often used interchangeably, even though strictly speaking, they are not identical in meaning. The key difference between GMT and dual time is the presence of a 24-hour scale in the former, while a 12-hour scale plus an am/pm or day/night indicator would suffice with the latter. The modern dual time watch is extremely easy to operate, usually adjustable at the touch of a button or through the crown.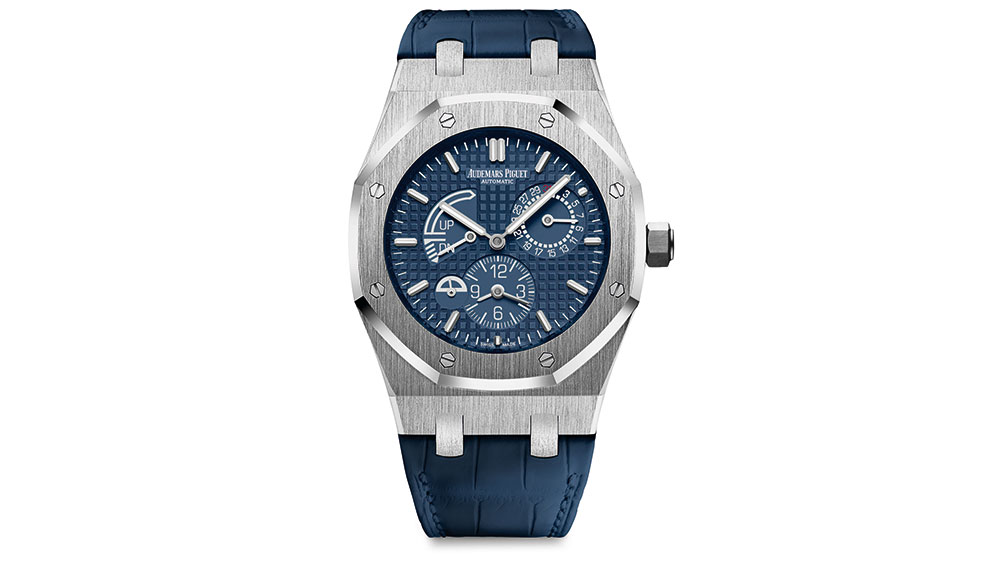 Audemars Piguet's Royal Oak Dual Time
This perfectly combines the timeless aesthetics of the Royal Oak with the usefulness of a second time zone function. Read home time easily off the sub-dial at six o'clock where you'll also find the day/night display. And for good measure, Audemars Piguet threw in an analogue date and power reserve indicator, all of which are gracefully arranged around the grand tapisserie dial.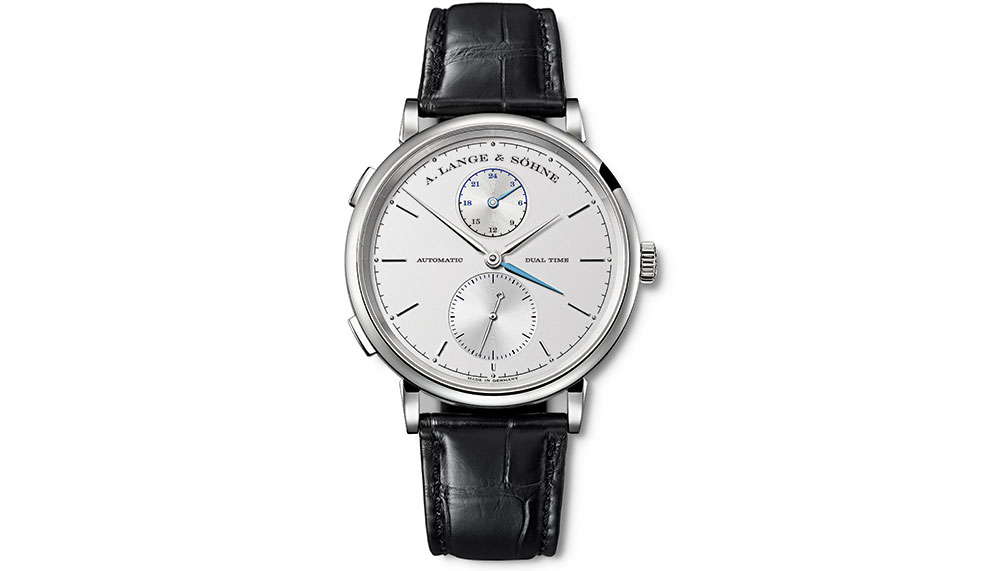 A Lange & Sohne Saxonia Dual Time
Largely monochromatic, only the dual time function has been rendered in blued steel, offering greater legibility and adding a touch of class. Two push buttons on the side of the case allow you to very conveniently adjust the second time zone forwards or backwards.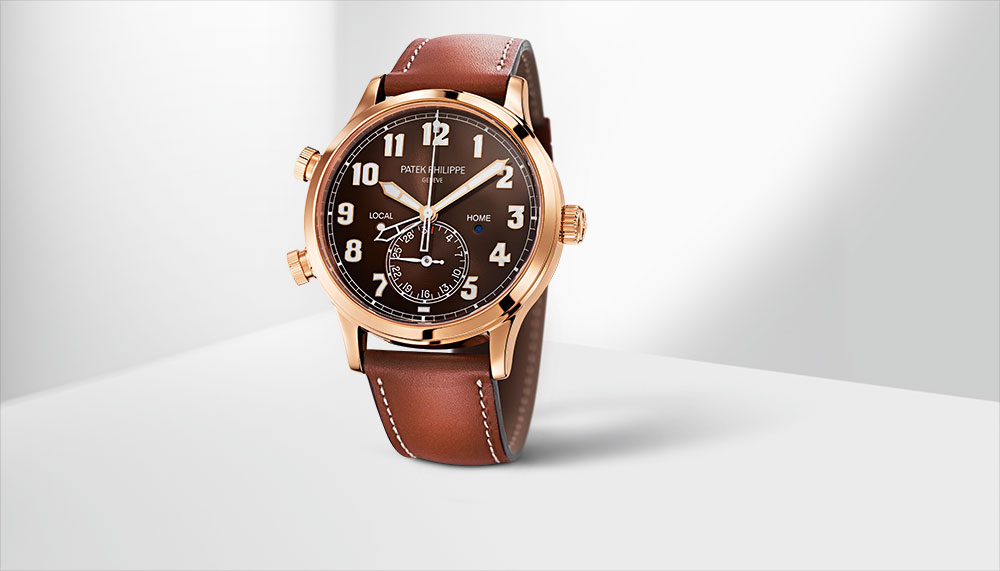 Patek Philippe Calatrava Pilot Travel Time Ref. 5524R
The watch displays the second time zone with a skeletonised hand controlled by two screw-down push pieces on the case side. But it also has a unique day/night indicator for home and local time not typically seen in other dual time watches.
To learn more about the history of travel watches and view more world timers, GMTs and dual time watches, purchase a copy of our August issue at all leading bookstores and newsstands.