The smallest BMW on sale today has its sights firmly set on Number 1
If the new BMW 1 Series is indicative of anything, it's of a seismic shift at the Bavarian automaker. To be certain, this is not the first front-wheel-drive car to wear the blue-and-white roundel – that distinction belongs to the 2 Series Gran Tourer, 2 Series Active Tourer and also the X1 — but to extend that to its 'core' range of odd-numbered models is… telling. 
And that the new 1 Series has lost its shoe-shaped silhouette, an indicator of its rear-driven nature, and moved to a vaguely egg-shaped one looking reminiscent of the also recently-released Mercedes-Benz A-Class is also somewhat telling.
For those not in the know, here's some context. BMW built its modern reputation on rear-driven vehicles, the idea being "sheer driving pleasure" above all else.
But with the new 1 Series, it seems BMW has done a complete 180-degree turn. A manoeuvre best performed on a rear-drive car with a mechanical parking brake, neither item ironically enough, the new 1 Series has.
Unlike the previous cars, which were products forged from BMW's iron-clad creed of "give me rear-wheel-drive or give me death", the new entry point into the BMW family was born of bending to customer demand.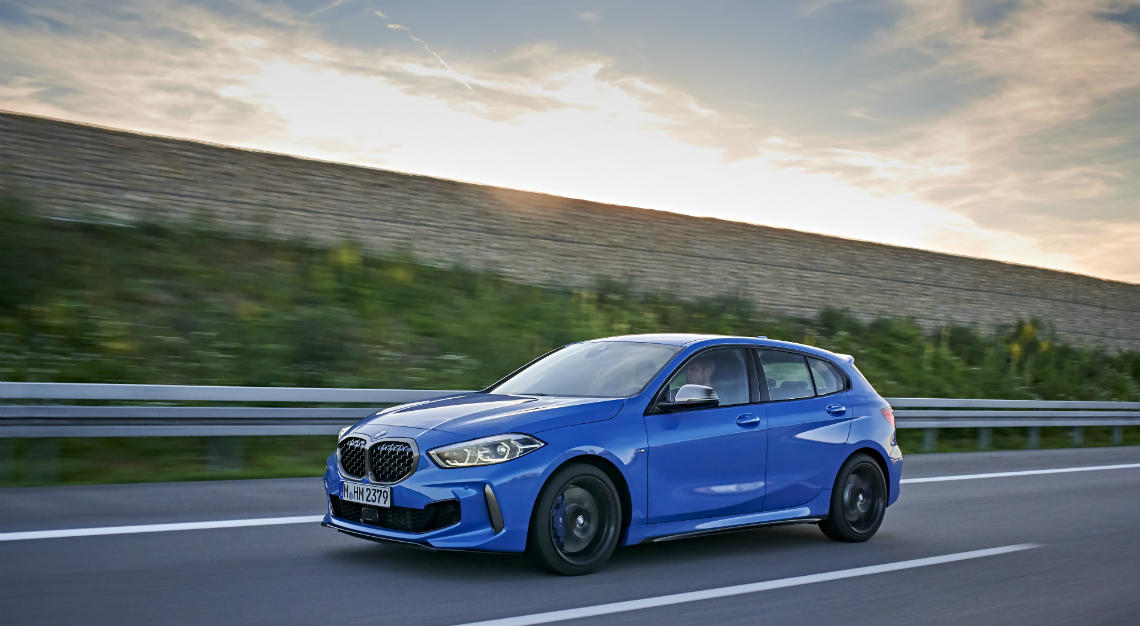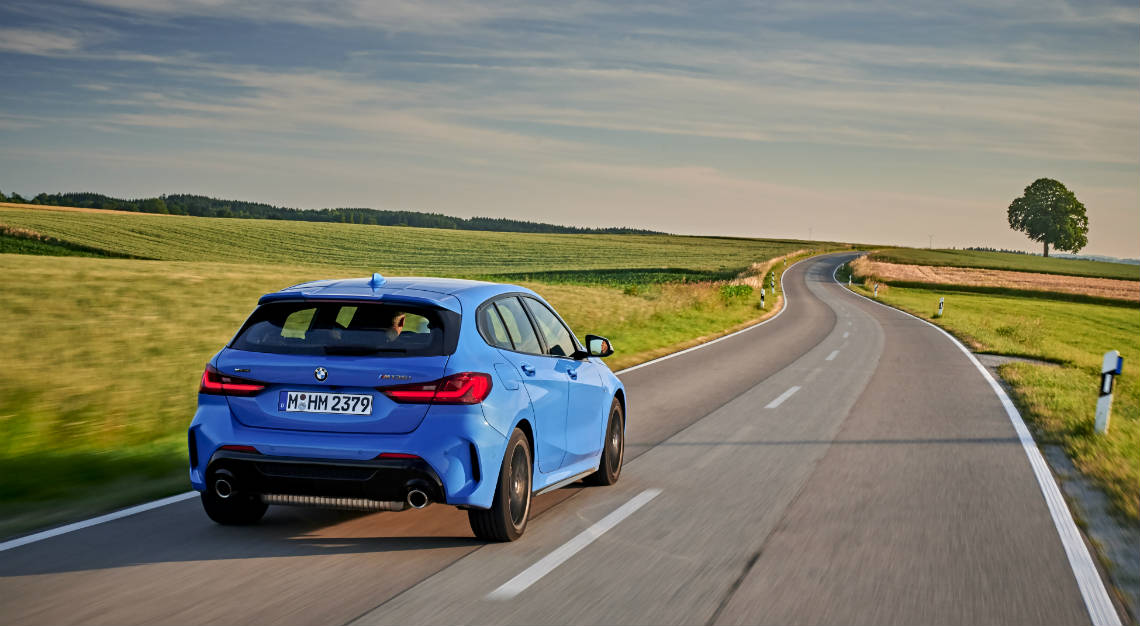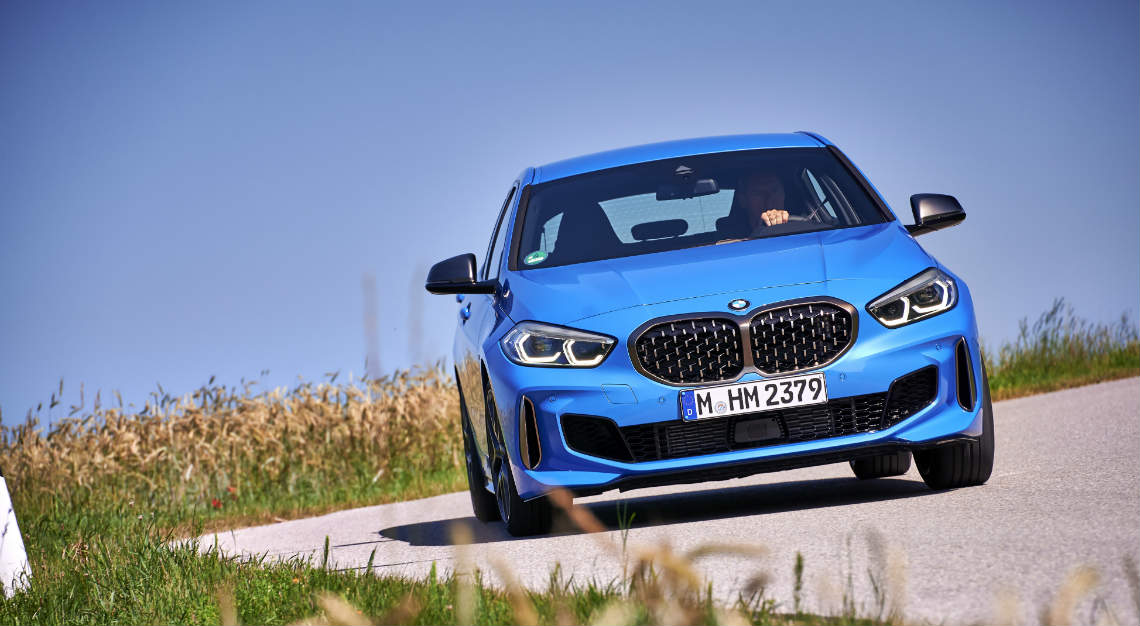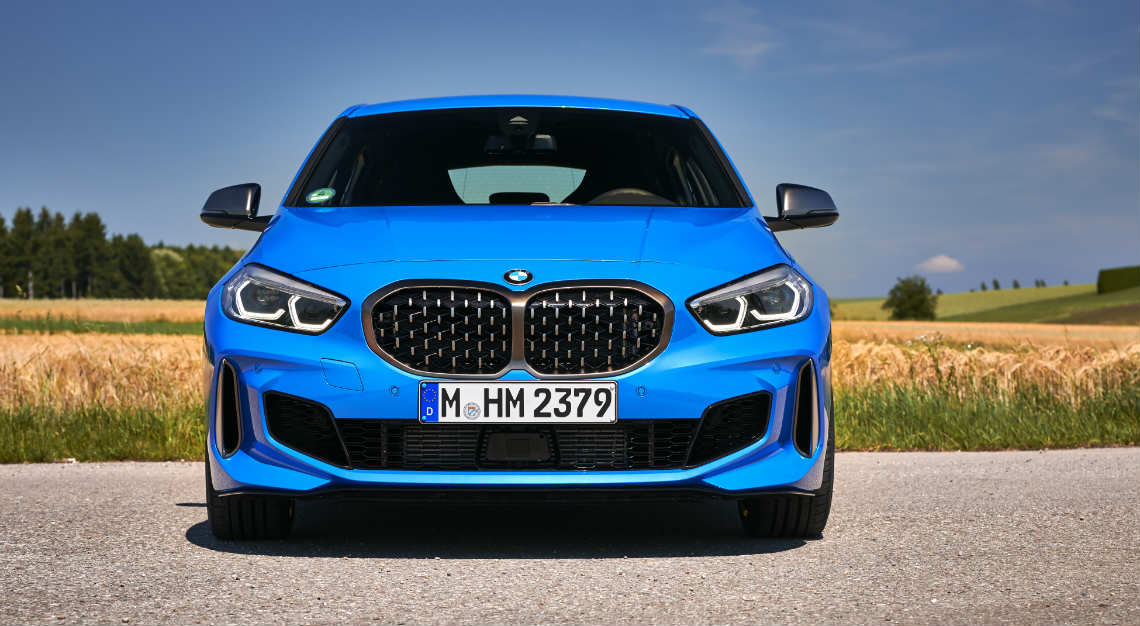 The overwhelming majority of the paying public demanded a car with more interior space (and for some reason, larger tailpipes), so to that end, the new car is 34mm wider and 10mm taller overall; has a whopping 42mm more elbow room in the front seats, along with 33mm knee room in the rear bench and 13mm more elbow room. 
It's also got a larger boot, and luggage space with the rear seats up is 380 litres. That's 20 litres better than before, though it's the massive 67mm increase in loading aperture width that is most of note.
All this is thanks to the new front-driven architecture, BMW says. Without a driveshaft, differentials and other mechanical bits needed to send power to the rear wheels, the boot can be enlarged and the central tunnel in the floor can be made smaller, among other things. 
Besides, BMW is fond of repeating, most people didn't even know the 1 Series was rear-wheel-drive, despite having owned it for several years. An executive at its launch in the Tyrolean Alps recounted a story of how a customer put snow chains on their 1 Series on the front wheels instead of the back ones. 
Anyway, so just how does a car that would've sent the BMW board into conniptions not too long ago fare?
If I'm being perfectly honest, puritanical indignation aside, I don't miss rear-wheel-drive on this car. At all. 
Unless you're planning to do lurid drifts in the thing — and good luck doing that with your 140hp 118i — the polarity reversal of its driven wheels is barely perceptible. 
In fact, I seem to recall the new car handling better than the old one. The increased stiffness of its new platform is palpable, though even more than that is the how nippy the nose in the new 1 Series is. 
Where in the preceding car there was a fraction of a second's hesitation before the nose tucked and the car changed direction, in this new car, the nose darts into corners and there's the feeling the car's pivot point is around your knees, something I absolutely love.
Alright, I admit. I told a bit of a lie earlier. I do miss the old car's rear-wheel-drive nature, though in all fairness, it's only something you'll notice if you do something really daft with the car. And by daft I mean giving the car a bootful of throttle upon exiting an Alpine switchback.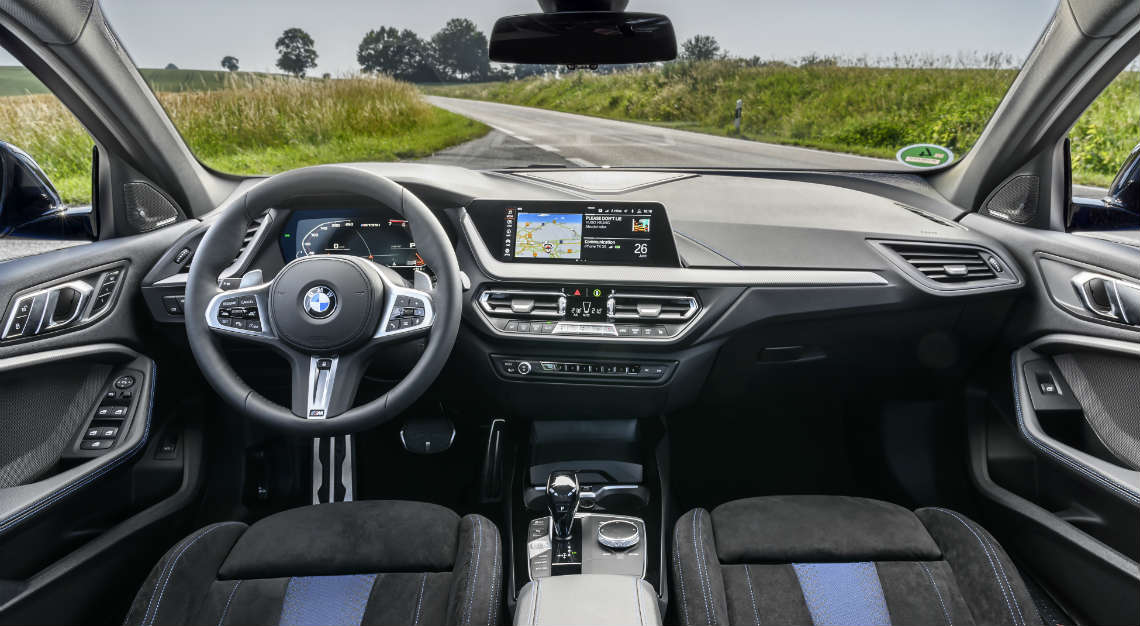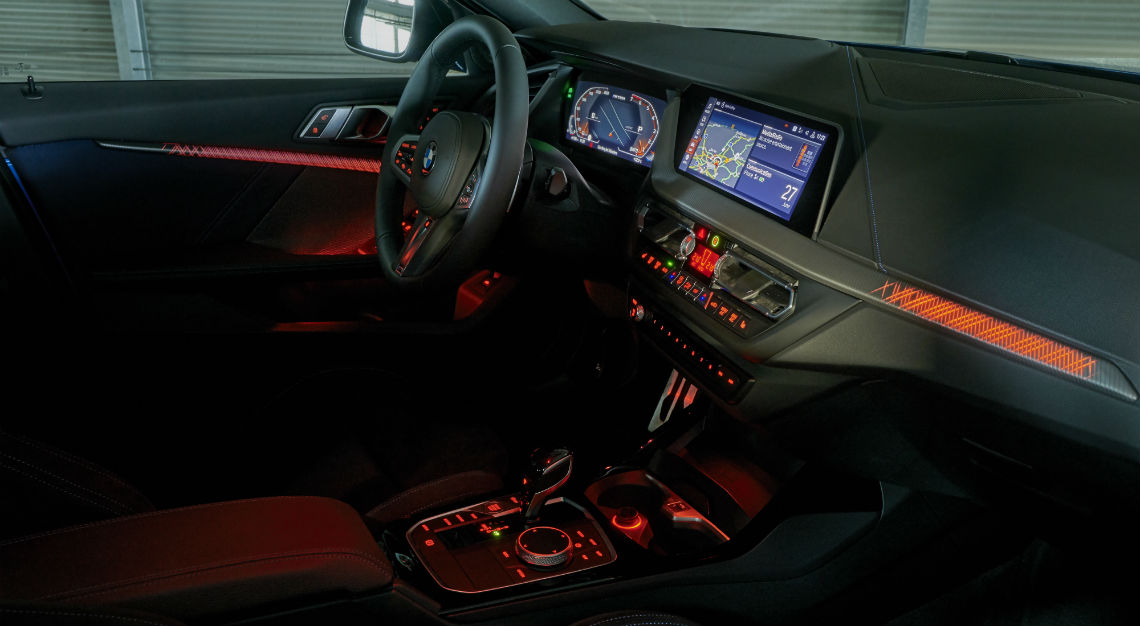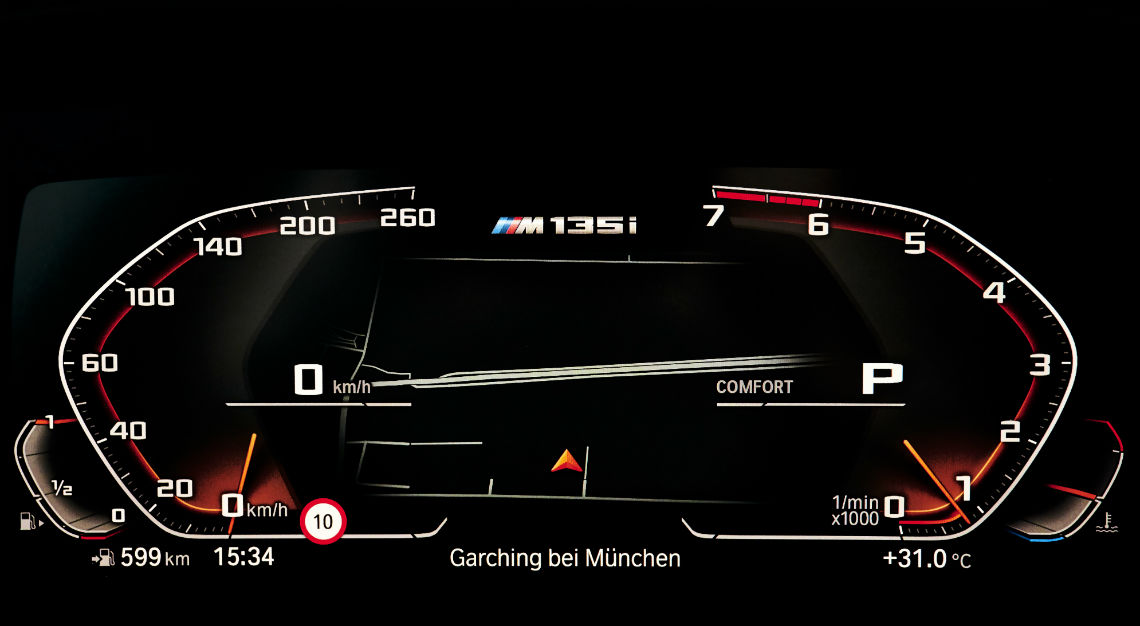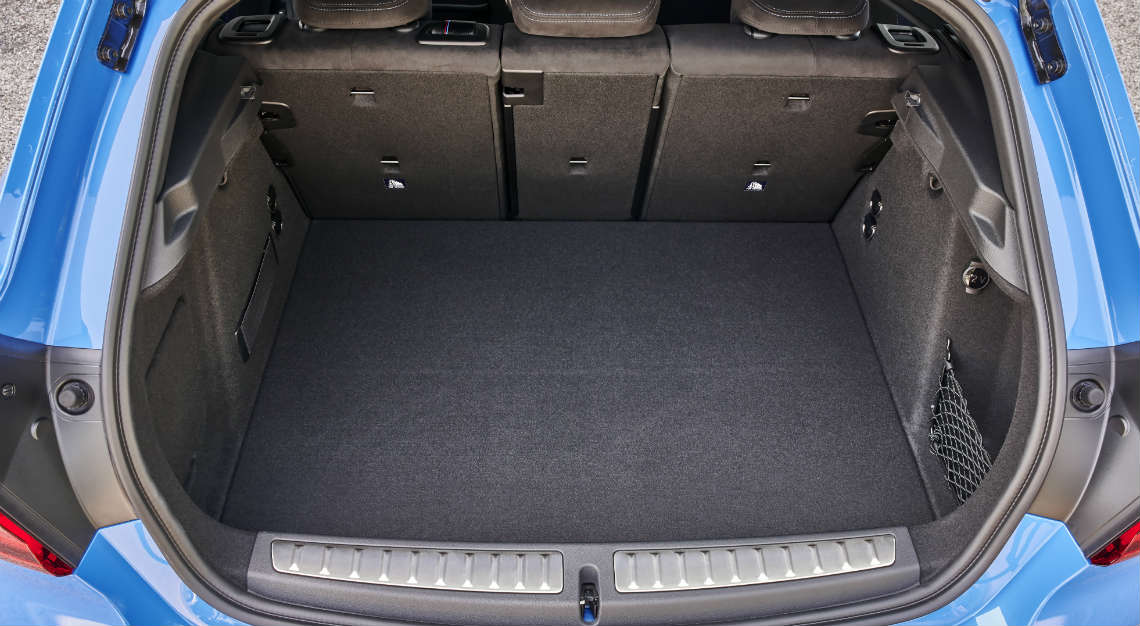 Even with the beefy 350Nm generated by the 118d variant (sadly not available here), I couldn't even get a chirp out of the front tyres, which means either the traction control is doing its job, or the electronic differential that works by braking a free-spinning wheel is. Or both.
And that diesel-powered one is the 1 Series I found myself enjoying more. Sure, there's the headline-grabbing numbers of the M135i variant with its fancy all-wheel-drive system and 306hp, but it lacked the effervescence and playfulness of the diesel 118d. 
And it's that friskiness I think will translate well to the only variant currently on sale in Singapore, the 118i. 
That said, having a car that has "character of a genuine driver's car" probably didn't factor anywhere into what potential buyers wanted out of the new 1 Series. No, another thing high on the list of priorities for customers was how much equipment the new car would have. 
And again, BMW has delivered in a big way. The 1 Series of old tended to suffer most in this department. The interior was covered in huge swatches of hard, black plastic and against something like the 3 Series, the 'baby Bimmer' felt like a huge compromise in the quality department. 
Local cars will come standard with a digital instrument cluster along with a central touchscreen infotainment display, with each screen measuring 10.25 inches. A full array of LED headlights and taillights are also standard fare, along with a reverse camera and LED-backlit interior trim strips with switchable colours. 
All for the low, low price of $150,888, which makes it $6,000 cheaper than the Mercedes-Benz A180. It's still not bargain basement, however, as it's still a small car with a price tag well north of $100,000. Until you realise that when it comes to interior space and equipment, you're essentially getting a 3 Series. 
If you want to be terribly cynical about it (and I know you do), you could write the new 1 Series off as a bit of a me-too car. A car designed to propel BMW to the number one spot in the premium segment by essentially trying to beat Mercedes-Benz at its own game, and for the moment, undercutting it in terms of price. 
And that wouldn't be an unfair assessment of the new 1 Series, though it would also be doing the BMW an injustice. The 1 Series has certainly lost a bit of its character in the transition from the second- to third-generation model with its new front-drive architecture, but that's only in spirit. 
For all intents and purposes, the new 1 Series is better — palpably so and in virtually every regard — than the car it replaced, and it's cheaper than the competing Mercedes-Benz. So, for the people actually shelling out $150,000 for one, perhaps those are the two things that really matter.  
SPECIFICATIONS
ENGINE 1,499cc, 12-valves, inline-three, turbocharged
POWER  140hp at 4,600-6,500rpm
TORQUE 220Nm at 1,480-4,200rpm
0-100KM/HR 8.5 seconds
TOP SPEED 213km/hr
TRANSMISSION Seven-speed dual-clutch
FUEL CONSUMPTION 5.7L/100km
VES BAND C1 ($10,000 surcharge)
PRICE $150,888 (including COE, excluding options)