From OCBDs to nothing at all, here's what stylish guys the world over layer with the season's cosiest sweater
With its ability to upgrade a casual look or replace the shirt-and-tie in a tailored ensemble, the turtleneck sweater has rarely felt more relevant. But amid its current popularity, the question remains: what do you wear under it?
Oliver Dannerfalk, co-founder of the knitwear-focused Swedish label Rubato, believes that the turtleneck sweater (also called a rollneck) is substantial enough to be worn with just a T-shirt below, if anything.
"It has presence, elegance and functionality. It frames the face in a good way and has a comfortable 'armour' feel to it," he tells Robb Report.
His business partner, Carl Pers, takes a similar line. If the collar is high and sits close to the neck—as is the case with Rubato's model—he wears the sweater on its own. But if the collar is slouchier and the knit heavier or coarse, neckwear might be required. "I have been known to wear a scarf or neckerchief on occasion," he says.
In terms of base layers, the easiest answer is a T-shirt. Some wearers play it tactically, like the New York-based brand consultant Mark Chou, who swears by Uniqlo's DRY-EX crewneck tee.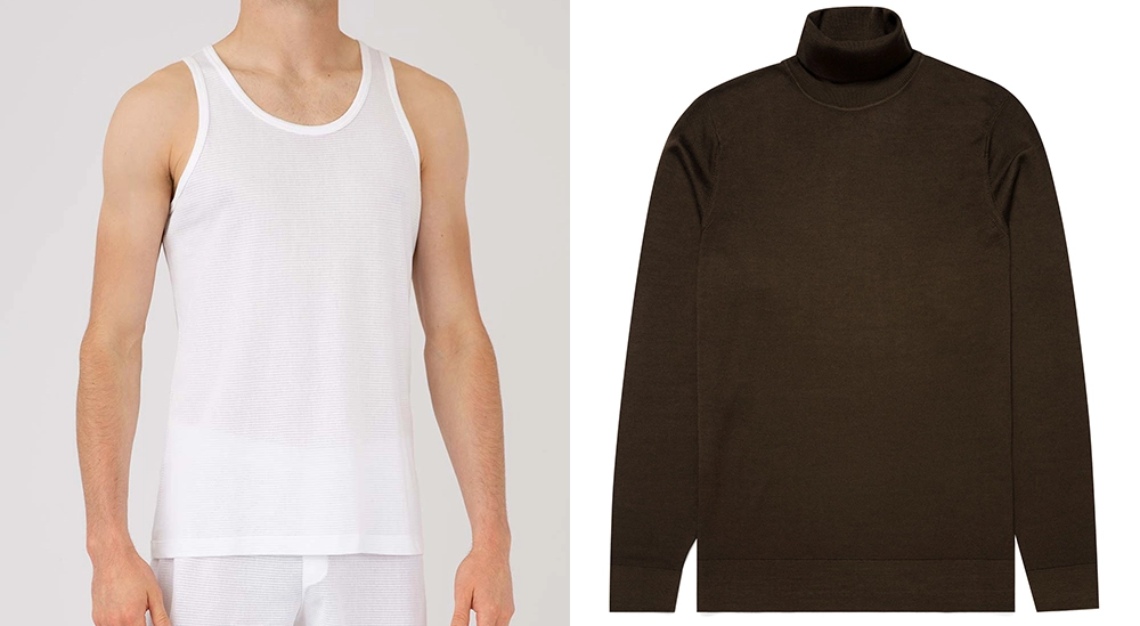 "The perfect base layer for me—it's a synthetic and wicks well," Chou says of the garment, which is made from a fast-drying polyester. "The only synthetic I've found that has a hand that feels like cotton rather than Dri-FIT."
But others are content to simply raid the bottom of their T-shirt drawer. Alex Winchell, a sales associate working in New York, finds satisfaction in the high/low contrast of a cashmere knit and an old graphic tee. "It feels a little irreverent to have a big, splashy graphic under something so sharp," he says.
The choice of a base layer may also be determined by the sweater's yarns, says Sunspel creative director David Telfer. "For a heavier turtleneck in lambswool, a long sleeve T-shirt in a lightweight jersey works perfectly to act as a comfort layer between the wool and your body. On a lighter turtleneck like a merino or cotton, your options are to wear either a very fine T-shirt or ideally a vest in a breathable material so there is no show-through on your arms."
Sunspel, he adds, has been making such a vest (or as Yanks might call it, a tank top) since 1914.
Perhaps no under-layering approach is more divisive than the popped collar, a move that regularly appears at Pitti Uomo. Frequent attendee Nicola Radano (seen at the top of this post), who serves as head of design for the Neapolitan brand Luigi Borrelli, regularly does so with the label's button-down shirt.
In Radano's thinking, it's just another facet of the generously sized collar's versatility. "I can wear with tie, without tie under the jacket, under the turtleneck and like a camp collar," he tells Robb Report.
Others, like the Singapore-based journalist and editor Christian Barker, find a practical benefit to the peacock move. "I love the look of a turtleneck, but even beautiful cashmeres cause me great neck irritation, no matter whether I'm bearded or clean-shaven. A pop-collared OCBD solves this issue and appears pleasantly Italo-chic," he says.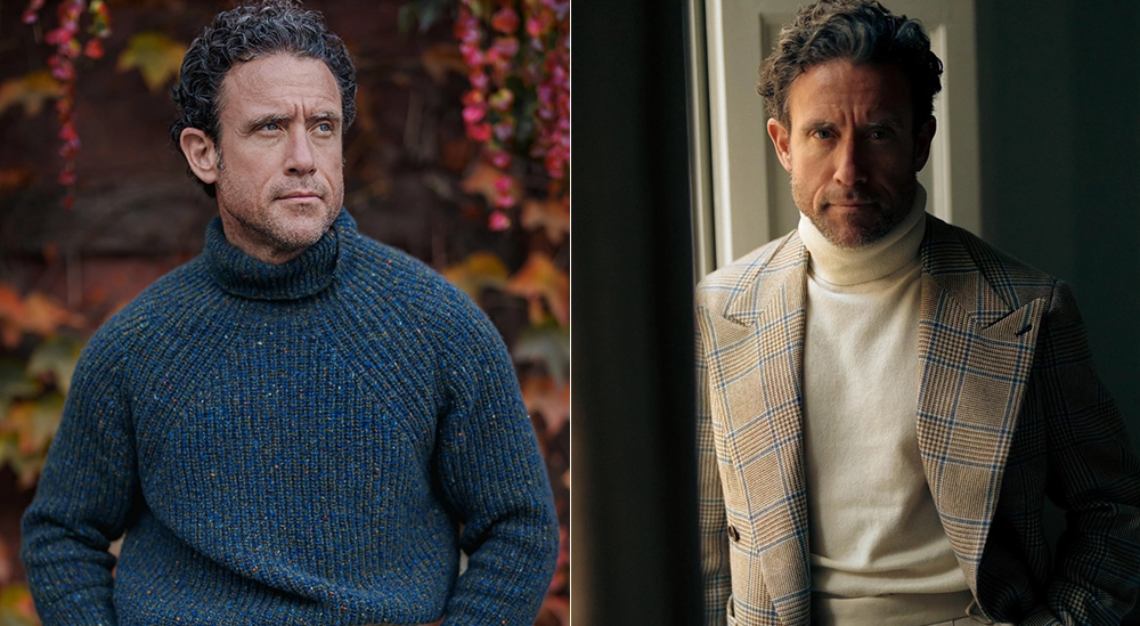 The easiest approach? To wear nothing at all below, a belief that the San Francisco-based menswear photographer Peter Zottolo subscribes to.
"I wear turtlenecks all the time—lambswool, merino, cashmere and others—but the thought of putting something else underneath just seems unnecessarily bulky. I know guys that pop them over shirts, but if anything, they're my first layer and I'll pop on a jacket or overcoat," he says, adding that he will turn his turtlenecks inside-out and air them by the window following wear and wash them up to twice a season.
The correct course, it seems, will ultimately depend on the wearer. So, in keeping with the turtleneck's casual nature, we'll leave the final answer up to you.
This article was first published on Robb Report USA