Pleasure Seeker
Born in Venezuela and educated in the US, Margareth (Maggie) Henriquez has helmed Krug since 2009 and now lives in France. She was recently in Singapore to launch Les Creations de 2004, a limited-edition tribute comprising Krug 2004 and Krug Grande Cuvee 160eme Edition. The event took place at Saint-Louis House, the latest venture of the Whiskey Trust Group.
Henriquez, who was the former president of Moet Hennessy Argentina, is a trained systems engineer who has introduced a host of innovations such as the Krug ID during her tenure. Champagne lovers can enter the six digits printed on the back of every bottle via the Krug website or app, to access key information such as food pairing suggestions, and recommendations for optimum storage and serving. Music lover Henriquez also paved the way for Krug music pairings, in which invited artistes create a custom playlist to reflect their affinity with the house's seven champagnes.
I am a pleasure seeker. This morning I saw a video of my son finishing a conference with his team and took enormous pleasure from it. I am very positive – in my daily life I am very open to moments of internal celebration. I also take a lot of pleasure from my work.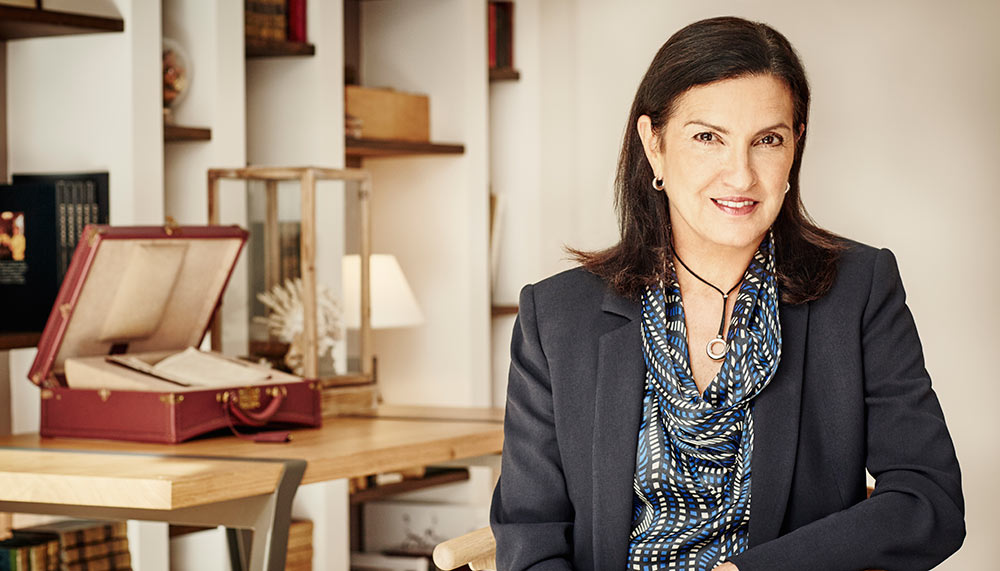 I'm writing a thesis for my PHD, which focuses on crises in brands when they are not well worked by a company's management, and crisis management using a holistic approach. It's a very big subject, and I have to research a lot of companies to validate my theories. I'm currently reading The Brand Bubble, which is about how brands successfully build brand value.
I prefer trousers – straight cut and classic. I love long jackets and a nice blouse. I love Fendi, Armani for suits and Dior. I'm not a very "brand" person – I like labels like Gerard Darel, which isn't well known outside France. My jacket is made in Hong Kong. I go to David's Shirts close to the Mandarin Oriental, my husband found them. They have my measurements and do things the way I like. I have the same jacket in different colours.
I have the Krug app, of course. I also like Lumosity, which is great for the brain. It forces you to think, exercise your mind. It only takes five minutes. eDreams is very good for travel.
I'm very bad at Instagram. Now with the disaster in my country, I read Twitter for politics. Olivier Krug is a genius with Instagram – I don't know why people like it so much!
My favourite restaurant is L'Assiette Champenoise, in a little village close to Reims. The chef prepares for me the pigeon the way his father did it, with layers of foie gras, pigeon, sauce and a crispy outside. It has a very complex preparation – it's fabulous. It's not on the menu anymore, but he knows the one I like. If somebody goes there and says, "I want the pigeon the way Maggie likes," he'll know which one. There's really nothing else better, with a glass of Krug Rose. Krug Rose is not for dessert, it always goes with very savoury food.
I'm a very fast cook. I love to cook lamb and my eggs Benedict are fantastic. My crepes are really good too. Simple is the most difficult.
I collect only wines. My husband and I have about 600 bottles. We have burgundy, German wines from Egon Muller, Bordeaux – beautiful ones from Cheval Blanc, Lafite, Latour … I used to be into whiskies – I was the first female keeper of the Quaich in continental America – but not anymore. My husband says I'm boring, drinking Krug all the time, but I always know I'm going to find pleasure in it. Good champagne should always be served in a good white wine glass, never in a flute. I don't drink cocktails because I don't like to mix, especially with sugar.
I always dreamed of having a house near the beach, and I bought one in Costa Rica. It's 50 steps from the sea, in Playa Chiquita. We were at a friend's place close by and my husband saw this piece of abandoned land. There was nothing there but he has a good eye – he said he could build his tropical garden there and I could have my house next to the beach. We built the house in 2005 and it's really beautiful, a magical place. We go there two, three times a year.
My most thoughtful gift was a stone that my godfather gave me when I graduated from university. It's pinkish, very beautiful, with silvery shiny precious stones inside. He said he wished my career would be as solid as this stone. It's been so many years since I graduated – 30 years next year! I love it. I keep it on a table in the centre of my home.
I want to be remembered in the song Dis, Quand Reviendras-Tu? by Barbara. It's gorgeous. And it asks: when are you coming back?