beast mode
When the Mercedes-AMG GT S was first launched, a slight aura of lamentation hung in its midst despite its aggressive numbers and even more aggressive styling. The whimsical creature that was the SLS AMG has been replaced, packing up its 6.2-litre naturally-aspirated V8 and iconic gullwing doors and walking out the door.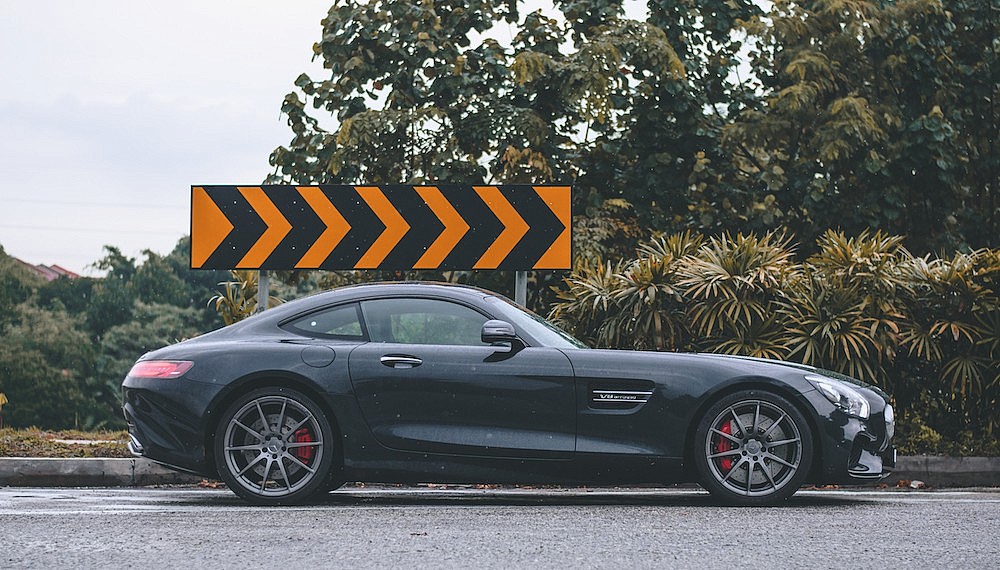 This was, for the most part, unfounded. Drama downturn from its predecessor notwithstanding, the Mercedes-AMG GT is a car that causes its own involuntary emotive outbursts. On sight alone, mind you, because the proportions are simply breathtaking. With its overlong bonnet and curvaceous, stubby rear end, there is less in the way of Mercedes-Benz family resemblance and much more of a unique, personal identity. Not that there is room for any doubt, the single-louvred grille sports a massive three-pointed star. Although it is worth noting that the protrusive manner of presentation seems as if the 4.0-litre twin-turbo V8 is attempting to break its way out.
For lack of a better term, this is a beast. It barks to life and settles into a growl that crescendos with menace as the revs climb, striking both fear and anticipation for whatever ferocity awaits at the top end. And you will get there in a hurry, with 650Nm of torque on tap; 0-100km/h is dispatched in a brief 3.8 seconds.
Once inside, the purposeful nature of the exterior is reflected. From the AMG display to the flattish wheel bottom, yet with luxury in its material choices – high gloss piano black trim, knurled metallic knobs and the double-stitching of the dashboard leather. Even the buttons on the centre console are not for ancillaries, each one affects the chassis or powertrain in some manner. Eight buttons arranged in the shape of a V? Perhaps by coincidence, perhaps not.
But this isn't just a blunt instrument, a hot rod which only knows speed in a straight line. The dry sump lubrication on the Mercedes-AMG GT S allows for a lower engine and thus, a lower centre of gravity. Its engine layout has the turbos sitting snug within the V8 for improved throttle response, and there are parts dotting the powertrain that have been lifted from Mercedes-Benz touring cars and, even better, the brand's F1 engines.
In as few words as possible, the Mercedes-AMG GT S  will claw its way into your affections. It may be a sign of the times, but very few sportscars on the market today will evoke this select wash of feelings over you. Not from incapability, but because, well, they are simply too docile. You're in control here, but there's an inescapable, exciting notion of it straining at the leash.
And it is not just us, Mercedes-Benz is also well aware that they have a winner. The Mercedes-AMG GT is being treated as a family with the most exciting future expansion being the four-door hybrid AMG GT sedan concept shown at Geneva recently. For the moment, there is the range-topping 577hp AMG GT R, which clocked 7 minutes 10.9 seconds at the Green Hell and a mid-spicy GT C, available solely as a roadster. If this Mercedes-AMG GT S is anything to go by, in whatever flavour you have it, here is your analogue to the beast within.