Embarking on a game-spotting journey through Africa's reserves and safaris
"He's going to go for it. He's going for it!" I'm on the edge of my seat, completely entranced, as are the other five members of my group. Metres away from our jeep, a young lion motionlessly crouching in the tawny grass explodes into action, sprinting toward an impala which has wandered too close.
"He's inexperienced – he's going to spoil it," says our guide, Massek Kipiko, as the impala careens away in a panic. Sure enough, despite several nail-biting moments where it seemed a hair's breadth from the lion's jaws, the impala ultimately manages to dash away to safety.
This is just one of the many highlights of the captivating saga that unfolds daily in the Masai Mara before those who are lucky – and patient – enough to observe it. The best place to do this is in the private concession of andBeyond's Bateleur Camp, which occupies a prime location at the foot of the scenic Oloololo Escarpment at the rim of the Great Rift Valley in Kenya's iconic Masai Mara Reserve.
The camp relaunched in April, following a complete rebuild 20 years after it first opened. The original designer, Fox Browne Creative, returned to update its look for modern tastes, while maintaining its much-beloved Out of Africa inspiration.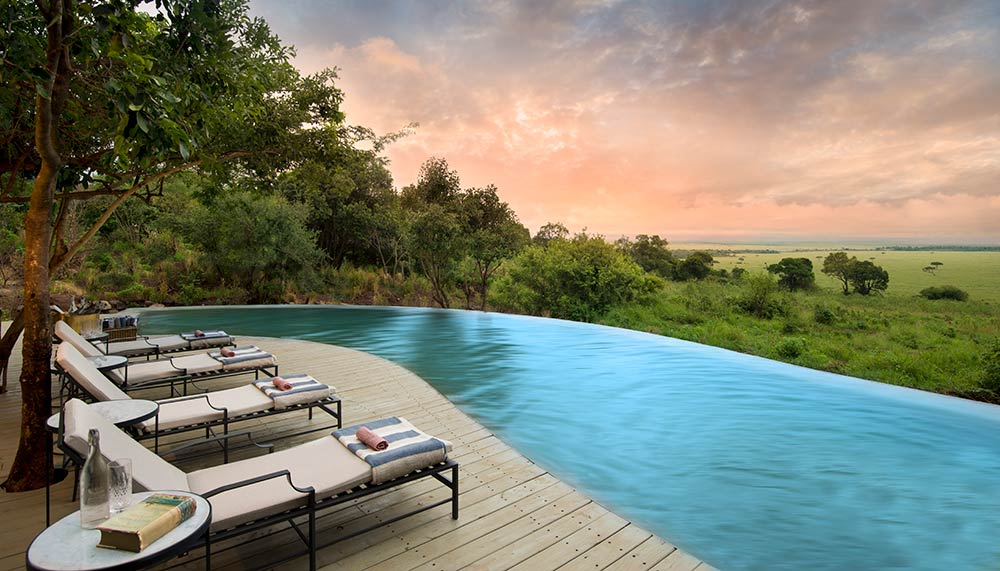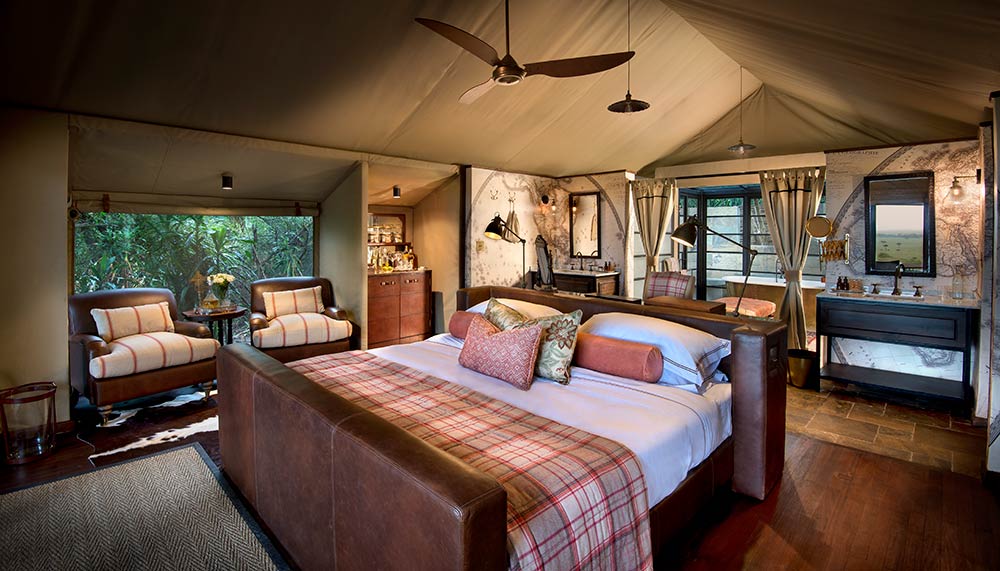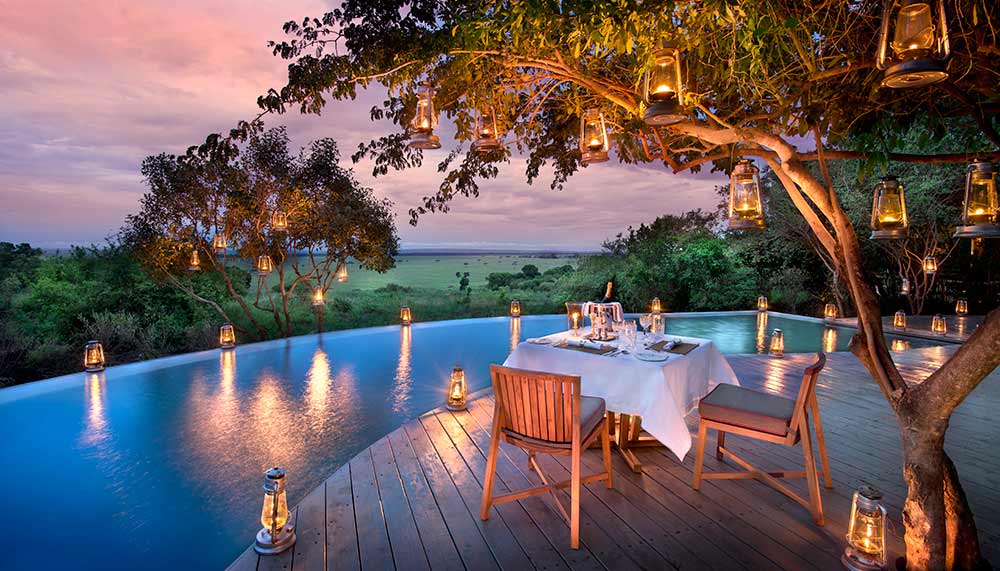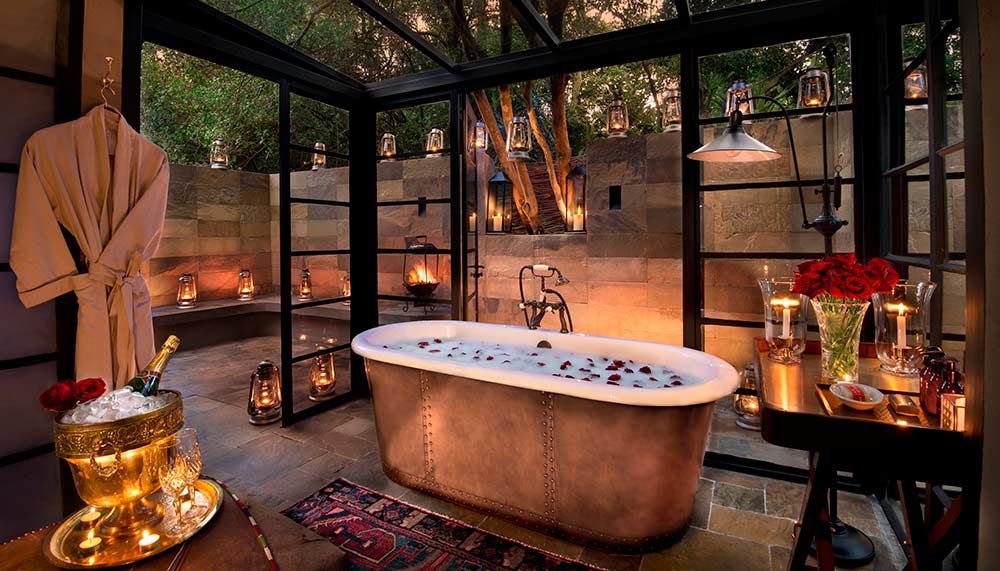 While Bateleur boasts an astounding concentration of animals all year round, the number peaks from July to October during the Great Wildebeest Migration, which involves 1.5 million wildebeest, 40,000 zebra, 18,000 eland and 200,000 Thompson's gazelle.
Helping you navigate the area's incredible terrain and wildlife are Bateleur's virtuoso guides, most of whom are drawn from local maasai tribes. We've been lucky enough to be paired with Massek, a compact and wiry veteran guide who knows the bush like the proverbial back of his hand and can predict animal behaviour with a psychic accuracy.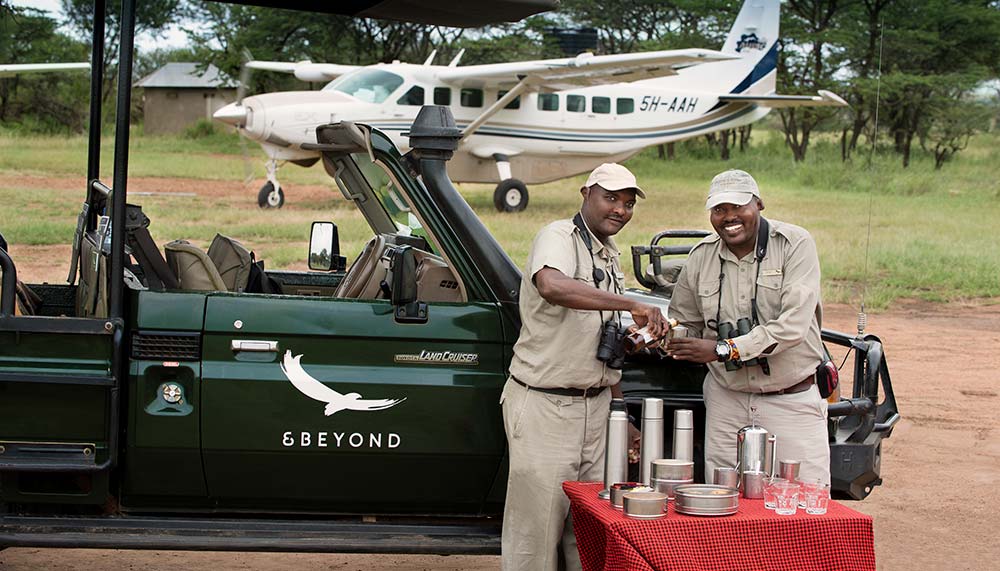 One afternoon, we encounter a herd of female elephants and their calves, nosing around an area lions have just passed through. They execute – as if on cue – each of Massek's predictions, with the lead female snuffling the area, then giving a warning trumpet, upon which the three calves nervously run to the middle of the group for protection.
Each day, we drive out into Bateleur's private concession, where the usual rules of the Serengeti don't apply. As this is privately owned land, we can drive off-road, do bush walks and stay out past 7pm, when most vehicles are required to return to camp.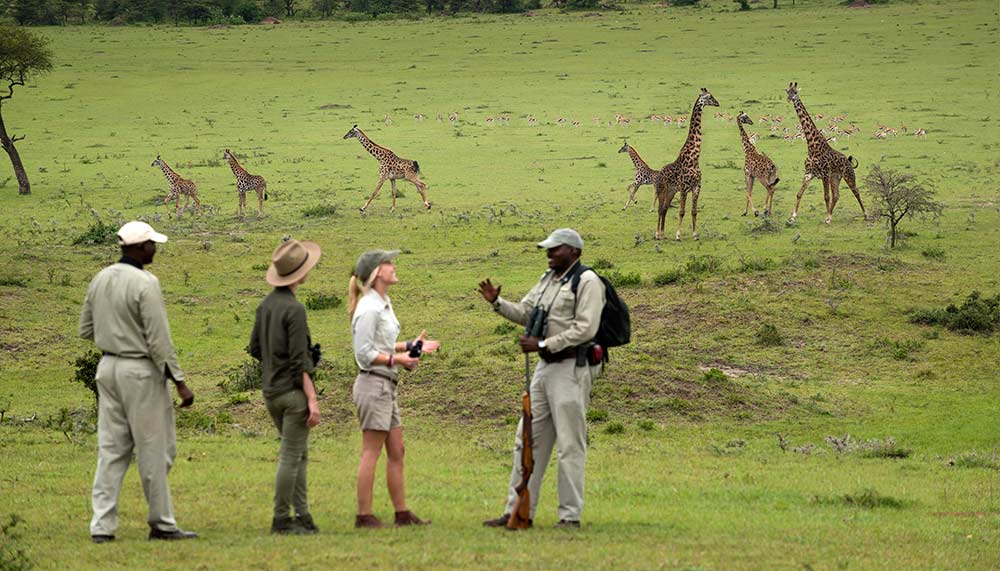 From Kenya to Tanzania
Bespoke game drives are also on offer at Klein's camp, an andBeyond property on the edge of Kuka Hills on the Tanzanian side of the border. It's situated on the only concession that borders on both the Serengeti and the Masai Mara national parks, and offers spectacular game spotting and views.
The most breathtaking is undeniably the one from the camp's bar, which offers elevated views as far as the eye can see of rolling grassland, wooded hillsides and forested river banks. So beautiful is the area that the King of Saudi Arabia, who is a keen photographer, maintains a private lodge here.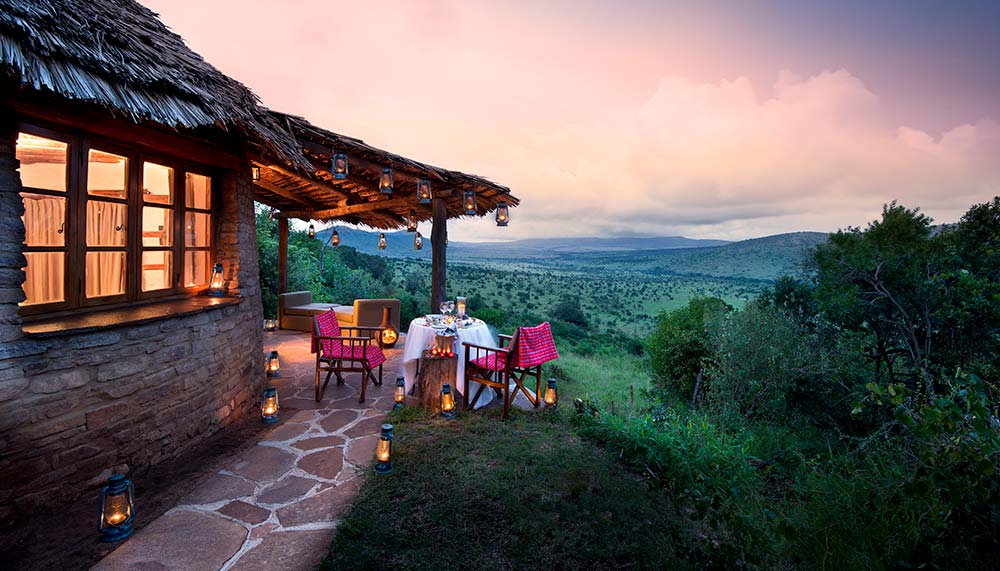 Guests stay in stone lodges that are equipped with the requisite crystal decanters of whisky but don't have phones – instead you are invited to blow the supplied whistle or holler if you require assistance. Rooms are exposed to their surroundings, meaning they are accessible to wildlife, but guests needn't worry as guards armed with spears accompany guests to and from their rooms at night. The varied tweets, chirps and occasional distant roar prove an intoxicating soundtrack. Early one morning I open my door, startling an impala that swiftly bounds away.
Surprises of other sorts also await Klein's guests, who are greeted with rousing song upon arrival. Other amusements include unexpected ice cream stops in the bush, as well as a sumptuous barbecue dinner.
Follow the rain
Our visit in April coincides with the rainy season, when most people stay away. "Agencies don't like to send clients here during the rainy season. They think it's rainy all the time, but it doesn't. It's actually my favourite time of the year, because it's so lush and green, and you don't have to share it with a lot of people," says Telfer. Post-rain, the valleys burst into life. The lush grass, which is dotted with a variety of wildflowers, draws a variety of herbivores, which in turn attract predators. We see African elephants (including a 30-strong group), hyena, ostrich, impala, topi, hartebeest, rock hyrax and vervet monkeys. We come across two young male lions on the hunt, jackals trailing in their wake, hoping for an easy meal. Later the duo kills a porcupine, leaving a mess of quills.
Protecting the Future
Ensuring the animal population remains diverse and abundant has proven a challenge for Tanzania, which has lost more elephants to poaching than any other African nation. Corrupt government officials, poverty and plentiful wildlife to pick off have all exacerbated the situation.
"The animals have to be worth more alive than dead," says Telfer. Nelson Mandela memorably said the ultimately "conservation is about people", an approach that has borne out in andBeyond's work with the Africa foundation. An independent non-profit, the Foundation focuses on empowering local communities, allowing them to benefit from conservation and tourism. To this end, it has helped to build small businesses, clinics, schools and essential facilities such as water pumps and toilets. Local communities are actively involved in each project's selection, development and subsequent running once the foundation is no longer involved. We visit a solar-powered dental clinic as well as a secondary school being supplemented with domitory accommmodation, which protect students from potentially hazardous encounters with wildlife during the long walks home.
This article was first published in our August issue. To read the full story, purchase a digital copy of Robb Report Singapore on Magzter.