These watering holes place our city in the spotlight with locally foraged ingredients, home grown produce and cocktails that pay homage to our sunny island
So you've a couple of friends coming to town, and apart from taking them to the best restaurants, you're going to bar hop around the city, with the idea of having them try some local cocktails (and not just the Singapore Sling). Not too long ago, our little island nation's mixology spotlight was cast on speakeasy-style watering holes.
Today though, the bar scene is progressing faster than anyone can stir up a dirty martini. From bespoke inventive cocktails to barrel-aged libations, we are now also home and inspiration for several bartenders whose focus is on local produce and flavours. Perhaps it's all come full circle; perhaps there's really nothing quite like home.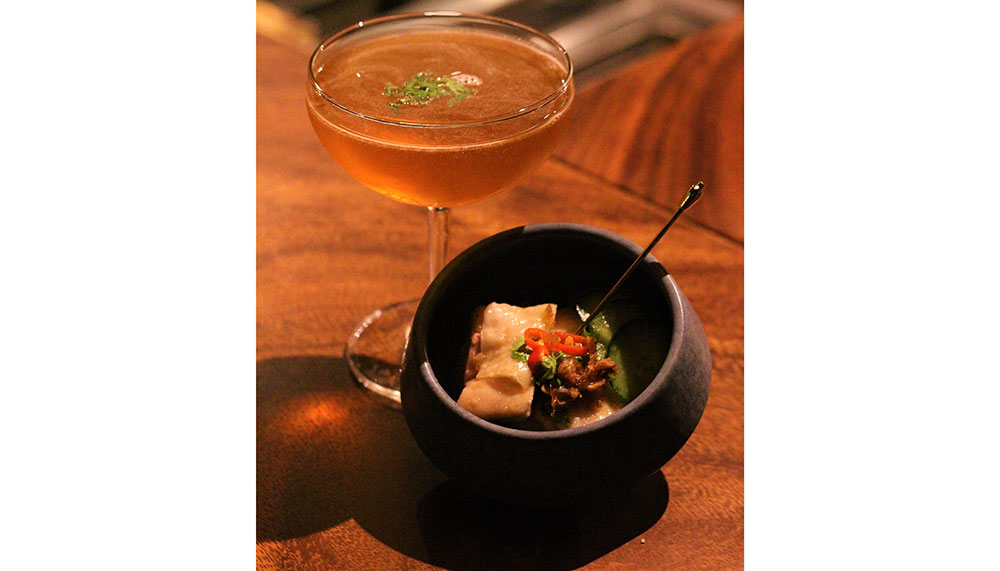 Amrith
The latest brainchild of beverage consultancy firm Barsmiths, Amrith is a sleek cocktail bar that proffers a menu sectioned into four Acts. It all gets a bit intellectual, but don't let that lead you to think it's not fun. Head bartender Mark Tay and senior bartender Edwin Poh have taken it upon themselves to reimagine some of Singapore's most iconic dishes and turn them into drinkable bites. Hainanese chicken rice, Poh's creation, contains sesame fat washed rye, ginger liqueur, calamansi juice, pandan soya syrup, fresh chilli, and cucumber, served with a slice of poached Hainanese chicken on the side.
For Poh, the cocktail is a symbol close to his heart. "Naturally, when we talk about food in Singapore, who would ever miss out on chicken rice, Katong laksa, and the typical breakfast set from our neighbourhood coffee shop?" says the third-generation hawker turned bartender. "Several bartenders have already attempted the chicken rice cocktail but none has actually paired it with the chicken on the side."
Amrith
33 Scotts Road
Singapore 228226
Tel: +65 6732 1365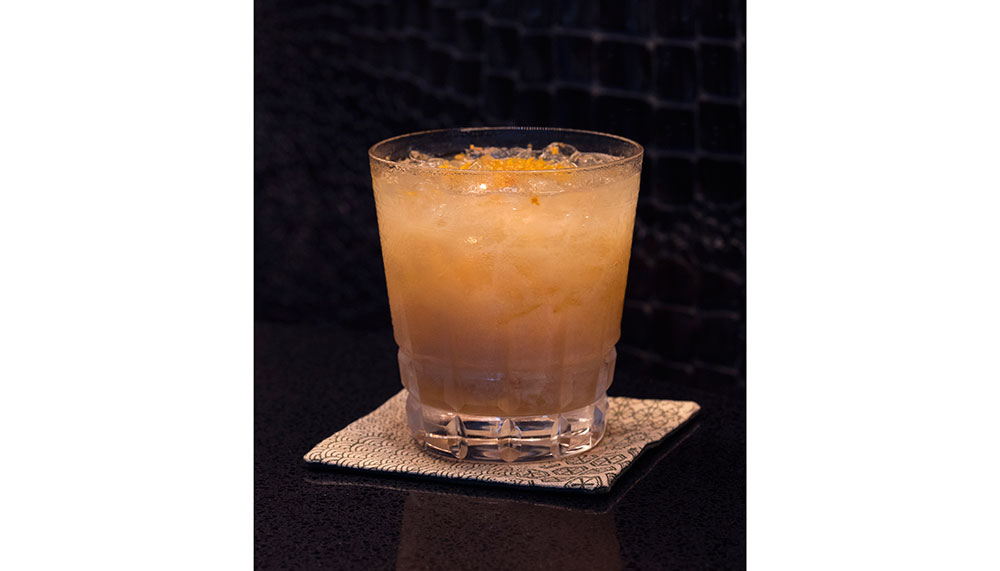 Chuan @ The Sixtieth
Perched atop UOB Plaza 1 with a panoramic view of the city skyline, Chuan is the highest craft cocktail bar in Singapore. It adjoins Si Chuan Dou Hua restaurant, which not only supports it with a full-fledged culinary team that dishes up Sichuan and Cantonese dishes, but also provides inspiration for the bar's drinks programme. In fact, ingredients that often appear in the drinks here include wolfberries, Sichuan peppercorns, Chinese tea, and even chilli powder.
One of the signatures here is the Silk Road. Aptly named, it's silky smooth. The cocktail is assembled with Cognac, Amaretto, maple syrup, orange juice, dry orange flakes, and soy milk made by the restaurant's chefs.
"My inspiration mainly comes from the ingredients available from the restaurant, many of which I encounter all the time," quips head bartender Gabriel Li, adding that his familiarity with the ingredients allows him to translate them into drinks. "By employing the use of these ingredients, I aim to showcase creativity in drinks that aren't just balanced and tasty but also serve as great conversation starters."
Chuan
#60-01
UOB Plaza 1
80 Raffles Place
Singapore 048624
Tel: +65 6535 6006
Nutmeg & Clove
Established in 2014, Nutmeg & Clove occupies a heritage shophouse in the enclave of Ann Siang, a precinct that used to be planted to clove and nutmeg. Drawing heavily from the republic's past, the bar programme traces Singapore's development from colonial outpost to modern metropolis.
"Nutmeg & Clove has always been heavily inspired by Singapore's rich history," shares founder and principal bartender Colin Chia. "Our current menu is inspired by the William Farquhar Collection of Natural History Drawings, which Farquhar commissioned a group of Chinese artists to work on during his tenure as British Resident and Commandant of Melaka. Every cocktail from our menu is made using herbs, spices, flora, or fruits that I have selected from the book."
Take for instance King & Queen, a twist on the classic cocktail Milk Punch, with durian and mangosteen being the highlight ingredients. Mount Gay Black Barrel, toasted Malaccan coffee, fresh lemon, clarified milk, and pandan complete the recipe. Served on the rocks and garnished with an orange peel, it yields a mild layered tipple with a tinge of sweetness. "I wanted to do something different with durian. Rather than a typical creamy, rich, dessert-like cocktail, I wanted to go for mild flavours. Mangosteen and pandan gives the cocktail some earthiness and sweet fragrance, which is complimented by the smokiness of the coffee beans leading to a nice mild finish of durian."
Nutmeg & Clove
10 Ann Siang Hill
Singapore 069789
Tel: +65 93899301
Origin
Sited at the Lobby Level of Shangri-La Hotel's Tower Wing, Origin is one of the latest additions to Singapore's cocktail bars. The outfit is headed by Slovakian Adam Bursik, who spent time immersing himself in local produce in order to create a heritage-inspired cocktail menu that pays homage to our city's key districts of Orchard, Chinatown, Little India, Boat Quay, Marina Bay and even Buona Vista — this entailed sourcing for fruits, vegetables, herbs, and spices that represent each district.
The fruit of his labour (pun fully intended) can be seen in the signature namesake cocktail The Origin, which involves an intricate recipe and process. "We start by preparing our own spiced pineapple marmalade, in which we use pepper and nutmeg to spice local pineapples/bananas."
The Origin pays homage to the Orchard district, where back in the days pepper and nutmeg could be found planted in the vicinity, Bursik adds. "It also represents the heritage and history of Orchard Road, the origin location of our bar. Sugar cane honey represents the family that started our company Shangri-La, who owns sugar cane plantations, and Mr Robert Kuok is also well-known as Asia's Sugar King. The spirit of choice was gin, which represents the British colonial era that helped to develop Singapore."
Origin
22 Orange Grove Road
Shangri-La Hotel Singapore
Singapore 258350
Tel: +65 6213 4599