Eat. Drink. Explore. Repeat. For an unforgettable summer holiday, base yourself if one of these five vineyards and traverse the surrounding countryside
There are few travel experiences more enticing than a late summer afternoon in a beautiful Italian vineyard, a glass of wine in hand from grapes that you can see on the nearby vines. Perhaps some olives from the property, a nugget of local cheese or home-cured salumi can accompany as the prospect of dinner gets even more enticing. Your stunning backdrop may be a volcano, a charming medieval estate or a picture-perfect hilltop village, but one thing is clear – you'll never want to leave.
Luckily these five magnificent Italian vineyards all offer the chance to stay the night in luxurious accommodation that lets you make the most of the local vintages and stay up until all hours, in true Italian style, living the definition of la dolce vita – and bagging some seriously enviable Instagram shots along the way.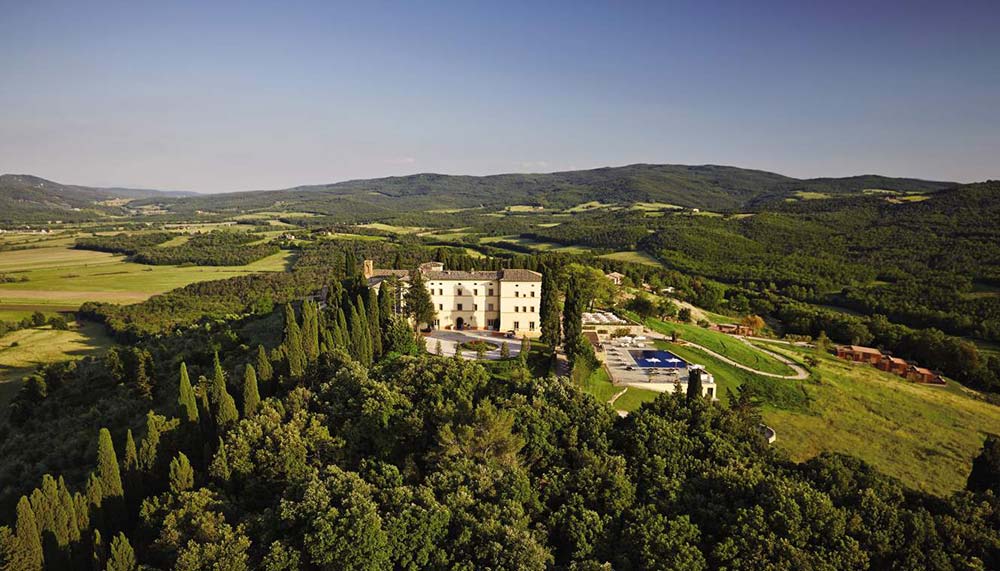 Belmond Castello Di Casole: Best For History Buffs
Delightful Tuscany has no shortage of beautiful historical castles, but the history of Belmond Castello di Casole near Siena trumps pretty much all-comers with an incredible five millennia, dating all the way back to the Bronze Age.
The elegant luxury property features artefacts from Etruscan farmers, while parts of the building itself are more than a thousand years old.
Artisans and architects have restored and preserved the property's historical gems, meaning suites feature antiques and stone walls that blend seamlessly with contemporary technology.
Of course there are no shortage of distractions for guests who have included film legends, royalty and politicians.
One hundred acres of organic vineyards can be wandered at leisure, before a tasting of their signature private-label vintages called simply 'C'. For non-drinkers, olive oil is amongst other produce cultivated on site.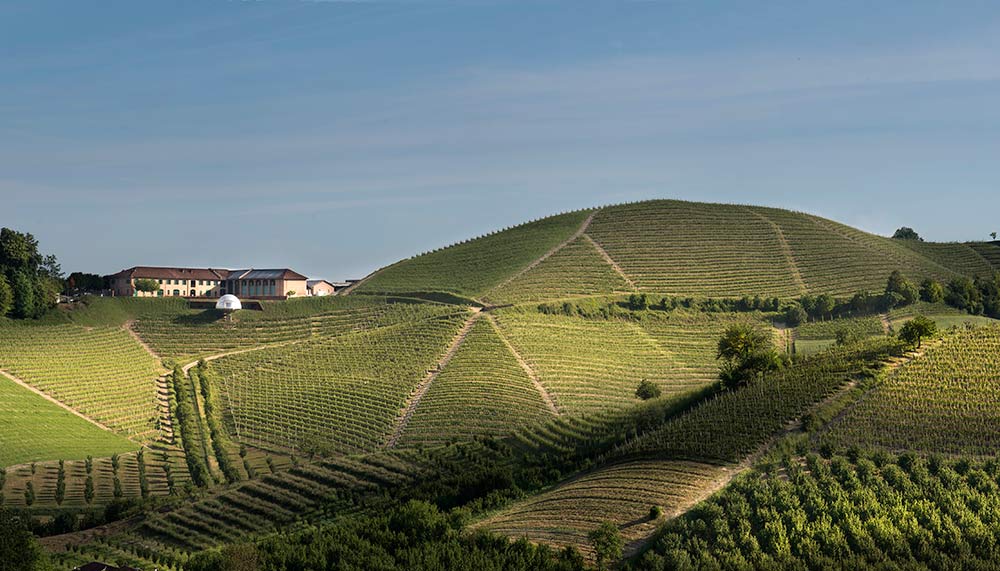 Monsordo Bernardina: Best For Art – And Truffle – Lovers
Next we head to the edge of Alba in Piedmont, a gastronomic promised land thanks to its legendary local white truffles harvested every autumn, in addition to more stellar local produce.
A former farmstead, Monsordo Bernardina offers 30 hectares of sustainable rolling vineyards in iconic and gorgeous surroundings, but there's another big draw in the form of their Casa dell'Artista.
As the name suggests, this house invites artists from all over the world to come and be inspired by the landscape and wines, before leaving their own legacy in the form of one of their bespoke creations, making for a beautiful series of installations across the property.
Tradition and creative innovation again mix in L'Acino, a remarkable transparent bubble structure designed to look like a grape, which overlooks the beautiful hills and serves as the ultimate in tasting rooms.
If you fancy some seriously haute cuisine, then the Ceretto family who own the property also boast a three Michelin-starred restaurant called Piazza Duomo just a 10-minute drive away.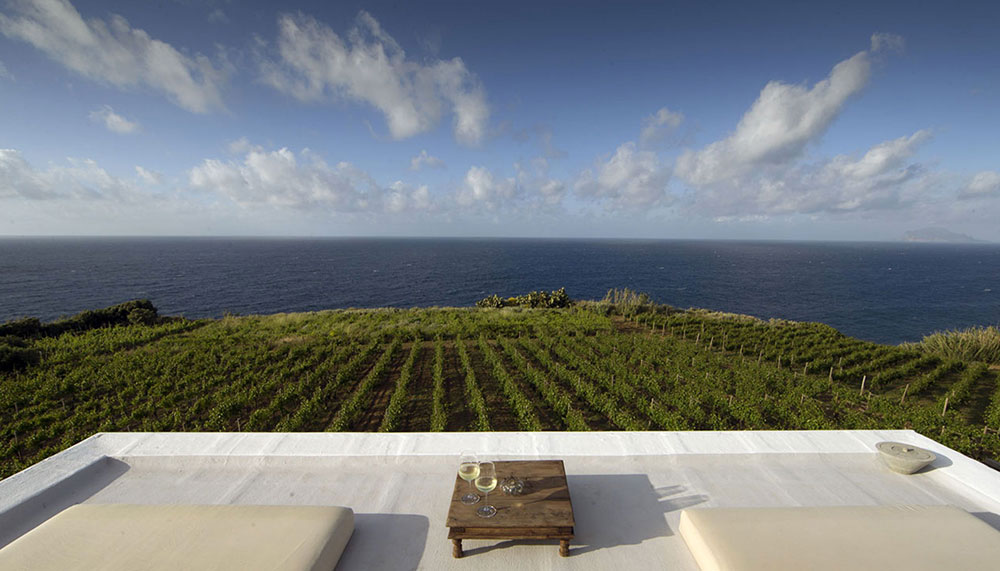 Capofaro: Best For Sublime Volcano Views
Sicily is a hugely-enchanting island on multiple levels, but then somewhere like Capofaro seems to take all the best parts together in one unique destination.
It sits on Salina, a compact Aeolian island off Sicily's northern coast, where the azure waters of the Mediterranean are illuminated by the 19th century lighthouse – or 'faro' in Capofaro – which gives the vineyard its name.
Their own sweet wine Malvasia delle Lipari is the most famous produce from the four hectares, while the Relais & Chateaux property with its pink bougainvillea and twenty-seven gorgeous rooms, all with terraces, also ensure you'll never want to leave.
The views truly stop you in your tracks, especially towards the six volcanoes which dot the island. The six include Europe's most active volcano, Stromboli, which sits on its own island.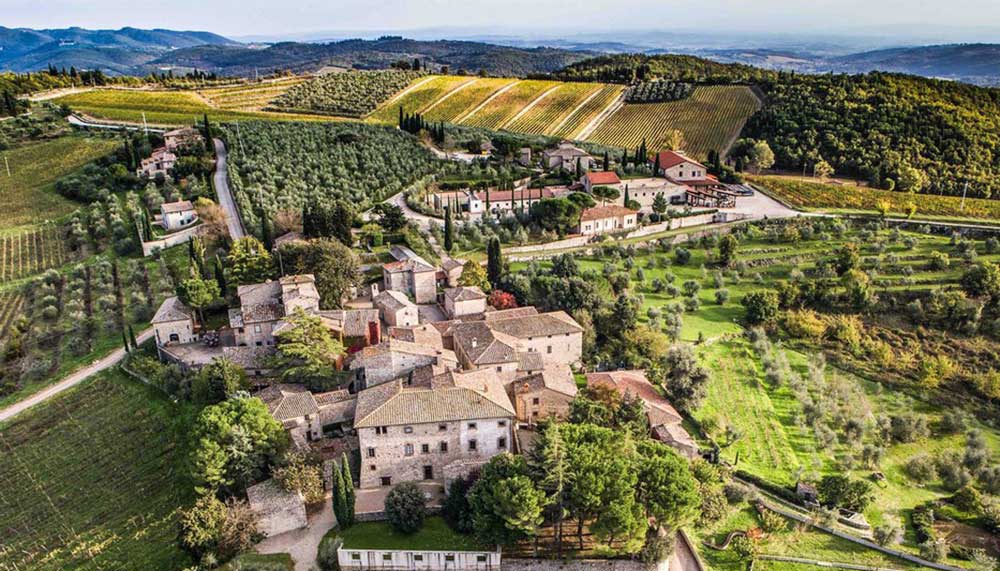 Castello Di Ama: Best For Romantics
In the heart of Chianti country, nestled in a perfect village, sits a spectacular property with just five luxury suites. While the castle in the name Castello di Ama – The Castle of Love – is no longer around, the beautiful accommodation is still one of Italy's most romantic spots, somewhere history melds with modernity.
This is very much a working vineyard, noted by global wine experts for their full-bodied reds in particular which regularly reach the top ten of Wine Spectator's 100 best lists. At 1,600 ft. above sea level, the clay soil and southern exposure are the perfect terroir for Pinot Noir, Sangiovese and more.
Art is also a major source of inspiration as owners Lorenza Sebasti and Marco Pallanti have invited world-renowned artists to the winery for almost two decades, asking that they leave a piece as their legacy. That's why a stunning Anish Kapoor sculpture of a bowl sits in an ancient chapel on the site.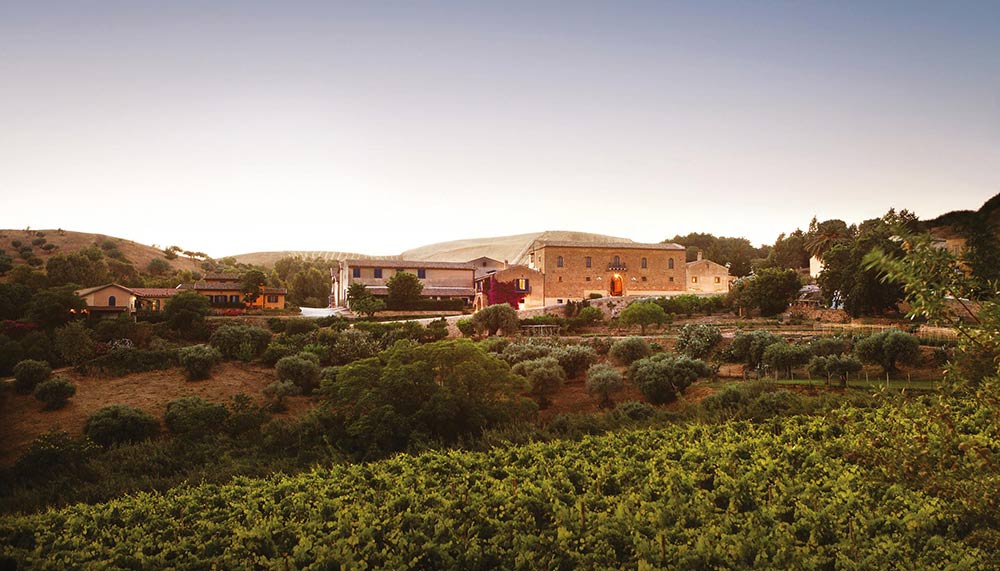 Regaleali Estate: Best For Hikers
Back to Sicily, we find ourselves at the Regaleali Estate owned by the Tasca family, located on a verdant hillside in the exceptionally fertile heart of the island.
The soil allows an incredible diversity of produce and flora to flourish, from jasmine to oregano, fig to bergamot, all of which perfumes the air. But it's the olive trees and vines which best tell the story of the site, as shown by incredible reds like Rosso Del Conte, a blend of 62 per cent Nero d'Avola with 38 per cent Perricone.
The name Regaleali is derived from the Arabic for 'home of Ali', showing the island's unique ties to North Africa, while home for lucky guests is one of two 17th-century limestone farmhouses, Case Grandi and Case Vecchie.
When not tasting the first class wines, or hiking through the vines and neighbouring hills, then their cooking school is the definition of farm-to-table as almost all the produce comes directly from the property.