Kyushu meets Speyside: an unpredictable pairing with unexpectedly familiar results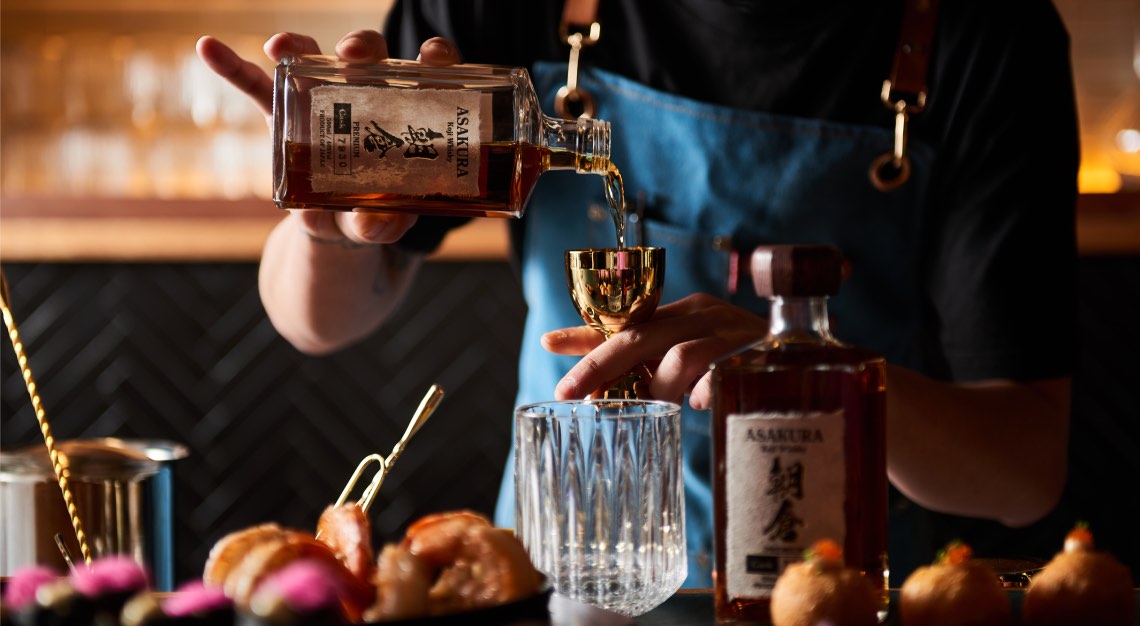 The Japanese whisky industry was recently under fire over the legitimacy of its highly prized export. The bone of contention? Japanese whisky may contain Scotch, and may yet be called Japanese whisky. Not that it would have mattered, as the category remains popular despite the controversy. However, the Japan Spirits & Liqueurs Makers Association (JSLMA) has made a prudent move to establish a clear set of criteria defining what makes Japanese whisky.
The one collective theme that the new regulations seem to emphasise is provenance, which is the perfect segue to a rather unusual beast: Asakura Premium Whisky. The brainchild of Kyushu Spirits, Asakura Premium is a koji-based whisky – or koji spirit, depending on how pernickety you are. 
Founder Vikramm Chand, who was born and bred in Japan, realised that there were many traditional brewers and distillers whose work will never be experienced outside of Japan, and started Kyushu Spirits to put that right. "Through Kyushu Spirits, we hope to continue working with local distilling families on the island to introduce these intriguing hybrid whiskies to the rest of the world," he added.
Yes, labelling Asakura Premium as whisky can be seen as disingenuous in some circles, given that it incorporates non-whisky techniques. But rules are often put in place to hold makers to a higher standard and to prevent opportunists from profiting with a lesser product. And at its heart, Asakura Premium is a spirit that showcases native Kyushu craft – shochu and sake – through the medium of the Scotch whisky tradition. This is no pale imitation.
Much like the Okinawa Gin that we experienced a year before, many traditional Japanese breweries and distilleries are embracing market trends without relinquishing their proud tradition. By incorporating traditional techniques, we get to experience a perspective erstwhile unknown.
Likewise, Asakura Premium features a koji fermentation in the style of shochu. The malting process has shochu written all over it – except that barley is used as the grain. The distillers use only locally sourced Kyushu mugi (barley), partly as an unabashed reminder of the region's formidable reputation for its agricultural produce. It is then distilled in a pot still, and aged in ex-sherry barrels.
When presented with a glass of the spirit, we were half-expecting a hint of pungent Awamori (read: an ancient Okinawan spirit made from long-grain indica rice), which is not necessarily bad, but it's not exactly a crowd-pleaser too. Needless to say, we were bamboozled. The spirit held nary a hint of shochu; only familiar notes of honey and vanilla with a slight floral edge, while the category-defining cedar lurks along the fringes. On the palate, the sweetness gathers strength slowly, building into a familiar profile of brown sugar and cinnamon, laced with a touch of citrus. Call it what you like, but to my nose, this is unmistakeably the Japanese whisky style as we know it today. 
As these were single cask expressions, the flavour profile will vary slightly from cask to cask. We were fortunate enough that we had two to peruse: casks 3928 and 7930. Cask 7930 operated in familiar territory and would not be out of place in a blind tasting of assorted familiar Japanese whiskies. But for me at least, the contents of cask 3928 are far more intriguing for whisky lovers. It is particularly sweet and tinged with notes of coconut and bubblegum, which is highly unusual, and unexpectedly gratifying. It's not quite a remake on the scale of Akira Kurosawa's Ran (1985), but it's worth a look all the same.
Asakura Premium can be found at the likes of Sake Labo, The Cooperage, The American Club and Matsuya Dining. You can also purchase it online through Cellarbration at S$198 (500ml)