Baselworld wouldn't be complete without these magnificent complications
All things considered, this is not the best year for Baselworld. The world's largest watch and jewellery show has reduced in number of days from nine to six as it faced an exhibitors' exodus, where more than 200 brands had reportedly exited the show due to high costs and decreased footfall. This came at a time when the Swiss watch industry was still trying to pull itself out of the financial crisis wrought by shrinking market demand and unstable global economies. For that, the majority of the Swiss watch brands have responded with conservative stances, eschewing high-risk novelties in favour of tried-and-tested classics.
Yet there wasn't a complete dearth of excitement. Bright sparks and breathtaking feats continued at some of the most venerated houses such as Patek Philippe, Breguet, Jaquet Droz, Bvlgari, Zenith and Chopard. Whether it's the evolution of a time-honoured classic, or the complete reinvention of a traditional high complication, or the awesome preservation of an age-old handcraft, these manufactures are the torchbearers of 2018, keeping the entire industry and end consumers inspired with their unrelenting commitment to fine watchmaking.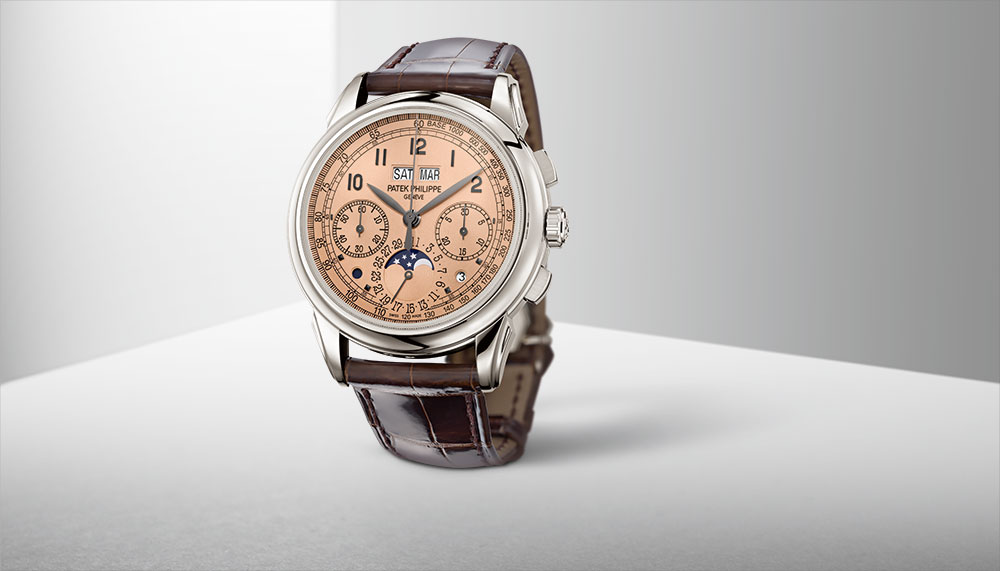 Patek Philippe
Interestingly, what drew most people to the Patek Philippe Ref 5270P-001 Grand Complication wasn't its in-house manufactured chronograph with perpetual calendar movement. Neither was it the presence of a diamond at six o'clock on the case band which symbolises a case made of precious platinum – and we all know how wildly popular all platinum Patek Philippes are.
No, it wasn't either of those but rather the salmon pink opaline dial that reminds connoisseurs instantaneously of the salmon pink dial Patek Philippe Ref 5970 Grand Complication that was at one time owned by singer Eric Clapton. In fact, to say that this beautiful dial which is paired with equally gorgeous blackened gold applied numerals and leaf-shaped hands drew people was quite an understatement; it literally stopped them in their tracks. Scores of visitors who strolled past the Patek Philippe booth did a double take when they laid eyes on this flawlessly elegant grand complication model.
Salmon pink dial Patek Philippes are exceedingly rare and usually reserved for special order pieces. Ref 5270P-001 is the first example of a salmon dial on an in-house manufactured chronograph with perpetual calendar. Finished with a matte effect, it emits a soft glow reminiscent of vintage timepieces. More importantly, this piece is a catalogue watch, meaning it is neither a limited production or special edition model. That Patek Philippe had eschewed Breguet-style numerals for a simpler typeface endears this watch even further to today's watch collectors.
The movement is another chapter on its own. Introduced in 2011, Calibre CH29-535 PS Q is the first proprietary chronograph movement with a perpetual calendar. It has six patented chronograph innovations in spite of the classical architecture which includes a horizontal clutch, column wheel, and manual winding. Priced at S$246,400, Ref 5270P-001 is the first platinum chronograph perpetual calendar by Patek Philippe since 1941 and definitely one of the hottest timepieces of 2018.
Speaking of firsts, the Patek Philippe Ref 5740/1G-001 Nautilus Perpetual Calendar also comes to mind. This stunning model is the first grand complication in the Nautilus collection and indeed the first perpetual calendar. Before it, there were only medium or standard complications like the chronograph, the dual time, and the annual calendar. Most impressively, however, the Nautilus Perpetual Calendar is the slimmest perpetual calendar made by Patek Philippe to date. With a height of 8.42mm coupled with modest case dimensions of 40mm, this watch would fit all wrists like a dream.
This watch uses the self-winding ultrathin Calibre 240 Q featuring a gold microrotor that's recessed into the movement.
New in this watch though is a system of deflection mechanisms that enabled Patek Philippe to position the calendar correctors subtly at different areas of the case. This means no unnecessary push buttons marring the classic design iconography of the Nautilus.
Delivered with a rich blue dial complete with the obligatory Nautilus horizontal stripes, Patek Philippe further enlivened the face of this watch with a sunburst motif, just like the manufacture's 40th anniversary collection released in 2016.
Meanwhile, the sartorially inspired might want to check out the set of matching cuff links which are available separately and highly recommended. Ref 5740/1G-001 is priced at S$156,800.
Breguet
Everything that connoisseurs love about Breguet can be found in the Classique Tourbillon Extra-Plat Automatique 5367. The Classique is, of course, its best-loved collection and here Breguet makes it ultrathin so it's even more unassailably elegant. View it from the side and not only will the svelte 7.45mm profile impress you, but the gorgeous fluting on the case band will absolutely beguile you. Then there's the Breguet B engraved on the crown that replicates AL Breguet's script from way back when.
Indeed, this is also the first Breguet grand complication with a grand feu enamel dial. Breguet habitually produces its Classiques with stunning hand-applied guilloche in a melange of styles, which collectors covet and adore. Yet grand feu enamel stands apart in terms of sheer timeless appeal. There is something to be said about the pristine whites or rich blacks achieved by grand feu enamel that no ink however advanced can rival. Breguet's example here is as perfect as hand enamelling can be.
Pure white enamel is first hand-painted over the gold dial and fired in the kiln at around 800 degrees Celsius. The dial is then removed, checked and reapplied with enamel before going into the kiln again. This process is repeated until the enameller is satisfied with the richness of the colour. He or she then polishes the enamel down to yield a perfectly flat dial and finally applies a layer of translucent enamel to lock in the colours.
Look closely at this watch. Apart from the tourbillon at five o'clock, something else is off-centred – the hour numerals. Forming a circle of painted Arabic numerals and miniature stars for the minutes, the hours and minutes are skewed towards 11 o'clock and no it's not an error or a compromise to make space for the tourbillon. Rather, it's a throwback to the old historical Breguet pocket watches of yore. Priced at S$211,900.
Bvlgari
With a firm eye on the future, Bvlgari has no interest in re-editions or vintage themes, and over four consecutive years, the Swiss-Italian watchmaker has released record-breaker after record-breaker as if it's second nature. Having turned serious on haute horlogerie only at the turn of the millennium, this speaks volumes about the kind of innovative thinking and bold design that goes on within its walls. Its Octo collection has officially risen beyond best newcomer status, for it is newcomer no more. Not one but two of its pieces won big at the 2017 Grand Prix de la Haute Horlogerie de Geneve. The Octo Finissimo Tourbillon Skeleton bagged the Best Tourbillon and Escapement Watch Prize while the Octo Finissimo Automatic won the Best Men's Watch Prize.
New for 2018 is the technically astounding Octo Finissimo Tourbillon Automatic which, for the fourth time, broke a world record for extreme thinness in haute horlogerie. As of now, measuring a scant 3.95mm all in, this is the world's thinnest automatic tourbillon watch. What makes it all the more impressive is that the Octo Finissimo is a shaped watch, meaning not round.
Almost all other ultrathin watches on the luxury watch market has a round case. Its unique aesthetics aside, the Octo Finissimo Tourbillon Automatic achieves such unprecedented thinness by implementing a peripheral rotor position at the back, as well as a flying tourbillon with a ballbearing system which helps to reduce movement thickness. Additionally, its rotor is made of a combination of ultralight aluminium and ultra-dense white gold in order to maximise winding efficiency – and it does. When fully wound, the movement stays powered for a very adequate 52 hours.
Its extreme thinness makes titanium, which is highly rigid, the most ideal choice of material for the case, bracelet and clasp. Thus the Octo Finissimo Tourbillon Automatic is not only ultrathin but also ultralight. Now this is what we call 21st-century watchmaking.
Zenith
Making watches for the future is Zenith's raison d'etre – has been since Georges Favre-Jacot founded the manufacture in 1865. After such trailblazing creations as the Defy El Primero 21 which is the only high-frequency automatic chronograph dedicated to time measurements accurate to the nearest 100th of a second, and the Defy Lab, which has the world's most accurate oscillator, Zenith has clearly established itself as a futuristic and innovative watchmaker devoted to building the future of tradition. As such, in 2018 the time is ripe for it to revive out an existing invention that was created for the sole purpose of precision chronometry: Gravity Control. You might remember it in such earlier models as the Academy Christophe Colomb.
But while the Gravity Control module had a distinctively classical appearance in the Academy Christophe Colomb, in the Defy Zero G it combines a new name with a new look. Decidedly futuristic and unmistakeably haute horlogerie, this sexy timepiece neutralises the effects of gravity – horology's great enemy – on the oscillator by sheltering it in a transparent gyroscopic globe. Downsized to just 30 per cent of its original volume and further fine-tuned to increase power efficiency, the gyroscopic module keeps the oscillator constantly in the horizontal position in order to maintain a stable rate. With these new technical specifications, the movement no longer requires custom manufactured convex sapphire crystals and fits nicely within two flat sapphire crystals.
As it's an El Primero movement, the oscillator in Calibre 8812S vibrates at a 5Hz frequency, which translates to tenth of a second accuracy. Comprising a grand total of 324 components, 139 of which go to the gyroscopic module alone, this is Zenith's way of walking the walk – guaranteeing timekeeping accuracy with not just one but two sources of extreme precision. Priced from S$149,500.
Chopard
Not a novelty per se, the Chopard LUC Full Strike was introduced in 2016 and impressed the industry so much it won the Aiguille d'Or Prize at the 2017 Grand Prix de la Haute Horlogerie de Geneve. It took Chopard more than six years to make and LUC Full Strike is no ordinary minute repeater.
Housing a number of new technical solutions that establish it as one of the most innovative modern minute repeaters, the LUC Full Strike foremost utilises a completely new striking mechanism that relies on gongs made out of crystal, rather than steel. So each time it chimes, the steel hammers strike on crystal gongs which manufactured together with the watch's sapphire crystal protecting the dial. In other words, the entire construction is monobloc and very cleverly the gongs transmit their sound directly through the crystal. This is why the LUC Full Strike has such sonorous and – pardon the pun – crystal-clear chimes. All the action can be seen from the front, through the semi-openworked dial at 10 o'clock where the gongs are positioned.
Other than the chiming, Chopard had found new solutions to traditional problems that plague the strike train. Spending almost 17,000 hours in the creation of Calibre 08.01-L, the manufacture debuts a series of security systems that protect the strike train from erroneous handling. Wind the movement through the crown in one direction and the striking mechanism in the other. To activate the repeater, push the button set into the crown. When fully wound, the LUC Full Strike is able to chime 12:59 a very impressive 12 times. Read the double power reserve indicator at two o'clock to see how much energy is left in either mainsprings.
Producing full-bodied and crystal clear sounds, the LUC Full Strike is now available in Fairmined white gold (S$255,000) and its gongs are tuned to C and F notes. Collectors who already have the previous rose gold variation may be delighted by a different set of chimes here since different case materials yield different characteristics in sound. This is one watch you have to hear to believe.
With 14 indications on two dials, it is definitely not an overstatement to call the Chopard LUC All-In-One a grand complication. This highly exclusive timepiece is a continuation on the 150th anniversary theme presented in 2010 to honour the manufacture's jubilee. In 2018, Chopard looks into this timepiece once again to make two limited-edition pieces, one in platinum (S$395,000) and the other in rose gold (S$380,000), to tempt the haute horlogerie connoisseur. Both 10-piece limited editions, these watches bear the Poincon de Geneve hallmark, combining everything from astonishing technical chops to traditional handcraftsmanship. Additionally, it had received the Qualite Fleurier certification, as well as COSC – all of the industry's most prestigious quality labels, hence the name All-In-One.
On the dial side, it gracefully showcases the perpetual calendar indications via two subdials offering the day of the week, month and leap year, as well as a 24-hour display. A big date display sits above the word 'Chronometer', while the tourbillon can be admired through a circular opening bisected by the mirror-polished tourbillon bridge. As a true testament of the chronometric precision of this tourbillon, it is paired with a small seconds hand and doubles as the sweeping small seconds. The dial itself is a solid gold plate decorated with a guilloche motif radiating out from the large date display.
On the platinum piece it is a stately grey-blue while on the rose gold piece it is done in verdigris – a bluish-green hue or patina achieved by controlled atmospheric oxidation. Turn it over to the back and more gorgeousness awaits. Here you'll get the equation of time, the power reserve, another 24-hour day/night indication, sunset/sunrise times, and a eye-wateringly beautiful astronomical orbital moon phase display. Its movement Calibre LUC 05.01-L has been endowed with Chopard's signature Quattro technology comprising four mainspring barrels that keep the watch running for seven full days. An exceptional timepiece for the exceptional collector.