The Porsche 911T is the most wallet-friendly driver-friendly variant of the expansive 911 family
There are 24 variants of the Porsche 911 being sold in Singapore across three different body styles — hard-top Coupe, convertible Cabriolet and semi-convertible Targa.
Granted, that number includes three GT-badged cars (the GT3, GT3 RS and GT2 RS), which, in a sense, only barely count as 911s, considering how much re-engineering goes into making them.
Suffice it to say, things built by the Porsche Motorsport dream factory don't come cheap, with prices (excluding COE and options) for the 911 GT3 starting at a little under $700,000 and nearly doubling to $1.2 million if you want the widowmaker 911 GT2 RS.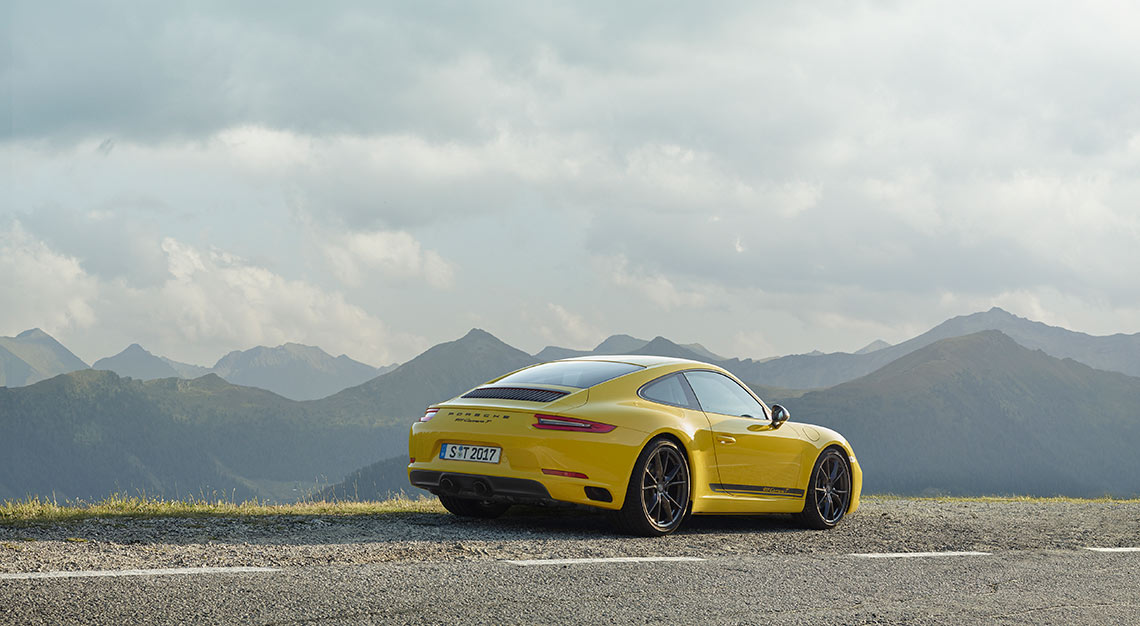 Of course, this is assuming you can get your hands on one. Production numbers worldwide are tiny and Singapore's allocation is correspondingly so.
So, if you wanted to experience the 911 as God and Zuffenhausen intended, but can't swing three-quarters of a million for a car, or can't be bothered to tussle for one with the other oligarchs, you're plumb out of luck.
There is, of course, the 911 Carrera S-based GTS models, which add power and some of the tastier performance bits from Porsche's options list. But those cars aren't exactly pared-back, barely road-legal race cars like the GT3.
Which is where the 911 Carrera T (the 911 T, for short) comes in. Sort of.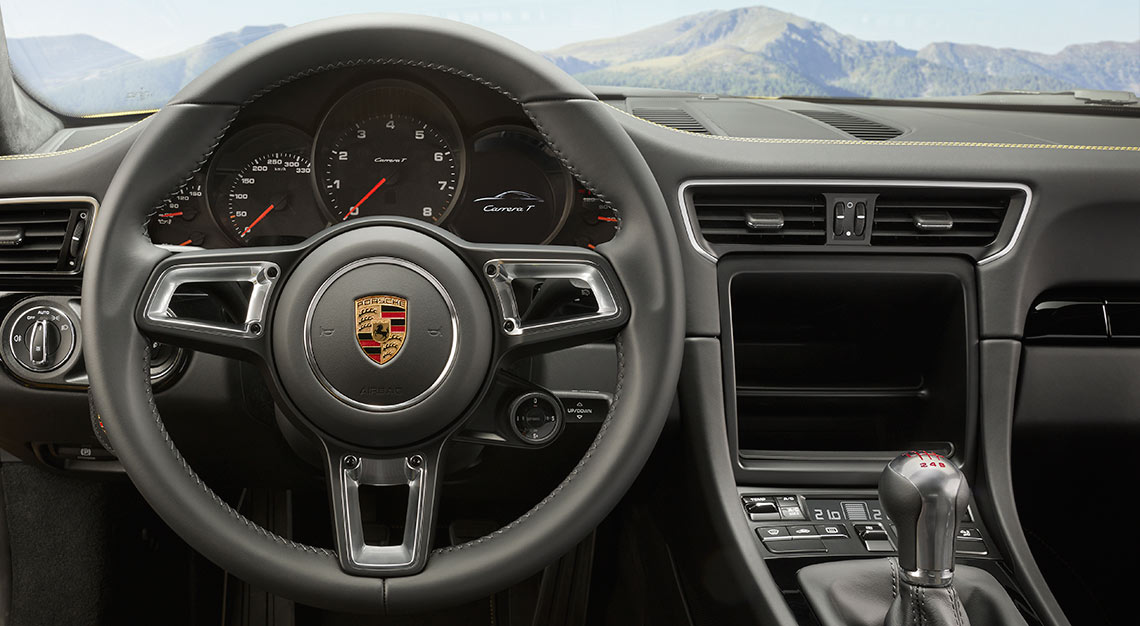 911 Ts are derived from base model 911s, which means it gets the same turbocharged 3-litre, flat-six motor producing 370hp. No more power than regular 911s, but it does weigh less. Marginally, at least, with the 911 T weighing just 5kg less than a 911 Carrera.
Odd, since Porsche axed much of the soundproofing, made the rear windscreen and rear side windows out of lightweight glass, and the interior door handles have been replaced with nylon grab straps. Just like the GT3.
Quite odd, since there is the option of deleting the stereo and rear seats. Local cars, though, get them put back in as standard.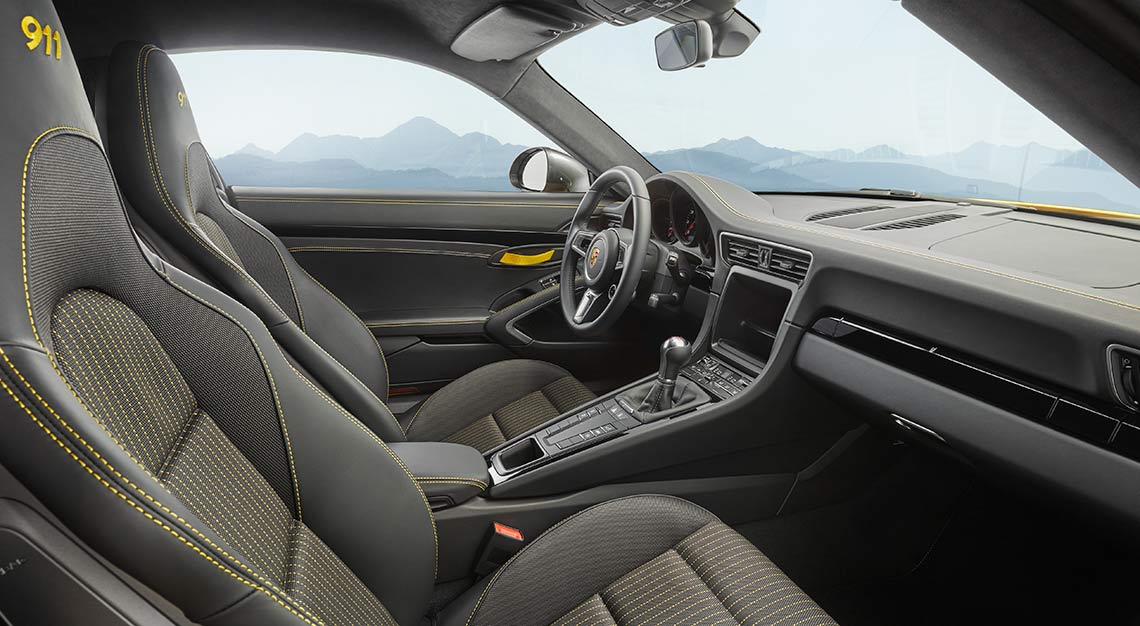 The seats, too, are specific to the 911 T, being partial leather/fabric items. They're electrically adjustable, however, which, to my mind, is a bizarre choice, given the car's supposed lightweight brief.
In other news, the Sport Chrono pack, uprated (read: louder) sports exhaust is standard, along with 20-inch alloys and adaptive suspension is standard.
All that for around 10 percent more than what a base 911 goes for. And as anyone who's ever toyed with buying a Porsche knows, adding 10 percent to a price of one is remarkably easy to do, so the 911 T does represent decent value.
As for how it drives, well, the 911 T is a bit of a mixed bag in every sense of the word. It upgrades the driving experience in most ways that matter, but in other ways, it doesn't go quite far enough. Depending on how you want to look at it, this is either a great thing, or a terrible disappointment.
Even with the reduced soundproofing, the 911 T isn't obnoxiously loud, even with the sports exhaust. For my money, I'd have liked it to be a little louder, considering how the roar from the tyres is louder than the exhaust note. In all fairness, it is pretty loud on the outside, but from the inside with the windows up, you'll be straining to hear the flat-six's song.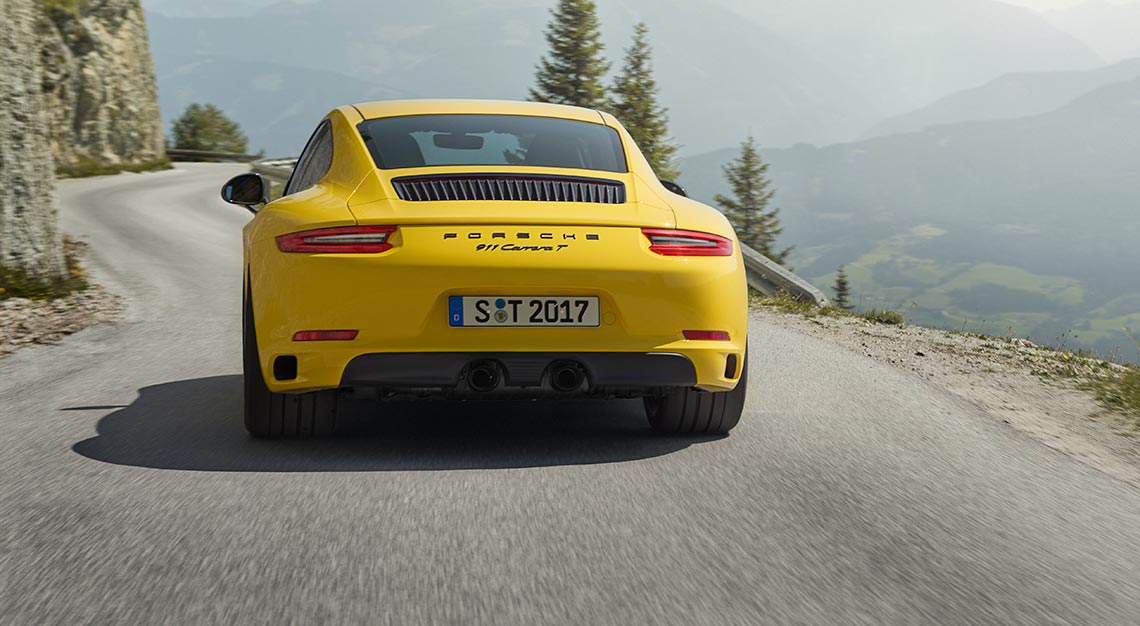 The sports exhaust also brings some snap, crackle and pop, but only if the driving mode dial on the steering wheel is set to Sport. The experience can be cranked up still further if Sport+ (exclusive to the Sport Chrono pack) mode is engaged, although this also cranks up the dampers to borderline unbearable levels.
It's a good thing you can have the drivetrain in its sharpest setting and the suspension in its milder one. Your spine will thank you.
Some good news can be found in its engine, however. While it makes no more power over base model 911s, the 911 T seems to have sharper throttle response. It does, however, still have the lazy engine characteristics of all turbocharged 911s (the mighty Turbo excepted) — it feels like the turbo takes ages to spool, though once it does, it really hustles.
Not that I have any real issues with turbo lag. I mean, if there was a moment of lag before a giant surge of power, that's fine. But with this motor, it just feels like there's a dead spot in the power band before the torque plateaus and eventually runs out of puff.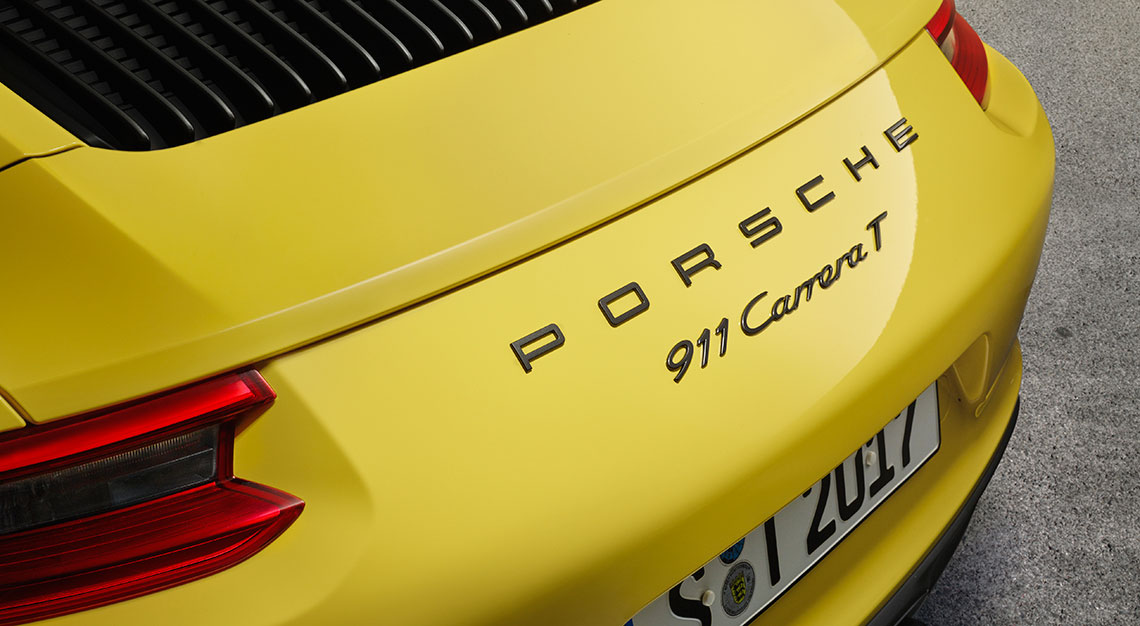 Part of the problem, I suppose, is down to its gearbox. The seven-speed dual-clutch transmission's hardware is impeccable as usual, but is let down by its programming. In Normal mode, it upshifts so soon that the engine feels permanently off the boil, and in Sport, it holds onto gears a little longer than is comfortable.
That said, the drivetrain in the 911 T isn't bad, as such. It's just tepid, which is about as damning as it gets for a Porsche. The 911 T, for all of Porsche's talk of it being a 911 for driving purists, is a little overblown.
It's far more accurate to think of it as a run-out special for the 991-generation of 911s before the 992-generation hits the stage, likely late this year or in early 2019. Or even more accurately, the 911 T is a curated selection of options aimed at buyers who want to drive their 911s hard, but whose budgets don't stretch to a 911 Carrera GTS.
You could option all the above goodies on a standard 911 Carrera, but it'll likely cost more, and you won't have the snob appeal that comes with owning a distinct variant. Cut-price GT3 the 911 T most certainly isn't, but as a smartly optioned 911 Carrera, it most certainly is.
Car Specifications
Engine: 2,981cc, 24-valves, flat-six, turbocharged
Power: 370hp at 6,500rpm
Torque: 450Nm at 1,700-5,000rpm
0-100Km/Hr: 4.2 seconds
Top Speed: 291km/hr
Transmission: Seven-speed dual-clutch
Fuel Consumption: 8.5L/100km
VES Band C1: ($10,000 surcharge)
Price: $500,888 (excluding COE, excluding options)