Innovation and creativity collide in Cartier's Libre collection, where nothing is ever just what it seems
Trompe d'oeil and distorted proportions. Clashing concepts and crazy ideas. Twisted logic and intoxicating shapes. Notions that are a far cry from the usual refined, elegant timelessness of classic Cartier icons such as the Tank, the Santos, and the Panthere, are paradoxically very much entrenched in the everyday discourse of the Maison's wild and dazzling Libre collection. As its name suggests, Libre is completely free of all the restraints and traditions that govern Cartier's classical pillars. Its designers follow no rules, only creative instinct, as they explore the furthest reaches of artful watchmaking.
Yet notably, every timepiece achieves singularity while remaining distinctively Cartier, with the Maison's codes running deep in its veins. Crucially, it's a discipline that Cartier's image, style and heritage director, Pierre Rainero, sees as only natural, given the sheer vastness of the Maison's history, scope and expertise.
He describes, "This is linked to the different facets of our work in terms of style. Our work is rooted in the search for essential designs. That corresponds to essential shapes like the Santos, Tank, Baignoire, and more, while on the other hand we have pursuits of pure creativity that lead to objects which are more extravagant. Between these two types of designs, one common link is the sense of balance."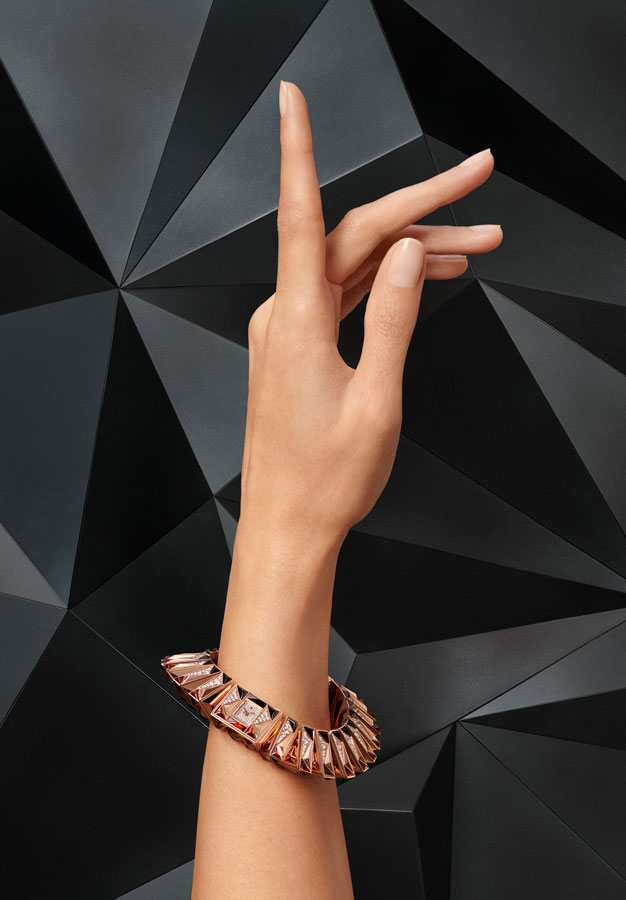 Whether in terms of form, texture, shape, and even decor, Cartier's creations have an unspoken devotion to the preservation of harmony and balance. It's what the Maison's creatives regard as the Cartier vocabulary, and how even completely new designs always have that sense of familiarity, such that one does not need to see a Cartier brand name or logo to identify said design as a creation of the Maison. The newest member of the Cartier Libre collection is no exception.
Named Morphosis, it blurs the lines between time and jewellery piece while simultaneously connecting past, present, and dare we say it, the future as well. Consisting of multiple repetitive gold tiles encircling the wrist, moving with it, and adhering to its every curve, Morphosis is a modern throwback to an historical bracelet set spectacularly with rock crystal and diamonds famously worn by actress Gloria Swanson in the 1930s.
It also takes after some of Cartier's most memorable recent creations that play with three-dimensionality in the most unexpected ways, such as the Maillon de Cartier and the Clash [Un]Limited reversible watch. "This watch can be worn in different ways," says Rainero, "and it's very gracefully articulated. When you look at it in terms of aesthetical vocabulary, it is very Cartier."
True to the Cartier Libre's predilection for astonishment and surprises, Morphosis is entirely reversible, as the links are connected by a flexible elastic strap. A watch one way and a bracelet the other, it is more than mere watch or jewel, but a category-defying hybrid that unites two of Cartier's best loved specialties: jewellery and watchmaking.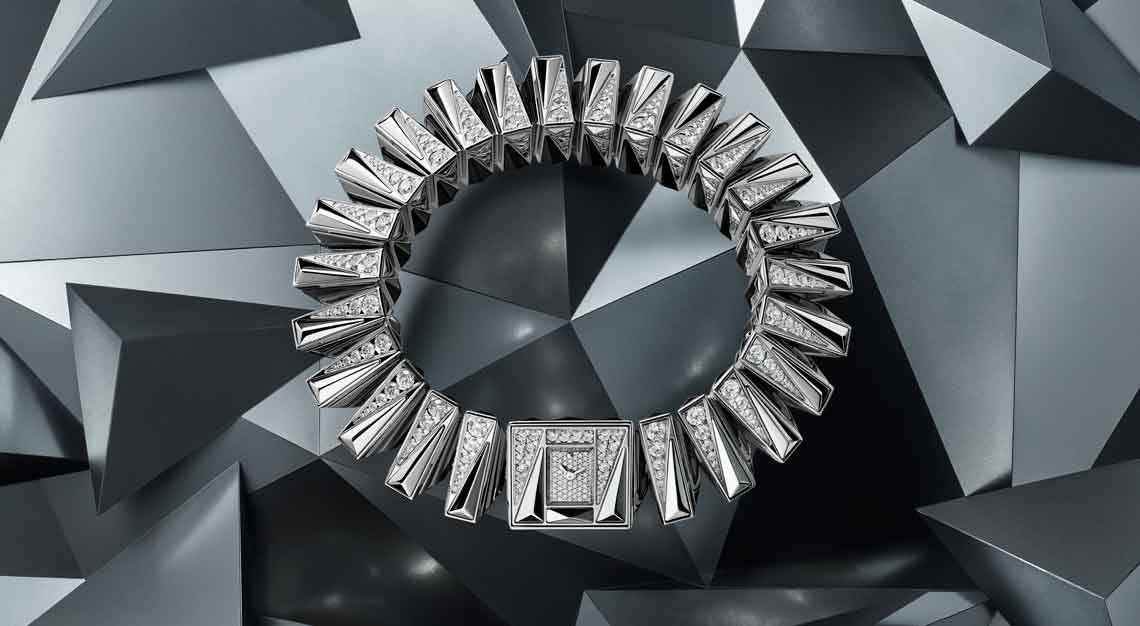 "Libre is the freedom to go outside the boundaries of traditional watchmaking with no constraints," offers Rainero. "The idea is to explore as much as possible. We forget all the different criteria [of watchmaking] and concentrate on the beauty of the object and the incredible possibilities we could come up with for an object that carries the time however it chooses to carry the time."
With its voluminous links arranged in a continuously repeating sequence, Morphosis revisits the geometric style in several ways. Triangular shaped links are paved with a variety of triangular shaped gemstones including black spinels, sapphires, emeralds, garnets, moonstones, chrysoprases, red coral, and as well diamonds—brilliant-cut, this time, for added contrast. And here's where Cartier's underlying virtuosity for jewellery making truly rises to the top.
Morphosis debuts a new triangular setting technique developed by the Maison which ingeniously allows stones to be held in place without the presence of traditional claws. This is similar to the mysterious setting or invisible setting techniques except this time the stones of different sizes may be arranged in clusters rather than straight lines.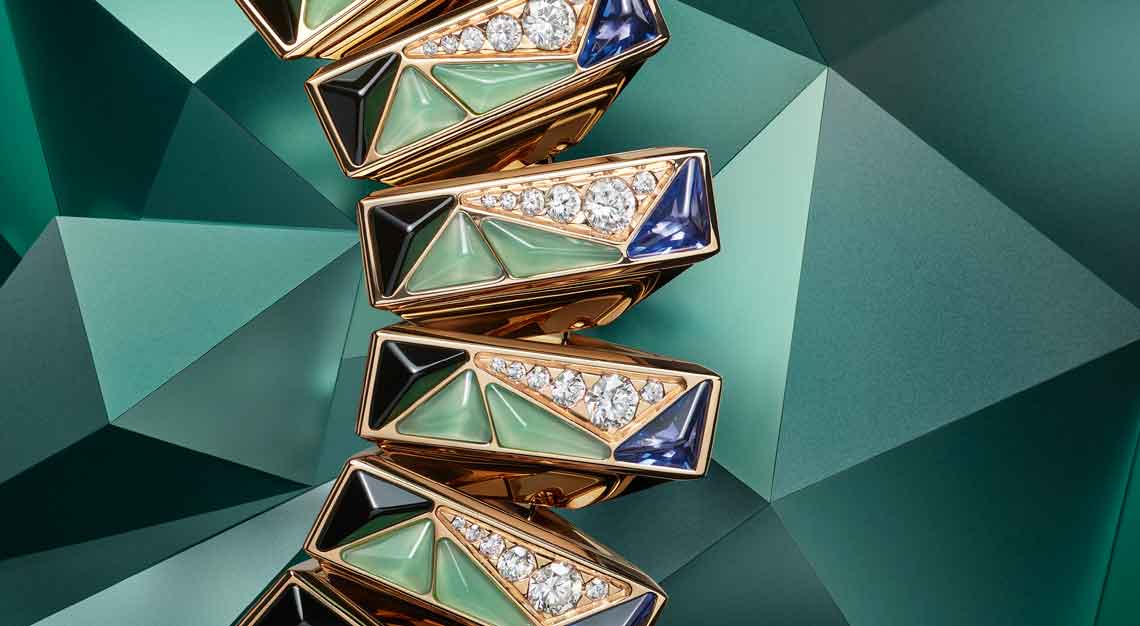 So in addition to design audacity, the Morphosis has a highly technical facet as well. The triangular setting is proof of that, but much contemplation and research had also been devoted to its form which twists around a specially developed spring. Its time setting system had also been relocated to the side in order to not to disrupt the visual harmony. Sounds like a lot of effort for a single jewellery piece—or watch, depending on how one perceives the Morphosis—but Rainero believes it is not just necessary but a privilege at Cartier.
"To us it's quite natural. First of all a watch is conceived like a piece of jewellery even if there will be no diamonds or stones. The spirit behind it is to create a piece of jewellery," he explains. "Even an essential shape like Baignoire or Tank is a piece of jewellery in its conception, and this is even more true when the object carries precious stones." As the world's leading jeweller-watchmaker, Cartier simply does not take the easy route when it comes to jewellery timepieces. It is not enough to simply pave a timepiece with diamonds on the available surfaces.
Rainero adds, "Every creation is conceived as a world unto itself. In French, to say that something doesn't correspond to a geometric shape, we say ça forme libre. It's a shape that doesn't belong to any category. Morphosis doesn't belong to any category. It's a creation of its own. This is possible because of a Cartier culture to work on any object as a jewellery object. That is what makes us very original, and very singular."