Lounging Around
If you regularly shuttle between Singapore and Hong Kong on Cathay Pacific, or are a oneworld Emerald or Sapphire member, you have a new place to conduct your pre-flight rituals.
The Cathay Pacific Lounge in Changi Airport's Terminal 4 takes its cues from The Pier in Chek Lap Kok. The Pier is designed to resemble a luxury apartment, complete with separate living spaces. Its walnut panelled walls, low-slung sofas and polished brass accents exude chic. It's the kind of space that the cast of Mad Men would feel right at home in.
That same vibe carries across to the new Cathay Pacific Lounge, located in the Terminal's mezzanine level. At 849 square metres (9,100 square feet) in size, the Lounge has seating for 207 customers.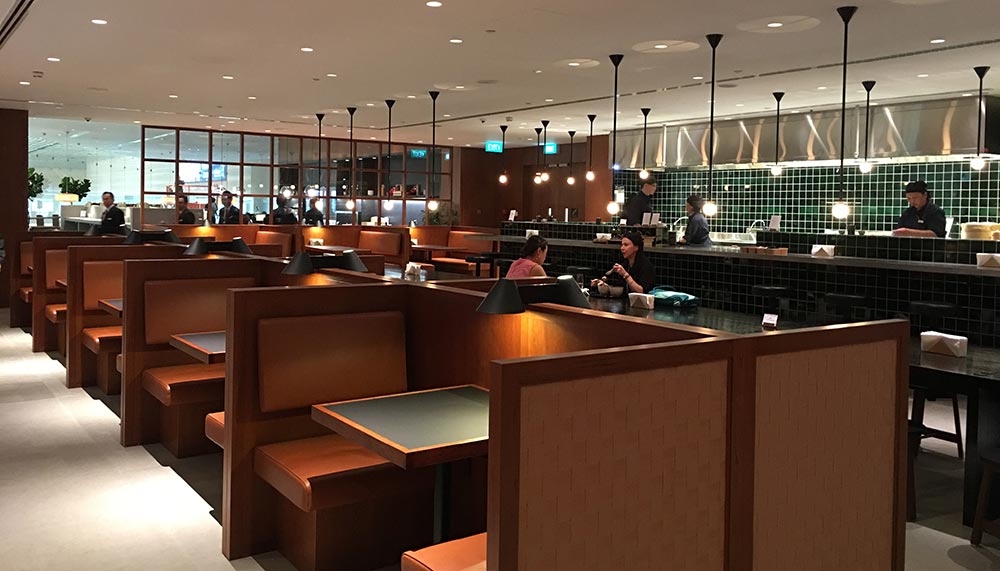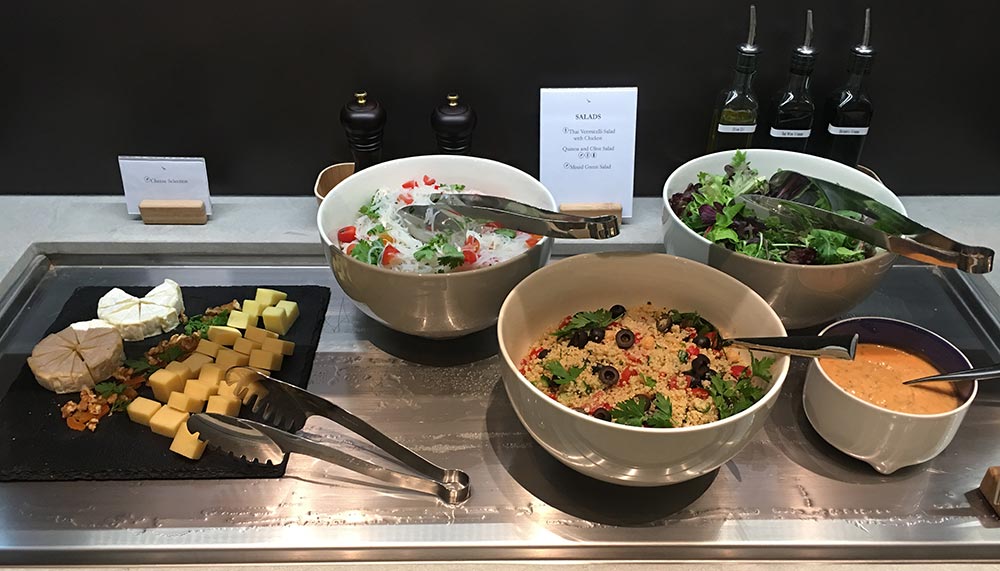 Home Away From Home
Upon entry, you first encounter the Noodle Bar – akin to the apartment's 'dining room'. Park yourself in a cosy booth if you're flying solo or with a partner, or sidle up to the communal table if you're travelling in a pack. Then order up Cathay Pacific's lounge signatures, Wanton Noodle Soup or Dan Dan Noodles. Across Asia, the airline typically incorporates local noodle varieties in its menu; here, it's Singapore Laksa.
There's also a selection of hot dishes to sample. The menu rotates monthly so that frequent fliers don't get bored.
In the adjacent Food Hall – the apartment's 'pantry' – you can perch at the counter, get some work done, and grab a quick bite or drink. Nibbles include salads and an assortment of dim sum. We appreciate the thoughtful design touches here: bag hooks and electrical outlets for every seat along the counter.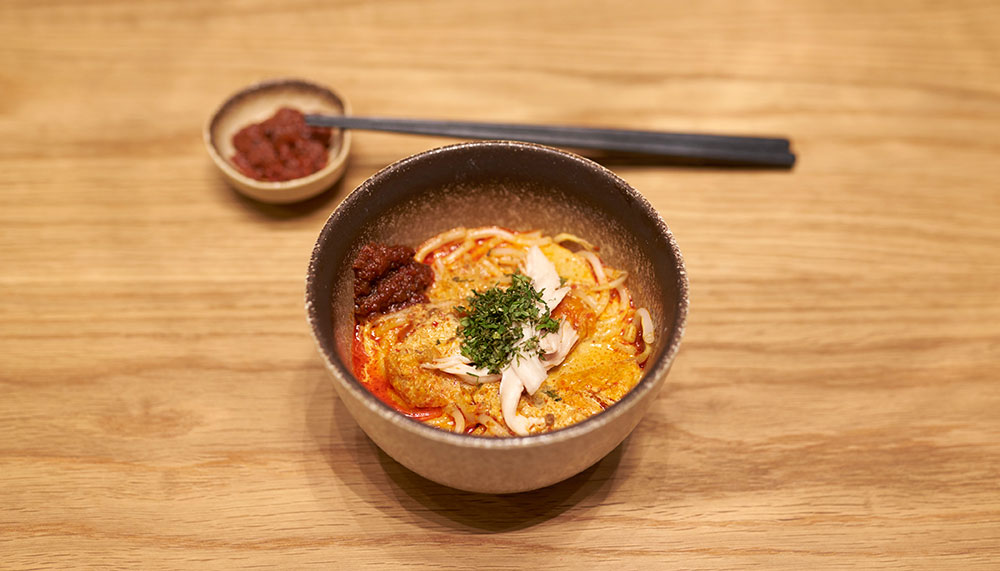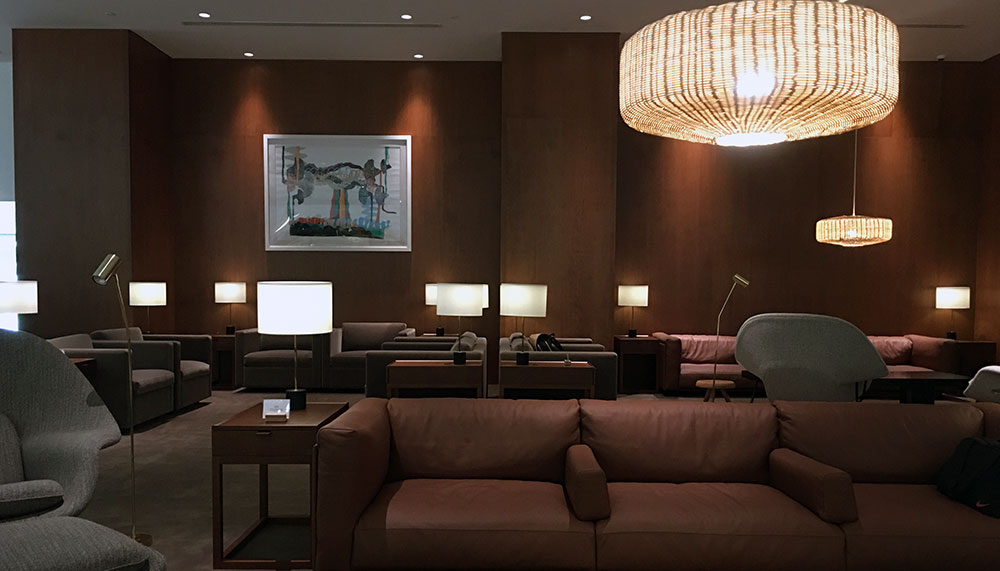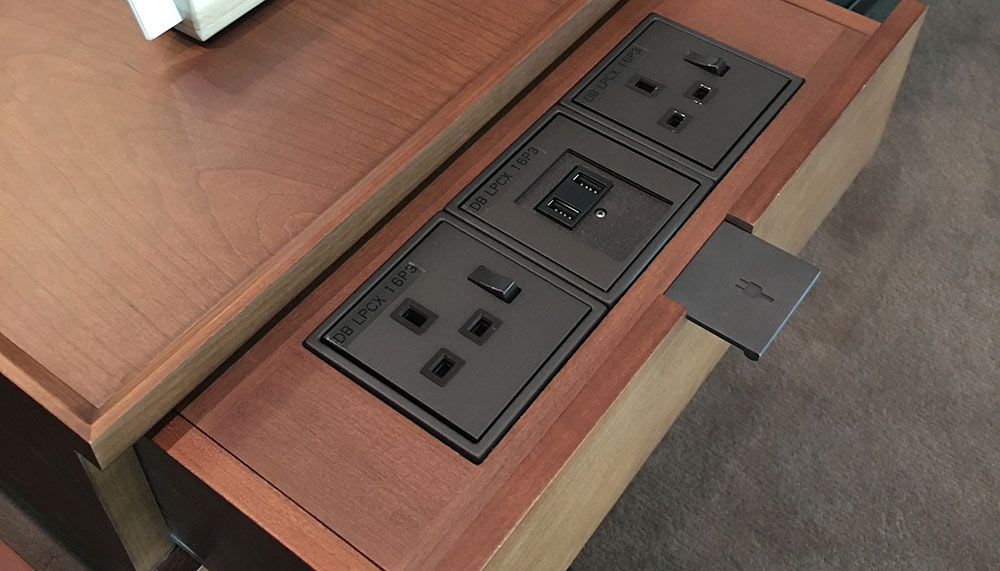 Speaking of electrical outlets, there are ample sockets throughout the Lounge. Including, rather intriguingly, those discreetly built into side table drawers in the Main Lounge – the apartment's 'living room'. Here, different seating configurations suit every preference. There's everything from plush leather sofas and cocoon-like cradles to curl up in, to upholstered reading chairs and swivel seats to clack away on your laptop. Potted plants, interspersed among the furniture, add a homely touch.
Once you're done in the Lounge, it's just a four- to five-minute walk to the boarding gate.
Cathay Pacific, previously based in Terminal 1, is currently one of only two airlines to make Terminal 4 its home, the other being Korean Air.