The Return of the Kangaroo Route via the airbus A380
Sunday, 25 March 2018. Five years after swapping Singapore for Dubai on its Sydney to London flight, Qantas reinstated Singapore Changi Airport as its transit hub. It was a mini-homecoming of sorts: From 1981 to 2013, Changi served as the stopover point on Qantas's affectionately named Kangaroo Route, a.k.a its Australia-Europe services.
More importantly – for Singapore-based Qantas frequent fliers at least – was that the beloved Airbus A380s were making a comeback. In other words, the return of First Class seats.
Expectedly, emotions ran high. Changi, the forsaken mother, ready to welcome Qantas, her prodigal son, back to the roost.
I was fortunate enough to be on that flight – QF1 – to witness the rapture. At the check-in counter in Terminal 1, counter staff were all smiles as they posed for pictures. At the departure gate, the airline's official mascot, Matilda the kangaroo, bade us farewell. She was an instant – and Insta – hit with passengers both young and young-at-heart.
My journey began at the Qantas Singapore Lounge, one of the – dare I say – best lounges in Changi. It has a well-stocked bar strategically positioned near the entrance. As someone who enjoys a pre-flight tipple on long-haul flights, I very much appreciate this convenience.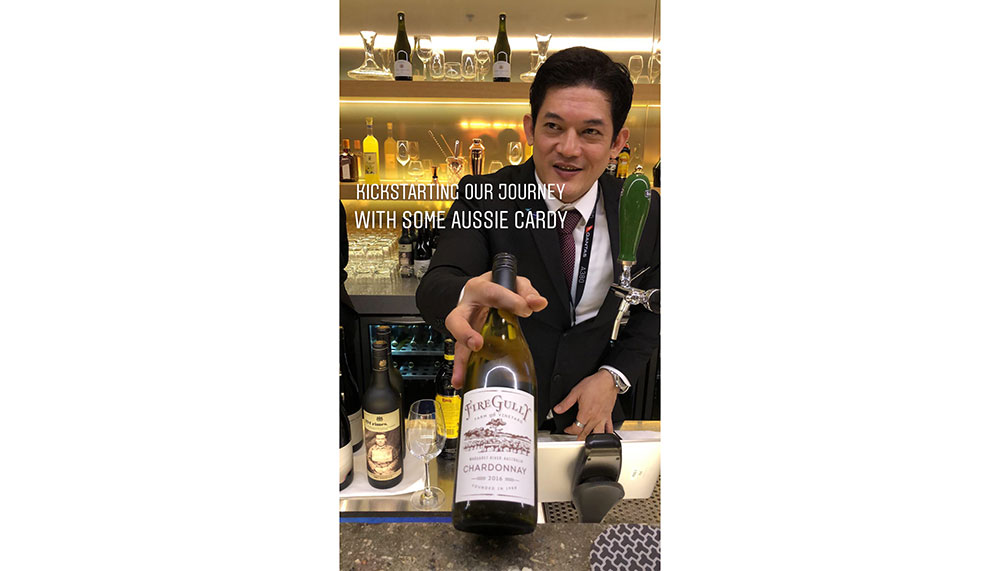 Not feeling particularly picky, I asked for a white. The bartender recommended a Margaret River chardonnay, the 2016 vintage from Fire Gully. Western Australia is the lounge's focus at the moment, in honour of Qantas's inaugural non-stop, 17-hour flight from Perth to London, which began on Saturday, 24 March 2018.
My wine was a bit more savoury than typical Margaret River chardonnays – more savoury than I liked, actually. It had a soft mouthfeel, roundedness and slight acidity in the finish – qualities that would make it pair well with the lounge's seasonal special, Chicken Laksa.
Soon it was time to board.
Qantas's fleet of 12 A380s house 64 Business Class seats and 14 First Class Suites. In Business Class, where I was seated, it was a 2-2-2 configuration. The Qantas representative told me this was the second-generation configuration, and that the cabins would be refurbished in the second quarter of 2019.
When that happens, passengers can expect a refreshed First Class cabin, new Business Class and Premium Economy seats, and new cushions and fabrics in Economy.
Unfortunately the flight was delayed by 90 minutes. This was due to the late arrival of the aircraft from Sydney and the rerouting of the flight plan. Fortunately my seat had a built-in massage function, which I enjoyed very much. Also appreciated: the cabin crew's friendly demeanour and reassuring manner.
QF1 finally took off at 01:30 am, and my supper was served shortly after. I was pleasantly surprised by this. I recommend selecting items on the Sleep Sooner menu if you want something light to snack on. And – more importantly – extra-quick, fuss-free service so you can head to bed quickly.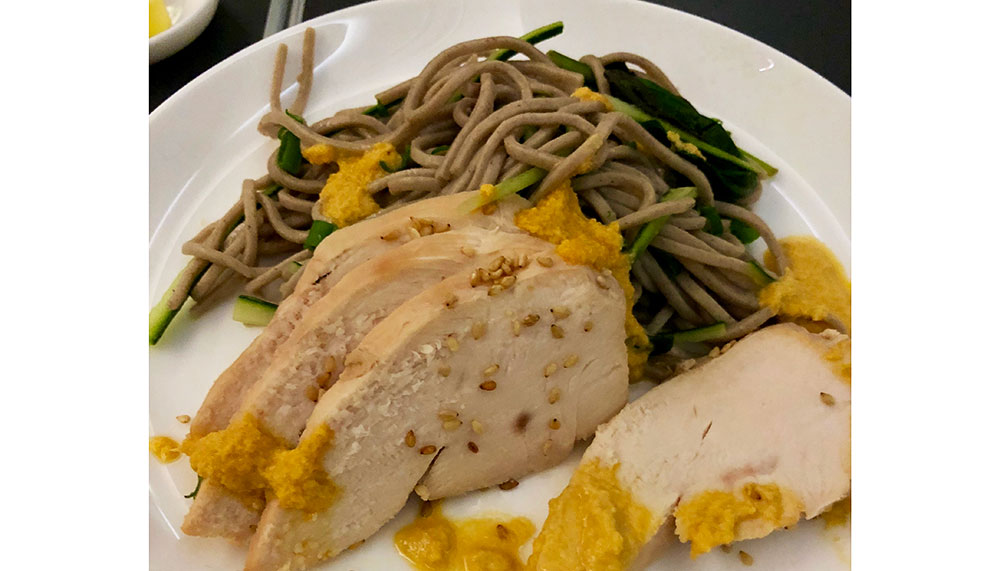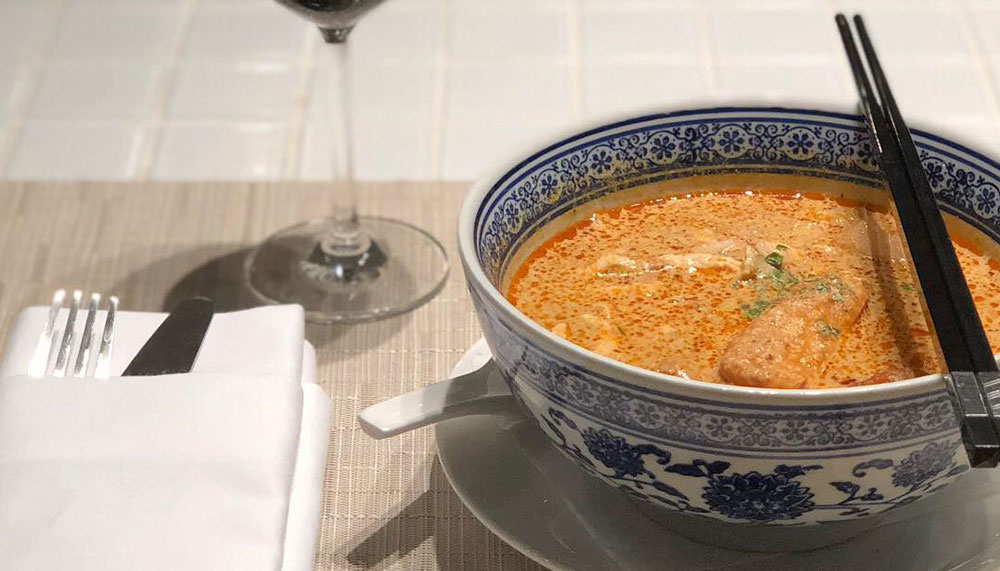 My Salad of Poached Chicken with Soba Noodles, Cucumber and Spicy Sesame Soy Dressing was served sans tablecloth (remember: it was fuss-free). The chicken was a bit dry but the noodles were perfectly cooked.
Stomach sated, it was time for bed. The seats recline flat, a full 180 degrees. The seat pitch of 203cm was very generous, handy if you're tall (at 170cm, I'm not). However, I found the seat width of 61cm a tad bit narrow – I prefer a bit more wiggle room when horizontal.
Despite this, I slept very soundly. I woke thoroughly refreshed, ready to take on London.