In this year's Best of the Best, we honour the brands and people behind the most covetable products. Here we have a list of the best watches, from Chopard to Vacheron Constantin and everything in-between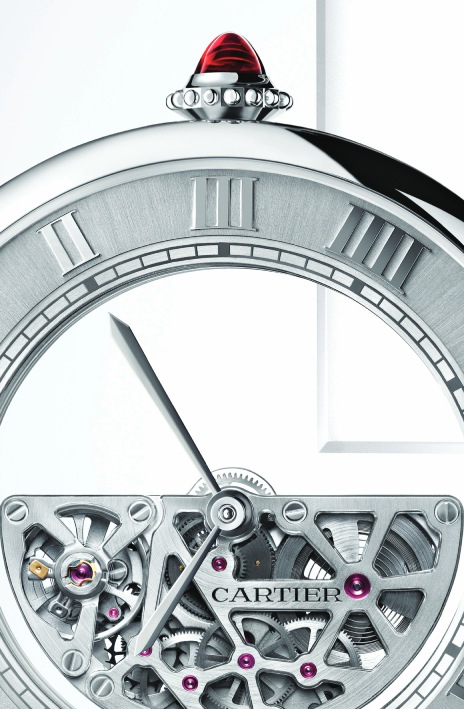 Watch of the Year
Cartier Masse Mystérieuse
For the past 110 years, Cartier has been creating Mystery Clocks known for their transparent glass dials in which the hands appear suspended in air as though completely disconnected from the movement. The concept was miniaturised for wristwatches
in 2013, but its latest iteration, the platinum 43.5mm by 12.64mm Masse Mystérieuse (price upon request), uses the sapphire-crystal glass to highlight a world first: a spinning rotor that incorporates the entire skeletonised 9801 MC calibre into its oscillating mass, which twirls around the wrist in an apparent act of levitation.
The research and development required to bring this illusion to life took eight years. Six sapphire-crystal discs were used to set the stage. Two are exhibition-glass pieces for the upper-glass and caseback, and four others functionally rotate and are used for the separation of the hour hand, minute hand, rotor/ movement and a fixed wheel, which the calibre rotates on. The hour and minute hands are connected to the crown through invisible gearing beneath the hour track.
Cartier has been a byword for exquisite design for more than a century—but this new technical marvel, only 30 of which will be made, reveals the house is capable of serious horological magic, too.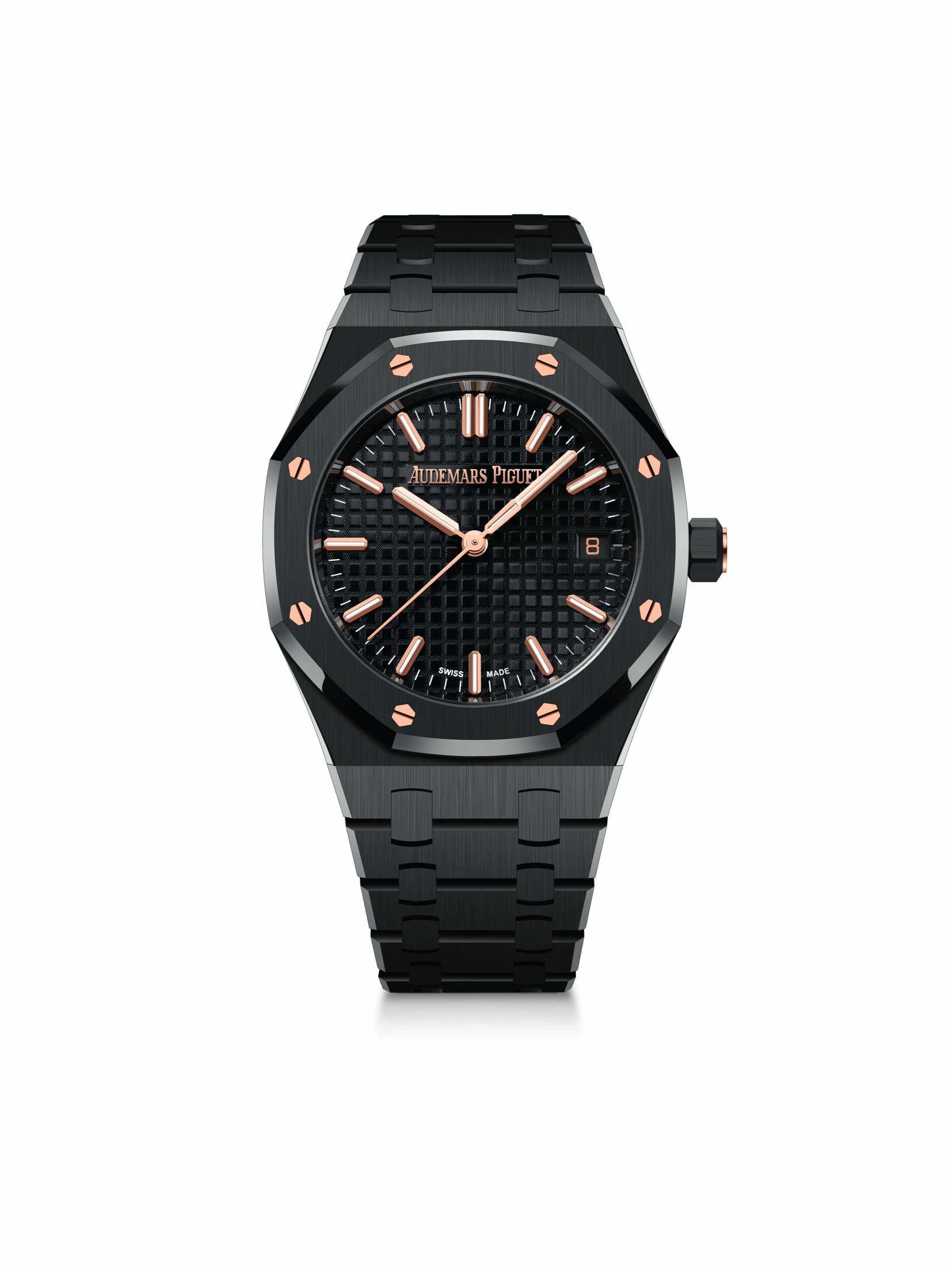 Best Sports Watch
Audemars Piguet 34mm Selfwinding Black Ceramic
All-black models have become so desirable, they are almost compulsory for many watchmakers. Against that backdrop, Audemars Piguet's dark monochrome Royal Oaks have entered the hype stratosphere with good reason. They stand out from the slew of steel and yellow-gold models and, as a result, they are exceedingly hard to come by. The smaller 34mm by 8.8mm time-only piece released last year and updated for 2022 will be no exception. 
Previous Royal Oak timepieces in this size have been equipped with quartz movements. The manual calibre 5800 is an ultra-slim automatic movement with 50 hours of power reserve present in both iterations. What's new this year is that the signature is now crafted in 24-carat pink gold; the numerals in the date window are gold instead of white; the pins that connect the links in the bracelet are no longer visible on the side; and the length of the hour markers has been adjusted for better legibility. While this new Ref 77350CE (CHF46,000), updated for the Royal Oak's 50th anniversary, is the more desirable of the two black models, it's also one of the best gender-neutral models on the market—a dress-up or dress-down piece delivering zero flourish and plenty of style.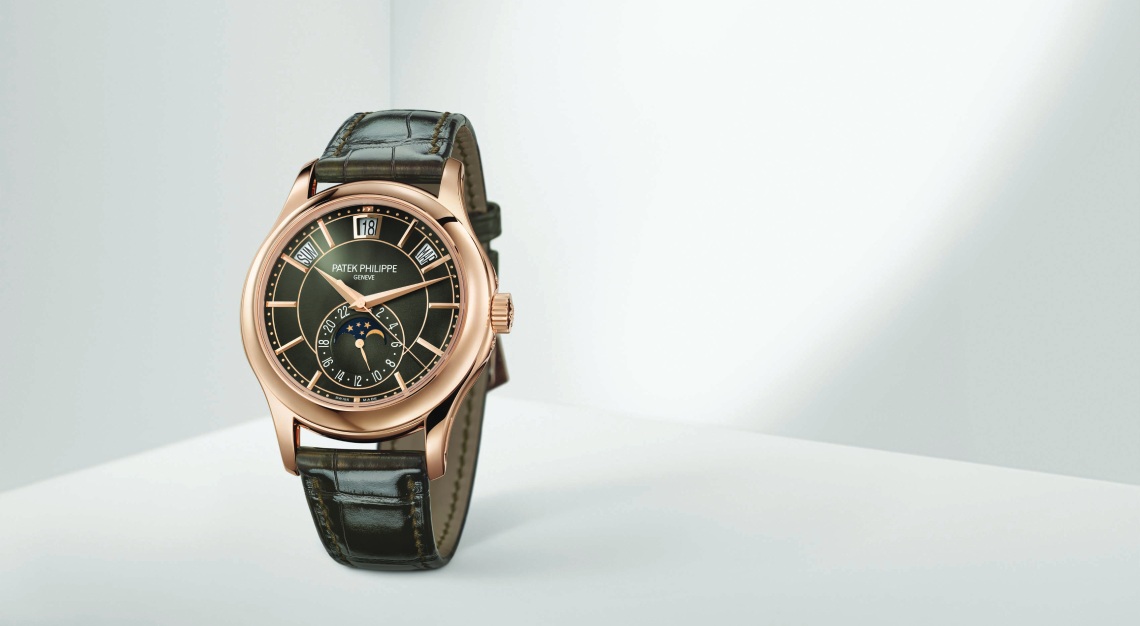 Best Annual Calendar
Patek Philippe Ref 5205R
Many of the headliners at Patek Philippe this year had a sportier, more casual focus (ie, the Ref 5470P 1/10th Second Monopusher Chronograph and the Ref 5326G Annual Calendar Travel Time). But Patek Philippe is first and foremost a maker of dress watches, and that's often what it does best. Case in point: the sophisticated and rich update to the 40mm by 11.36mm Ref 5205R Annual Calendar (US$55,592) in 18-carat rose gold with a new degrade olive-green dial. The shade has been popular in watchmaking for some time, but here the execution is exemplary. 
If any brand can prove that a simple colour update has huge significance, it's Patek Philippe. Last year's olive-green iteration of the company's now discontinued Nautilus Ref 5711/1A-014 was such a hit that it currently goes for over 20 times its original retail price of US$34,893 on the secondary market. And you may have heard about a US$6.5 million blue Patek Philippe x Tiffany & Co Nautilus Ref 5711? The difference here is that the annual calendar is more than a fashionable design piece—the high complication was invented by Patek Philippe in the 1990s. No hype needed.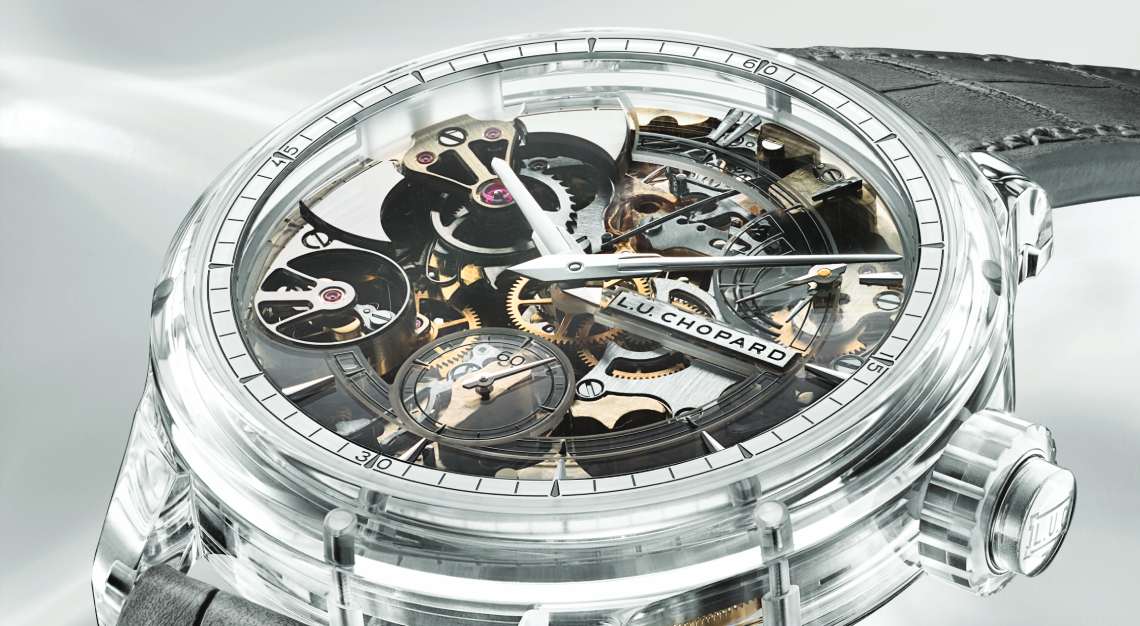 Best Minute Repeater
Chopard LUC Full Strike Sapphire
Chopard's first LUC Full Strike minute repeater debuted in 2016 and was such a tour de force that it took home the top prize at the 2017 GPHG awards for, among other things, exceptionally crisp sound made possible by using sapphire-crystal gongs to create its melody. In a Holy Grail-level update to the masterpiece, Chopard has now delivered the watch in a full sapphire-crystal 42.5mm by 11.55mm case—a world first for a minute repeater with sapphire-crystal gongs and case. 
Sapphire crystal is so hard it requires the use of diamond-tipped tools to machine into shape and, as a result, is an extraordinarily expensive endeavour—hence why so few pieces are made. Here it offers a 360-degree view of the LUC 08.01-L hand-wound movement, but Chopard went a step further to engrave and paint the outer-minute railroad track onto the crystal, which encircles herringbone-shaped applied hour markers, an off-centre seconds counter and a 60-hour power-reserve indicator. While the timepiece (price upon request) was created to ring in the 25th anniversary of the LUC collection, it hardly needs a reason to celebrate. It's a prodigious milestone in and of itself, and only five will be made.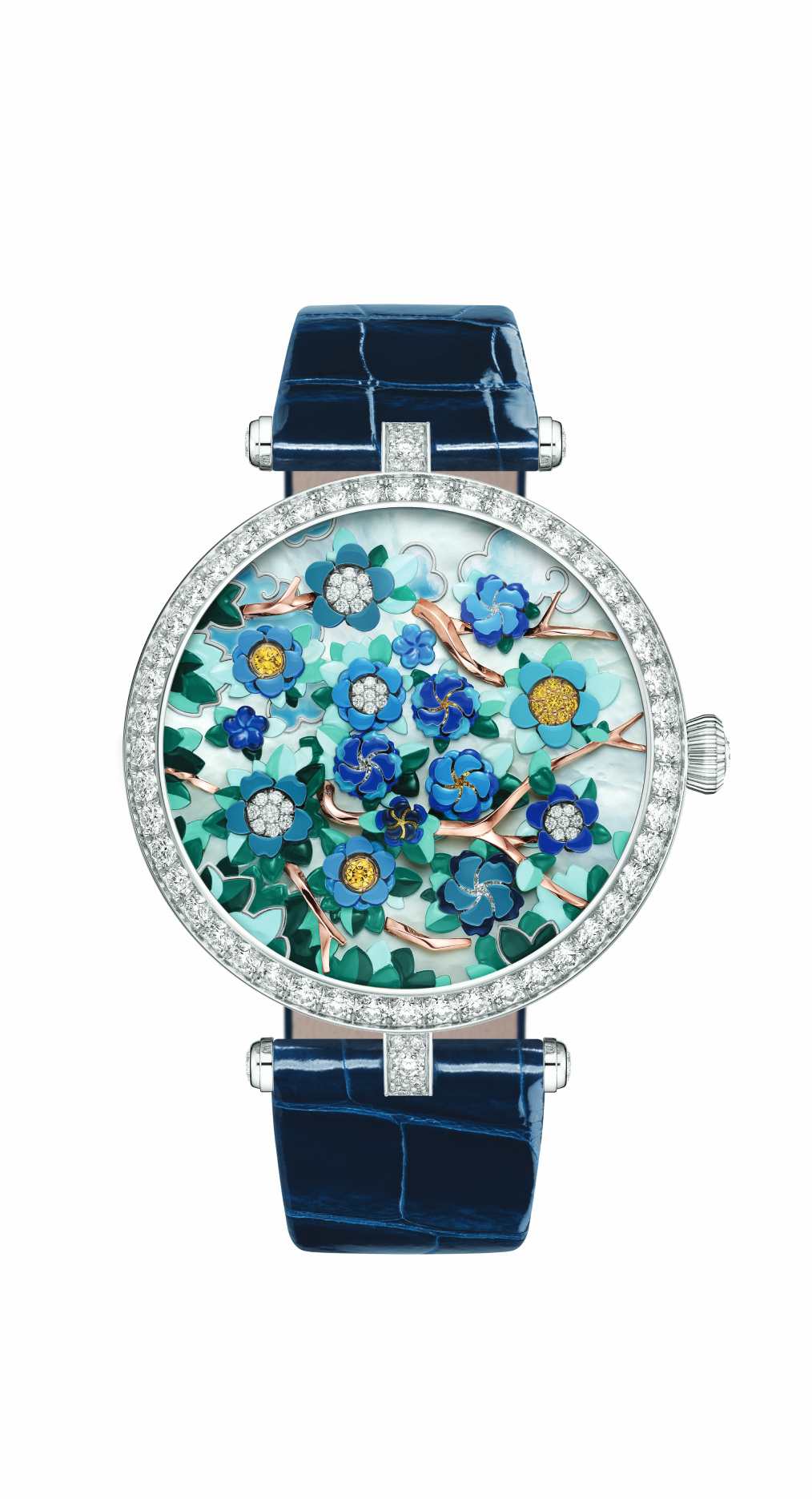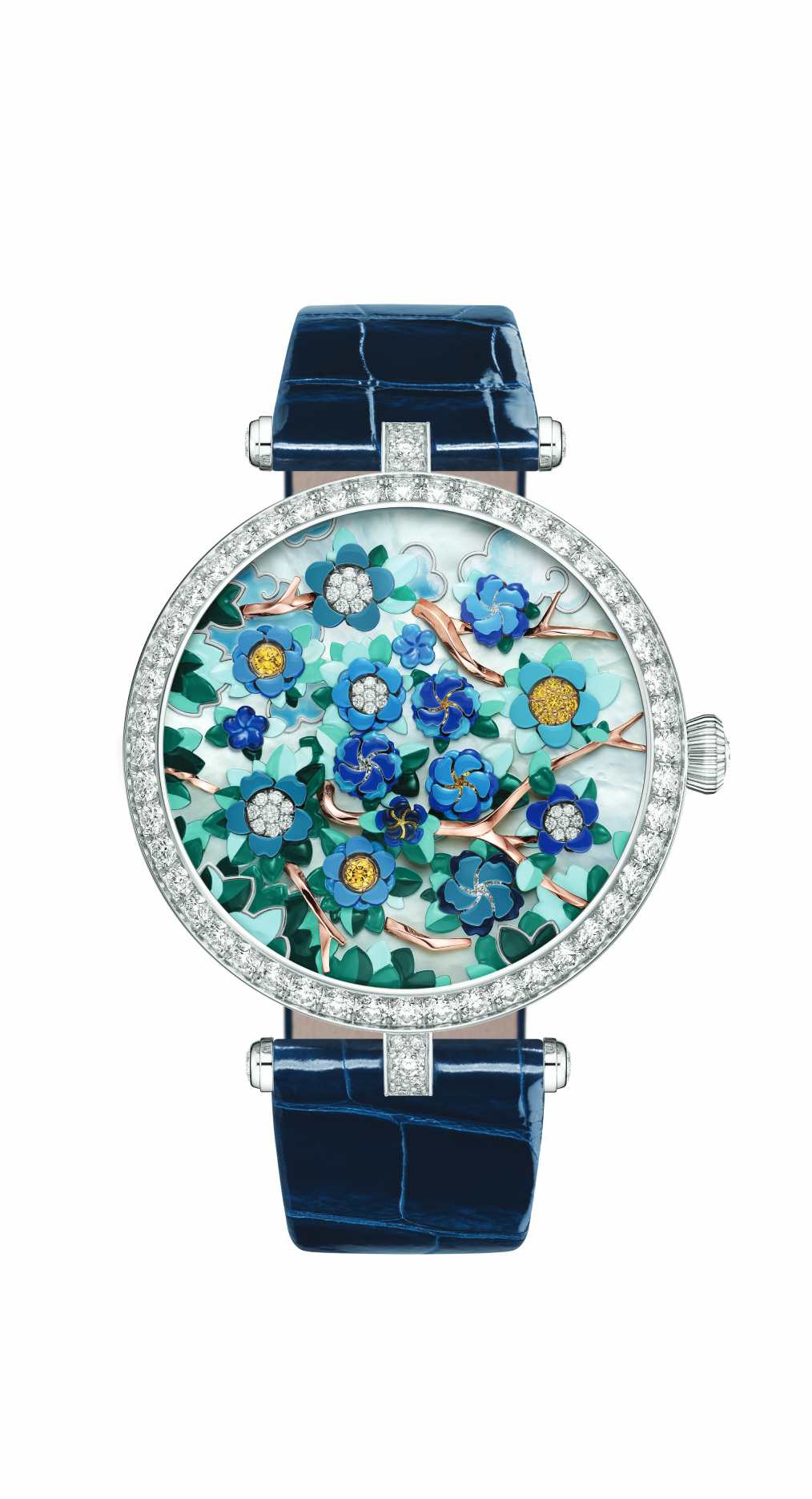 Best Metiers d'Art
Lady Arpels Heures Florales
How does Van Cleef & Arpels' garden grow? In a burst of artisanal expertise and technical gravitas exhibited in one of its most complex watches to date. The 38mm Heures Florales (price upon request) is a veritable performance piece that tells time via the opening and closing of 12 enamel and gem-set flowers, which bloom in a seemingly random pattern in a series of three cycles. 
The epitome of style and substance, the system required five years of research and development. The flowers are set into motion via a wheel that charges a spring in the barrel (equipped with a centrifugal regulator to control the speed) which powers the animation. The hours are read by counting the blooms that pop open. Meanwhile, the minutes are read on a horizontal rotating disc on the side of the case. 
Each limited-edition piece is rendered in either a red-cherry-blossom theme or shades of blue petals.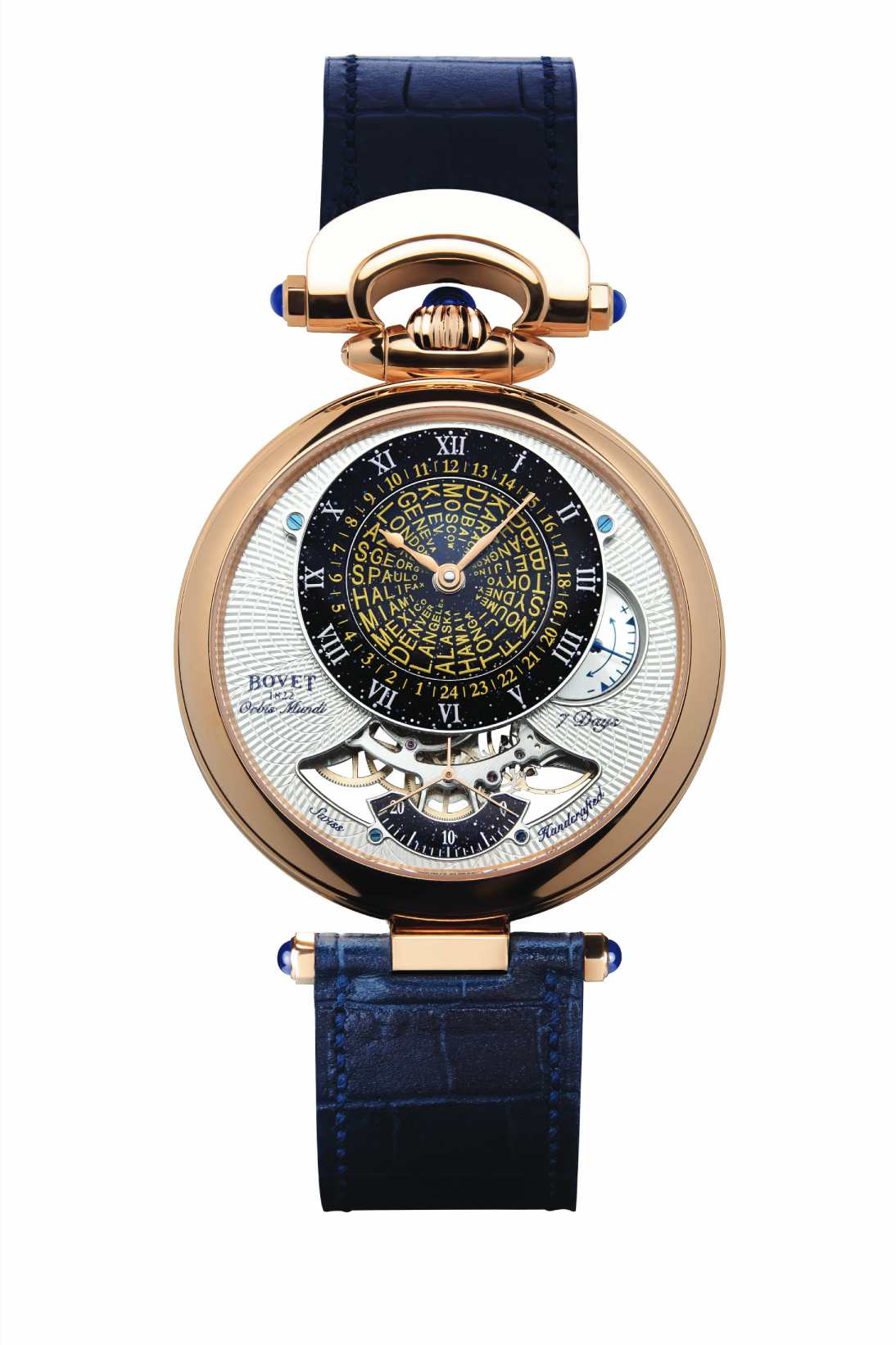 Best World Timer
Bovet Orbit Mundi World Time
Founder Edouard Bovet made his fortune travelling to far-flung locations to sell his watches. In 1818, he grabbed an early share of the Chinese market by heading to the Far East to sell four pocket watches worth today's equivalent of US$1 million. Two centuries later, the Swiss watchmaker continues to honour its globetrotting roots with the introduction of an elegant world timer for the modern jet-setter. 
The 42mm by 11.25mm Orbis Mundi is surprisingly simple. It offers a reading of multiple time zones at a glance, with time adjusted from a single crown. Both local and world times are positioned on an aventurine domed disc at 12 o'clock with global cities displayed in large yellow font. Global time in all cities can be read simultaneously with the local time via a patented mechanism. A seven-day power-reserve indicator is positioned at three o'clock, and an aperture at six o'clock reveals the in-house hairspring and escapement, as well as a three-armed seconds indication on a 20-second track. 
World timers are often difficult to read—regularly featuring enamel dials bearing maps of the world with the names of the cities in minute font. Bovet's innovation offers a welcome and intuitive solution for a traveller on-the-go. It is limited to 60 in 18-carat red gold (CHF46,000) and 60 in titanium (CHF40,700).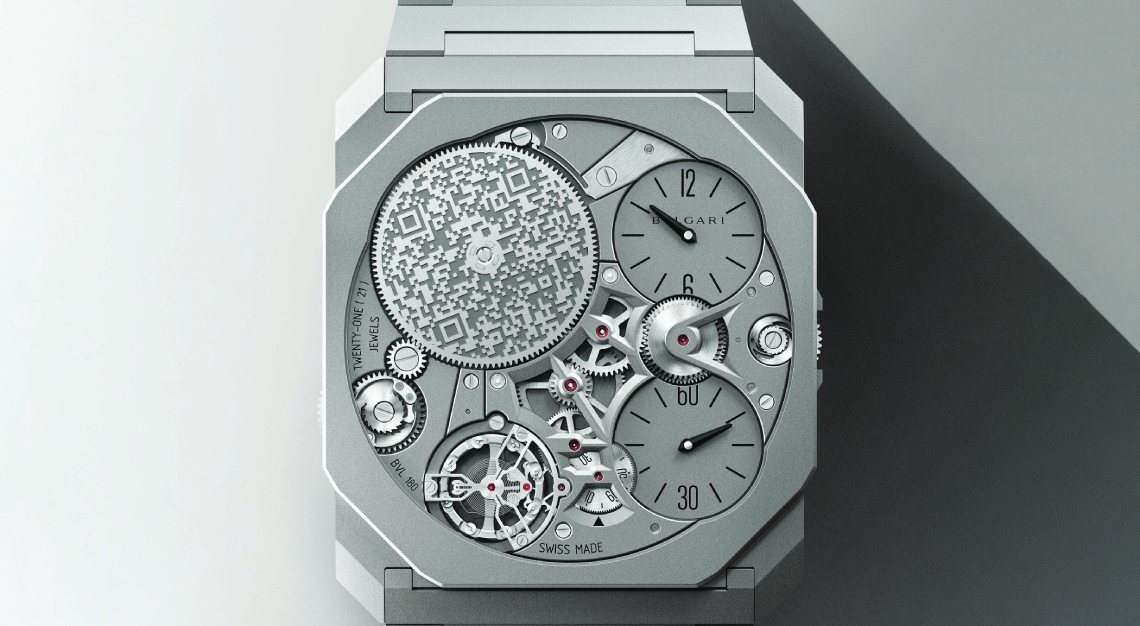 Best Ultra-Thin
Bvlgari Octo Finissimo Ultra
Bvlgari delivered the magnum opus of its Octo Finissimo line of record-breaking watches that are among the slimmest on the planet with the Ultra (price upon request), at a head-scratching 1.8mm thick. Even the bracelet has not been spared; it is now half the size of the original to fit the new dimensions. 
But beyond its impressively slim scale is a bold design language that takes this already very modern 40mm titanium watch and links it directly to the digital era with a QR code engraved on the barrel to deliver special making of movies, feature interviews and a 3D tour of the movement for each of the 10 exclusive owners. Only 10 pieces will be made, with each forever having its place in the metaverse with an original-artwork NFT. 
The Ultra is the eighth and final world record in the Octo Finissimo range, marking the end of an era of bona fide Bvlgari icons while firmly cementing its very specific place in time.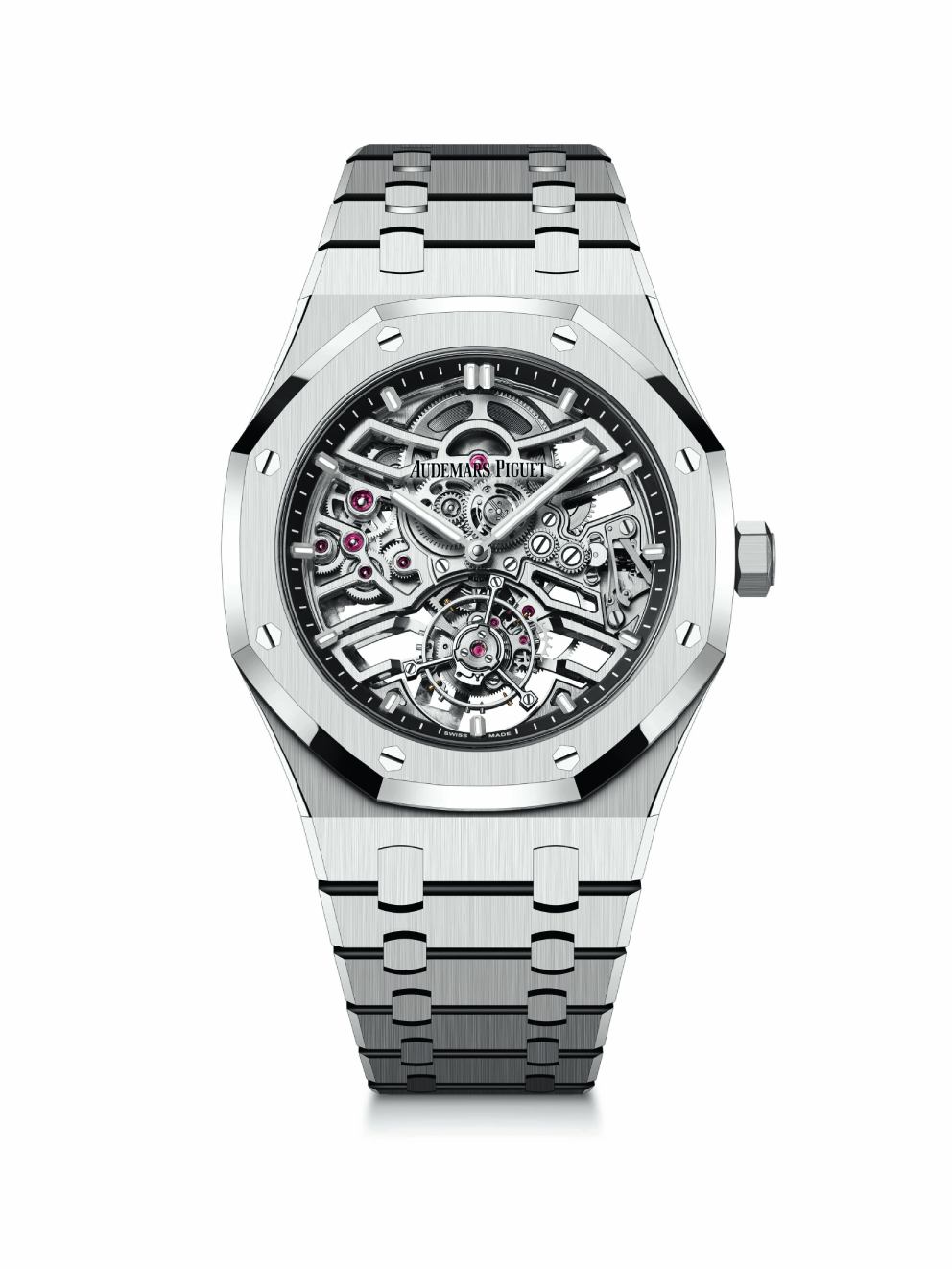 Best Self-Winding Tourbillon Openworked
Audemars Piguet Royal Oak
It's a landmark year for Audemars Piguet as it celebrates the 50th anniversary of the Royal Oak, created in 1972 and designed, as we all know by now, by the late watch wizard Gérald Genta. The model has become so iconic and so coveted that today some would argue it is the brand. 
Earlier this year, the company released a slew of new references to herald its jubilee, but the standout was the limited-production 41mm by 10.6mm steel Selfwinding Flying Tourbillon Openworked (price upon request). A first of its kind in the Royal Oak collection, the new calibre 2972—a version of the calibre 2950, which debuted in the Code 11:59 collection in 2019—presents the movement in an openworked variation to reveal its inner workings. 
Exposing the bones required Audemars Piguet to execute elite-level finishing on its architecture. There is brushing in three decorations: satin, circular and sunray. The chamfers are hand-polished, and the bridges have been finished both vertically and horizontally for a 3D effect. 
It is a stunning evolution of the Swiss watchmaker's first Selfwinding Tourbillon introduced in 1986 (a world first) and its first Royal Oak tourbillon introduced 25 years ago.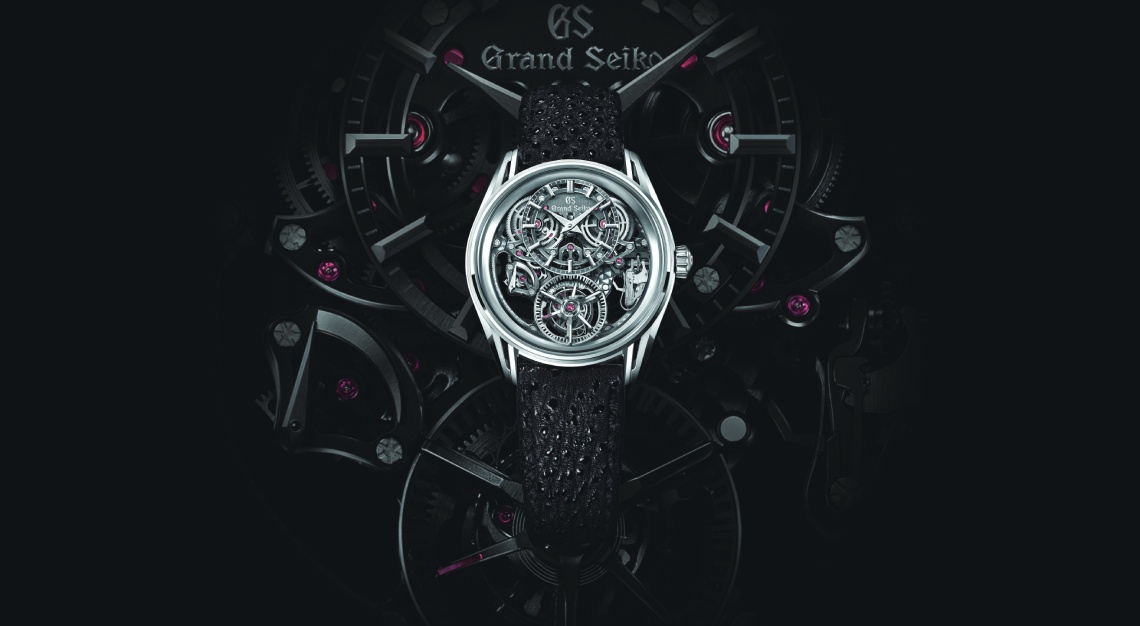 Best Constant-Force Tourbillon
Grand Seiko Kodo
Based on a concept movement introduced in 2020, known then as the T0, the 43.8mm by 12.9mm platinum and titanium Kodo (price upon request) is Grand Seiko's first constant-force tourbillon and first skeleton watch in its 62-year-long history—and is a world first as a tourbillon and constant-force mechanism operating on one axis. 
Tourbillons are relatively pervasive in watchmaking, but constant-force mechanisms are difficult to manufacture and far rarer. The purpose of the system is to deliver a constant flow of energy to the escapement, regardless of whether the power reserve is high or low. Coupled with the tourbillon, which rotates the escapement to prevent errors caused by gravity, it makes for a remarkably accurate timepiece. 
The combination is so difficult to achieve only a handful of watchmakers—FP Journe, IWC and Haldimann—have achieved it. Grand Seiko maximised the complications by executing the two on the same plane to increase energy efficiency, delivering 50 hours of constant force at an accuracy of +5 to -3 seconds per day. 
The piece, of which only 20 will be made, represents a new very high-end and technical chapter in Grand Seiko's history, suggesting it won't be relying solely on its popular sports watches in the future. 
Best Collaboration
H. Moser & Cie. x The Armoury
When Edouard Meylan, CEO of Swiss watchmaking company H. Moser & Cie., and Mark Cho, founder of menswear boutique The Armoury, first began orbiting each other's sphere in 2019, it was a shared appreciation for timepieces and tailored menswear that forged their friendship. It was, however, a case of opposites attracting. H. Moser & Cie. is known for its subversive and minimalist approach to watchmaking, while The Armoury's ethos is rooted in a contemporary take on old-school sartorialism. 
It turned out the stars were perfectly aligned, resulting in what might be the most elegant watch of the year: the 38mm by 9.9mm Endeavour Small Seconds Total Eclipse (CHF23,900). It features H. Moser & Cie.'s signature unmarked Vantablack dial (so dark it absorbs 99.9 per cent of light) and is topped off with Cho's favoured dot-style hour indices and classic Breguet-style hands. 
The combination of its under-the-radar surface and dressed-up indications proved to be a heavenly fit. A total of 56 models in steel were produced, half with a steel inner flange on the dial, the other half with a rose-gold flange to mimic the eclipse. 
55 of these were sold out in less than eight hours, with one piece held back exclusively for the February issue of Robb Report in the US, which was sold to a subscriber.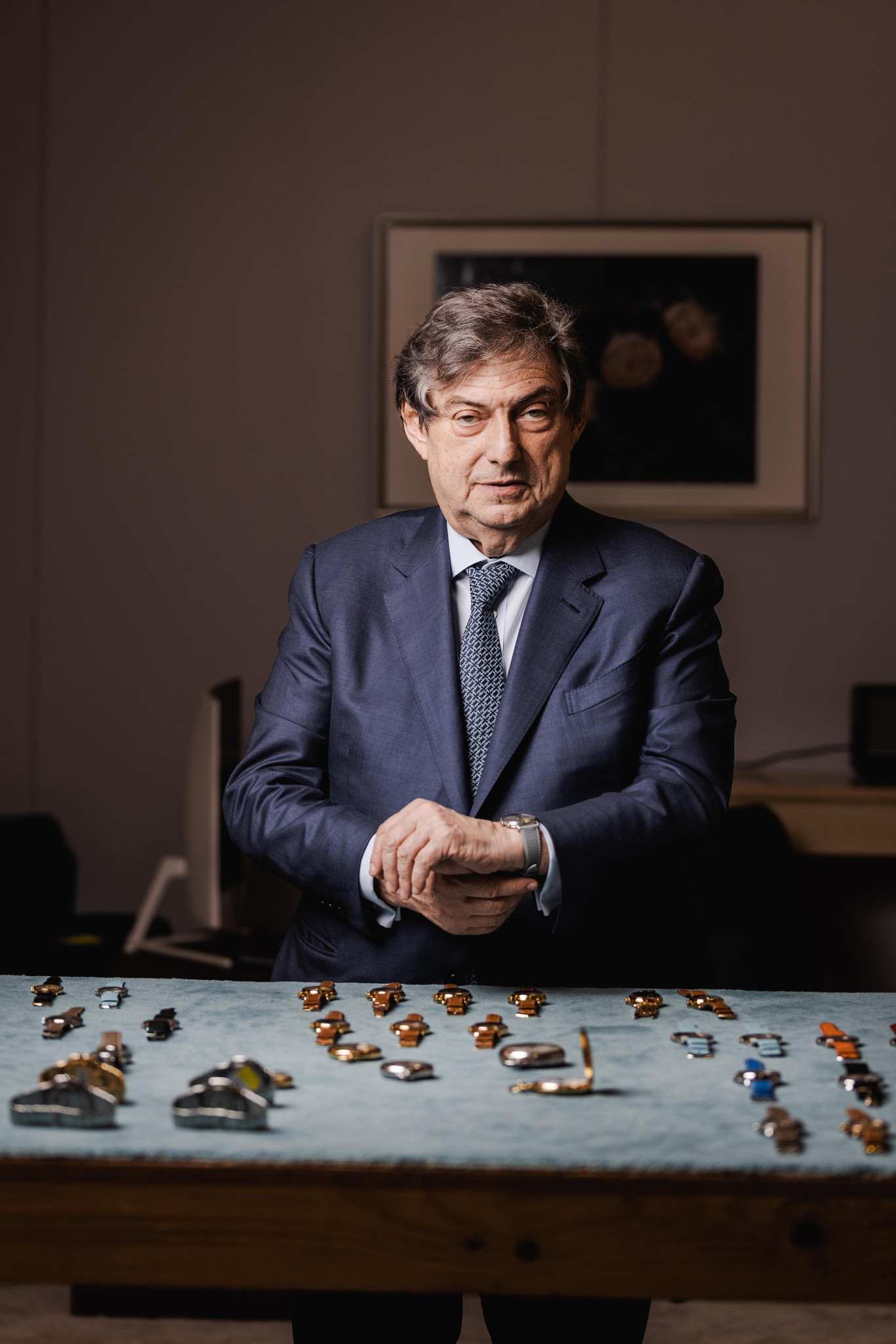 Best Collections
Patrick Getreide The OAK Collection
Special orders with unique dial- colour choices; unusual Patek Philippe references including enamel-dial pieces from the 1950s; a Cosmograph Daytona that has been into space; a piece one of the founding fathers of post-fascist Italy gave to his surgeon for saving his life after an assassination attempt. 
These are merely a handful of the 160 timepieces, curated down from many hundreds by their owner, French businessman Patrick Getreide, that make up the OAK Collection: one of the finest private assemblages of watches in the world, which debuted at the Design Museum in London this spring. 
As well as the watches' singularity ('OAK' stands for 'one of a kind'), what makes Getreide's collection so compelling is his borderline obsession with watches being in flawless and fully functioning condition (a clause that necessitates the employment of a full-time watchmaker). Few private collectors of this magnitude go public with their pieces. What has persuaded Getreide to do so? "I've had paintings shown in museums," he tells Robb Report during an exclusive preview of the collection, "and I believe that watches are art in the same way—they deserve to be shared with people."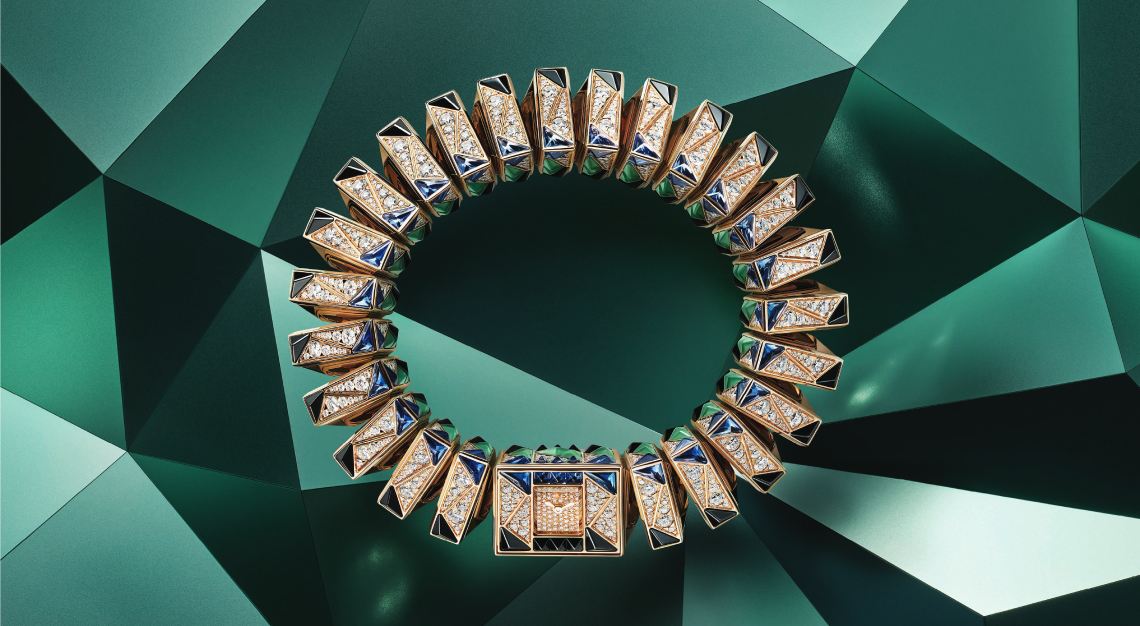 Best High Jewellery
Cartier Libre Morphosis
Geometrical dynamism was at play in Cartier's creative Libre Morphosis (price upon request), which is a two-in-one offering of a bracelet as well as a wristwatch. Conceived as a series of triangular links on a flexible elastic strap, it twists and turns with the flexibility of a hair tie so that its wearer can get a view of the incredible setting from every angle while being able to wear it according to need. 
Its movement, however, is more a matter of bragging rights than versatility. Each of the three versions, two in 18-carat rose gold and one in 18-carat white gold, are outfitted to the hilt in sparkling gems. The most striking is a rose-gold version, which is set with 418 brilliant-cut diamonds, 54 grey moonstones, 81 black spinels and 81 red garnets. 
The inspiration was a rock-crystal and diamond bracelet created for silver-screen legend Gloria Swanson in the 1930s, but its reinvention ups the ante in a feat of design gymnastics. Absolutely no one will be asking you the time, unless it's to give you a stage for show and tell. Each version is one of a kind.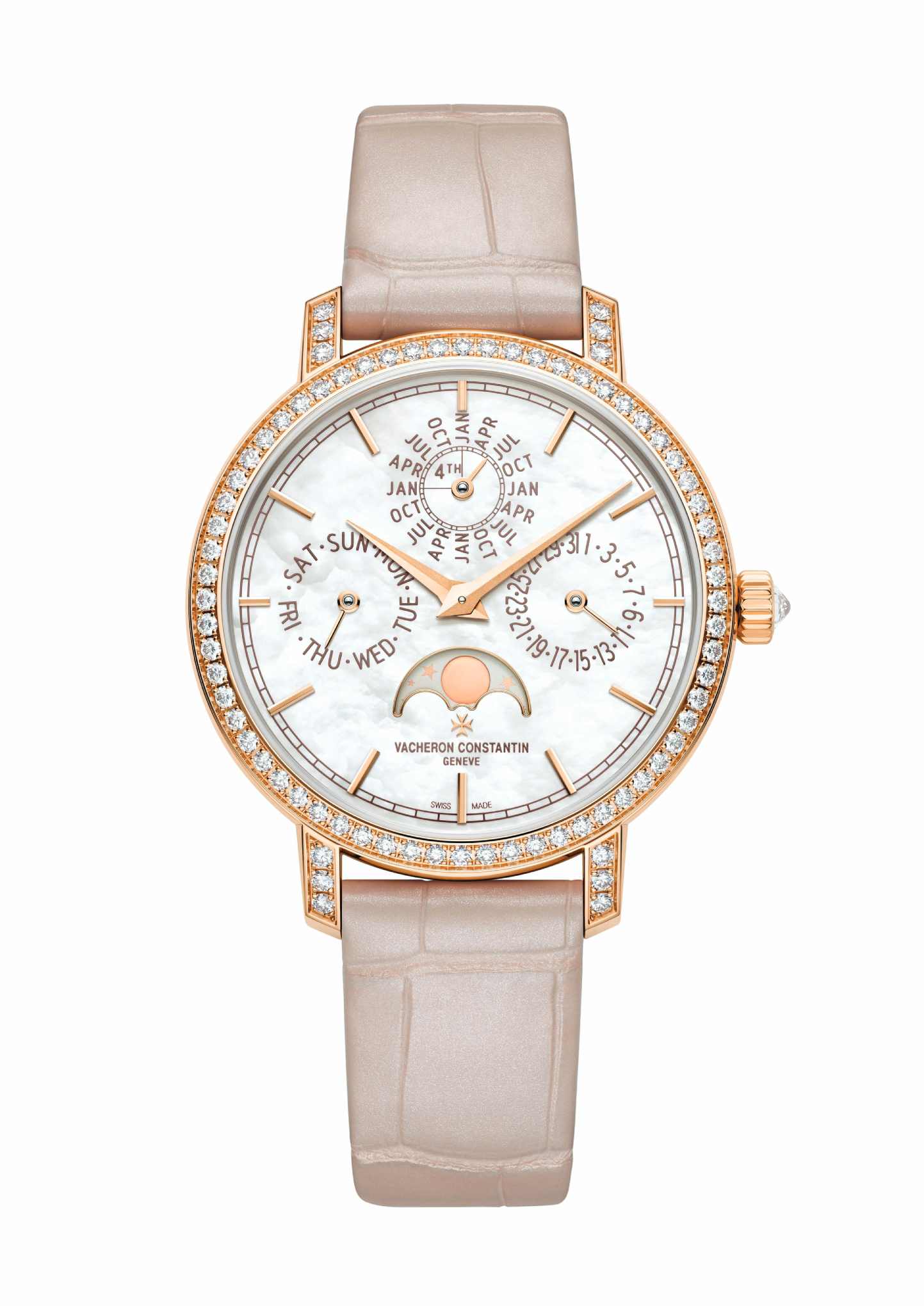 Best Perpetual Calendar
Vacheron Constantin Traditionnelle Perpetual Calendar Ultra-thin
Vacheron Constantin has been making timekeepers for women since 1889, and while high complications have included everything from a quarter repeater to a tourbillon throughout its history, this is the first time in its modern lineup that it has included a perpetual calendar for women. 
The introduction was delivered at the request of female clientele calling for the same elite functions delivered in men's references. Equipped with the ultra-thin 29.6mm by 4.05mm calibre 1120 QP, the Traditionnelle Perpetual Calendar Ultra-Thin (CHF88,500) comes in a 36.5mm by 8.43mm case, accented with 76 round-cut diamonds, in either 18-carat white gold with a baby-blue mother-of-pearl dial or 18-carat 5N pink gold with a blush-pink mother-of-pearl dial. 
Per the tradition of this complication, it includes a moonphase, date, day, month and leap-year indications, while its 276 components can be viewed through the sapphire-crystal caseback, including its 22-carat-gold rotor. 
Despite the watches' feminine appearance, they look sophisticated in the metal. This is a welcome addition to the ladies' lineup.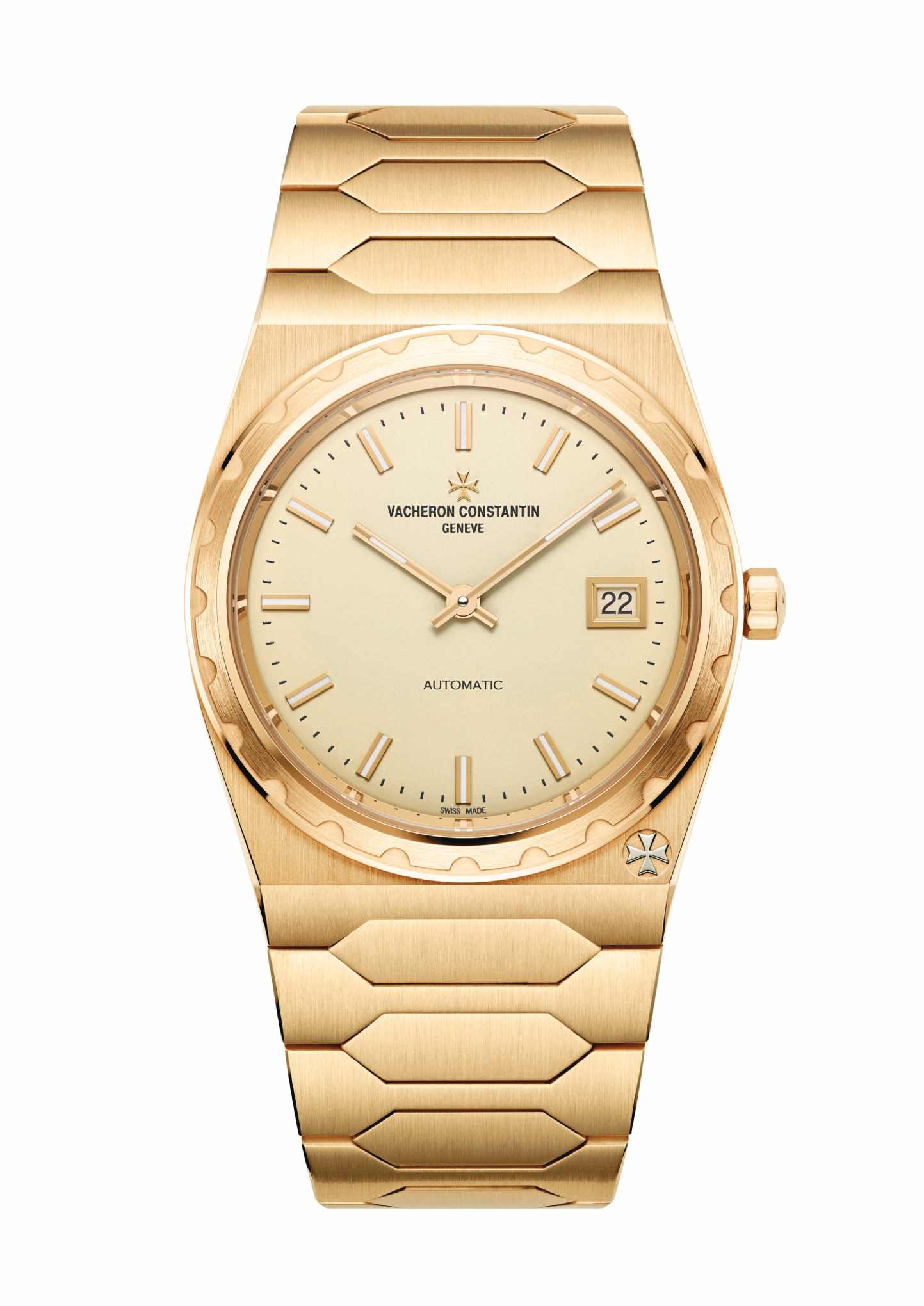 Best Historical Revival
Vacheron Constantin 222
There is still nothing hotter than a 1970s sports watch with an integrated bracelet, so Vacheron Constantin's timing cannot be faulted. The venerable Swiss watchmaker energised its lineup this year with a remake of its casual luxury timepiece from the decade, the 222. 
The model, designed by Jorg Hysek, debuted in 1977 to celebrate the brand's 222nd anniversary. Fewer than 1,000 pieces were made, and it has, in recent years, become an auction-block darling. A 38mm steel model Ref 44018 from its first year of production sold last year at Phillips Geneva Watch Auction: XIV for CHF157,500, just over five times its top estimate of CHF30,000. 
For its 2022 update (CHF70,000), it comes in a 37mm by 7.95mm 18-carat yellow-gold version, featuring the company's signature Maltese cross at five o'clock, and is now powered by the in-house 2455/2 movement. A sapphire-crystal caseback was added to give a view of its new engine and its 18-carat-gold rotor. When a steel update drops—as surely it will—expect this to become the next hype watch on everyone's list.