Diners and drinkers are still coming round to the trend for the use of edible flowers for their visual appeal, flavours and textures
"We still see people picking the flower out of their drink as though it isn't meant to be there," chuckles Greg Almeida, the bartender at Scarfe's Bar at Rosewood Hotel in London.
"But people are starting to understand that they can eat it – at least once they've been told they can." Indeed, flowers have long been used as decoration on restaurant dishes, and latterly in cocktails.
"Edible flowers have a high impact," says Almeida, who trained as a chef before moving in mixology. "They're delicate, colourful and have interesting forms. But for many using them in food and drink the important thing is that they bring distinctive flavours. Most chefs wouldn't just use a flower because it's pretty. The fact is that there are so many plants to experiment with, so it feels like a new field."
It's not, of course: flowers have been eaten for centuries – crystallised, distilled, used to add sweetness to tarts before sugar became accessible, made into jams and, perhaps above all, used as a garnish.
The aesthetic appeal of flowers has been key to Asian cuisines in particular – crushed rose petals to create a pastry filling in Chinese cooking, for example, salt-pickled blossoms to cook with rice in Japanese cooking. Rose and orange blossoms are big in Middle Eastern cuisines. Saffron – the most expensive spice in the world – comes, of course, from the red stigmas of the crocus flower. Michelin cooking rediscovered flower food in the 1980s.
But now edible flowers have become part of the wider foodie movement towards eating whatever is seasonal – with the fashion for foraging also a factor – and found a new home on Michelin-starred plates.
At the Skye restaurant at The Park Lane Hong Kong, there's a rooftop garden where herbs but also flowers are grown to be used in the dishes, with the winter season given over to begonias, marigolds and nasturtium. Petals are used to add subtle sweetness to puddings or cut through acidity in savoury dishes.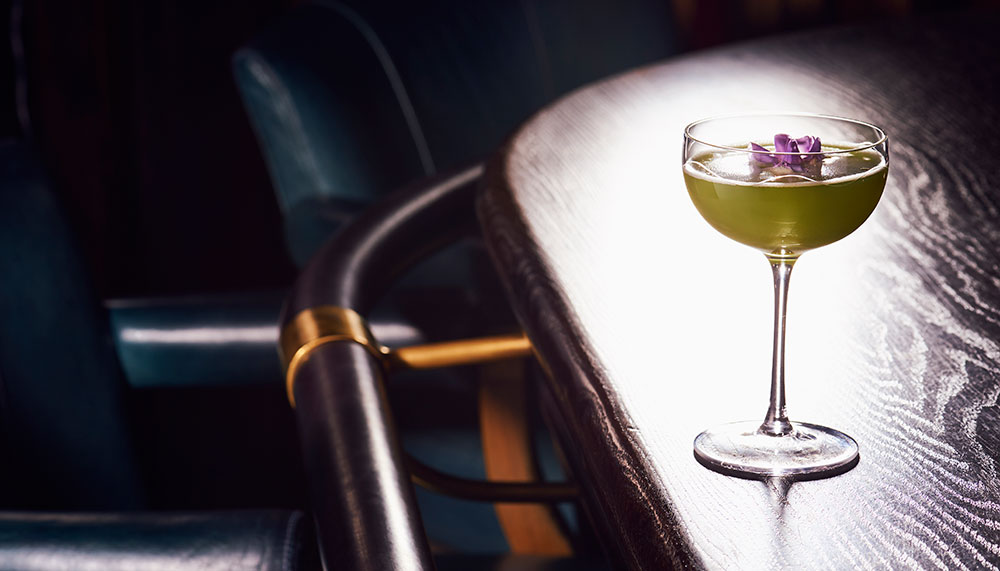 The Doc No. 9 'Moctail'
Much as health shakes have moved from having a fruit to a vegetable base, the Doc No. 9 alcohol-free cocktail – at Scarfe's Bar, Rosewood Hotel, London – similarly brings together seedlip, cucumber, green pea, lovage and avocado oil, with edible bean flower used for decoration. Bean flowers come from the best-known legumes – the likes of alfalfa, broad beans and wisteria – but whose flowers are rarely seen where the plants are cultivated before they're harvested. This means the flowers typically have to be found in the wild (or bought in), though clover – also an edible bean flower – tends to be hard to avoid. Other cocktails at the bar use elderflower, hibiscus, heather, viola and rose petals, as well as dried rose button.
Tempura
The courgette flower, coated and fried in batter, has long been a staple dish. But the whole heads of other edible flowers are also coming in for the tempura treatment: the likes of garlic flower, chive blossom, squash blossom, okra flowers, ox eye daisies, elderflower and nasturtium. Even flowers widely considered to be weeds – dandelions, for example – can be battered and eaten. Dandelion has turned up on the menu of esteemed establishments the likes of Ristorante Tosca in Washington DC, or in salads at New York's Esca.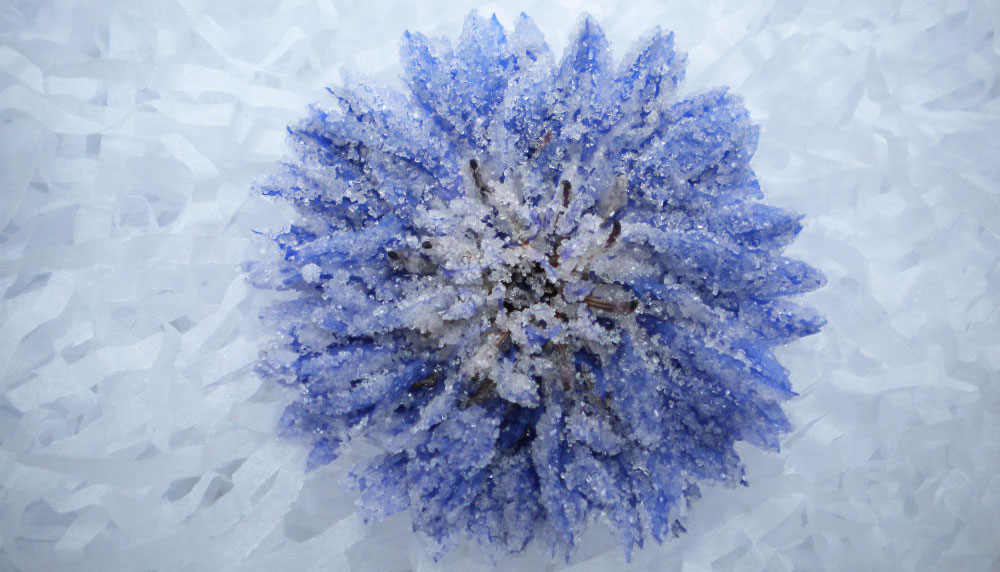 Crystalline Treats
Often mistaken for sugar craft – shaping and colouring pure sugar – crystallised flowers are exactly that: edible flower heads painted with egg white (as soon as possible after being cut), dusted with sugar and allowed to harden over 24 hours. The idea finds its origins in Victorian England, when granulated sugar first became widely available, but the process is now found used among upscale bakers – as a garnish on cakes – and specialists the likes of Meadowsweet Flowers. Cornflowers, pansies, primulas lavender and pelargonium are among the favourites used, while roses and lilies are generally too fleshy to hold their form.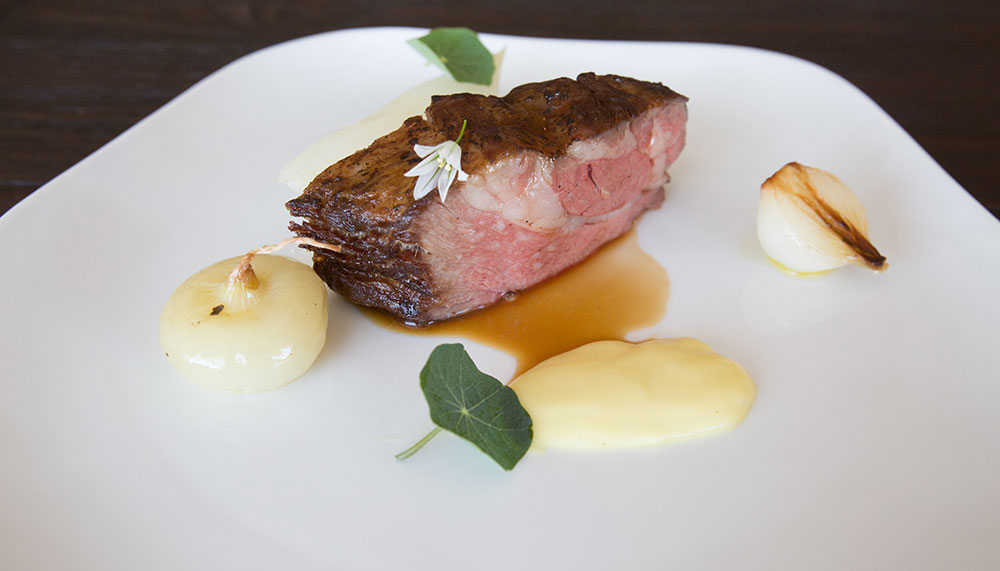 Floral Rubs and Oils
While many chefs like to make the most of the visual appeal of flowers, some are content with maximising the flavour: chef Stefan Bower at San Antonio's Battalion Restaurant uses flower petals – notably those of roses, hibiscus and anise flowers – to make a rub to use on meat and fish. The blooms are dried, then ground in a mortar and pestle with cilantro, lime and orange. Bowers also uses his rub sprinkled over salads or, when combined with sugar, as a dusting for baklava. Flower petals can also be used to make peppery oils, as at San Francisco's Lord Stanley: an 80:20 ratio of leaves to flowers is blanched in boiling water, shocked in ice, then blended with a neutral oil and strained. It's ideal to cut back the richness of meat, especially Wagyu beef and pork rib.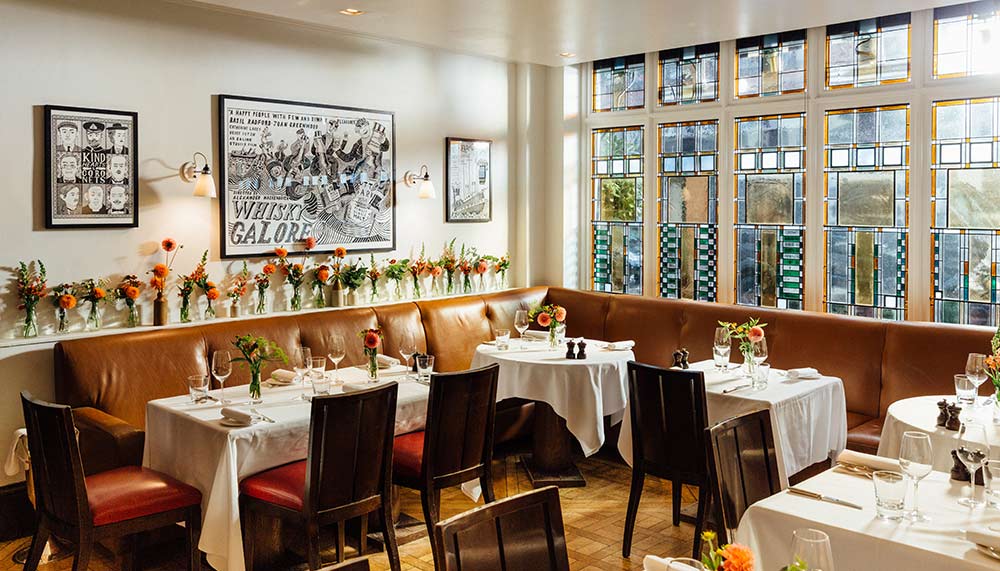 Geranium Ice Cream
London's Quo Vadis may have won an international reputation for its floral displays as much as for its fine dining; in fact, it even has a floristry commission department charged with maintaining year-round displays. But head chef Jeremy Lee has taken inspiration to use edible flowers in a number of dishes, including a geranium-infused ice cream, the flower crushed and sprinkled over the ice cream but also being used to provide a delicate (rather than an overwhelming) sweetness. London's German Gymnasium has produced an elderflower ice cream too.
Beer
With the boom in ever more niche craft beers, brewers are getting ever more experimental too – and that has included the use of flowers in the brewing process. Woods Beer Co and the Fort Point Beer Company have collaborated on what it calls its Yampah-Kay-Yah! beer, brewed with redwood tips, yampah seeds and nasturtiums; Commons Brewery, Black Shirt Brewing Co and Indeed Brewing Co (all from the US) have used lavender in various beers; Funkwerks Brewery has used hibiscus; while Australia's Moon Dog Craft Brewery has used rose petals for its Puns and Roses.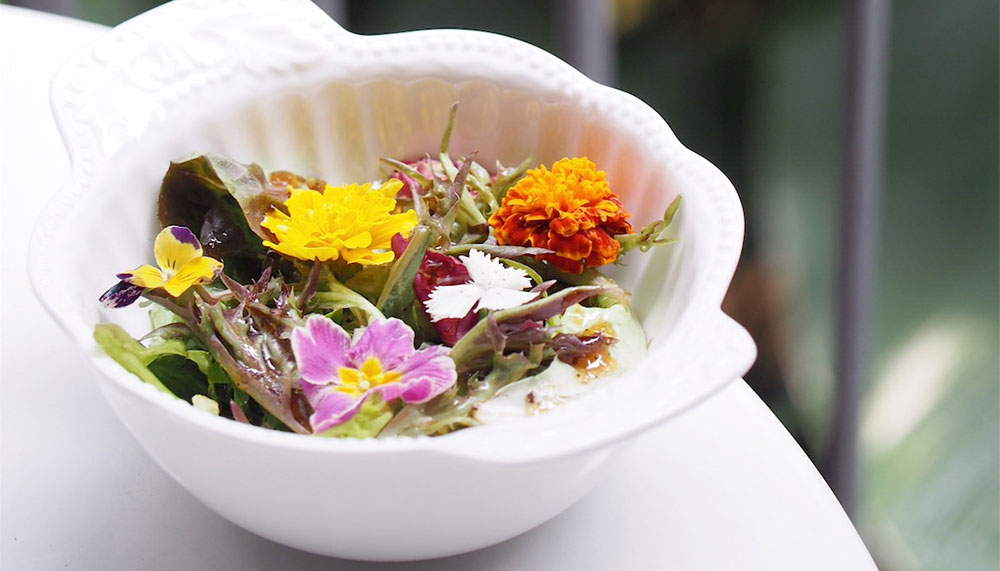 Edible Flowers for Delivery
Such is the interest in edible flowers now that florists and horticultural companies are launching departments specifically for their delivery to restaurants and homes – notably because it remains hard to find brick-and-mortar stores selling edible flowers.
Open Taste delivers a punnet of miscellaneous, Australian-grown edible flowers – selected for flavour as well as colour and shape – the next day around Singapore, the selection depending on time of year and harvest; likewise Zairyo sources its edible flower selections in Japan.
Recommended flowers for general home cooking (when available) include nasturtiums, marigolds, borage, tagetes (a type of marigold), dianthus, stocks, violas, cornflowers and blackcurrant sage flowers.