Here's a list of the best gourmet grocers in Singapore
No fare is off the table in Singapore, one of the best culinary destinations in the world, as it offers a dizzying variety of dining options from the hawker street to the Michelin hot seat. With restaurants (and ourselves) still restricted because of the pandemic, Singaporeans must satiate their vast gastronomic palates by cooking their favourite foods in their own kitchens. Make a pit stop at these gourmet and speciality grocers, where you'd have what you will need to elevate your home cooking from ordinary to extraordinary.
Meatkrafters
Befriend the guys at Meatkrafters and God knows how full your refrigerator would be. The butchery, spanning just over 65 square metres, is packed with the essentials: cold cuts, cheese, soups, wine, sauces and of course, meats. Founded in 2022 by husband-and-wife duo Kris Tan and Jessie Toh, Meatkrafters has beef sourced from across the world, including New Zealand, USA and Japan. Keep your fridge and stomachs happy with Miso-Aged Beef, Japanese A5 Wagyu and Wagyu Picanha, and for those who like variety, there is French Poulet Chicken and a Pork Belly kit that's pre-marinated and ready to go. Become a member to enjoy rebates and opt for home delivery (it's available islandwide), though if you'd rather see the goods in the flesh, there is a shop next door that's very well-stocked with fruits and vegetables. Just saying.
Robb Tip: Knock yourself out with the self-checkout refrigerators, seated outside the store. They have enough to satisfy a late-night craving—a variety of meat, soups and dessert—and are available all day, every day, with just a swipe of your credit card.
Meatkrafters
19 Ghim Moh Rd,
01-247,
Singapore 270019
Tel: +65 8012 8447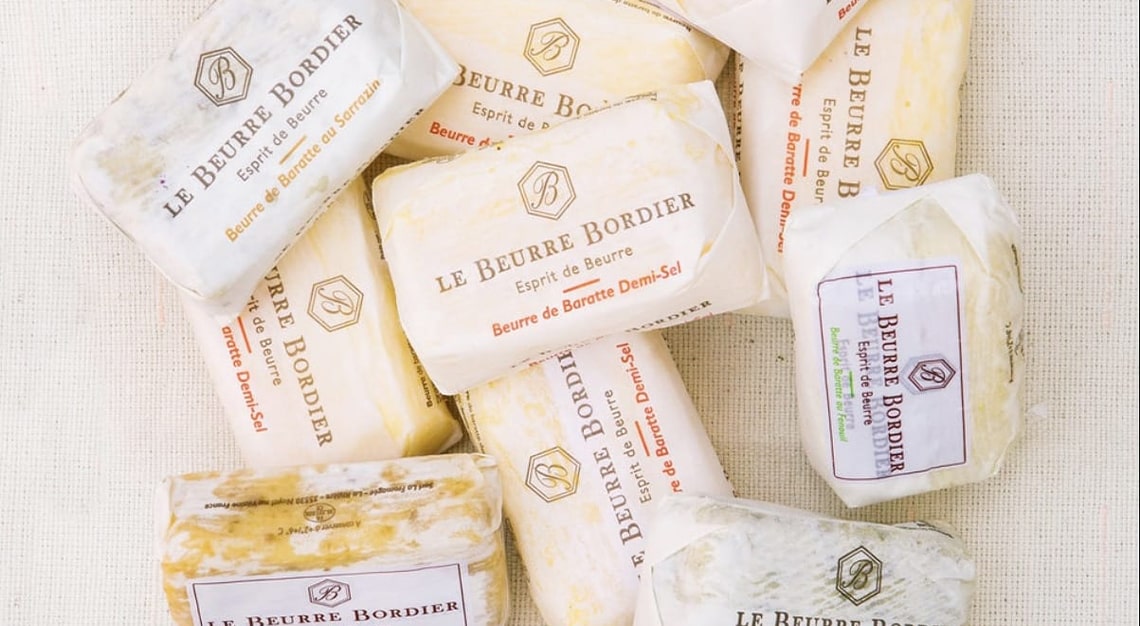 Atout
Nestled in the lush green enclave of Dempsey Hill, this rustic French bistro is famous for its authentic charcuterie and homestyle cooking by Geneva native Patrick Heuberger. After spending a year in France studying charcuterie, Heuberger confidently serves some of the best charcuterie in Singapore in both Atout's bistro and its retail shop. Purchase a wide variety of speciality foods and seasonal ingredients such as handmade rillettes and pasta sauces, premium raw meats, Valrhona chocolate, and Bordier butter flown in from Brittany, France.  
Robb Tip: Home gatherings are no longer a hassle with convenient party sets curated by Heuberger himself. Pick from cold cuts and cheese platters assembled from some of the finest curated goods that the restaurant offers. 
Atout
40C Harding Road
Singapore 249548
Tel: +65 8799 4567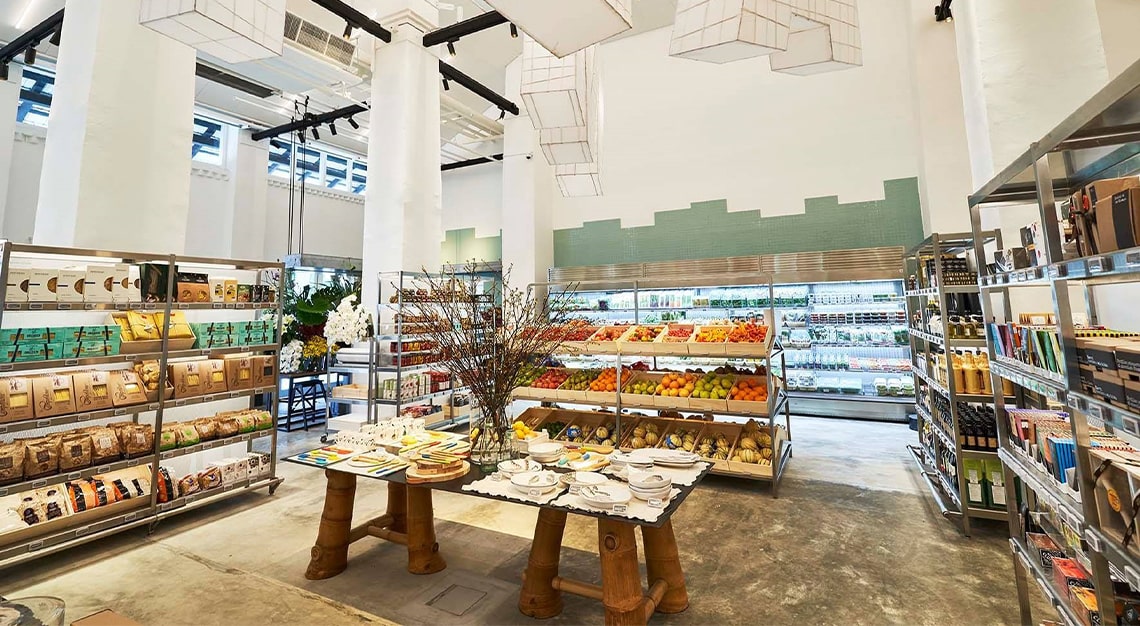 Culina at Como Dempsey
Touted as "the destination for epicureans", Culina prides itself on delivering unconventional gourmet foods and products for a truly refined, fine-dining experience. Conveniently located next to its casual-chic Bistro, Culina Market is a speciality food emporium offering succulent cuts of imported meats, fresh seafood, artisanal cheeses, fine delicacies and a curated menu of more than 100 varieties of Old and New World wines. In the fresh produce aisles, tease your palate with imported foods such as heirloom tomatoes and mushrooms, as well as seasonal offerings like Mirabelle plums from France and Spanish Picota cherries.
Robb Tip: Take a break from shopping at the Culina Bistro, where you may enjoy Kaviari Caviar, Beef Bourguignon or all the oysters you can pick from the fish counter.
Culina at Como Dempsey
15 Dempsey Road
Singapore 249675
Tel: +65 6474 7338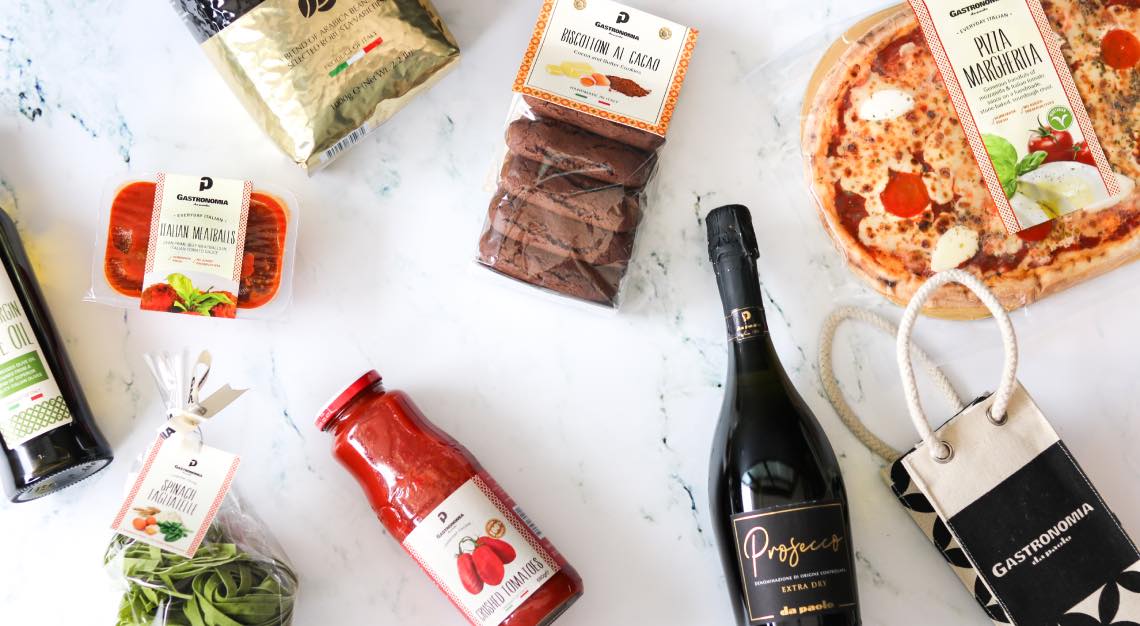 Da Paolo Gastronomia
Da Paolo, founded by Paolo and Judie Scarpa, started out as a modest trattoria in 1989. It has since grown into the Da Paolo Group, a family of delis, restaurants, caterers and more, and remains committed to feeding you with honest, Italian food. It is also known for its ready-to-eat meals, desserts and pantry items, which are now available online. Enjoy family-sized pasta trays, cold cuts, cheese, frozen pizza, gelato tubs and more.
Robb Tip: Want to host a party without the fuss? Party platters of pastries, cakes, grain bowls and more are also available at just a click away of a button.
Da Paolo Gastronomia
8 Dempsey Road
01-13
Singapore 247696
Tel: +65 6261 3128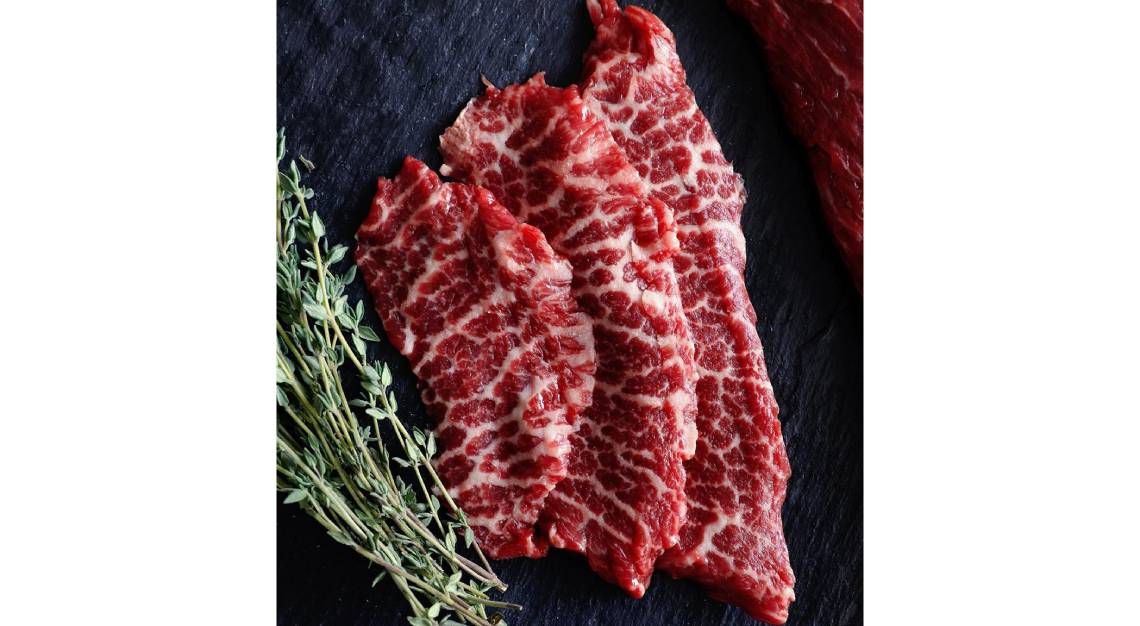 Huber's Butchery
Regarded as one of the best meat suppliers in Singapore, Huber's Butchery has come a long way from its humble beginnings as a small shop and now to their 1,208-sqm retail flagship store in Dempsey. The expansive shop stocks meat and cold cuts options from around the world including grass-fed beef from Australia and Argentina, various cuts of pasture-fed lamb, and American Kurobuta. Boasting a 40-metre meat-and-sausage counter as well as a section with over 100 types of cheese, Huber's Butchery makes it difficult for customers to leave empty-handed. Around 90 per cent of the meat products stocked here is also free from growth hormones.

Robb Tip: In addition to providing quality meats, Huber's Butchery offers thoughtful services to enhance your cooking experience. A dry-ageing cabinet in the store allows steak connoisseurs to customise dry-aged meat according to desired flavour profiles. The store also marinates any meat from their store for free using imported spices flown in from Switzerland.
Huber's Butchery
22 Dempsey Road
Singapore 249679
Tel: +65 6737 1588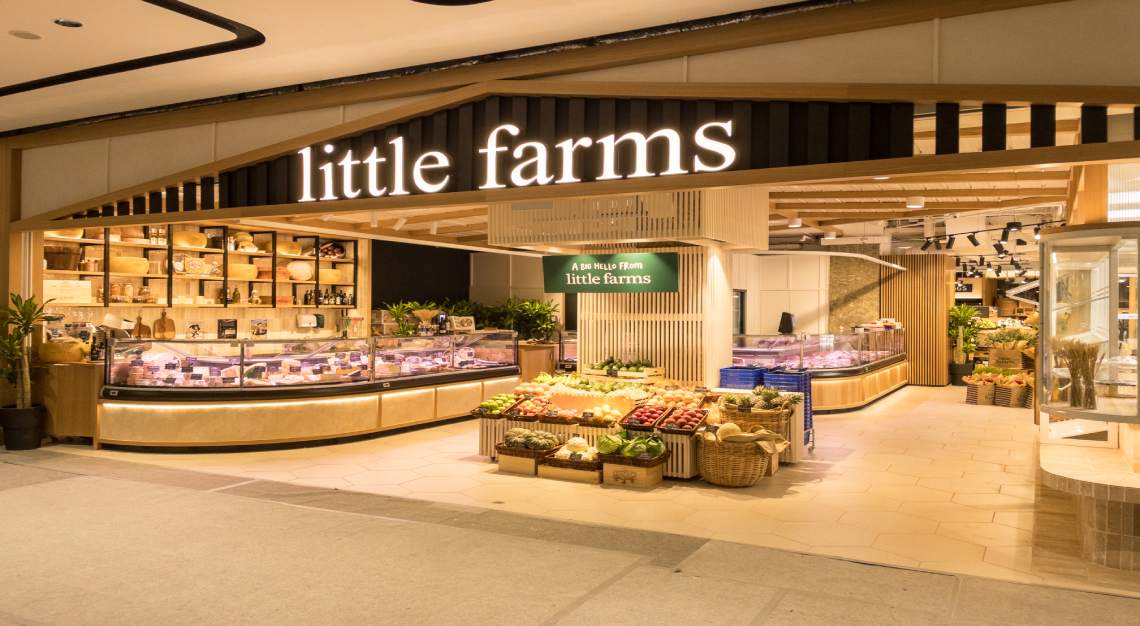 Little Farms
Offering a mindful approach to healthy living, Little Farms, which unveiled its first store in 2016, became one of the most trusted neighbourhood markets in Singapore, providing ethical produce and products that are personally vetted and sourced. With six stores in River Valley, Katong, Serangoon Garden, Tanjong Pagar Centre, Tanglin, and Holland Village, Little Farms prides itself on purveying all-natural produce, meats, seafood, dairy and more. Produce is delivered four days a week from markets, farms and wholesale produce markets in Australia and twice a week from Europe. 
Robb Tip: Vegetarians and vegans can select from delicious protein alternatives such as plant-based sausages and burgers, tofu, tempeh and cheese. The River Valley, Tanglin, and Serangoon Garden outlets also include a café, which opens early from 7.30 am, serving wholesome salads, sandwiches, pastries and cake.
Little Farms
3 Lorong Liput
Holland Piazza (and various outlets)
01-04/05/06
Singapore 277725
Tel: + 65 6365 2557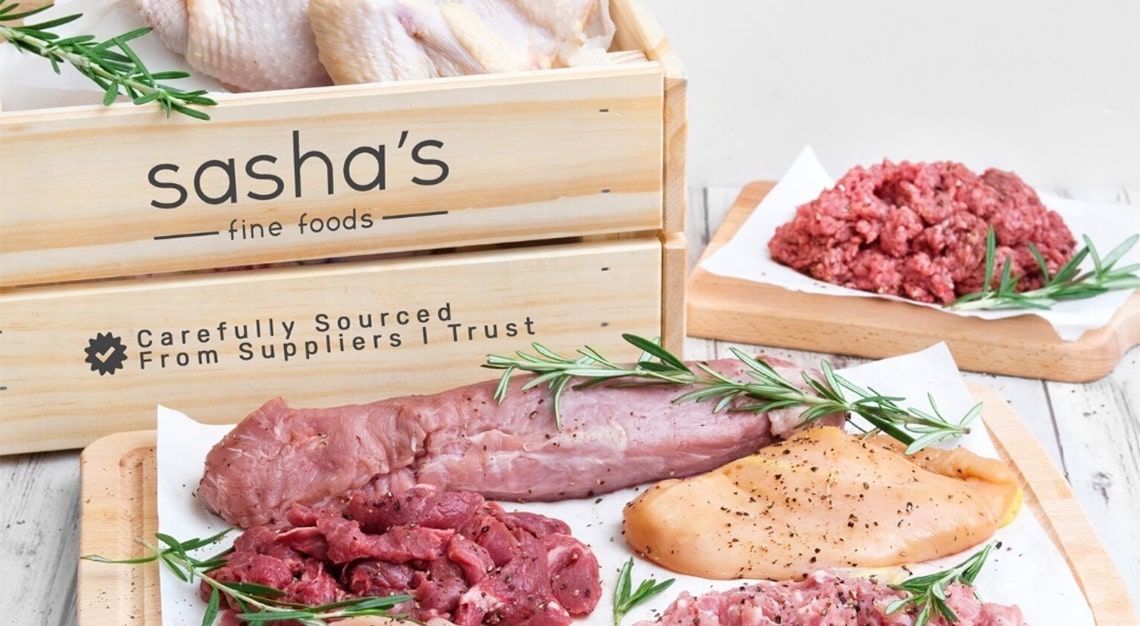 Sasha's Fine Foods
After facing difficulty buying quality meat and seafood that were free of hormones, antibiotics, and other added chemicals, British expat Sasha Conlan launched the e-grocer, which only sells food from suppliers whom she personally trusts. Expect only fresh ingredients from mostly small or family-run farms and fisheries in the English and Irish countryside, New Zealand's Alpine rivers, and Australian cattle lands. The grocer also stocks meat, seafood, vegetables, and freshly baked bread from farms and kitchens in Singapore. In May 2020, Sasha also launched Sasha's Farms – a non-profit social enterprise that provides support to smaller food businesses that believe in putting purpose, quality and sustainability before profit.
Robb Tip: Need to reduce kitchen prep time? The store also offers ready-to-eat meals such as soups, fresh pasta, pies and quiches that are prepared in Singapore using the store's imported ingredients. Pre-cooked and then blast frozen, they simply need to be reheated before serving. 
Sasha's Fine Foods
6 Chin Bee Avenue
10-05
Singapore 619930
Tel: +65 6273 0752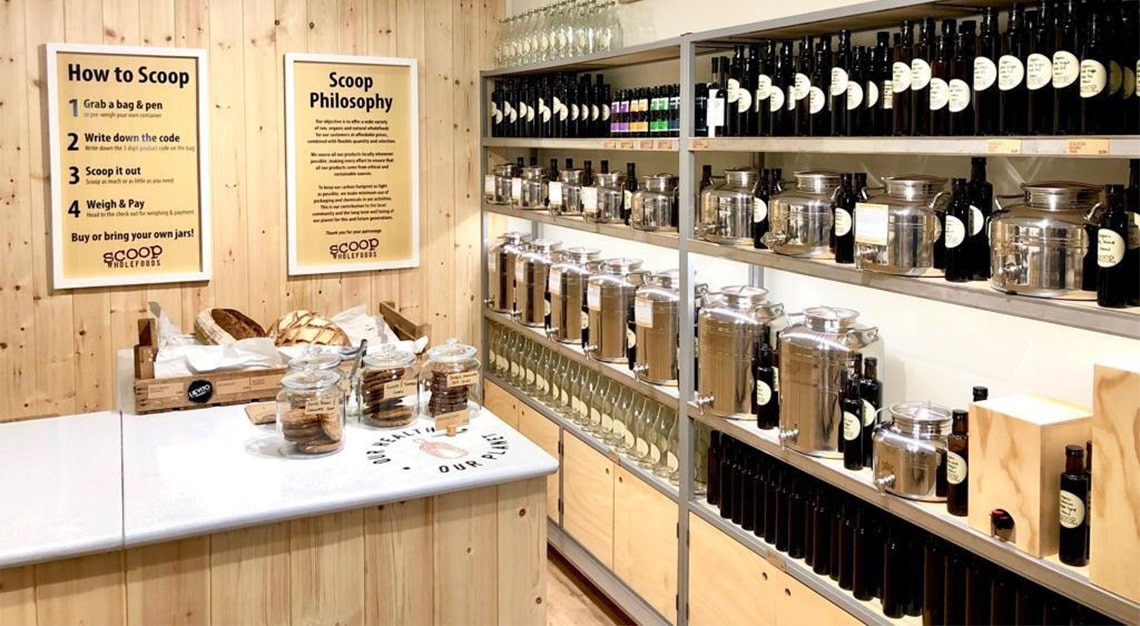 Scoop Wholefoods
Much more than just a paradise for shoppers passionate about a sustainable and environmentally-friendly lifestyle, Australia-based Scoop Wholefoods offers a wide range of organic produce, sourcing from some of the best growers in Australia and beyond. The largest whole foods store in Asia features aisles of bulk bins filled with various herbs, spices, seeds, teas, and trail mixes. That, and a fermented section that stocks a range of prebiotic and probiotic foods such as kimchi and kombucha to support optimal gut health.
Scoop's bulk retail concept encourages customers to bring their own containers and buy only what they need, reducing any unnecessary food or packaging waste. That said, empty containers are available for sale as well.
Robb Tip: Venture beyond food products to sustainable homeware products and biodegradable soaps for both body and home. Visit Scoop's website for a wide variety of recipes and natural cleaning formulas that you can concoct at home.
Scoop Wholefoods
163 Tanglin Road
02-17 and 02-18
Tanglin Mall
Singapore 247933
Tel: +65 6235 2739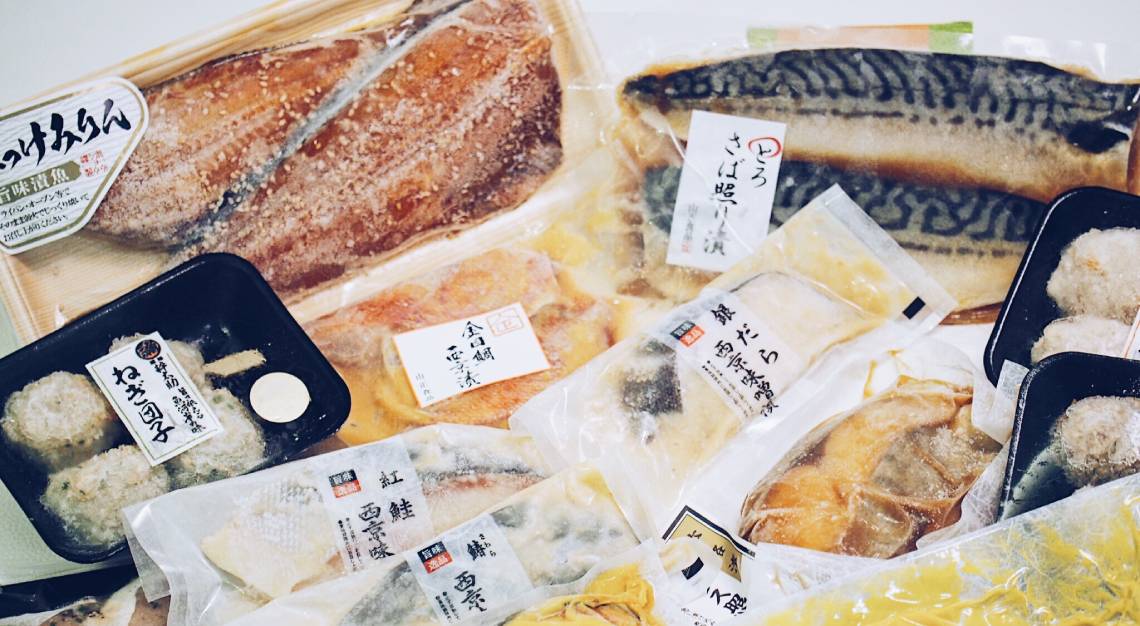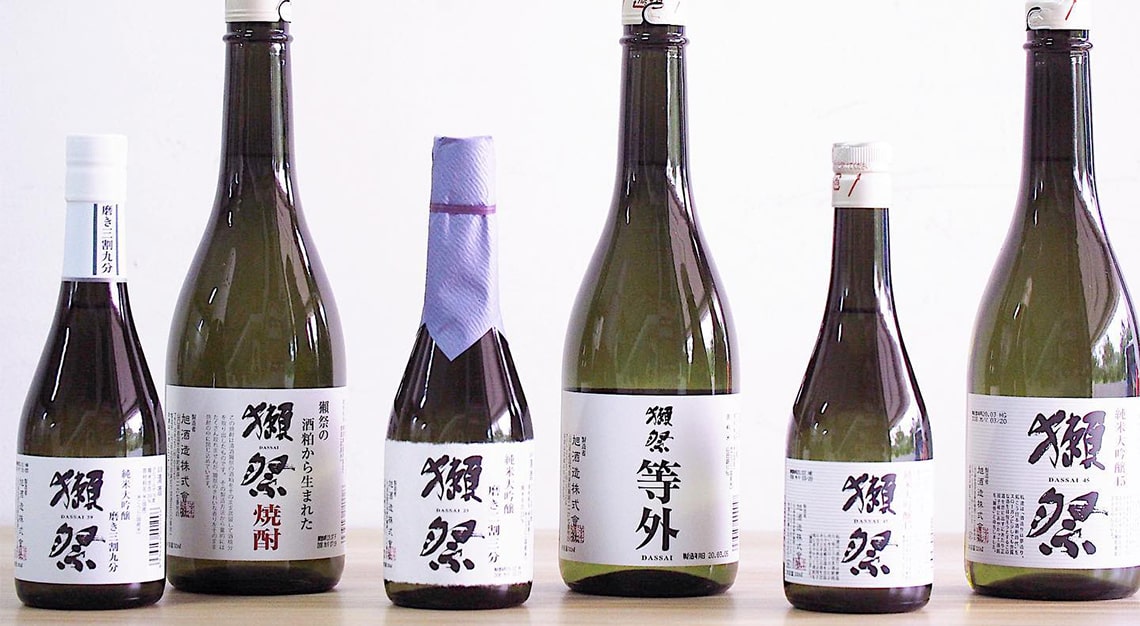 Zairyo
Japanese cuisine lovers in Singapore should be familiar with Zairyo (meaning 'ingredient' in Japanese), an online grocer offering freshly-imported food products such as seafood, seasonal fruit and vegetables, premium meats and sauces sourced directly from Japan. With fresh imports coming in four times a week, Zairyo provides aspiring and experienced home cooks and foodies with premium, restaurant-quality ingredients at costs lower than that of supermarkets. From ready-to-eat food to premium ingredients such as Murasaki Sea Urchin and A5 Kanzaki Full-Blood Wagyu from Kanzaki Farm, there is something for everyone. And for those with a sweet tooth, do not miss authentic Japanese desserts like Hokkaido Earl Grey Cheesecake and Daifuku (stuffed mochi).
Robb Tip: Our Muslim friends may order from Zairyo's selection of Halal Japanese products, which include organic miso, mentaiko paste and dashi powder.
Zairyo
15 Yishun Industrial Street 1
Win5, 01-26
Singapore 768091
Tel: +65 8808 0811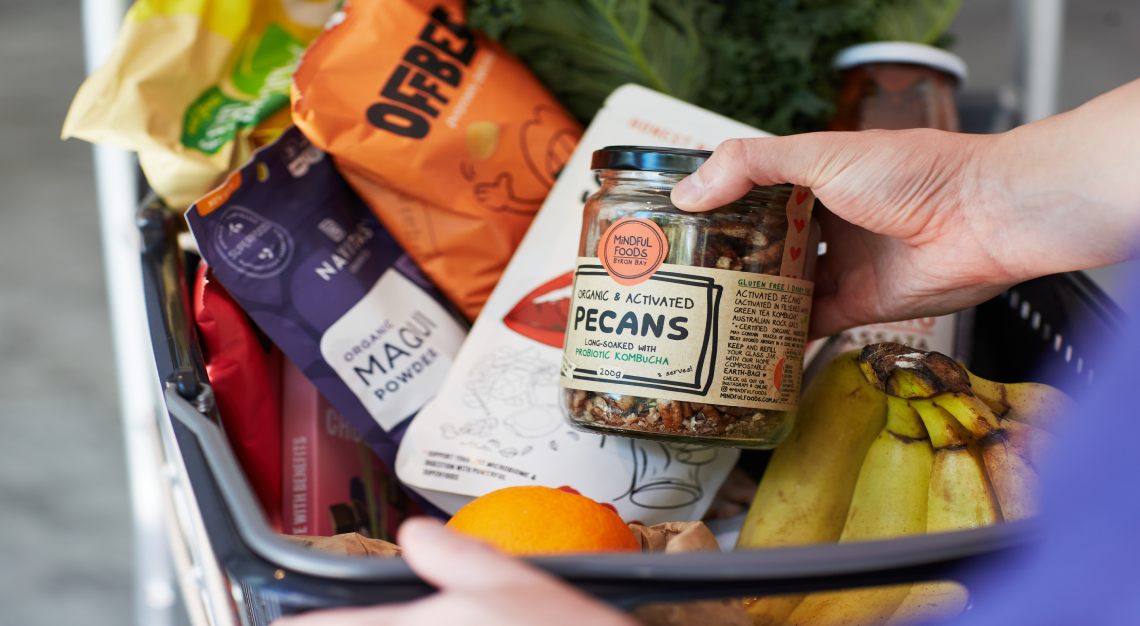 SuperNature
A wellness brand revered for its expertise in holistic living, SuperNature offers a comprehensive range of certified organic and natural products. Rooted in a knowledge-based wellness approach, it meticulously sources seasonal produce and supplements curated by an in-house certified naturopath. 70 per cent of the retail range are certified organic, while the rest feature natural products that cater to diverse dietary needs. Shoppers can also journey beyond the grocery aisles to Glow, a café providing wholesome fare crafted with quality ingredients from SuperNature. Embracing the philosophy that the glow of wellness begins from nourishing our bodies, Glow offers a holistic menu created with nutritional benefits in mind.
Robb Tip: Daunted by the complexities of natural health and living? SuperNature's workshops, conducted regularly alongside experts in the field of wellness and medicine, empower shoppers to adopt a holistic and healthy lifestyle.
SuperNature
26 Dempsey Road
Singapore 249686
Tel: +65 6854 7399