Dare To Be Different
There is nothing average about Franck Muller. The timepieces made by this watchmaking maverick don't appeal to masses of watch buyers. And it's been this way since the day the company was founded by the eponymous watchmaker.
Watches like Crazy Hours, Take Your Time, the Aeternitas series, the Revolution series, and more recent creations like Giga Tourbillon and Gravity place Franck Muller on the farthest reaches of conventional watchmaking. Twenty-five years after Muller unveiled his first World Premiere, the company continues doing what it does best: creating the unimaginable. In Singapore for the Moments & Masterpieces event organised by Marina Bay Sands for Franck Muller enthusiasts, chief operating officer Nicholas Rudaz weighs in on the milestones of this silver jubilee.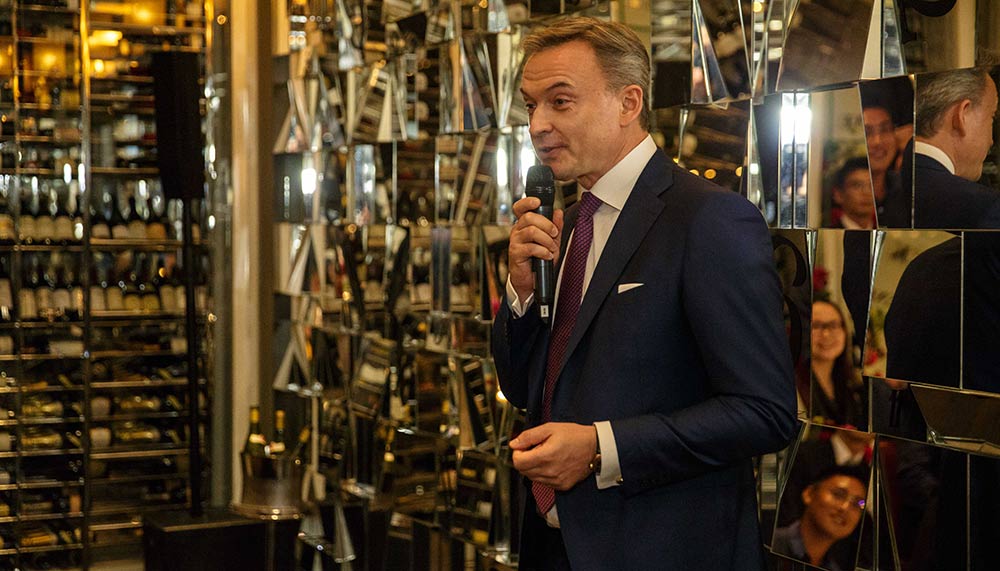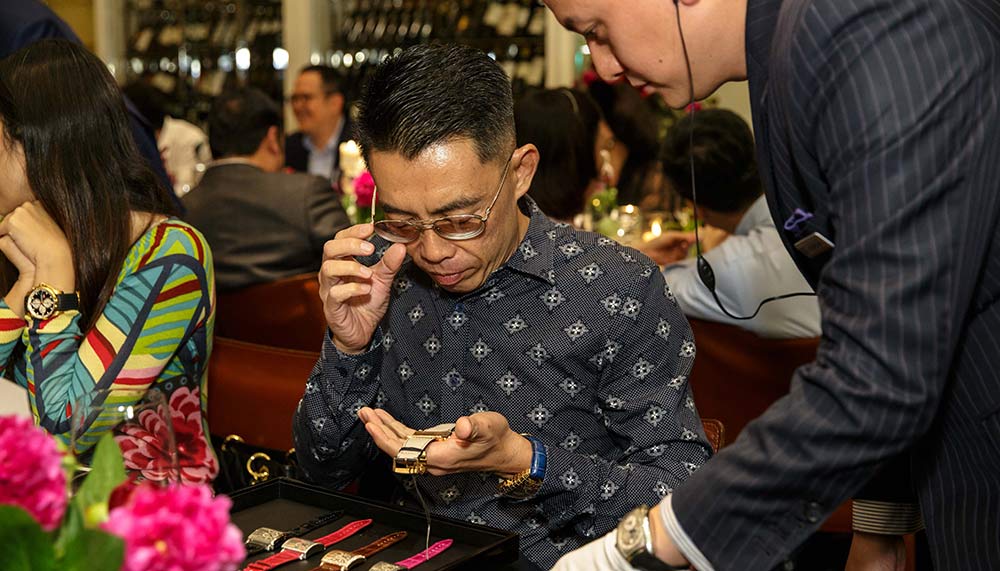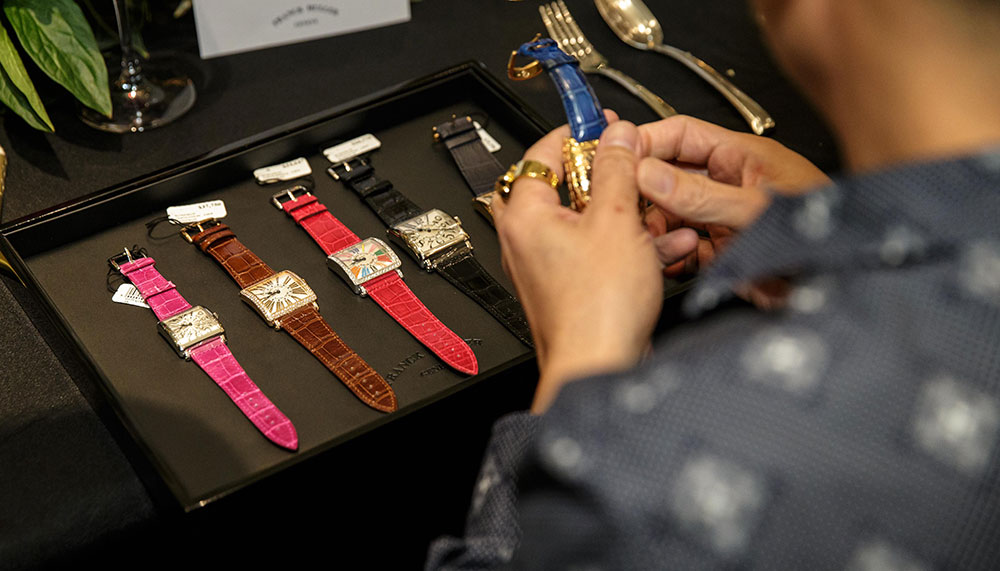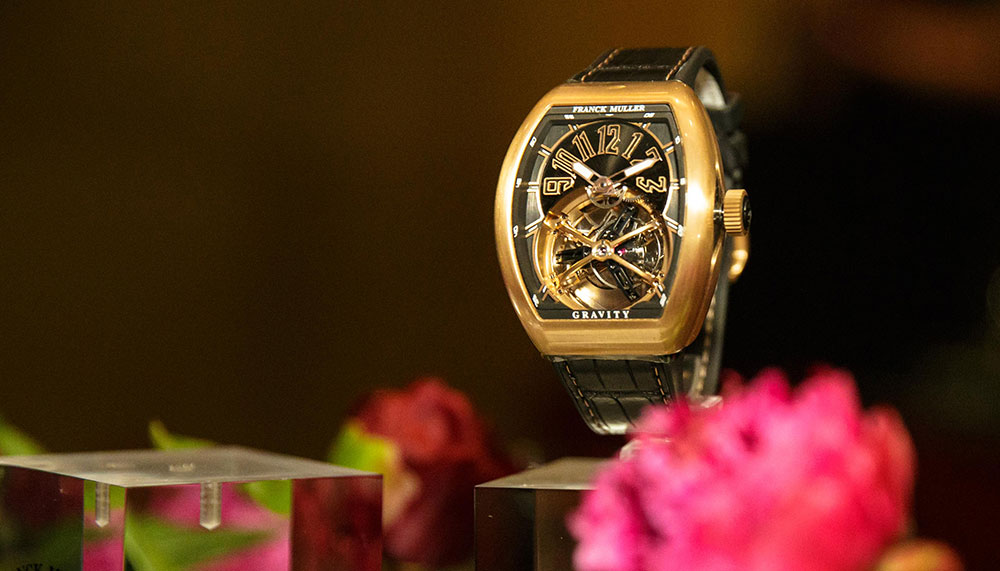 It's a pleasure to meet you in Singapore, Nicholas. So how's business going?
Like most brands all around, business is down for now. Last year we were -11 per cent, which all things considered, was not too bad. Still, we have a lot of confidence in our watches and we're sure things will come back up. Export figures in March were up for the first time in 20 months.
Are there any immediate goals you've set for any specific market, Asia for instance?
We're a family-run business and a private company that's very healthy financially. We don't operate like the big groups, with specific targets. We concentrate on designing and producing beautiful watches.
Where do your 2017 novelties come in, in terms of bringing Franck Muller new clientele or bigger market share?
Two years ago we introduced the Vanguard. It was positioned at a competitive price for what it is, a unique shape, revolutionary. This proved to be very successful especially with the younger generation.
How is Vanguard revolutionary?
Take Vanguard Gravity Skeleton as an example. We can make functioning components of the movement in different colours, so the tourbillon bridge, which is crafted of aluminium, can be done in any colour we want. In most cases, colouration is done on non-sensitive components like plates and bridges. Franck Muller was the first to feature the tourbillon on the front of the wristwatch. This is a natural evolution of the tourbillon, much more stunning, very visual, very masculine, complicated, fun to watch.
As the Master of Complications, this seems de rigueur.
When Franck Muller started making watches, he only made complications. That's why we're called Master of Complications. Even something like the Curvex case is very complicated to make. The Curvex was a request by the wife of a watch collector, who wanted a Franck Muller watch that could be worn comfortably on her wrist. This was the first challenge Franck had faced in designing a watch – before this he worked mainly on movement complications. Today, we continue mixing complications and design, innovating with an extra-large tourbillon, the Gravity line, and materials.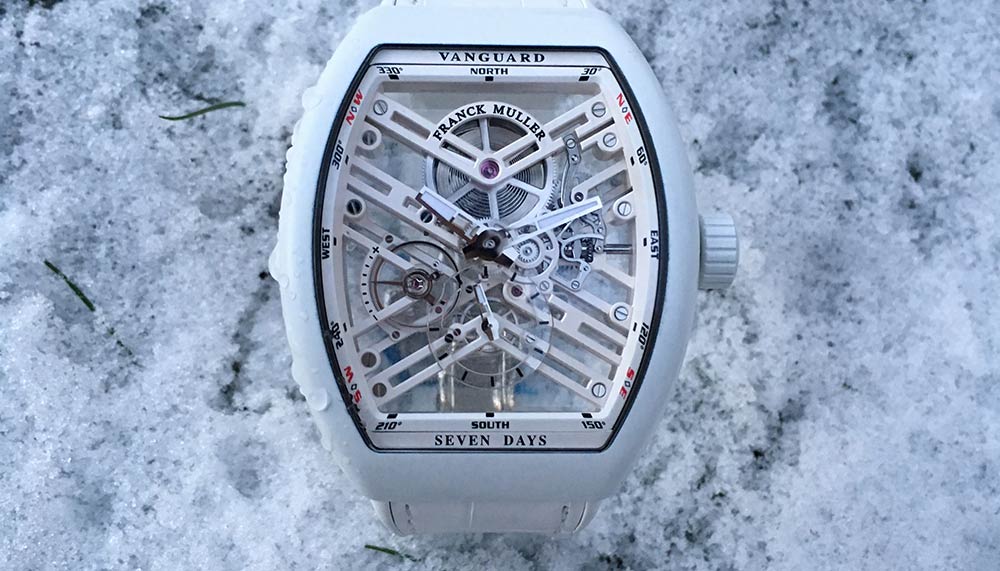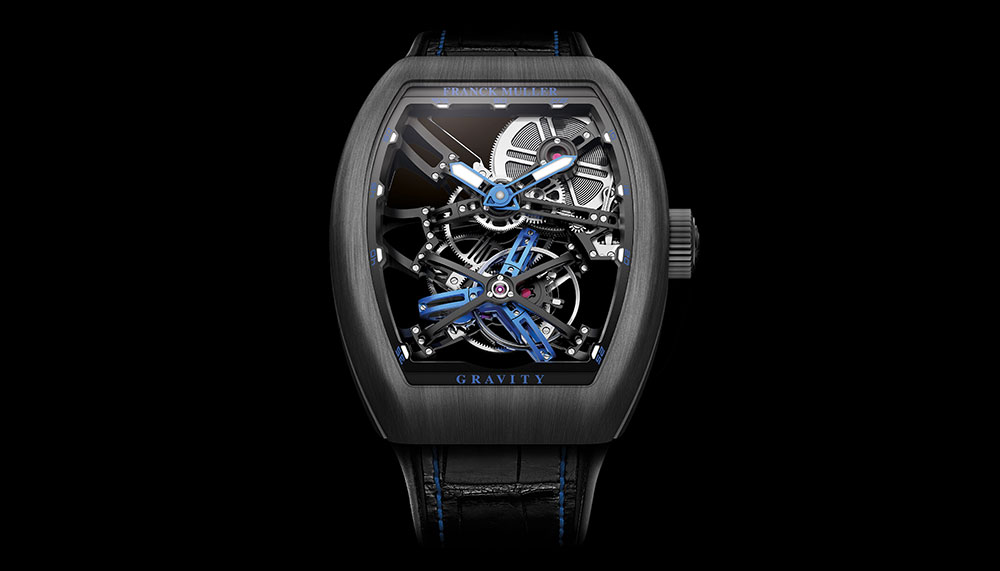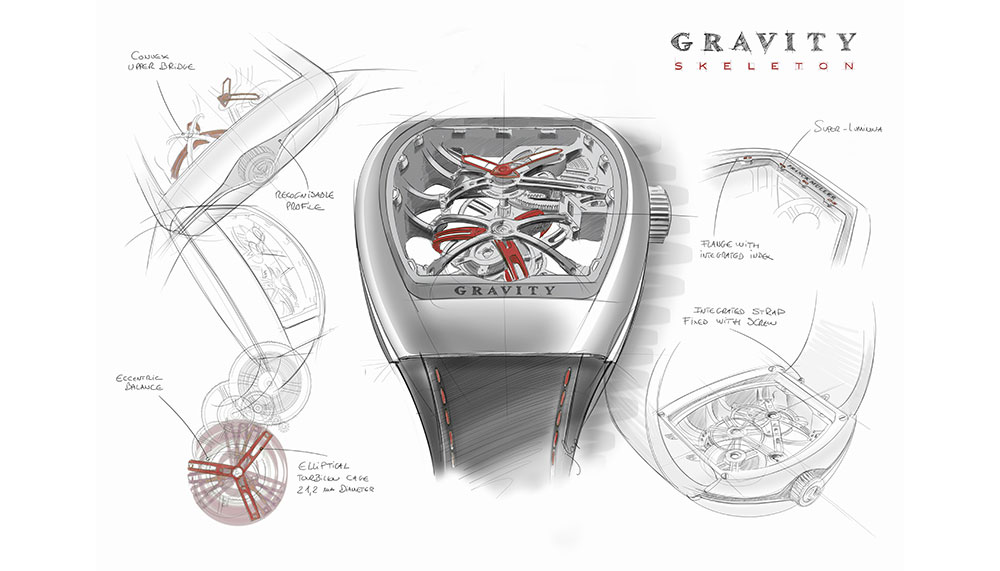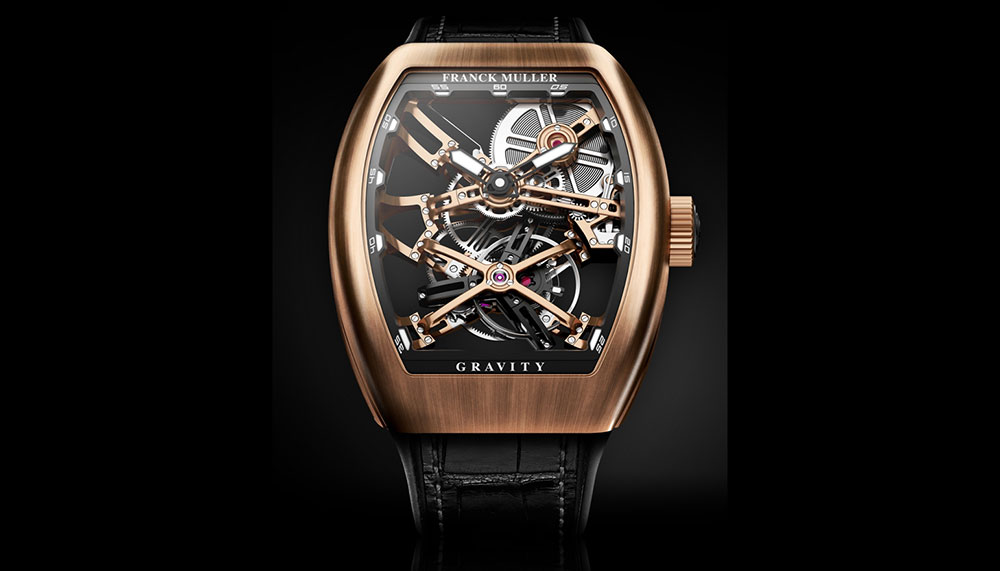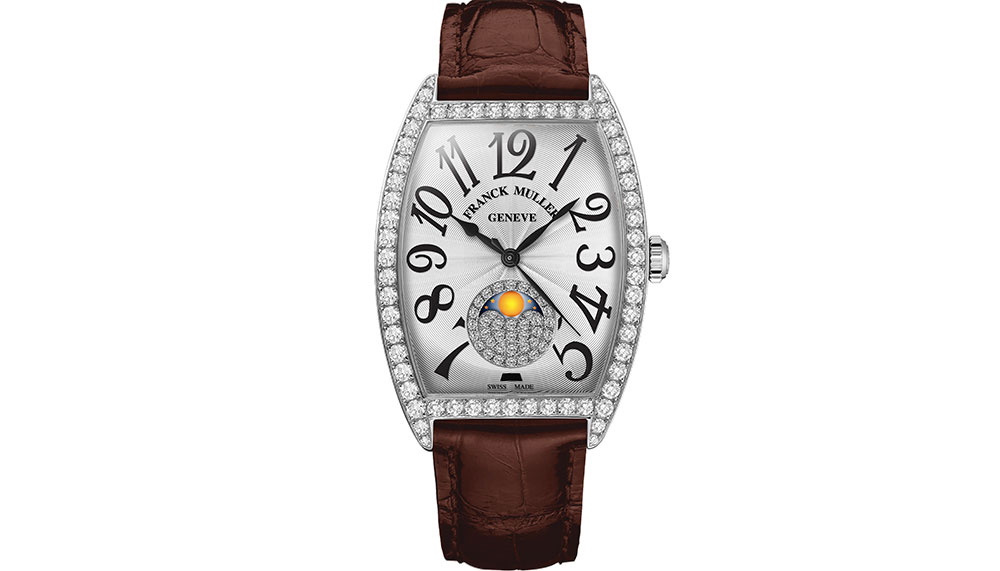 It's great to see innovation on the inside as well as outside. Collectors must love this wonderful balance of technical and aesthetical know-how.
Thank you. We like to say so as well.
Even watches like the Croco pieces, which are not strictly speaking technical, but very seductive, very daring.
This watch was not easy to produce; it was challenging because you need to have the right programmers on the machines. Don't forget, you're doing this on a curved case. The scales have to continue seamlessly from the case to the dial.
From a design perspective I think they're brilliant and establish Franck Muller in a whole different league. This also gives sends the message that a Franck Muller watch is very exclusive, very bold and avant-garde.
Absolutely. You say it very well. All our clients are also clients of other brands. Today you have to be different for clients to want to continue enjoying watches because nobody needs another watch.
What about something like the Backswing though? It's like you're headed on a completely different trajectory with that watch, one that's kind of crazy.
Well I'm sorry but we've always been a little bit crazy. We have Crazy Hours remember? The Backswing aesthetically is a cool and fun watch. It's also practical because it can count the number of swings you make. I think it's a great-looking watch. And it's fun, that's what people need today. Of course because it's a golf watch it's also anti-shock. Speaking of Crazy Hours, what's happening next with this watch? Crazy Hours is 12 years old. I love wearing it because it has the ability to confuse people I meet. The next step is to bring it into the Vanguard line. We're going to make a limited edition for our 25th anniversary.
Franck Muller used to make a lot of fun and playful complications. With the focus now on Vanguard, will this stop or continue?
It will definitely continue. The beauty of Vanguard is that there are so many different complications we haven't touched on yet. A chiming complication (is one) we haven't done (yet). There's a world of opportunity for us to develop. To date we've done the largest tourbillon, the smallest tourbillon, the fastest tourbillon. And have you seen the skeleton one?
I love it. Skeletonisation without the Renaissance style. This watch brings skeletonisation to the 21st century.
It's a fantastic novelty. The same watch in carbon or steel will be completely different. We also introduced a sapphire cased model with white PVD bridges in January. We'll be delivering that piece very soon. I always say that the beauty of Franck Muller is our variety. We make such different complications, and if you have 100 Franck Muller owners in one gathering, it's very hard to see two identical watches.