We've never realised there were so many different – and amazing – ways to dress a watch in black. Here's what to expect from Jaquet Droz's new collection
Classical métiers d'arts have long inspired Jaquet Droz in creating some of the most unflappably elegant timepieces the watch-collecting world has ever seen. Age-old decorative arts such as grand feu enamel and the art of stone dials are just two favourites at this small but beautiful watch manufacture.
Its 2020 new collection might be restrained in its colour palette, but showcases the best of Jaquet Droz. It's where we see the true appeal of these time-honoured crafts.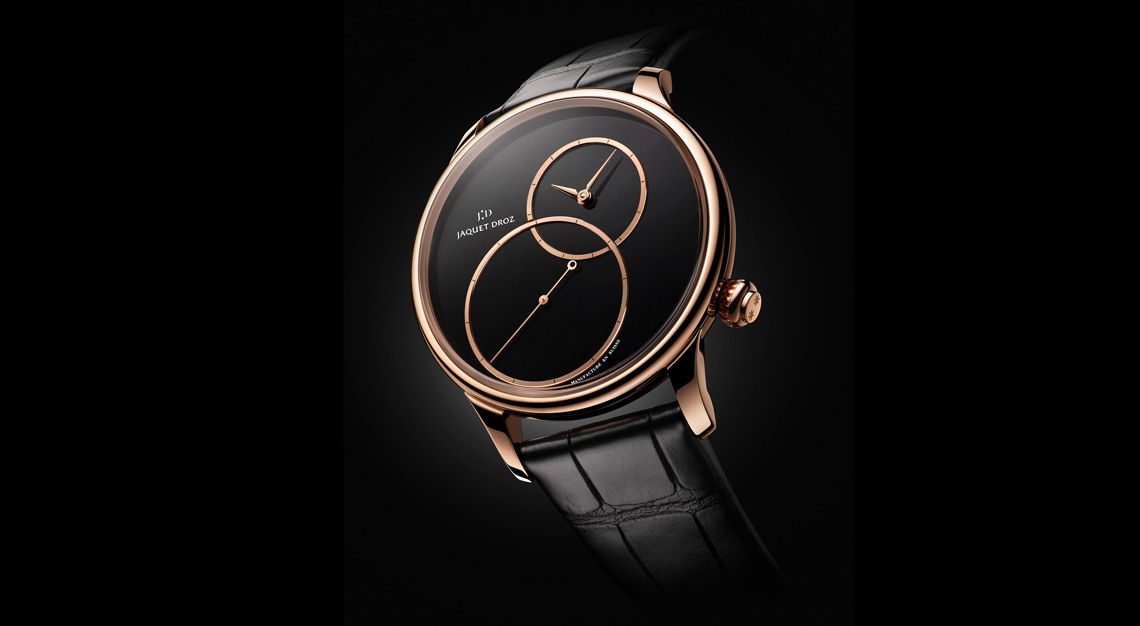 Black is king
Taking a quick glance at the novelties, we can see that Jaquet Droz has opted for a muted colour palette comprising predominantly of black and its various shades. Whether in dial, case, movement or strap, it's omnipresent. And yet the mood is anything but dark.
Via a clever play with materials, finishes, and textures, Jaquet Droz showcases black in a myriad ways.
Despite being clad in the same hue, each watch is distinguished from the next. Look at them up close to appreciate the fine differences, and to see how they interact with light bouncing off the various surfaces.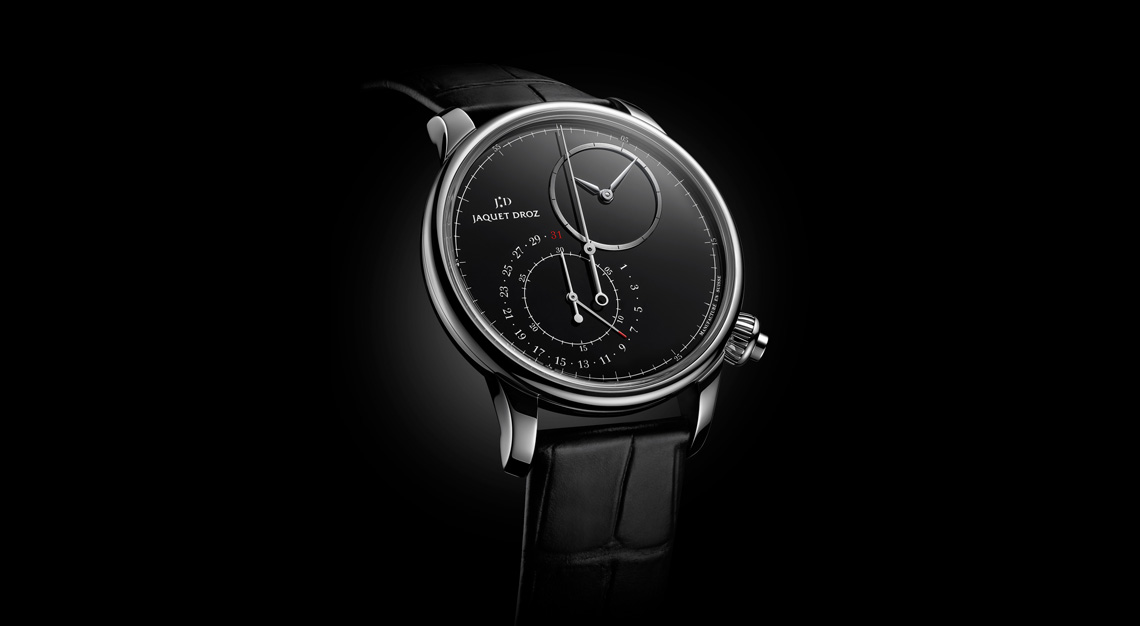 Grande Seconde Off-Centered Black Jade juxtaposes gleaming red gold with the natural sheen of black jade. It's a rare and stunning material. View the dial under a loupe to see the minuscule flecks of silver inclusions. They give black jade its true beauty, and instantly distinguishes it from black onyx – another hardstone that Jaquet Droz frequently works with.
This year, you'll find black onyx in the Grande Seconde Off-Centered Chronograph. Deep and perfectly black, it glows with a beautiful, even shine, thanks to exceptionally skilled polishing by the craftsmen at Jaquet Droz.
In contrast, the white gold hour markers have been satin finished to highlight the stone's natural brilliance. Indeed, this is the first time Jaquet Droz has designed this elegant timekeeper with black onyx.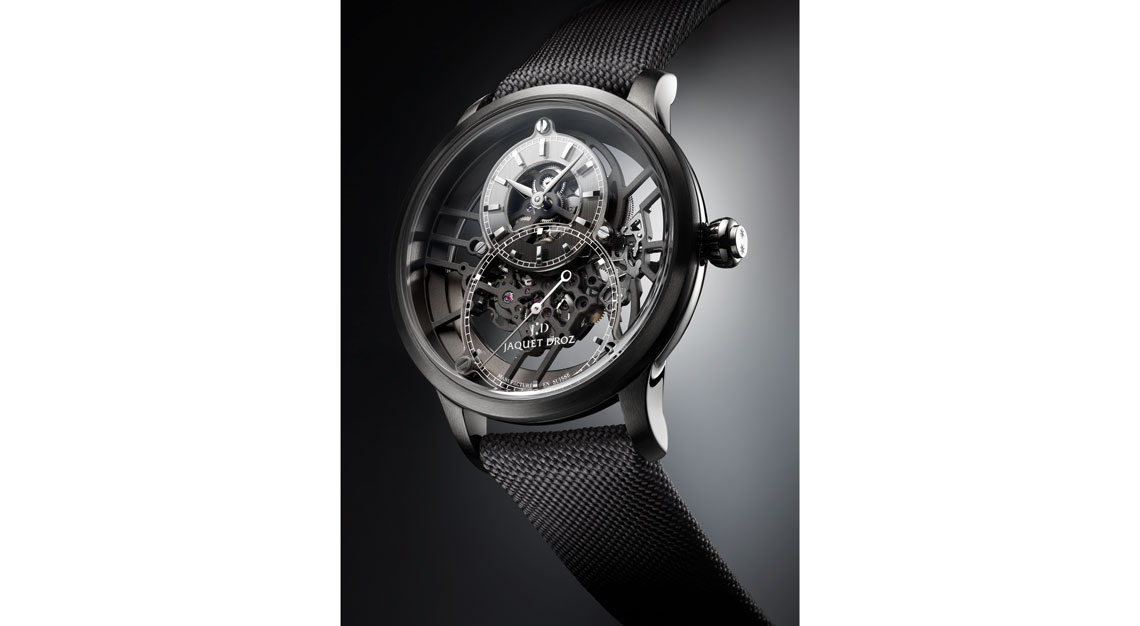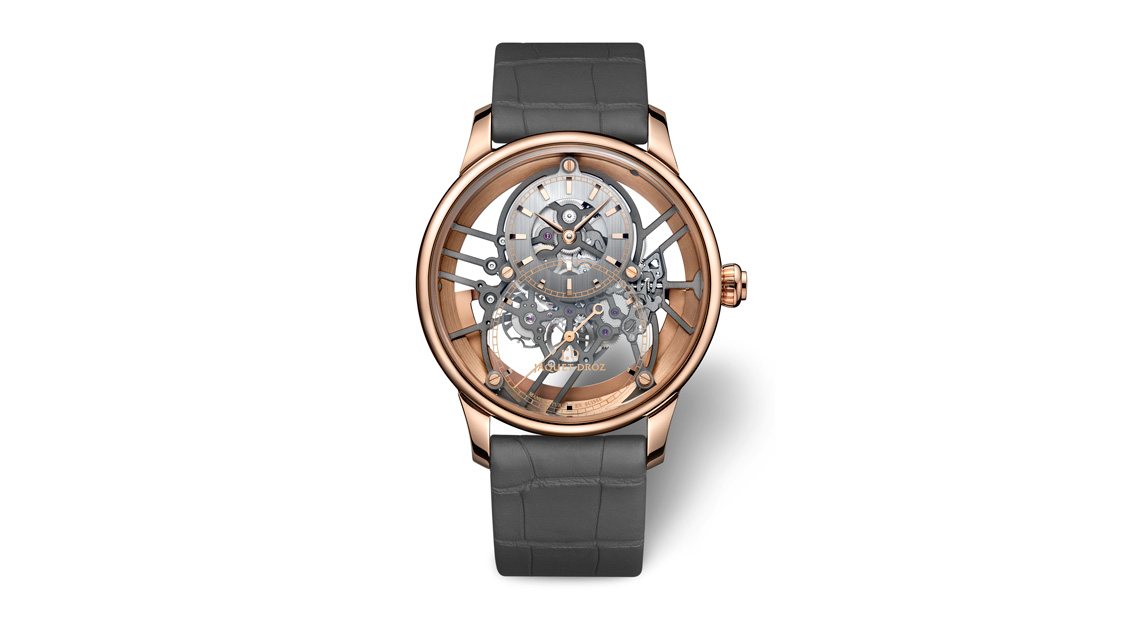 Material benefits
One of Jaquet Droz's best-selling models, the Grande Seconde Skelet-One takes a familiar aesthetic and gives it an almost futuristic twist. Particularly with the new version cased in ceramic plasma, a ceramic based material with a metallic appearance.
According to Jaquet Droz, ceramic plasma is produced by gas-heating white ceramic to an incredible 20,000°C such that the entire material changes, not just on the surface. It's hard, lightweight and scratch-resistant while offering a sleek anthracite grey colour tone.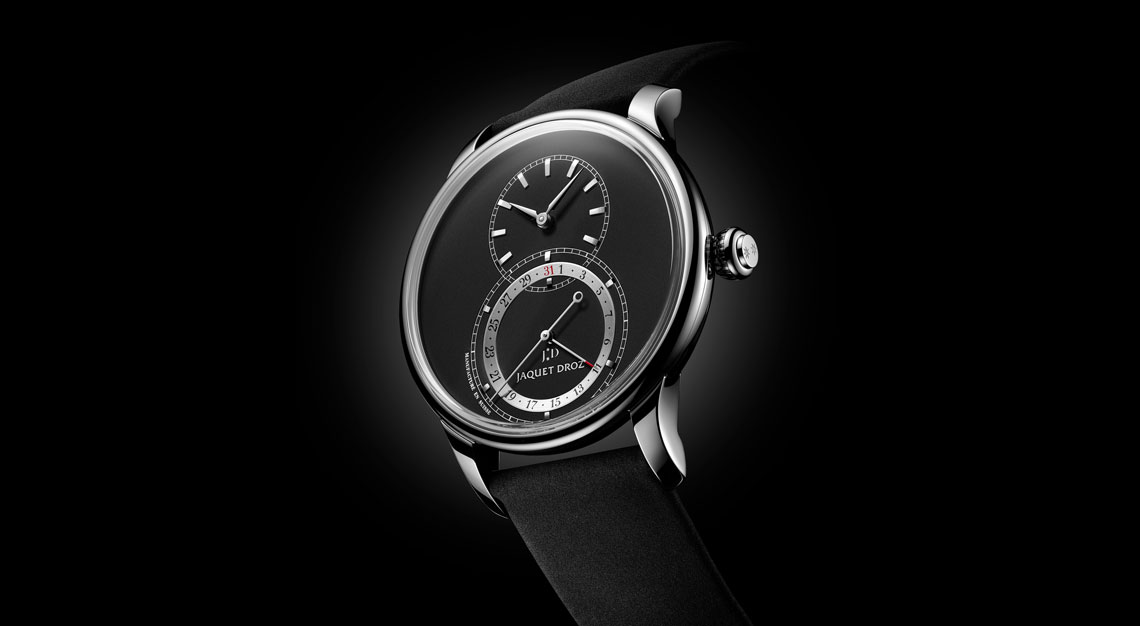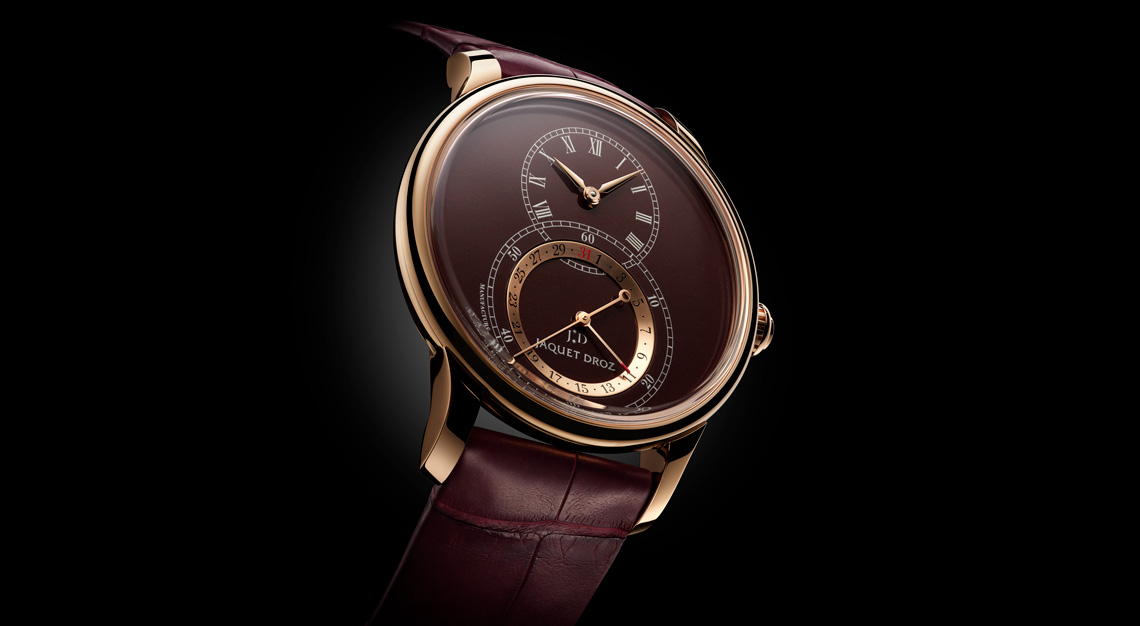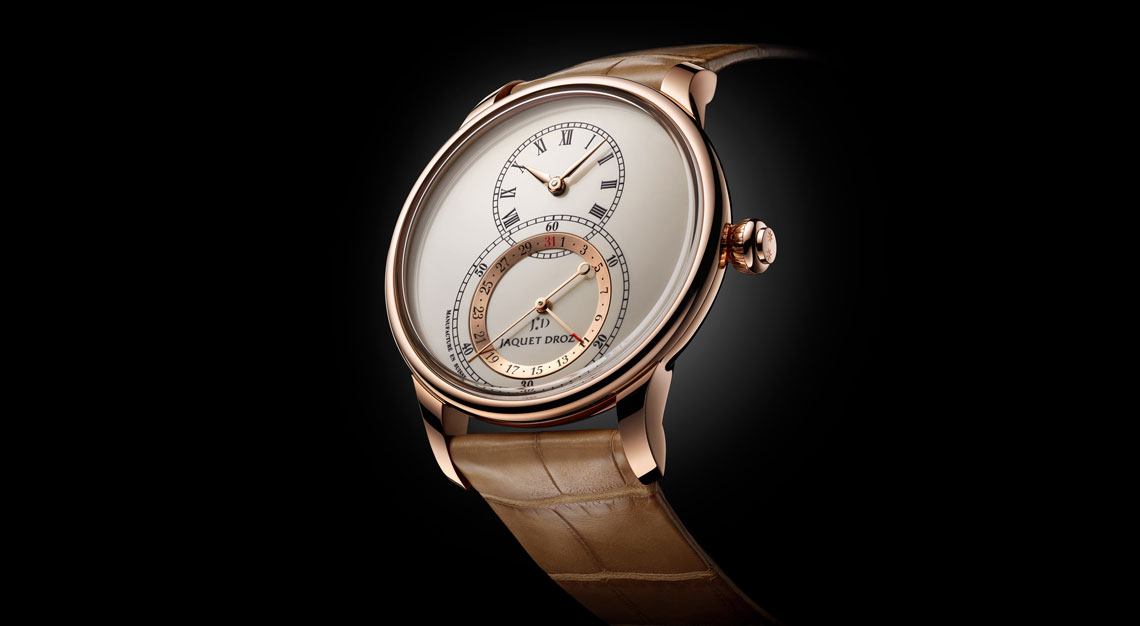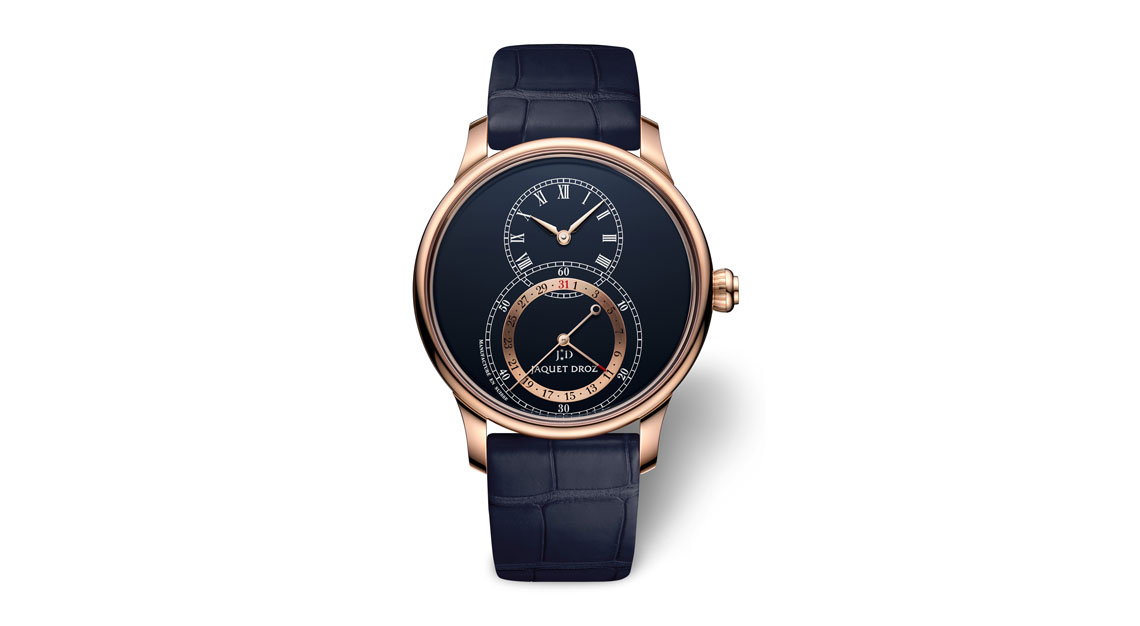 Painted with love
Grand feu enamel painting is one of Jaquet Droz's most deeply cherished crafts. One that the manufacture proudly champions through its numerous in-house artisans.
With it, Jaquet Droz premieres a new Grande Seconde Quantième now cased in 41mm – that's 2mm shy of the original flagship model. In addition to offering a much better fit to smaller wrists, it also introduces an array of beautiful grand feu enamel dials.
There's ivory, dark blue, a very beautiful burgundy red, and anthracite grey enamel, in addition to classic matte black and sandblasted silver.
Indeed, painted dials also brings to mind the art of miniature painting, and Jaquet Droz has talent in spades here. Its incredibly gifted artisans have been known to breathe life into many of its Petite Heure Minute models with nothing more than a set of paint brushes.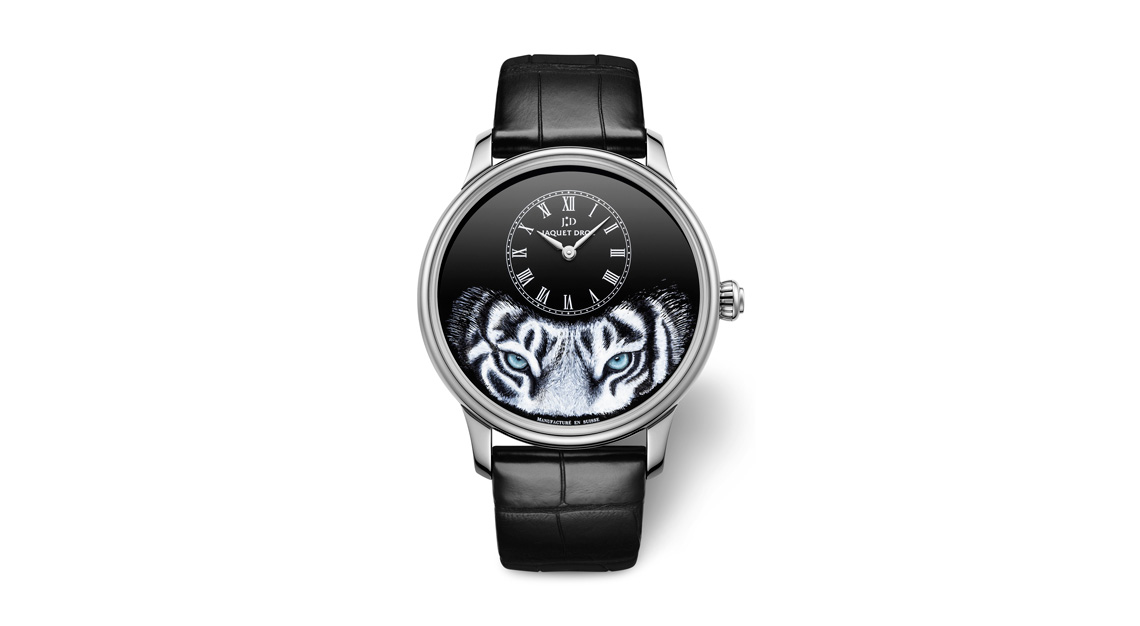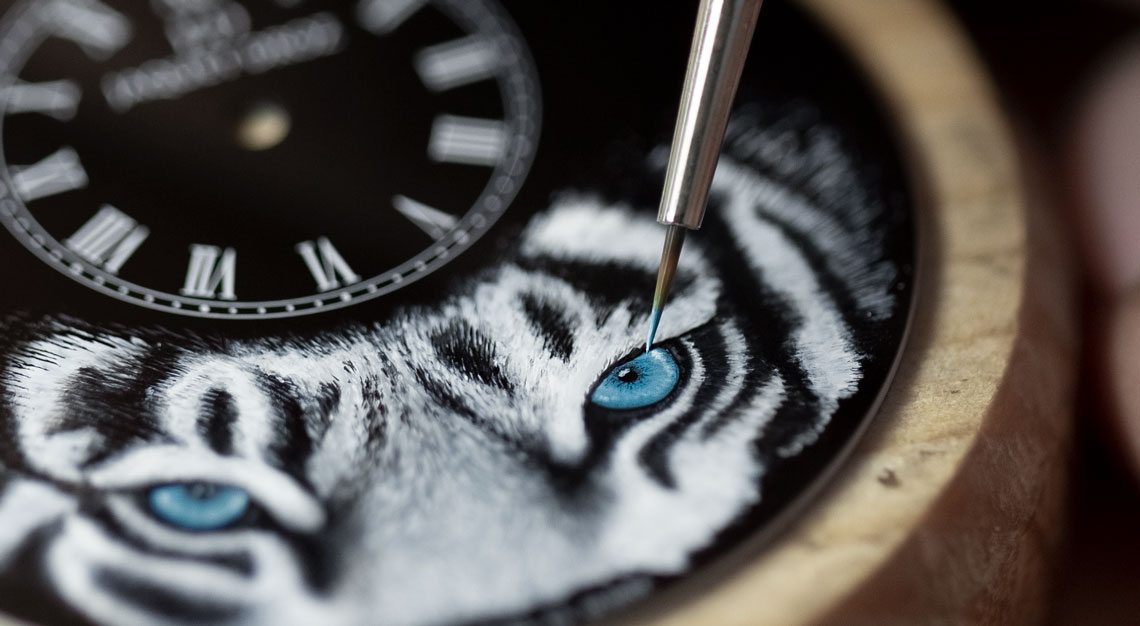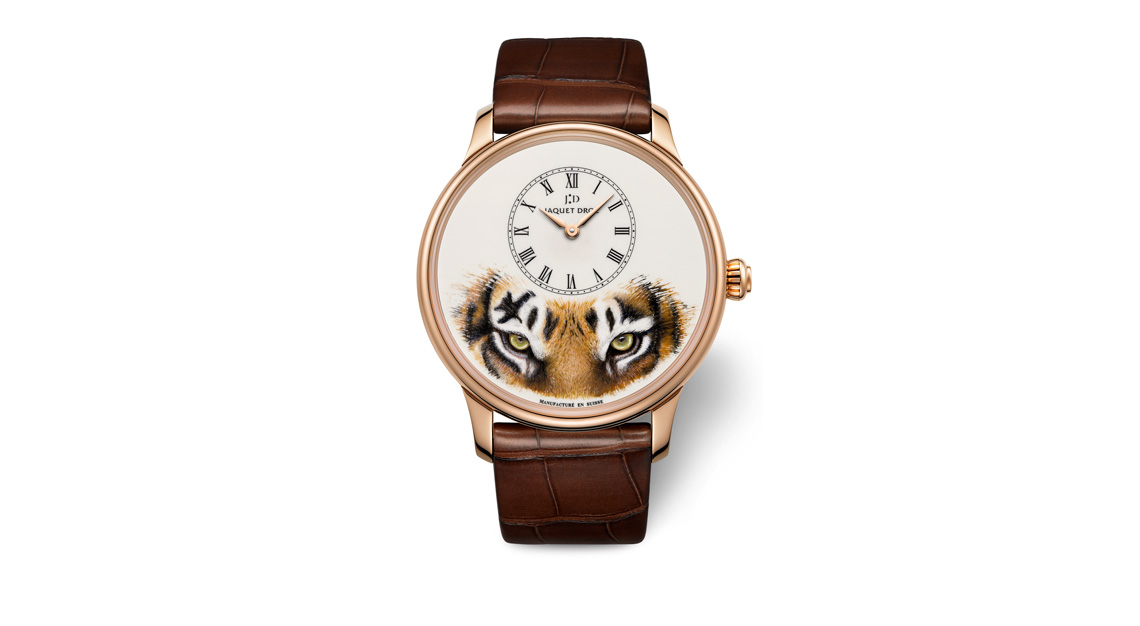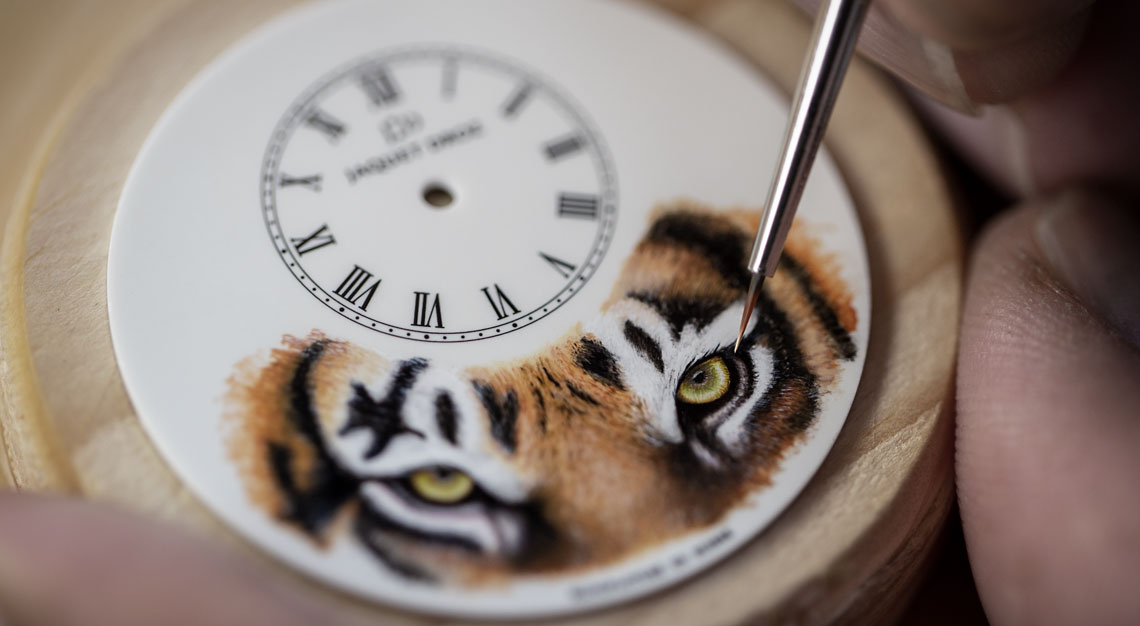 For 2020, Jaquet Droz presents the Petite Heure Minute Tiger. But instead of giving clients a fixed interpretation of the magnificent big cat, the manufacture lets the wearers decide, hence devoting all the available space on the dial to the tiger's powerful gaze.
As such, it's a watch you definitely want to check out with a loupe. See how the incredibly fine brush strokes reproduced the feline's thick silky fur down to the last hair. And piercing blue eyes that seem to follow you around the room.
This fantastic work of art rounds up Jaquet Droz's 2020 novelties and quintessential expertise in the field of traditional métiers d'arts.