When a rose by any other colour—or gemstone—would appear just as beautiful
Florals in timepieces are usually there for aesthetic reasons—and why not, since they're perfectly gorgeous—but in the Franck Muller Vanguard Rose Skeleton, there is much more to the inimitable rose than its ambrosial beauty.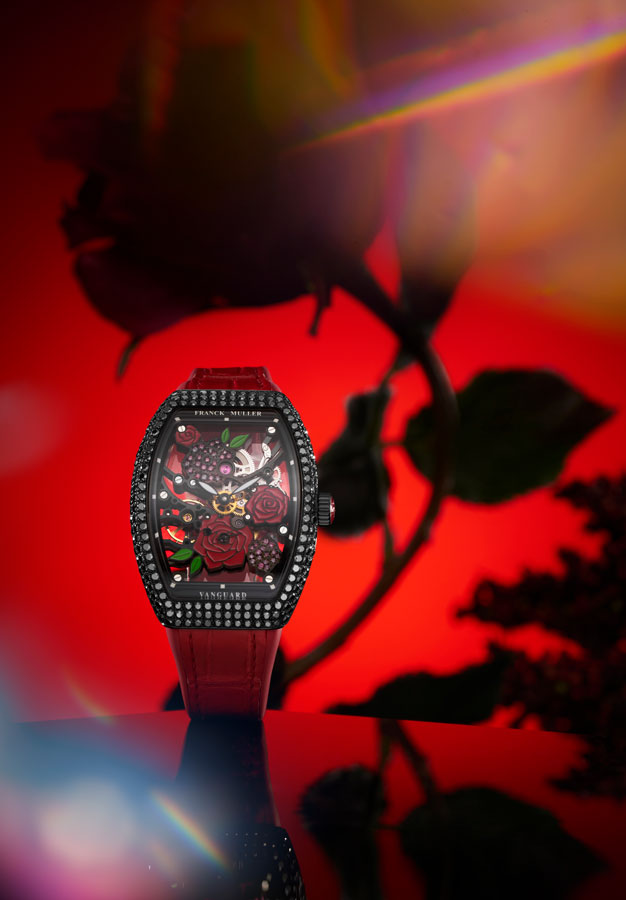 Blossoming verdantly within the signature tonneau-shaped case of the Franck Muller Vanguard, roses of all sizes and colours dazzle the eye. Like a picturesque vista of a rose bush—or indeed, a canvas painting of roses in full bloom. In a harmonious overlapping of technical expertise meets romantic elegance, these florals are very much integral to the watch's immaculately skeletonised movement.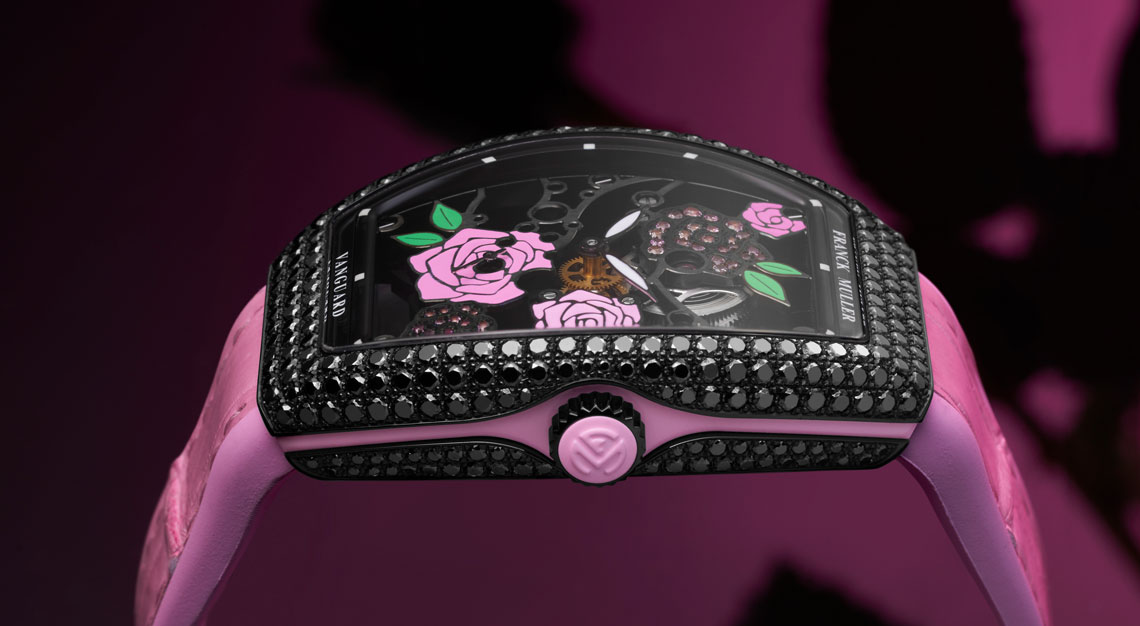 Hollowed out to the farthest extremes while remaining robust and chronometrically precise, the manual-winding calibre MVT FM 1540-VS17 is testament to the virtuosic skeletonisation savoir-faire at Franck Muller. For not only were the manufacture's talented craftsmen able to reduce the movement to its bare minimum, they managed also to implement an artful element to the open-working.
Here, the skeletonised black-treated bridges are like branches on which colourful roses thrive and flourish.
Yet open-working is only one of three traditional artisanal techniques in the Franck Muller Vanguard Rose Skeleton. Gem-setting and hand-painted enamel varnish complete the watch and decorate its roses in five energising hues. In addition to classic red, and pink of course—who could ever resist sweet pink roses—Franck Muller dressed the timepiece in green, black and white tones, each accompanied by 75 brilliant-cut gemstones in matching colours, and on both front and back of the movement.
This final touch is a testament to the manufacture's deep attention to detail invested in all its timepieces.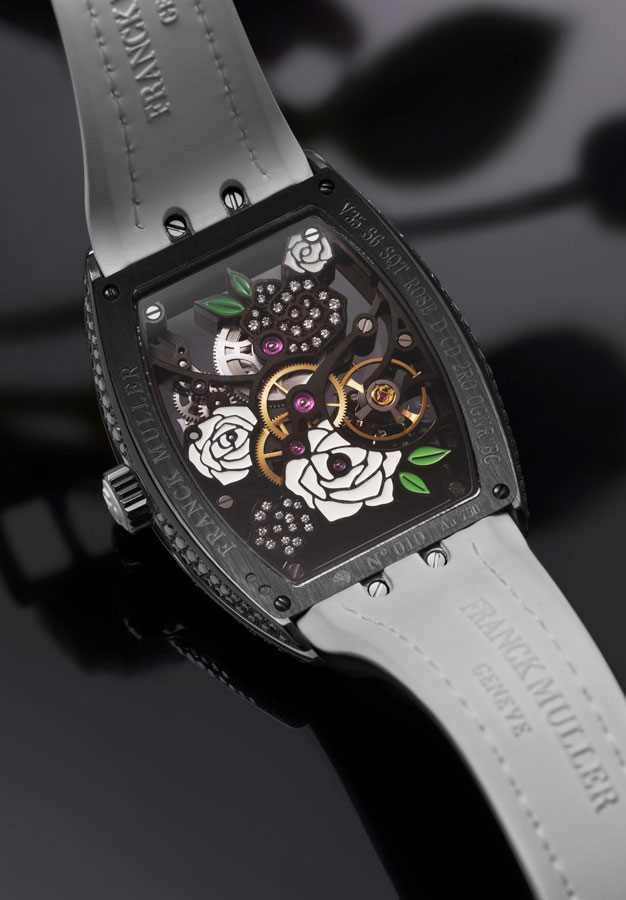 White goes with scintillating white diamonds; red is joined by shimmering rubies; pink comes with pink sapphires; green offers stunning rare green diamonds; and finally black dazzles with the adamantine lustre of black diamonds. This final all-black version is a Franck Muller boutique exclusive.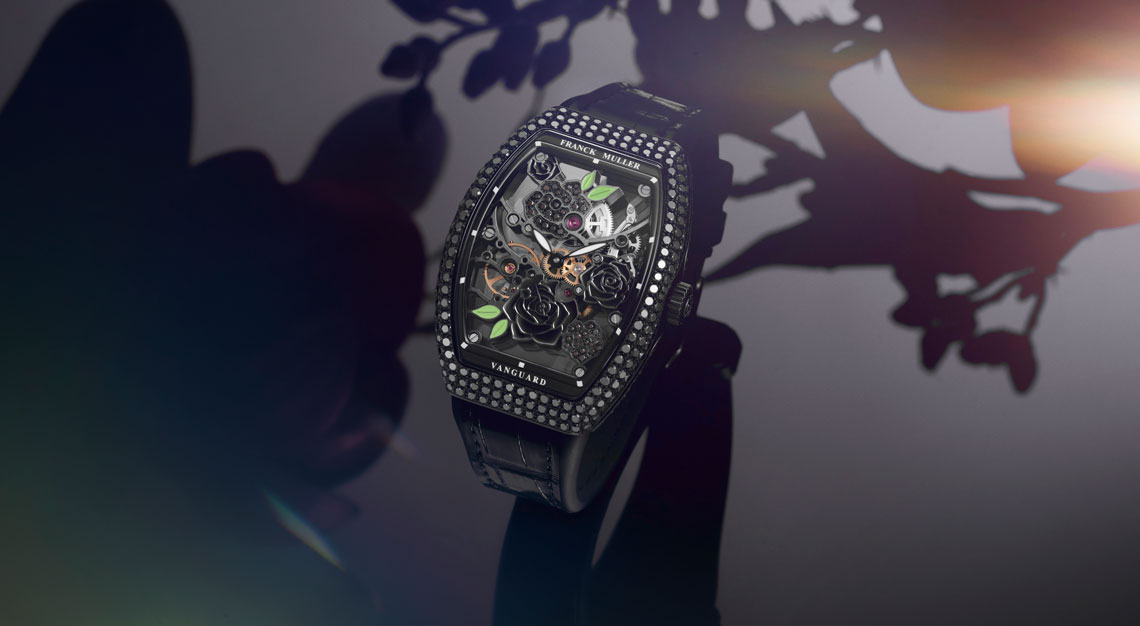 All five models are cased in black PVD-treated white gold fully paved with 422 brilliant-cut diamonds—black, instead of the usual white gems, bringing an added aura of mystery and seduction. Incidentally, gem-setting on PVD-treated gold (as opposed to regular gold) is rather more complex a process, because the artisans will have to take special care of the stones before and after setting.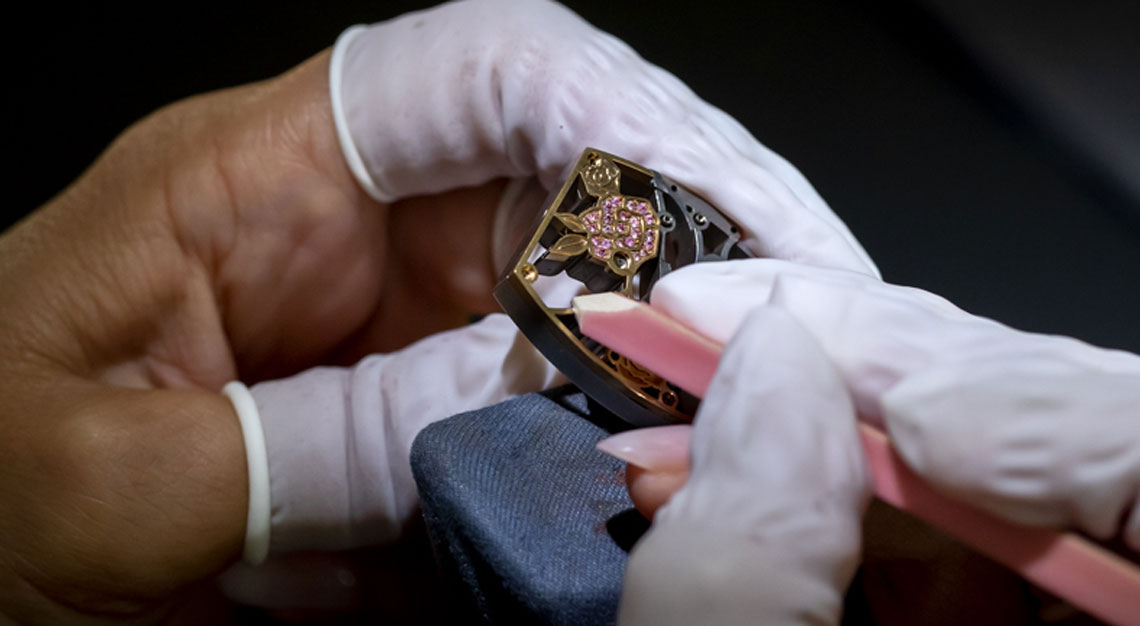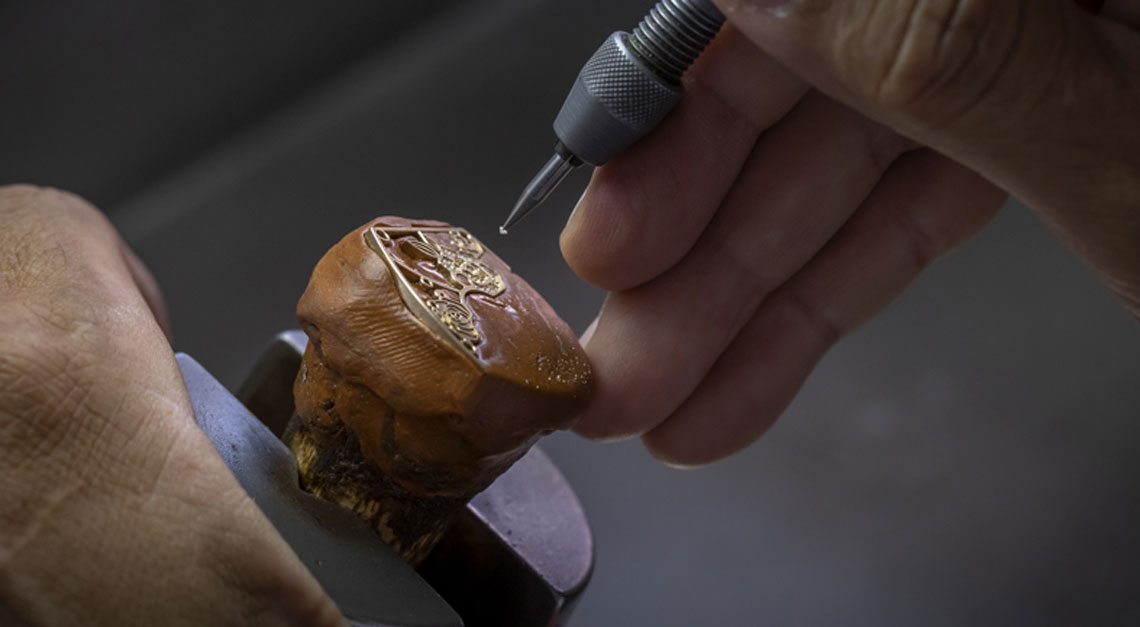 But the results are also extra stunning in these timepieces, with blackened bridges and case providing a dramatic juxtaposition to the brightly-coloured florals.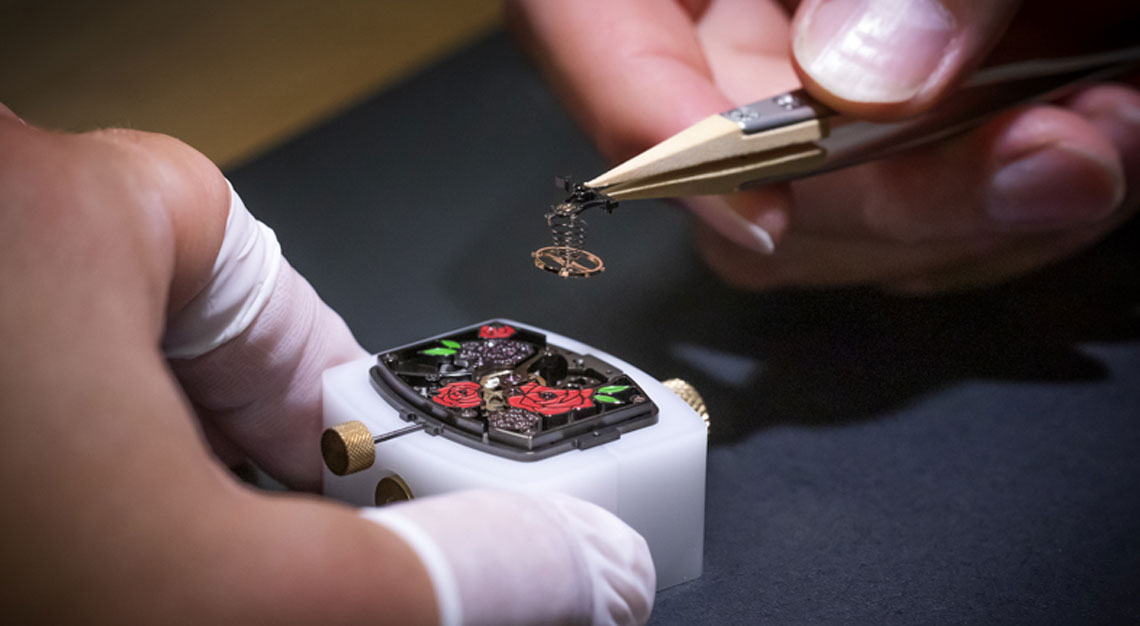 With its slim, svelte diamond-studded frame, the Franck Muller Vanguard Rose Skeleton is no lightweight when it comes to technical savvy either. The in-house Calibre MVT FM 1540-VS17 runs on 153 components all of which can be viewed through front and back. Twin mainspring barrels offer an impressive four-day power reserve despite the movement's compact size and relative slenderness.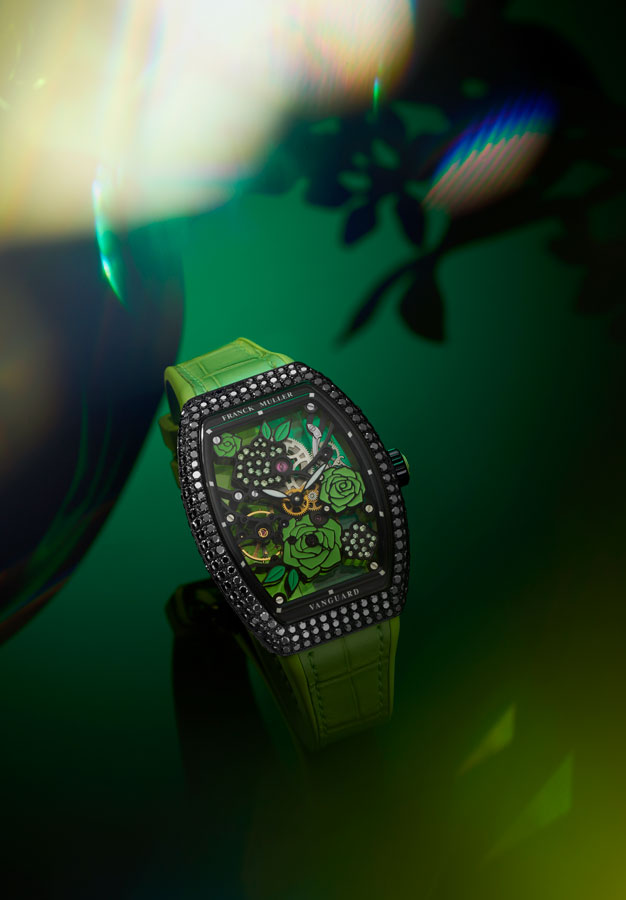 The floral decorations on the bridges are hand-chamfered, satin-finished, and hand-painted layer by layer to bring out its rich colour. Finally, on top of the largest rose at six o'clock, a small seconds counter sits. This little detail is noticeable only if you looked at the watch really closely—and why wouldn't you, when you've got roses as darling as these ones?