Breaking new ground, in Sareen's case, has become the de facto way of moving forward
Gajendra Singh Sareen whips out his phone and scoots over from the opposite end of the couch. His eyes light up, like that of a child infatuated with his newest toy. Eagerly scrolling through a parade of tyre designs—still in the making and part of Omni United's latest collaboration with Italian automotive design house GFG Style—he reveals that the gripping, symmetrical tread blocks take their cue from the beguiling Stealth Bomber. Intended for extreme off-road usage—catering more to the rugged outback than Singapore's well-paved roads—they exude both tenacity and verve. "Isn't that cool?", he beams.
Sareen has managed to accomplish what few have been able to in the tyre industry: Make tyres—the oft glossed over underdog of car design—exciting. Since its inception almost two decades ago, Omni has steadily expanded its portfolio to become one of the most dynamic tyre companies—from R&D to manufacturing and distribution—with a global footprint across more than 50 countries.
Once dubbed the "Ikea of Tyres"—exemplifying a no-nonsense, competitively priced approach to producing reliable tyres—Omni's business model has evolved over the years in accordance with vehicle proliferation and diversification. "The fundamentals have not changed, but we have progressively expanded our range in sync with vehicles on the road", Sareen stresses. "We have over 200 patents extending from designs to processes, and are focusing on building value in the company through intellectual property—the paraphernalia of R&D is where the dance actually takes place".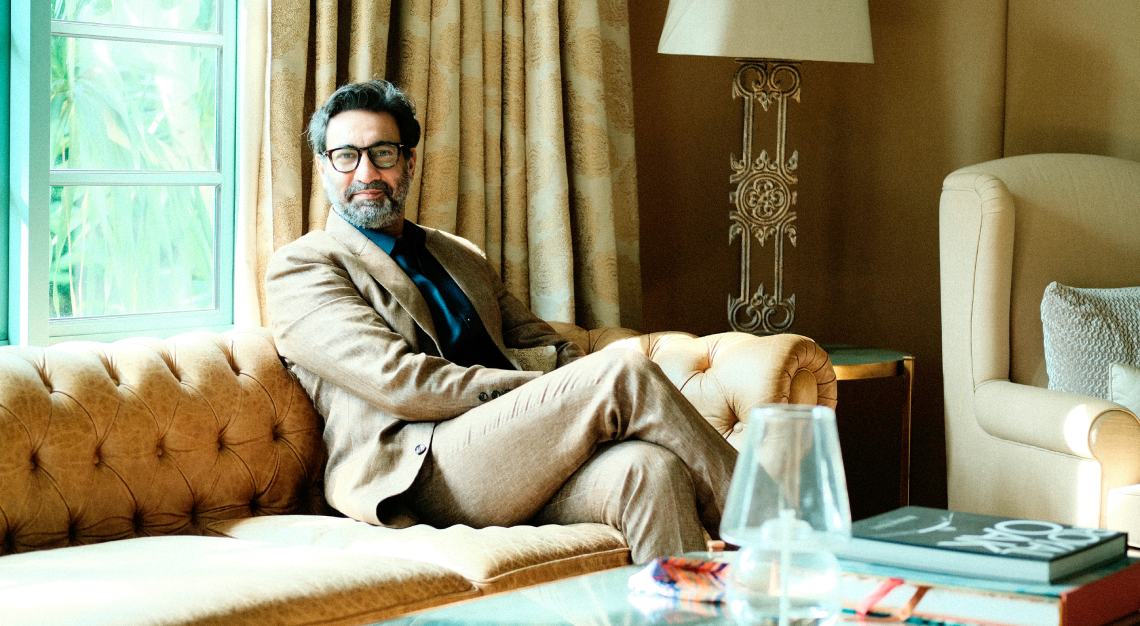 Yet price points and product quality aside, what is equally admirable about the way Sareen has steered the company is his unwavering commitment to social responsibility. In 2013, Radar Tyres, Omni's flagship brand became the first in the industry to be manufactured carbon neutral—the result of an in-depth study conducted by Ernst & Young on the environmental impact of its tyre production. Timberland Tires, another innovative collaboration between Omni and the eponymous outdoor lifestyle brand, saw the recycling of old, worn-out tyres into outsoles for Timberland's signature boots and shoes.
Beyond efforts geared towards sustainability, Omni has also consistently supported the Breast Cancer Research Foundation (BCRF) through its 'Mobilising Hope' campaign, raising awareness and funding vital research aimed at the prevention and cure of breast cancer.
Going forward, Sareen, ever the visionary, has no plans of slowing down—be it continuing to grow the company or finding new ways of giving back to society. Investing in the development of eco-tyres as greener alternatives to regular ones, for instance, or bringing the supply chain closer to domestic markets. "There's still plenty to do", he reflects, then adds with a gentle laugh, "better busy than bored".
Some of the worst and best things that happen in life are not by choice—they just happen. In my case, after I left the army as a young man I had no plans. I was selling costume jewellery, chemicals, pesticides, potato chips and all kinds of stuff—and still, somebody asked me for tyres. So I started figuring out where I could get tyres from and that was how the whole venture started. There was no grand plan or mission or anything of that sort.
My approach to running the business has changed in tandem with the prevailing circumstances, which is a necessary aspect of any company's evolution—I stay current in whatever I do.
The tyre industry is predominantly divided into different tiers: the premium category (Michelin, Bridgestone etc.), the tier two category (Yokohama, Toyo etc.) and so on and so forth. When Omni first started, we were at the bottom of the barrel. Today, I can say with confidence that we sit anywhere between the tier two and tier three categories. Given that it has taken us a relatively short timeframe to get there, I think that our upward trajectory has occurred at a pretty good pace. Usually, to go up in the food chain you need to make your product more expensive. I have adopted a different strategy instead, keeping price levels consistent while adding more attributes into our product. This is one of the reasons we recently collaborated with GFG Style—the brainchild of Fabrizio and Giorgetto Giugiaro (one of the car designers of the century), who have worked on Bugattis, Ferraris, Lamborghinis etc.—great tyres with beautiful designs should be accessible to everybody.
In a democracy, people are actively involved in the election process. The same principle applies to the issue of sustainability; unless everyone participates, little progress will be made. What we are trying to achieve is to get consumers to hold companies accountable—if we can be carbon neutral at manufacturing, then why not the others? By conventional standards, we should have followed in the footsteps of bigger brands, but that would not have made us a leader. If you know that there is a problem, you have to do something—otherwise, you are just hiding.
Social responsibility begins with helping those around me, then expanding from there. Intention is a very powerful thing. You do not need to kickstart big corporate campaigns—start small, as long as you are doing something.
My greatest vulnerability is dreaming big—if it is going to be a dream, at least make it a big one.
I never understood stress management. I manage things that are precious to me, but what is there to manage about stress? Failure is just another part of the learning curve—move on.
This story has been adapted from the March 2022 issue. Purchase it as a hard or digital copy, or consider subscribing to us here