You'll need more than a heart for art to keep the business going
Properties may be the family business link between real estate developer and architect Daniel Teo and his daughter Rachel, but the cement that concretises the duo's relationship is the love of art.
The pair founded the non-profit, The Private Museum, in Singapore in 2010 to encourage art collectors to share their private collections with the public and to provide an alternative platform for artists to showcase their works.
In the last decade, The Private Museum has organised more than 50 exhibitions with over 100 artists and has challenged conventional notions of art appreciation by having interpretative dances, poetry readings and multimedia works alongside two-dimensional paintings. It offers the public a glimpse of rarely seen works that would have otherwise remained hidden, had it not been for Daniel and Rachel's ability to persuade collectors to share their treasures. 
In spite of Daniel's prominence and active involvement in Singapore's arts scene, he was uncertain as to how The Private Museum's concept would pan out when Rachel mooted the idea. "He thought I was referring to just our family's collection," she shares. "At the same time, there were already a few private collectors starting to showcase their collections. But he eventually caught on to the mission and thought it was a good thing to do together." 
Rachel also recalls with a chuckle how her father was "taken aback" at the first multimedia exhibition in 2014, when The Private Museum presented the first local edition of the roving Kitakyushu Biennial by Japanese digital visual artist Takuji Kogo, who was the envelope-pusher of this medium at the time. Daniel laughs at the memory, saying: "It was really avant-garde to me and I couldn't understand why it was considered visual art until the producer explained it to me."
The deep appreciation of their complementary idealistic and pragmatic strengths is palpable. Rachel, who is also the founder of Fraxtor, a co-investment real estate platform that focuses on niche investment opportunities, an initiative that is backed by Daniel, says: "My dad has always been very encouraging. He lets us explore even in our family business."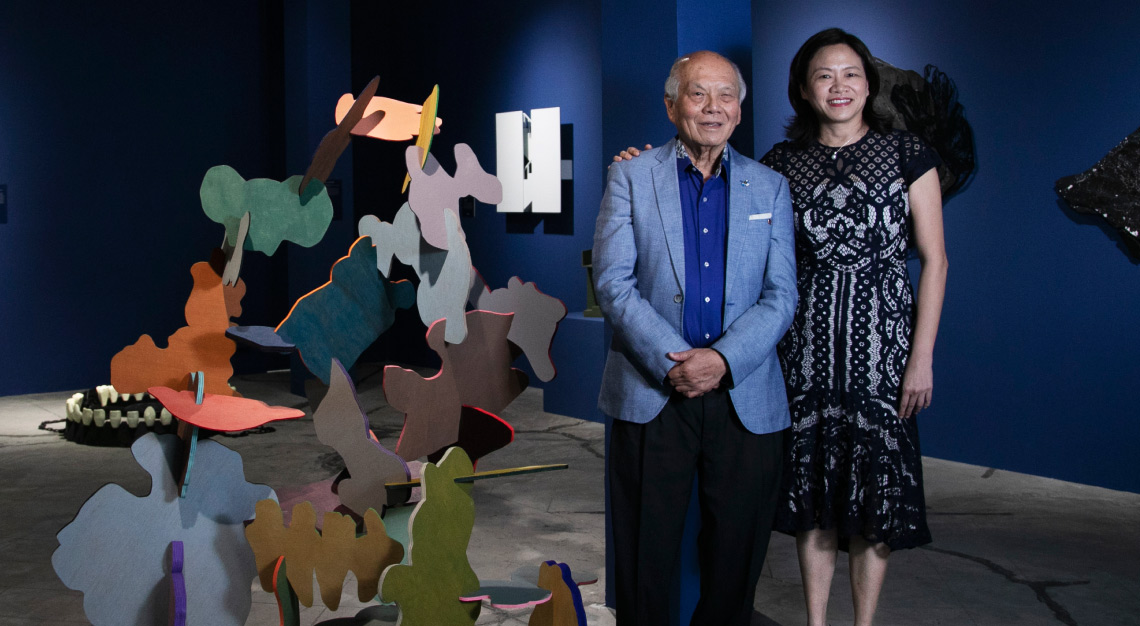 She suggested sending talented artists on arts residencies abroad, such as renowned sculptor and Cultural Medallion winner, Han Sai Por, and Singapore-based artist Nandita Mukand, whose growth and international exposure surged after a residency under the arts foundation Fundació l'Olivar in Catalonia, Spain. She was supported by The Private Museum and a National Arts Council grant. 
To further nurture the nation's next generation of artists, curators and filmmakers, an arts film fund, Moving Image Platform, was set up in 2017. There are also plans for an overseas scholarship. All these are progressing in tandem with fundraising initiatives to ensure sustainability, says Rachel, casting an affectionate glance in her father's direction as if she knows what the astute businessman will say next. 
Almost on cue, Daniel replies: "Well, we have to balance. We have the family business to look after… and there are costs such as the overseas artist residencies where we have to take care of things such as airfares and help them plan and curate a show when they return. But we're quite happy with how things have turned out so far."
Happy things are definitely in store for the company's 10th anniversary celebrations. Daniel and Rachel are shifting the museum's focus back to collectors.
Rachel says: "A bigger (museum) space would be nice, but that would mean more cost and manpower. Until then, we will continue doing what we can to help the ecosystem of artists, curators and collectors, and being a physical space where people can respond to the works first-hand."
This story first appeared in the May 2020 issue, which you may purchase as a hard or digital copy