The maison's latest collection circles around the time-honoured technique of chain making
Have a peek at the Hermes Enchainements libres High Jewellery collection and you'll notice a common trait in all of the jewellery pieces: each of them is bounded by chains. Yes, the art of chain making has been brought to sophisticated levels in this collection, all thanks to the creative prowess of artistic director Pierre Hardy. But of course, we're not talking about any ordinary chains here, but chains that come in titanium, rose gold, white gold and yellow gold. We pick the five most breathtaking pieces – from necklaces and earrings to bracelets and earrings – that are sure to melt the hearts of many.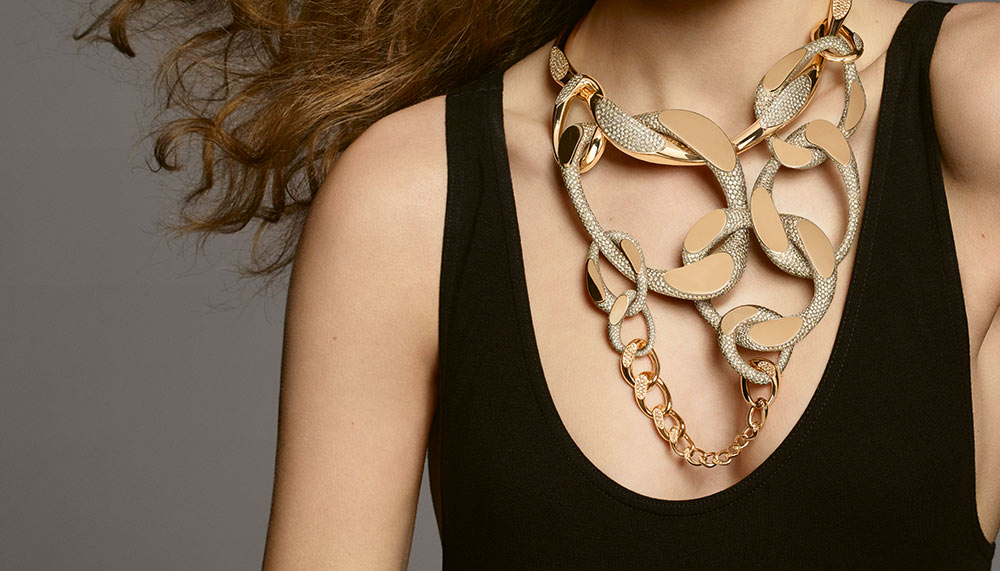 Fusion Necklace
Simply put, the Fusion Necklace is a masterpiece in its own right. Here, titanium in 18k rose gold is elegantly intertwined and embellished with pave-set brown diamonds that total more than 100 carats. We'd recommend pairing this with stud earrings a LBD, and a killer clutch.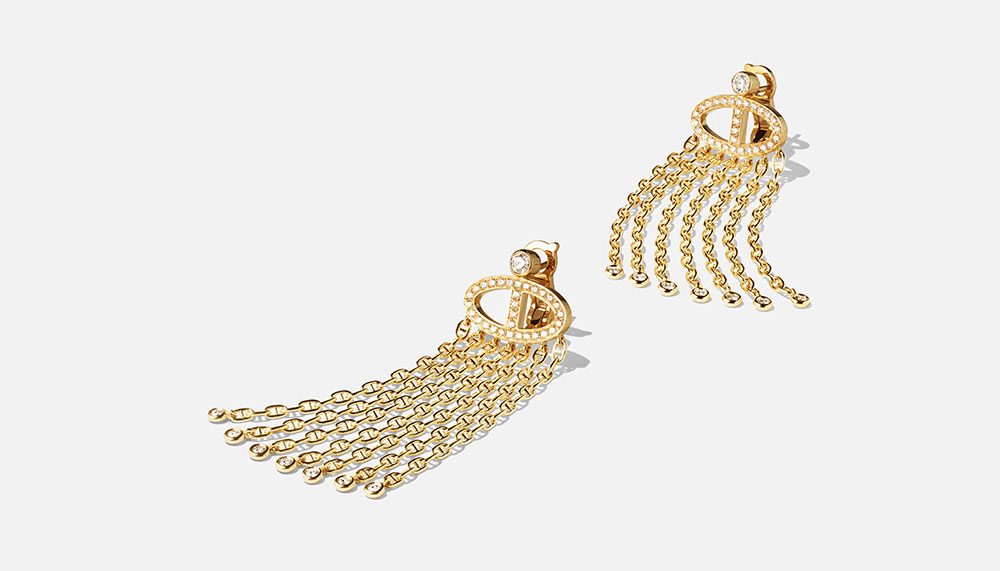 Voltige Earrings
For date night, the Voltige Earrings will add the perfect classy aplomb to any outfit. This timeless piece takes the shape of a 'ribbon', with numerous white diamonds and the classic H-chain. The matching collier reminds us of a knight's chain armour, and while we're still wondering how to carry it off, we're definitely going to try wearing it as a back necklace, like the model did.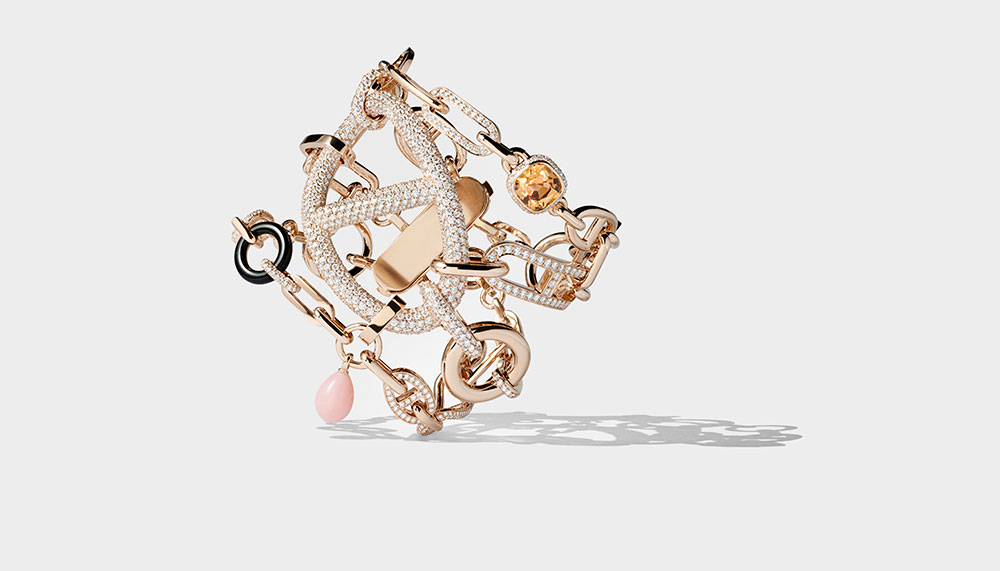 Grand Jete Bracelet
We can't help but marvel over this stunning arm candy. The Grand Jete Bracelet is a complex, colourful assembly of rose gold, diamonds, pink opas, black jade, pearls, orange sapphire and topaz — clearly only for the bold and brazen. Think of it as a mix-and-match, where the best of Hermes' motifs are combined to form one stunning piece. Looking for something a bit more? The matching collier may do the trick. It's certainly not for everyone, but that's what makes it truly special. While the model wears it with a plunging neckline, we reckon a plain, high collared top will do the trick too.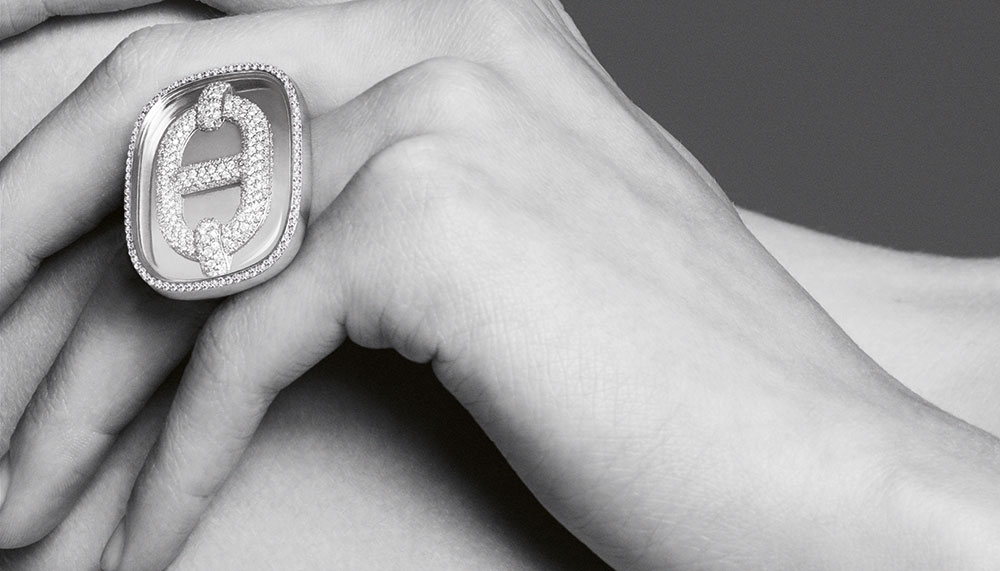 Chaine D'ancre Zoom Ring
It's okay if clunky pieces aren't your cup of tea. This piece calls out to those who want a single statement piece that goes with every outfit, and will most certainly take you from boardroom to bar.  Chaine d'ancre zoom ring takes a single link, and puts it on a pave-set 18k rose gold dish. Think of it as Hermes handing you one of its treasures on a silver platter.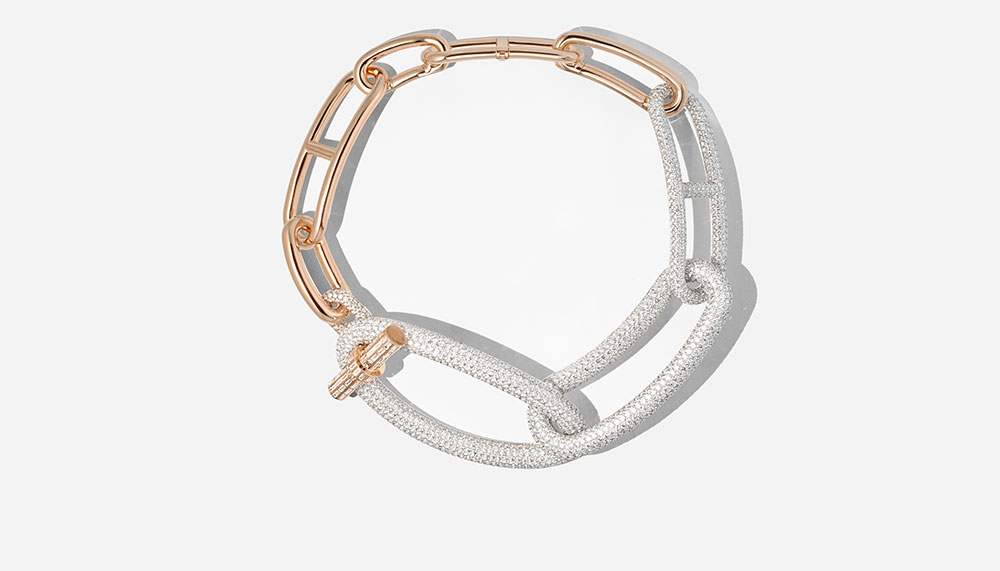 Adage Hermes Necklace
Bounded by big rose-gold chains studded with brilliant-cut diamonds, the Adage Hermes necklace is surely a head-turner. As simple as it looks, the team engineered numerous invisible hinges to be placed in between the chains, allowing for maximum flexibility when worn.