The third Sofitel in Singapore offers businessmen quick access to the city's CBD
"We're the only hotel that offers direct access to the MRT," proclaims Walter Navarro, marketing director of Sofitel Singapore City Centre. I add that Marina Bay Sands, Swissotel, Fairmont and JW Marriott Singapore South Beach hotels all offer direct train access, but he counters that they require a short walk from the hotel. So yes, Sofitel Singapore City Centre is still in the running for most easily accessible hotel via public transport, if that's your requirement.
The 20-storey hotel is barely a year old, having opened in October last year. It offers just 223 rooms, across three room categories; Luxury Room, Prestige Suite and Joaquim Suite. Guests in the Luxury Room category can opt for premium services which include complimentary breakfast and minibar, laundry credit, a transportation pass and access to neighbouring gym Virgin Active. Club guests receive the above incentives along with round-the-clock access to the hotel's Club Millesime, located by the gym and pool on level six.
There are two ways to enter the hotel; via the drop-off point at Peck Seah street or Tanjong Pagar MRT station. Both take you to level five, the main lobby, for you to check in. Club and suite members can check in at Club Millesime. From there, a separate lift lobby takes you to your room.
The Business Of Relaxation
The allure of a business hotel lies in its ability to help customers relax after a long day, and Sofitel Singapore City Centre certainly does that with finesse.
The first thing I notice in my room is a purple rolled-up yoga mat. The hotel has its So Fit gym, but its partnership with Virgin Active extends beyond complimentary passes. Each room comes with a complimentary gym kit, and a range of exercise videos can be watched on the telly. "There's no excuse to be my shape when we've provided everything," laughs Navarro. Everything but motivation, which is well, sold separately.
The bathroom lights are dim to the point that I pressed the button hoping to turn them on, only to have the room become pitch dark. But you know what? The last thing I want after a long day is to have a bathroom blind me with light. Though not usually a fan of dim lighting, in this instance, it suits me well, subtly encouraging my body to unwind.
The room also amenities to help you relax. The wooden bath tray resting on the tub comes with an in-built wine glass holder, and on it, a Lonely Planet guide that teaches you how to live well. Want to let your inner child run free? Feel free to doodle in the adult colouring book (a box of Faber Castell colour pencils is provided). Whether for catharsis or pure glee and enjoyment, I've to say I enjoyed my van Gogh moment quite a lot.
Where it lacks in helping one fully relax though, is the absence of an in-house spa. While you can head to sister hotel, Sofitel Singapore Sentosa Resort & Spa (complimentary return transfers are provided), I can't help but feel one shouldn't have to dress up to head to a spa, only to relax, and repeat.
The Hotel Means Business, Mostly
Right by the lifts to the rooms is also a foreign currency exchange machine, with updated daily exchange rates. Slip in one of the currencies shown in the screen, and it'll return the valuation in Singapore dollars. Unfortunately, the machine rejected my US$100 bill without any explanation.
During your stay, you may have the pleasure of meeting Sophie and Xavier, the hotel's droid butlers that are meant to replace service staff when it comes to delivering additional room amenities.
Curious to see the droids in action, I dial for concierge specifically asking for one bottle of water and more body wash. I head out to my room intending to film it cruising down the hallway. To my disappointment, nothing shows up even after 15 minutes. Then, I hear conversations over a walkie-talkie telling a staff attendant to bring 1716 (my room) whatever I've requested for. The staff comes out to the hallway, and passes them to a sheepish me. Perhaps the droids are being recharged.
For those on a bleisure trip, the room's Handy phone will come in well… handy. It offers data on the go, and allows you to make phone calls. Its partnership with Luxos also shows you the best deals in the city, along with a list of things to do, places to visit and shop. Add the destinations to your itinerary then follow instructions on how to get there.
I realise my phone's battery is running low, and I've left my charger in the office. I dial the concierge, asking if I am able to borrow a spare. To my dismay, they don't provide such a service, instead asking me to bring my phone down to the reception desk, where they can charge it on the spot. It's 11pm and I decline, given that I'm still waiting for a couple of texts, a call in the morning, and I don't feel comfortable having my phone away from me. That, and I'm already in my bathrobe, ready to retire for the night.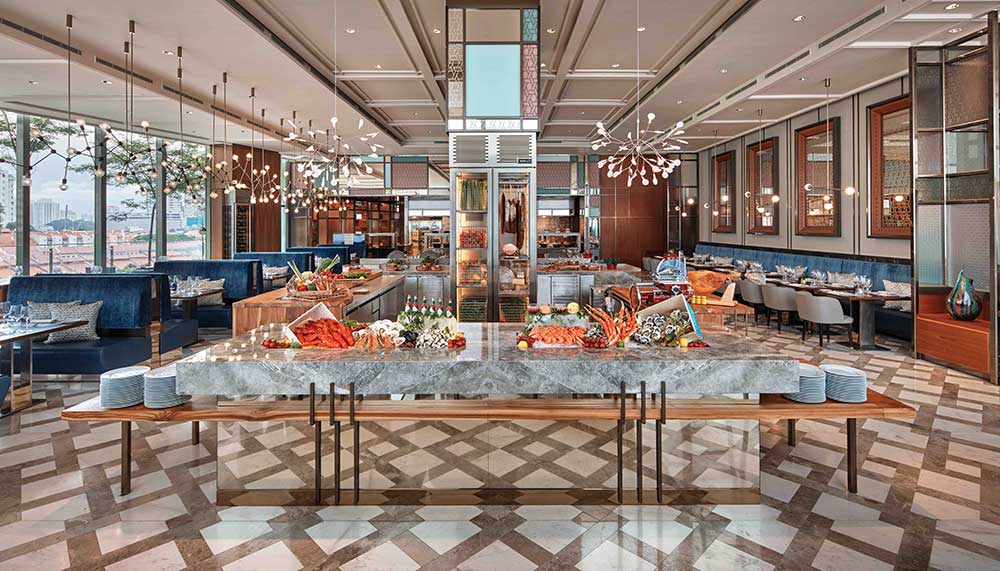 Breakfast To Start Your Mornings Right
The hotel offers three dining destinations, all located on level five. There's Racines, an all-day dining restaurant serving Chinese and French cuisines, 1864 bar, and the Nespresso mobile bar, the only of its kind in Singapore. Racines is also where breakfast is served, and while it isn't the most extensive I've had, it's still satisfying, with an international spread, cheese board, and an assortment of French pastries complete with Bonne Maman jams.
Club guests can head to Club Millisimme for breakfast. It comprises a much smaller selection of what you'll find at Racines. The tradeoff comes with a selection of eight wines, a near-empty lounge that overlooks the pool (you can dine poolside), perfect for those who enjoy a quiet morning.
For those catching a red-eye flight, you can come back to the hotel to shower and freshen up in the private bathroom on level six. Take note though, there's just one bathroom, so you may have to play the waiting game.
This young hotel has a huge potential to be the most popular choice in the city. But I can't help but feel that just that bit more could be done to cater to business travellers. With all that said, I'll be glad to be back.