What a feel(er)ing
From the furthest reaches of outer space, New York-based Jacob & Co plumbs different depths for a new version of its Astronomia line. Specifically, it dives deep below the surface of the sea into the vast, inky blackness of the oceans. And what it fishes out is a mysterious and marvellous octopus.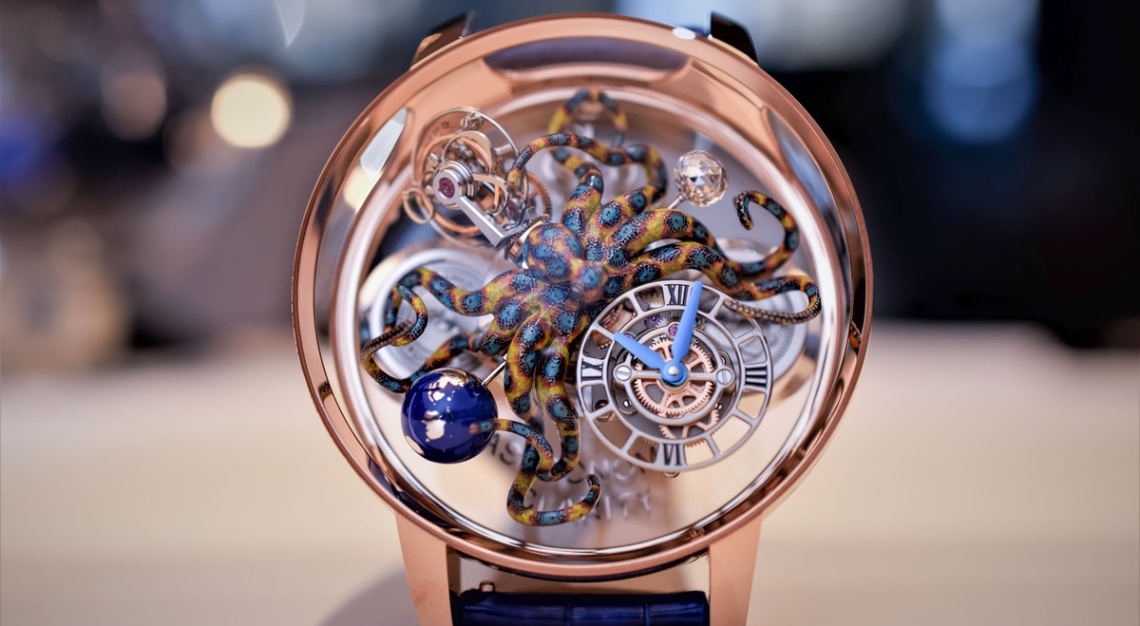 Straightforwardly titled the Jacob & Co Astronomia Octopus, a transparent sapphire monoblock case houses the requisite Astronomia gravitational triple-axis tourbillon grand complication, but coiled around the parts is a titanium cephalopod – hand-engraved and gold-plated. Sitting on the central axis, seemingly suspended in the transparent case, the remarkable beast revolves around the dial just like the other components, completing a full revolution every 20 minutes. As it moves, it appears to intertwine itself between the phases of the Earth, the sun and the time. Achieving this marine marvel was not easy; it took some 37 weeks to create the sapphire components of the Astronomia Octopus alone, and the beast itself went through several iterations, as the first cast promptly broke.
If Jacob Arabo has proven anything with his Astronomia line, it's that he isn't afraid to shoot for the stars, or plunge into the deepest depths. We wonder where he'll go next – a volcano, perhaps? Deep caves of gypsum crystals? – but we have no doubt that what he will create from that will be utterly spectacular.