In this year's Best of the Best, we honour the brands and people behind the most covetable products. Here, we honour the most stunning jewellery from Cartier to Mikimoto and everything in-between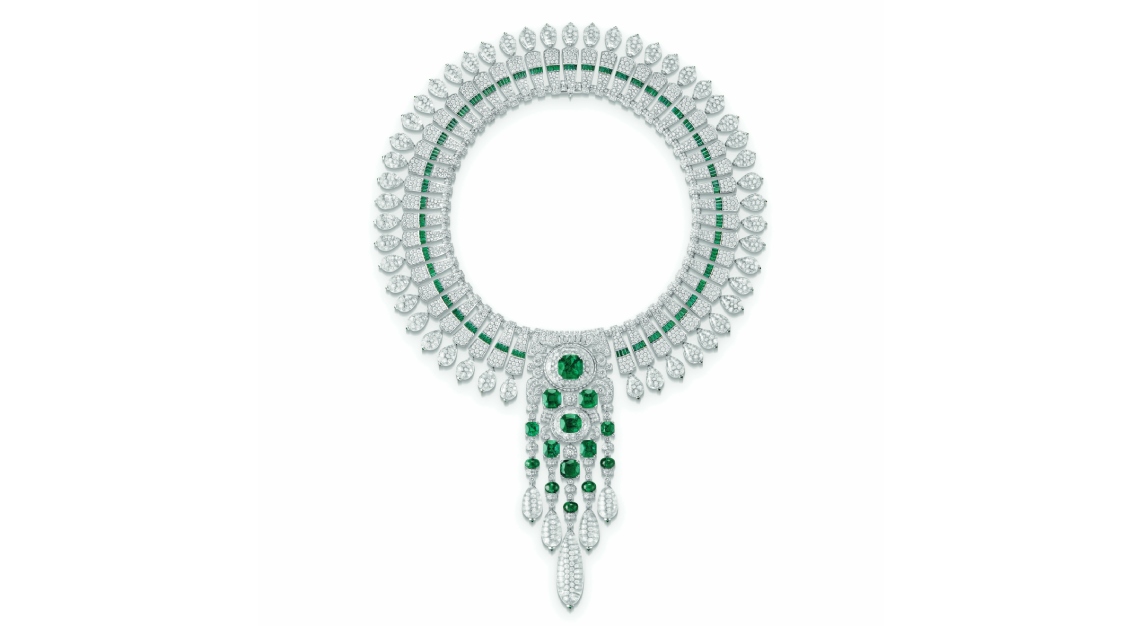 Jewellery of the Year
Boucheron
The crowning jewel of Boucheron's New Maharajahs collection is a lavish platinum-set parure slathered in diamonds, lined with 220 baguette-cut emeralds, dripping with yet more diamonds—this group encapsulated in rock-crystal drops—and topped off with nine gumball-size Colombian emeralds totalling nearly 40 carats. The elaborate centrepiece detaches to be worn as a brooch, while the remaining necklace transforms into a collar. 
If all of that sounds extravagant—and, well, it is—the tale that inspired it is even more extraordinary. In 1928 the maharajah of Patiala arrived at the Paris Maison's Place Vendôme boutique escorted by an entourage of servants and guards carrying iron safes filled to the brim with 7,500 diamonds and more than 1,500 emeralds, rubies and pearls. The Indian royal commissioned 149 custom pieces to be created from the precious gems. The cache remains the largest single order in the company's history and inspired New Maharajahs. 
Of the present-day pieces, this one-of-a-kind necklace (price upon request) secures the throne as the most striking. And it's as close as you likely will get to the gems of the maharajah—since his death in 1938, the whereabouts of the original pieces have been unknown.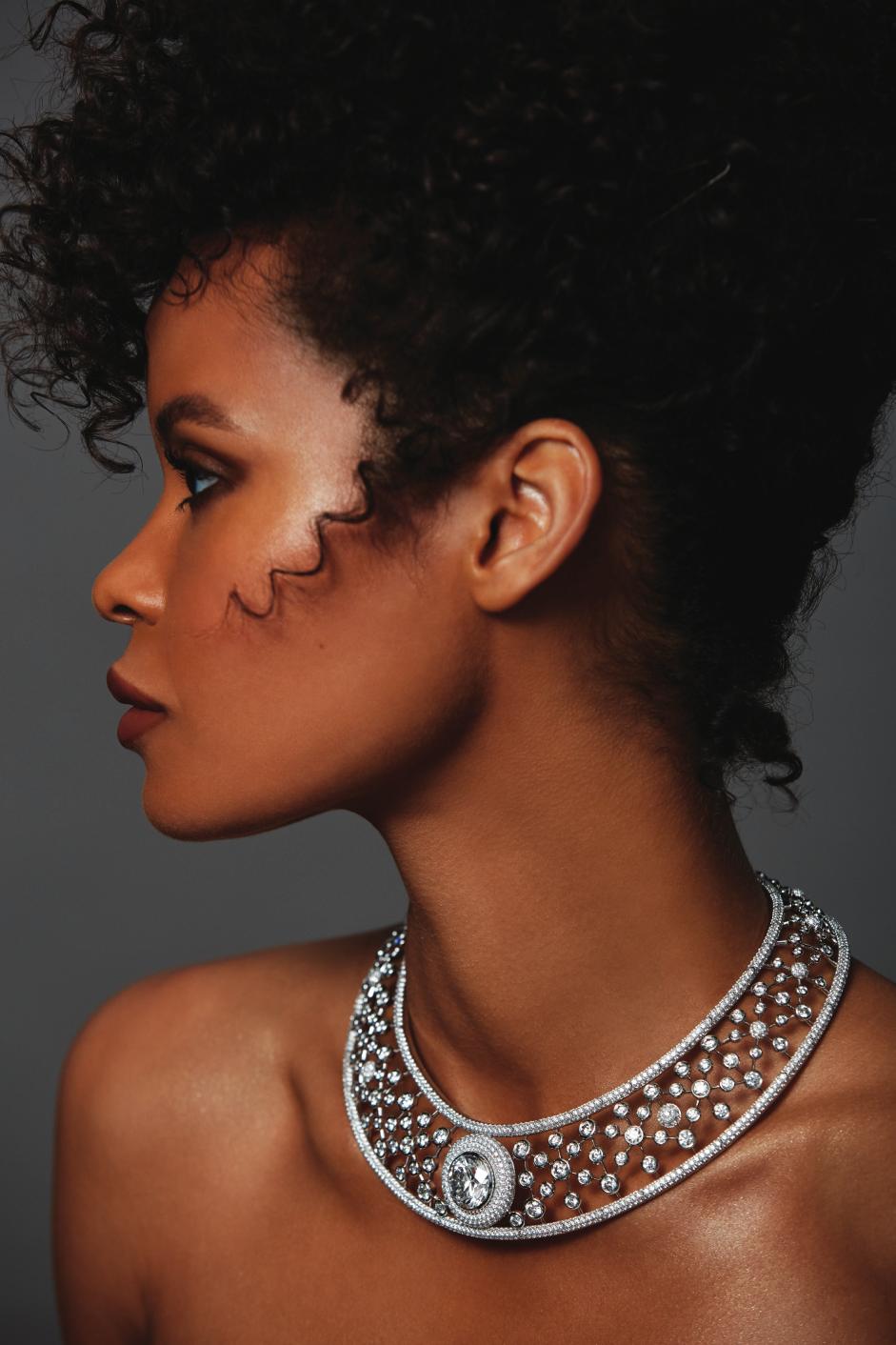 Best Diamonds
De Beers
De Beers got downright scientific for its Alchemist of Light high-jewellery collection. Based on structural renderings of a natural diamond's chemical composition, the graphic Atomique pieces within the series feature white diamonds in an array of geometric patterns. 
The showstopper is a one-of-a-kind 18-carat white-gold collar necklace (US$4.5 million) with 1,907 round brilliant diamonds arranged like floating electrons around its circumference, mimicking an atom's lattice pattern. At its centre is an 18.57-carat internally flawless F-colour round brilliant-cut diamond with IF clarity. Going one step further, De Beers ethically sourced every single stone and individually selected each by hand, then assembled the lot in a painstaking process. 
The atelier's efforts paid off in a thoroughly modern piece that delivers such serious sparkle it practically lights a room.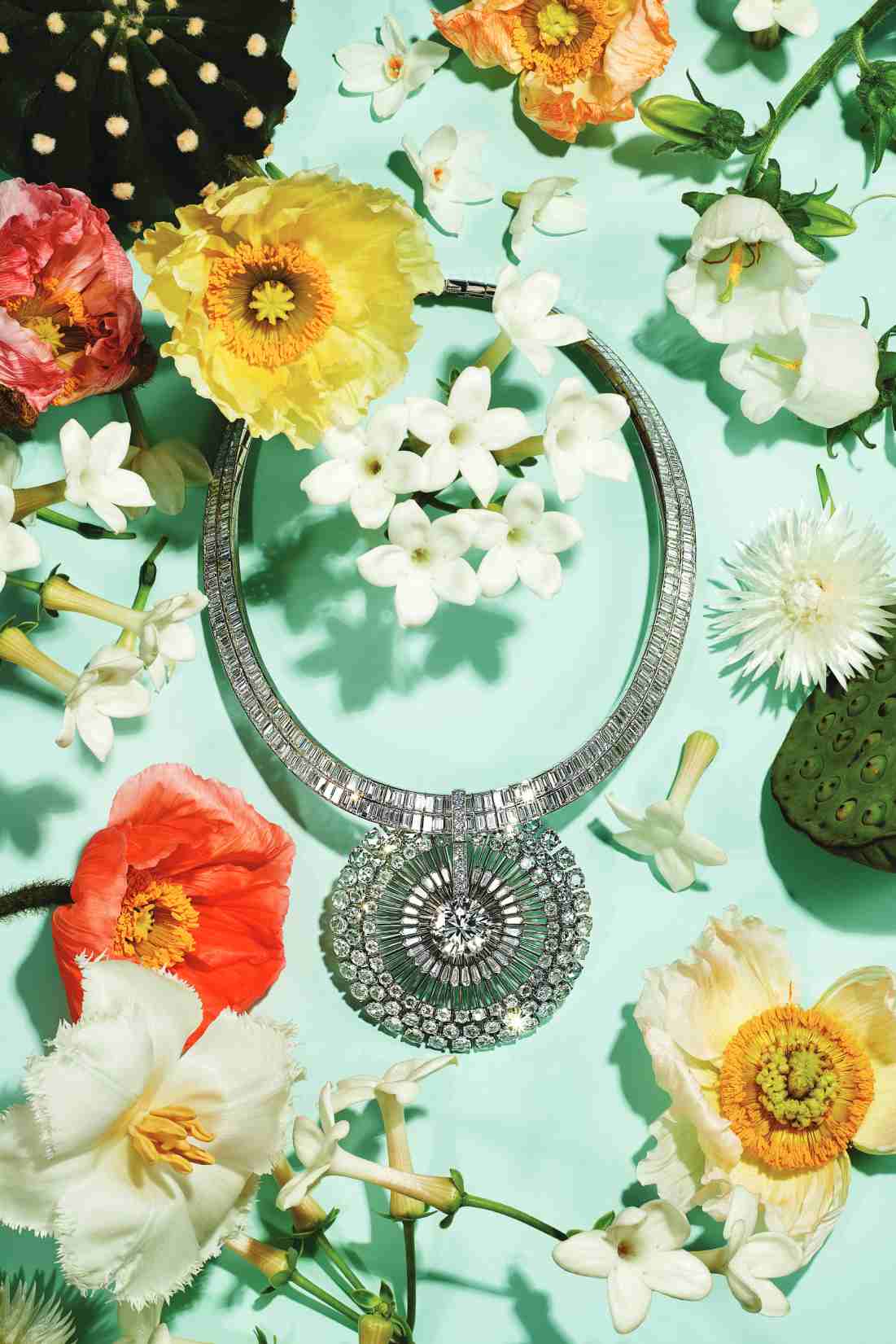 Best Transformable Jewels
Tiffany & Co
Based on a pair of dandelion hair pins designed by Louis Comfort Tiffany in 1904, this one-of-a-kind platinum necklace (price upon request) ups the ante from the original with an onslaught of diamonds and a mammoth aquamarine. 
Beyond its visual wow factor, the piece demanded a high level of technical know-how. It starts with two head-turning clips. The first is a dandelion made from three variations of custom-cut diamonds: open rose-cut on the outside, round brilliant-cut on the next layer and kite-shaped stones encircling a round 12.32-cut diamond at the centre. Each dandelion 'seed' was created to have subtle movement—a feat so challenging "our jewellers were ready to cry", says Victoria Reynolds, Tiffany & Co's long-time chief gemmologist. The second clip is an emerald-cut aquamarine of over 31 carats. 
Either can be attached to a modern collar necklace with two rows of baguette- cut diamonds or to a mixed-cut diamond art deco-style chain (though neither base can hold both adornments at once). The collar can also be worn on its own. In total, the design transforms into five pieces.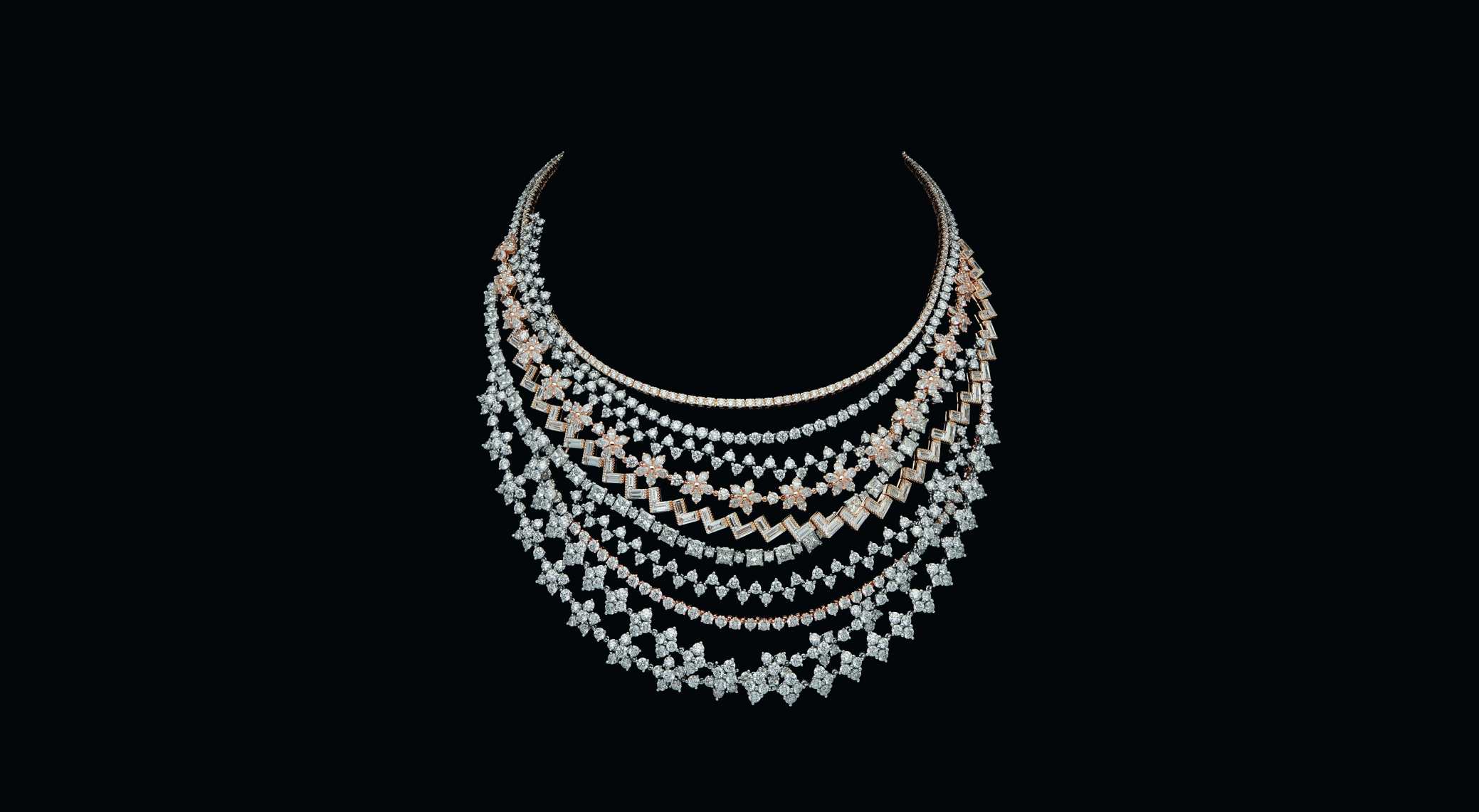 Best Design
Dior
It's not unusual for a fashion house to take cues from the catwalk for its high-wattage gems, but in a feat of clever technical design, Dior's artistic director of jewellery, Victoire de Castellane, took the concept to the next level with the Galons Dior necklace (price upon request). Available by special order, each strand on this one-of-a-kind necklace is meant to evoke ribbon, hand-stitching or woven braids from its couture atelier. 
Presented alone, a single string might look like your mother's diamond tennis necklace, but connecting the varied pieces gives an entirely new look to the otherwise demure jewellery staple. Over 1,500 hours of work went into intertwining the platinum and 18-carat pink-, white- and yellow-gold settings crafted in round-angled, three-claw, lozenge-cut, zigzag, floret and square shapes. A total of 10 strands decked in 84.97 carats of baguette, pear and brilliant-cut diamonds are securely attached in staggered rows that give the appearance of casually falling on top of one another. 
The beautiful entanglement of stones is a stunning high-jewellery take on 'neck mess'—the pervasive fine-jewellery trend of piling multiple necklaces on the neck in a seemingly haphazard arrangement.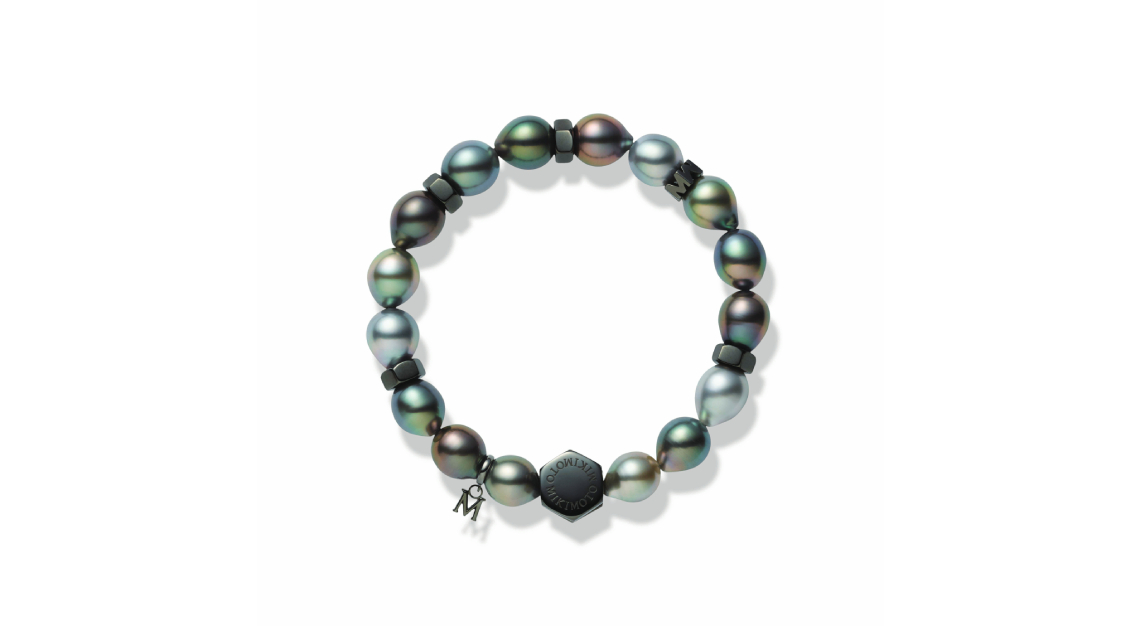 Best Men's Jewellery
Mikimoto
In recent years, pearls have moved well beyond their Nancy Reagan connotations, showing up on the necks of stylish guys from Pharrell Williams to Harry Styles. But even if the lustrous gem has crossed a perceived gender divide, tossing on a classic strand is still a bold move for most men. Mikimoto, however, recently released its first genderless collection (from US$270 to US$23,900), which has proved popular with the sterner sex and illustrates just how universal pearls can be. 
The decidedly masculine styles feature smoky grey South Sea pearls—sometimes in earthy, organic shapes rather than the perfectly round specimens usually seen—combined with inky black rhodium-plated sterling silver. It's easy to imagine the bracelets (such as the one pictured) stacked beside a Sub-Mariner or the minimal chain necklaces peeking out from under a linen shirt. Let the girls have their diamonds; this collection makes a case for pearls being a boy's best friend.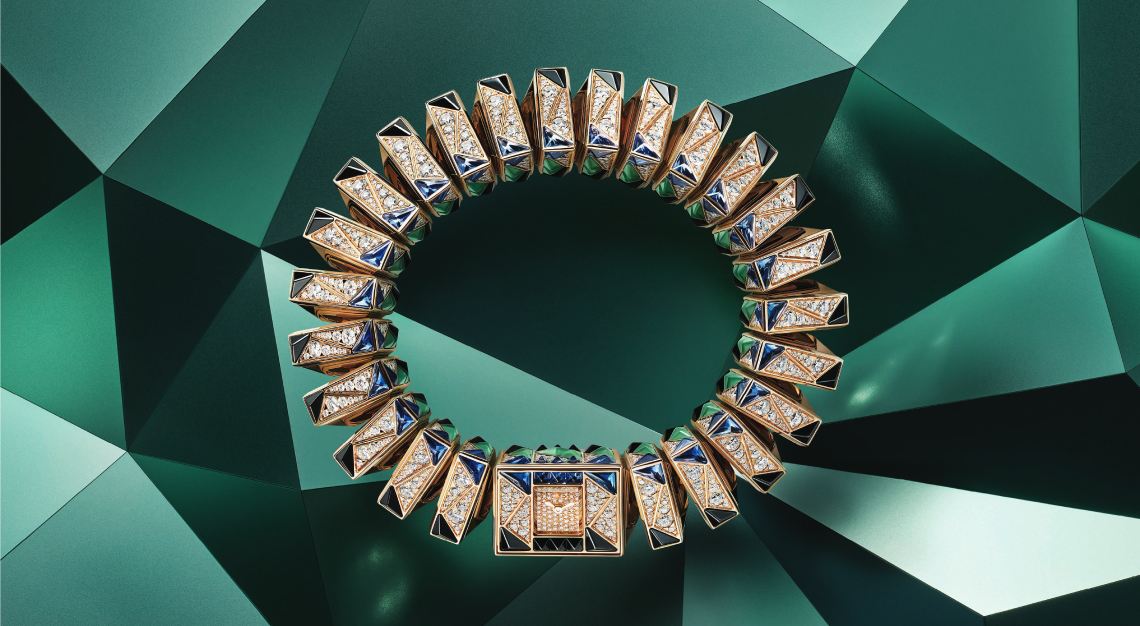 Best High Jewellery
Cartier Libre Morphosis
Geometrical dynamism was at play in Cartier's creative Libre Morphosis (price upon request), which is a two-in-one offering of a bracelet as well as a wristwatch. Conceived as a series of triangular links on a flexible elastic strap, it twists and turns with the flexibility of a hair tie so that its wearer can get a view of the incredible setting from every angle while being able to wear it according to need. 
Its movement, however, is more a matter of bragging rights than versatility. Each of the three versions, two in 18-carat rose gold and one in 18-carat white gold, are outfitted to the hilt in sparkling gems. The most striking is a rose-gold version, which is set with 418 brilliant-cut diamonds, 54 grey moonstones, 81 black spinels and 81 red garnets. 
The inspiration was a rock-crystal and diamond bracelet created for silver-screen legend Gloria Swanson in the 1930s, but its reinvention ups the ante in a feat of design gymnastics. Absolutely no one will be asking you the time, unless it's to give you a stage for show and tell. Each version is one of a kind. 
Best Historical Tribute
Chanel
At the heart of Chanel's one-of-a-kind Allure Celeste necklace (price upon request)—the centrepiece of a series that pays tribute to the house's first collection of diamond jewels, released in 1932—is a jaw-dropping 55.55-carat sapphire, a numerical weight so significant to the brand's heritage (a nod to the house's iconic No. 5 fragrance), the company sourced a stone to the exact specification. 
A white-diamond star brooch—the only piece from the original collection still held in Chanel's archives—served as the inspiration for the platinum-set necklace's heavenly design. The most literal reference is the diamond star placed off-centre on the collar, which can be detached to wear as a pin. A halo of diamonds and a diamond crescent moon encircle the sapphire, while a diamond comet featuring an 8.05-carat pear-shaped stone dangles beneath it from a row of diamonds that doubles as a detachable bracelet. 
The 1932 collection was a formidable foray into high jewellery during Coco Chanel's lifetime, but she would no doubt be impressed that the house's expertise in the category has risen to such stratospheric heights.