For those looking to live in Manhattan, look no further than One Wall Street, where residents will enjoy gorgeous Art Deco interiors, a private social club and over 51,000sqm of luxury retail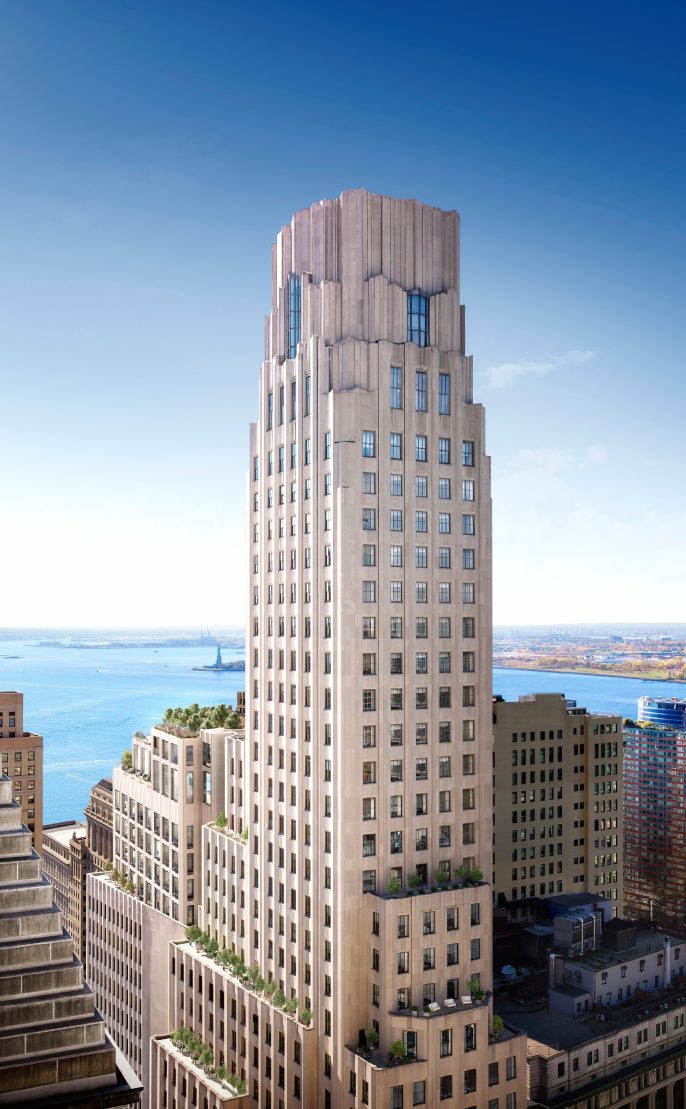 "New York's the city of dreams, so I've been told. "I don't know what it is, but there's something about it that makes anything possible," a friend said the day before I hopped on the plane. It would be my third trip there. Granted, I had not been impressed on my previous visits, but this time, things were different. Not because it was my first getaway in two long years and not  because it's my job to write this story.
Maybe the third time's the charm. While it might seem difficult to appreciate a city with streets packed with the loud honks of impatience and hustle and bustle, I learnt that with beauty, perspective is everything. I saw beauty in the ice skaters at Central Park and the lovebirds by the iconic Christmas tree at Rockefeller Centre. I saw the same in the early winter sunset from the top of One World Observatory, and even from within the 9/11 Museum, despite its bottomless grief. I suppose love grows each time you unearth a story and figure lost to history.
But let's not forget the built environment of its inhabitants, constructed by society, culture, values and economic dominance. People come and go, but architecture lives on. There is beauty, too, in a concrete jungle jam-packed with buildings of all shapes and sizes: large and small, ugly and beautiful, ambitious and silly.
Few cities are as comfortable with architectural variety as New York, but it wasn't until the '60s when people started to become more aware of the city's architectural richness. Check out Marcel Breuer's former Whitney Museum on Madison Avenue in all its brutalist glory. Stroll around SoHo-Cast Iron Historic District, home to the densest concentration of cast-iron architecture in the world. Discover neoclassicism through Federal Hall and how the Gothic Revival took hold of Trinity Church, a major landowner in the city. It's all very impressive, but perhaps the city's most iconic style is Art Deco, an exuberant combination of geometric motifs, dramatic historical allusions and industrial craft.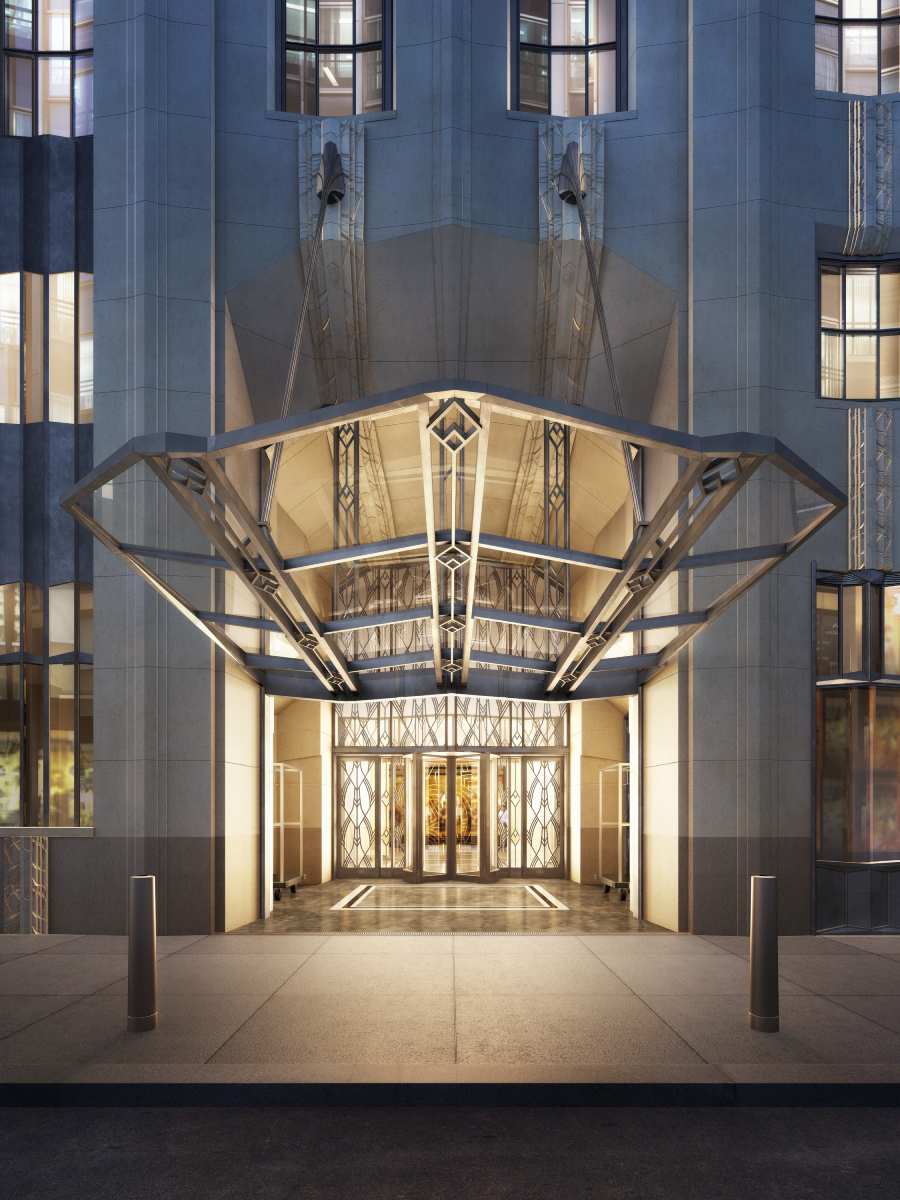 One Wall Street
"For a long time, American architecture (New York architecture in particular) didn't get its due. As New York grew to be the de facto economic capital of this country, people thought that the city cared so much about making a buck that it couldn't possibly be an inhabitable work of art," says Thomas Mellins, an architectural historian with a passion for the city. "This room that we are in now – why create a room this big? Why create a room this beautiful? It is precisely the genius of New York architecture that it marries the practical with art. You've got to make the land pay, and this room is, in my opinion, one of the great rooms of New York."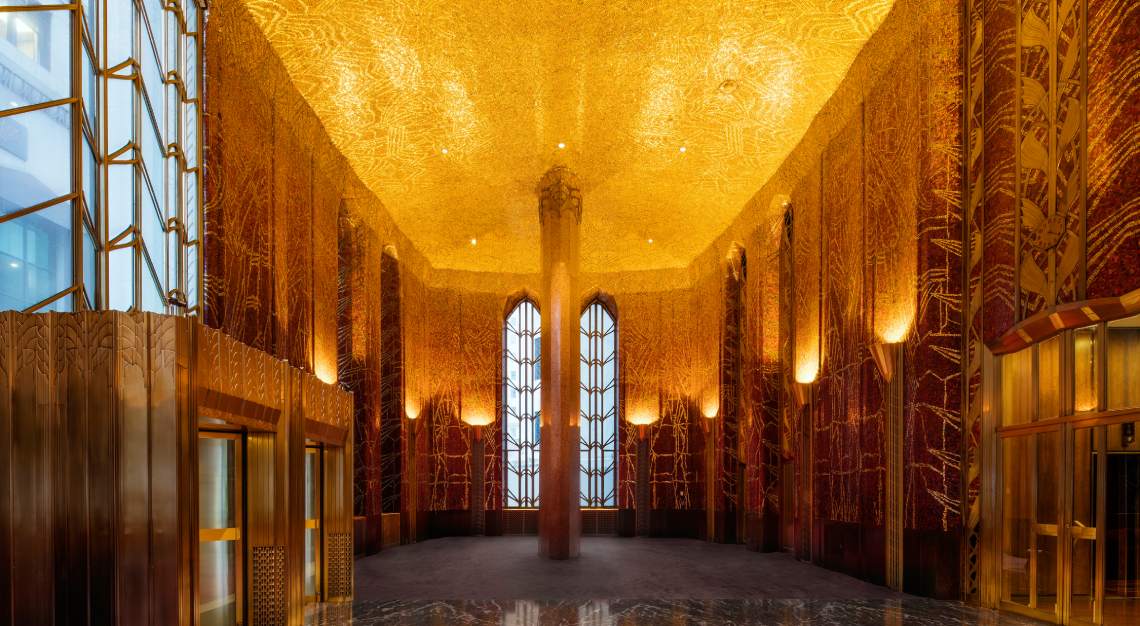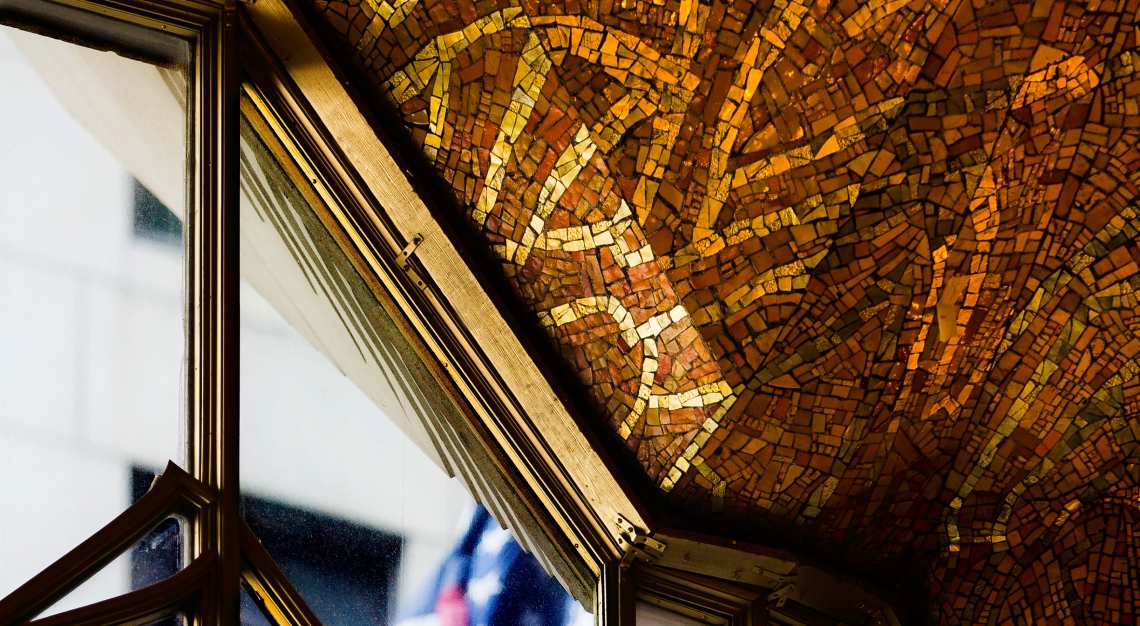 What Mellins is referring to is The Red Room, an astonishing lobby soaring 10m high with an exotic red and gold mosaic (836sqm from top to bottom), which was executed by the often-overlooked muralist Hildreth Meière. It sits at the foot of the old Irving Trust bank, a 1931 Art Deco edifice clad in a ribbed and undulating limestone exterior, sky-high windows and faceted walls of black and white marble from the Pyrenees, found at its other lobby that faces Broadway.
It neighbours the New York Stock Exchange and Trinity Church, while Brooklyn Bridge, which was decisive in the growth of the city, is just a 10-minute walk away. In spite of all its skyscraper rivals, it's been winning hearts over for its originality and opulence, courtesy of the creative genius of Ralph Walker, the same architect behind the New York Telephone Building, the city's first major Art Deco skyscraper.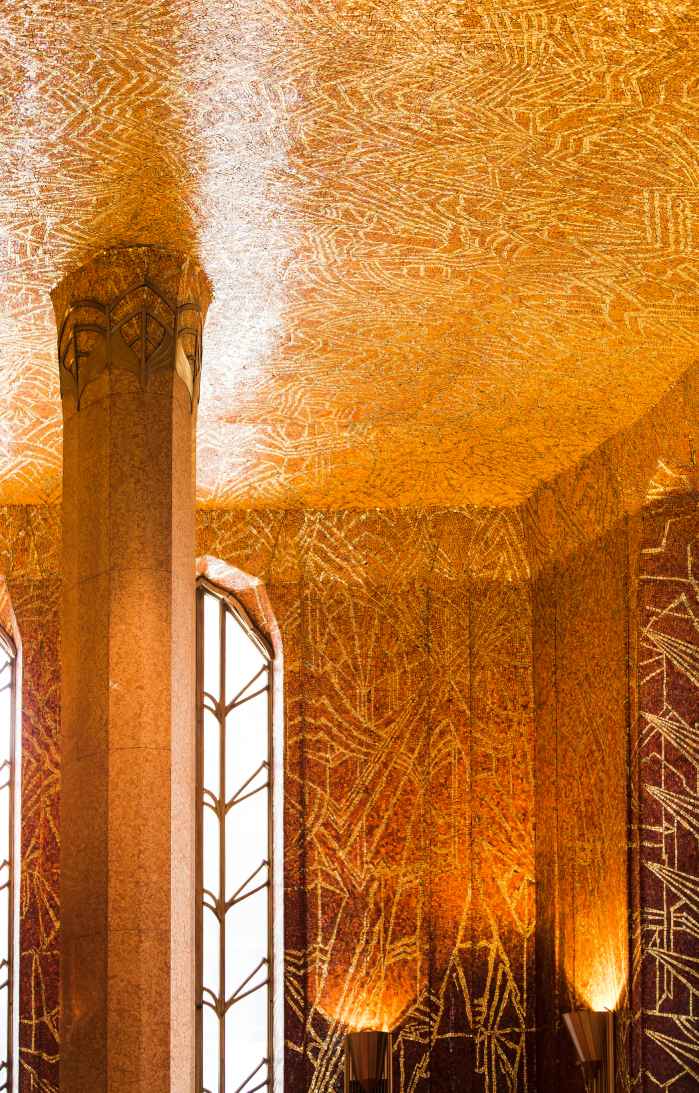 As Walker's final skyscraper, the 51-storey bank is now the 56-storey One Wall Street, the largest office-to-residential conversion project in the city's history. Taken over by Macklowe Properties in 2014 and with Lilla Smith, the firm's director of architecture and design driving the design force, new life will be breathed into the building, but with the endeavour of maintaining Walker's architectural integrity. The scalloped limestone facade will be left untouched, and so will The Red Room, which underwent a US$1 million (S$1.36 million) restoration for 16 months.
A glassy addition, inspired by Macklowe's Apple Store on 5th Avenue, has been added to the 36-storey annex that was built in 1965. And because office spaces are typically too practical for comfort, the insides will be completely overhauled. Elevators that were previously on the perimeter of the wall will be centralised, and where those elevators used to be, you'd find the lobby. There'll be better flow for residents, who will get a lot more windows and views.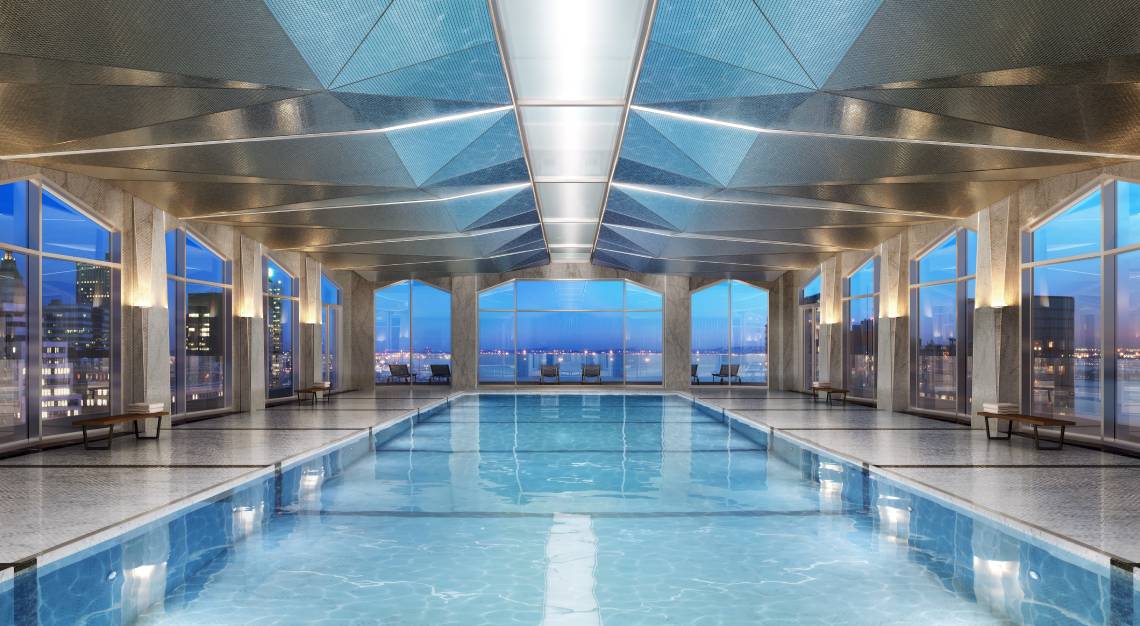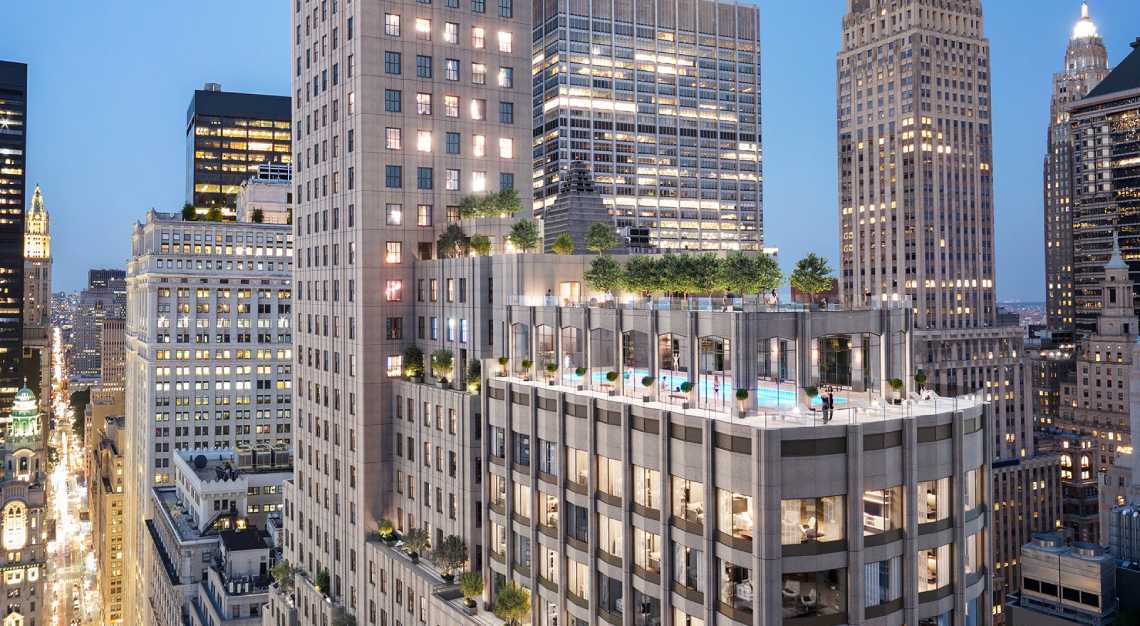 Of course, nothing is done without Art Deco sensibilities. The new entrance on Broadway will feature an undulating canopy based on the facade and an unrealised design by Walker, and the ceiling above the 23m indoor lap pool will be lined with mosaic, just like The Red Room. Even the original elevator doors, mailbox and vaults will be worked into the condo.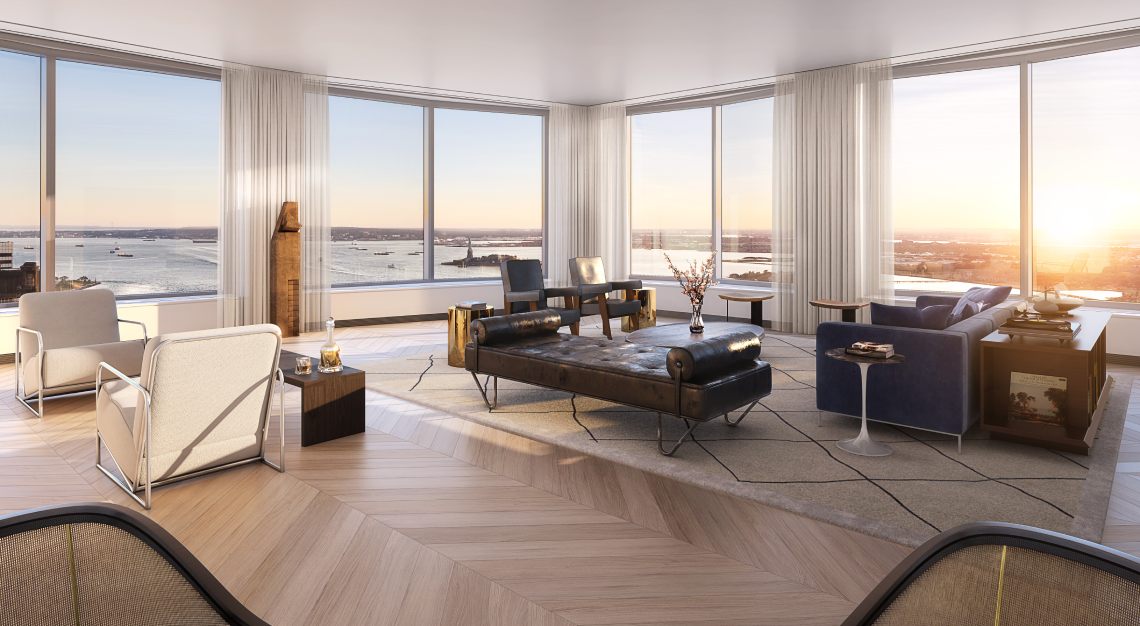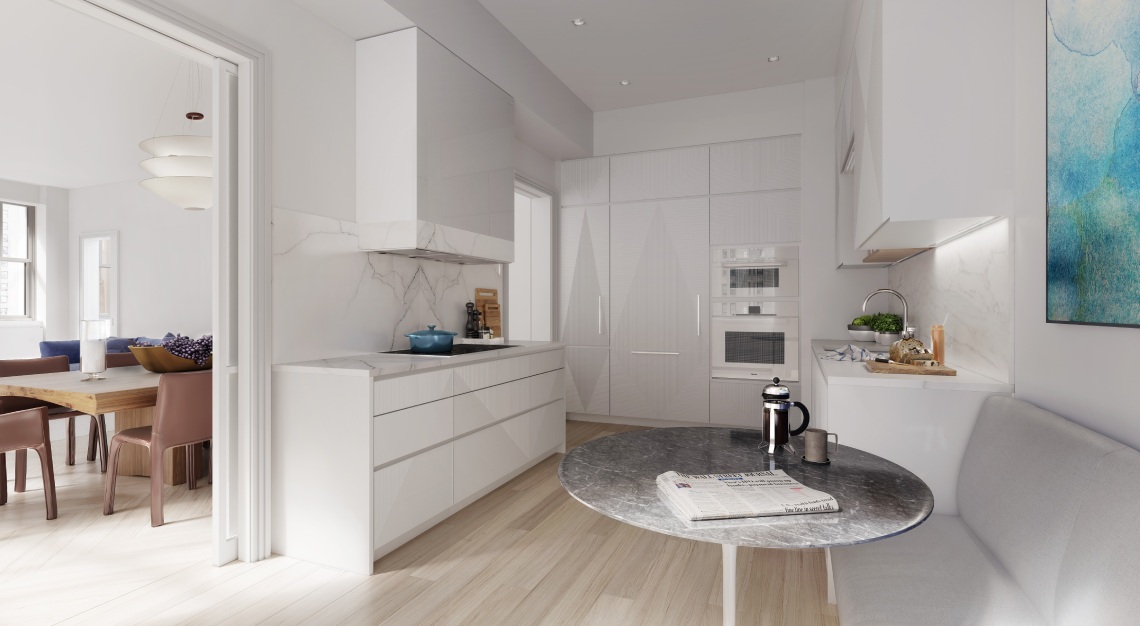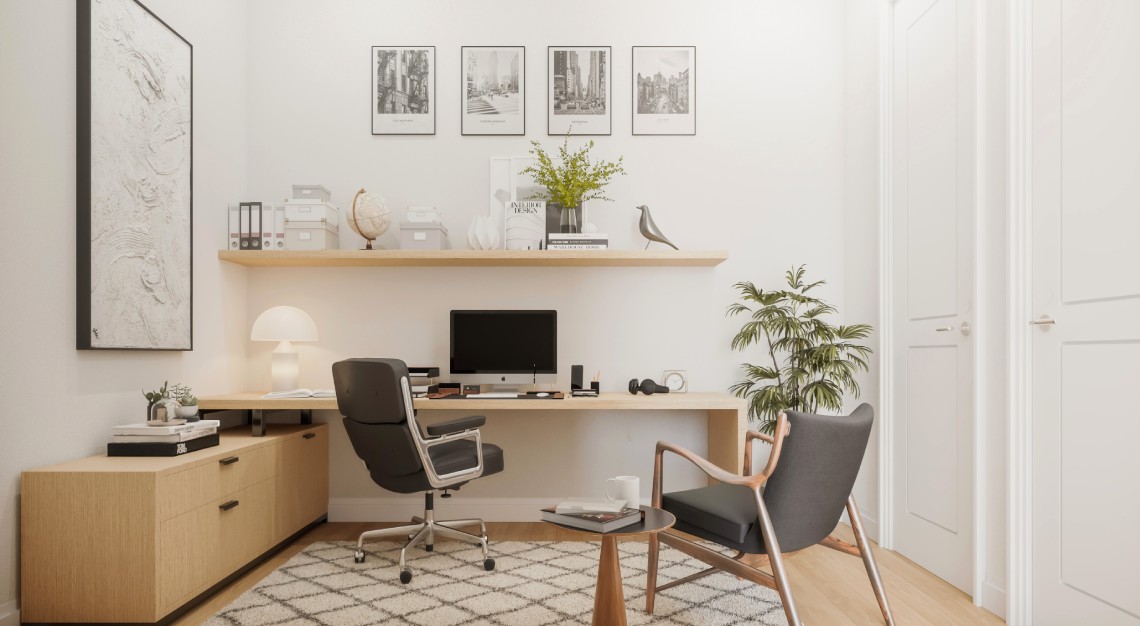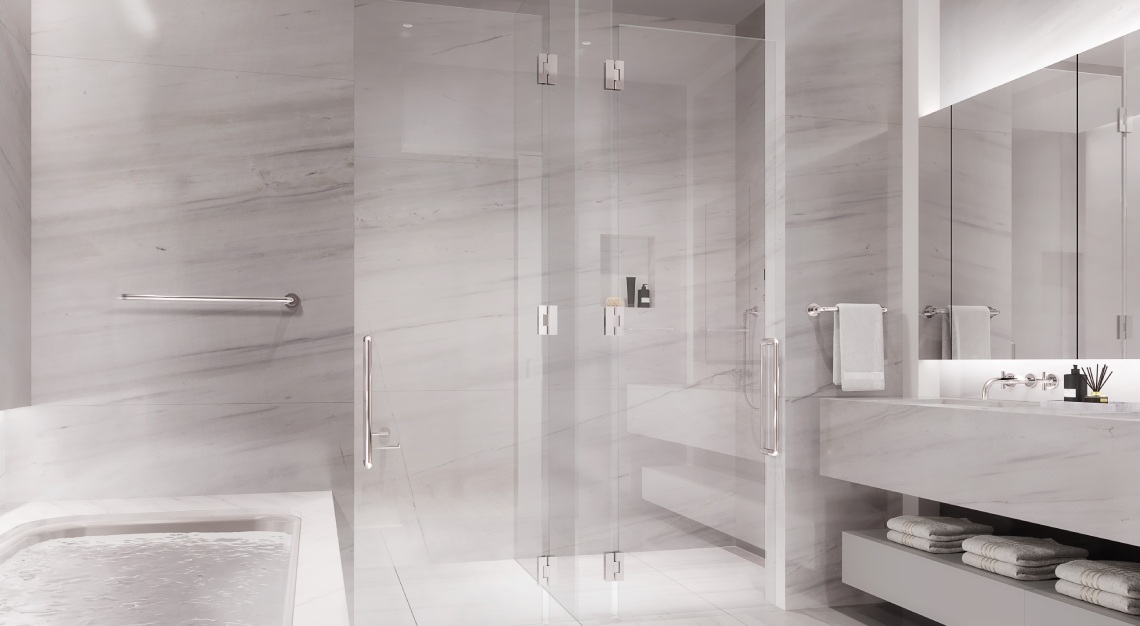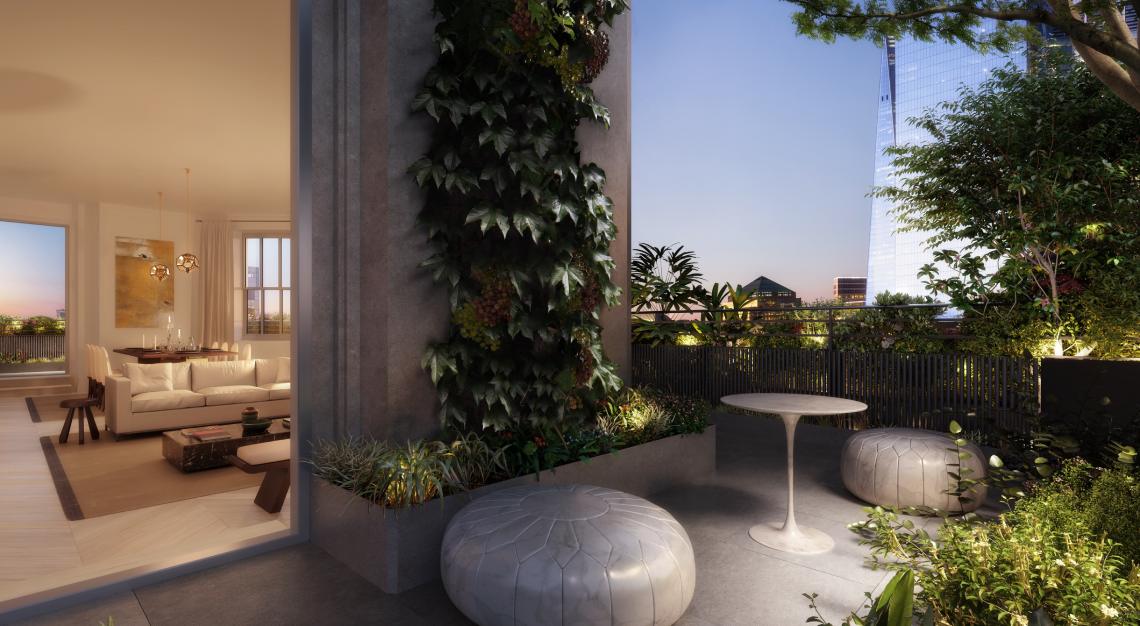 There will be 566 units in all, comprising studios, four-bedroom apartments and one triplex penthouse. A one-bedroom unit on the sixth floor could offer a good look into the stock exchange action, while those higher up would enjoy unobstructed views of the harbour and Statue of Liberty. Only 47 apartments will enjoy a private terrace, but make the penthouse your home and you'll get your very own 'mountaintop' or rather, a rooftop void of phone reception. Every buyer will be given the liberty to pick a layout (out of 181), which will be given equal treatment throughout One Wall Street – think French oak finishes, Calacatta-honed marble tops, Miele kitchen appliances, Bauhaus-designed hardware, openness and sensible configuration, unlike most apartments in the area. Trimmings are all in Art Deco, and residents will have a blast decorating their homes. "I like the simplicity of Art Deco. It's classic modern sensibility, like you can place an older piece of furniture with it or something brand new, and it all fits," explains Kirk Rundhaug, the sales director at Compass Real Estate. "It's to be able to have that sense of history. It's timeless."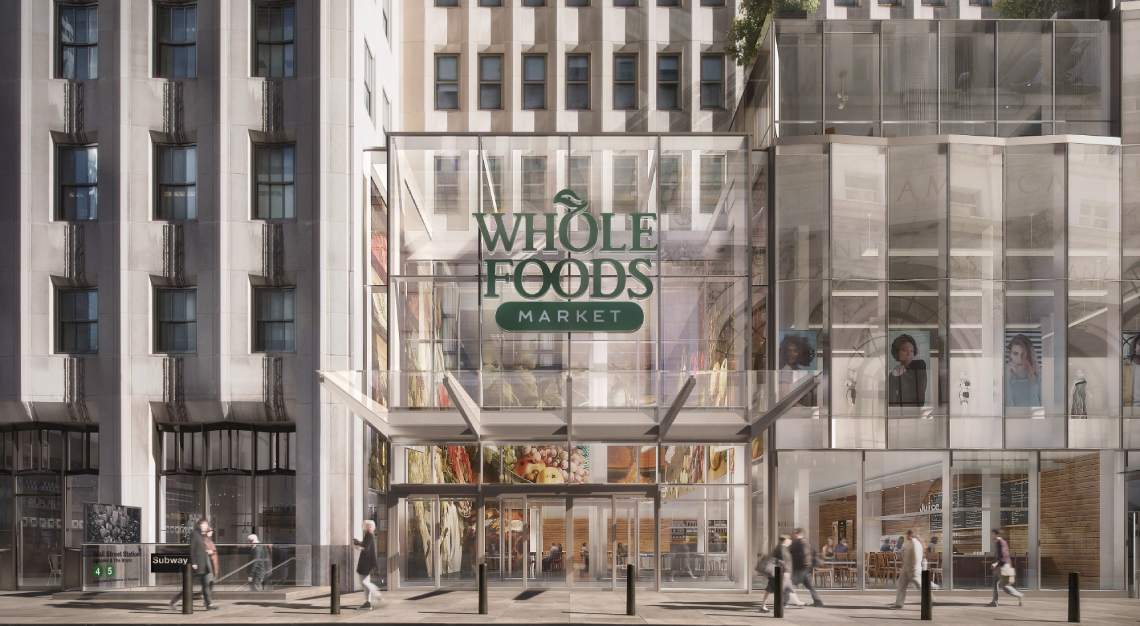 Residents will also enjoy over 51,000sqm of luxury retail and Downtown's largest Whole Foods Market, easily accessed across the building's lower levels, including The Red Room and the annex. Apart from a private gym, there is also the massive Life Time Fitness that's over 22,000sqm set across three levels, where a vault used to be. Residents will enjoy free membership and exclusive access to 660 classes a month, treatment rooms and a recovery zone, where there will be a couple reflexologists and a chiropractor on call. "It's more of a country club than anything else," continues Rundhaug. "They have a wonderful kids programme with art and dance as well as daycare. If you're working out, you could leave your kids there with a nanny."
And in the era of remote work, the 1,829sqm co-working space will come in just as handy. Simply reserve an office and a team will be at your beck and call. It will be all part of The One Club, a private social club centred around the lounge and outdoor terraces on the 39th floor. Apart from the office, there will be an exclusive full-service restaurant and bar, the pool, steam rooms, gaming room and a concierge that does it all – access to coveted restaurants, event planning, in-home salon services, access to awards shows, dog walking and plenty more.
It is a city within a city, and Rundhaug jokes that they want to make it so that you will never have to leave. "I think that's what we're gearing towards now, to make life easier for people. The One Wall Street lifestyle is all about convenience, luxury and space, which a lot of people don't have."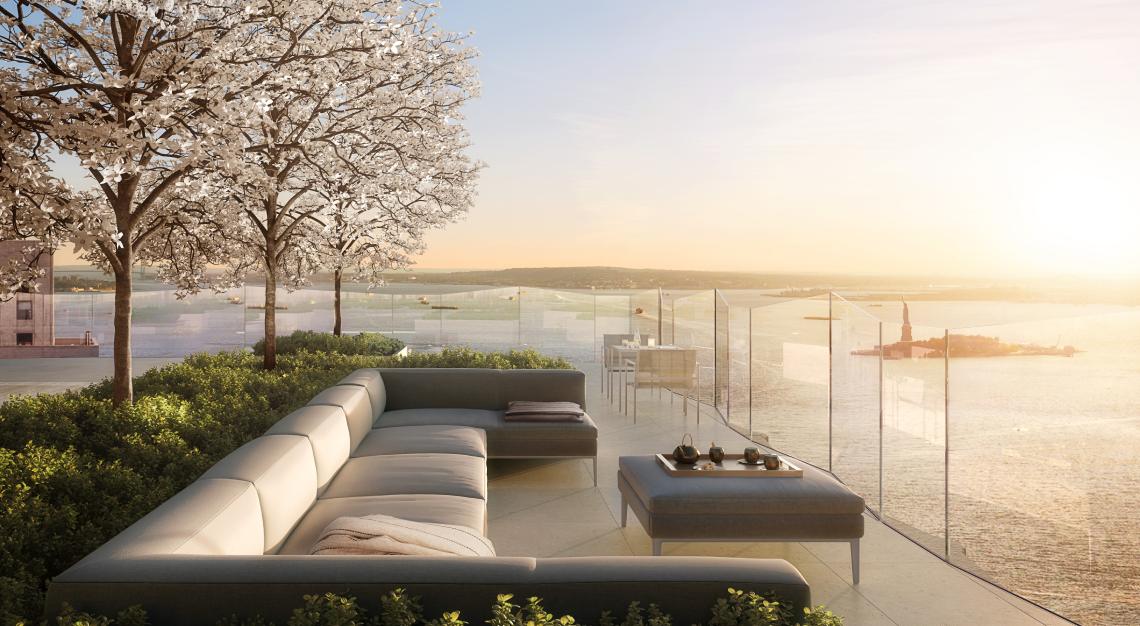 Why live on Wall Street?
One of the reasons people travel to Europe, Latin America, Asia and Africa is because the layers of history are visible: the medieval past, the Renaissance past and the contemporary era. By and large, that's unlike corporate America in the '50s, especially in New York, when buildings were ruthlessly demolished and replaced with something bigger. Consequently, the layers of history were erased.
The biggest exception to that is Lower Manhattan, which more than anywhere else in the city, has those visible layers.
"Why would you want to live in this part of the city? It's that idea of the genius of American architecture that's evident right here. The skyscraper is arguably the country's biggest contribution to world architecture," Mellins explains. "New York is also a waterfront city, which is sometimes easy to forget as you walk through the streets or when you're on the subway. It was also a manufacturing city, full of working rivers and waterways, so unlike many of the great cities of the world, where the most sought-after residences are on some major body of water, in New York, it was to get as far from the water as possible.
"But in the last 30 years, there has been a remarkable transformation of the city's industrial waterways. The rivers are now appreciated for their beauty and recreational resources, so there's now a whole process of reclamation of the waterfront, transforming it into parks. Along with the nature of American architecture, its artistry and the layers of history, you end up rediscovering the area, and if one were to live here, you can now access the waterfront in a way that you simply couldn't decades ago. There's a major explosion of the number of people who now call Lower Manhattan home."
The district is a far cry from the one-dimensional business community that it used to be, not since 9/11 happened. It has become a destination in its own right, and it has also become an enjoyable place to live in. Financial workers have become outnumbered by parents with kids, and unlike most business districts, there is life even after office hours. Along its narrow, winding streets, there are great bars and restaurants (Nobu and facing the East River, The Fulton and Momofuku Ssam Bar), high-end boutiques and museums, and if you ever crave a quick getaway, Governors Island is just a ferry ride away.
It's as Frank O'Hara wrote in Meditations in an Emergency: "One need never leave the confines of New York to get all the greenery one wishes. I can't even enjoy a blade of grass unless I know there's a subway handy, or a record store, or some other sign that people do not totally regret life."
Life's good on Wall Street, and chances are, it's going to get even better.
This story first appeared in the Jan/Feb 2022 issue. Purchase it as a print or digital copy, or consider subscribing to us here