Hits and misses at the luxury hotel's in-house Chinese restaurant
Here's the irony: although Six Senses Duxton is Chinatown-adjacent, there are only a few Chinese restaurants within a stone's throw. None of which are high-end.
Enter Yellow Pot, the hotel's in-house, all-day dining venue and the area's only upscale Chinese restaurant since Majestic Restaurant closed last year.
Chicly decorated with a Chinoiserie theme and boasting a cosy vibe, it's a decent option for Six Senses' jet set guests and Tanjong Pagar movers and shakers on the prowl for a business lunch.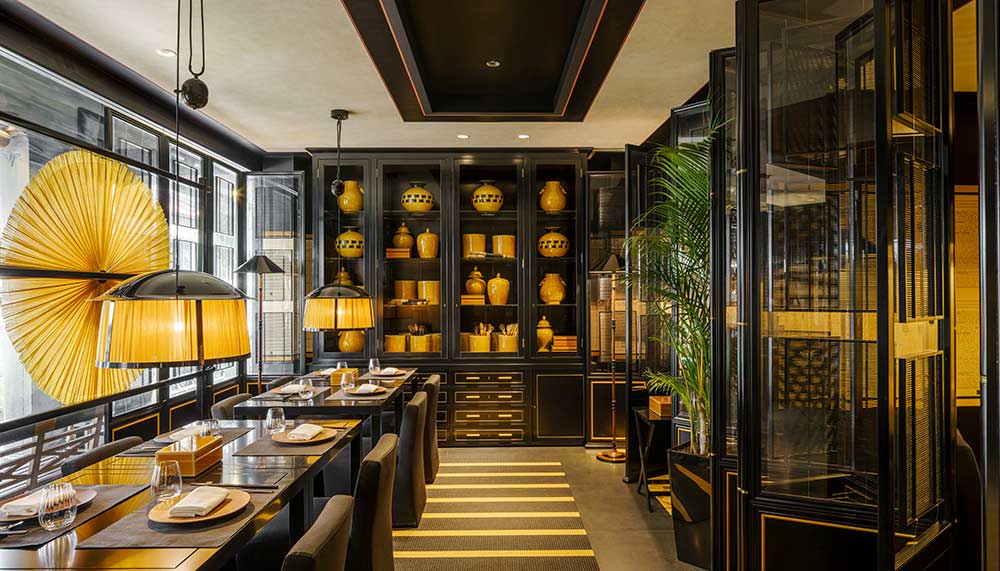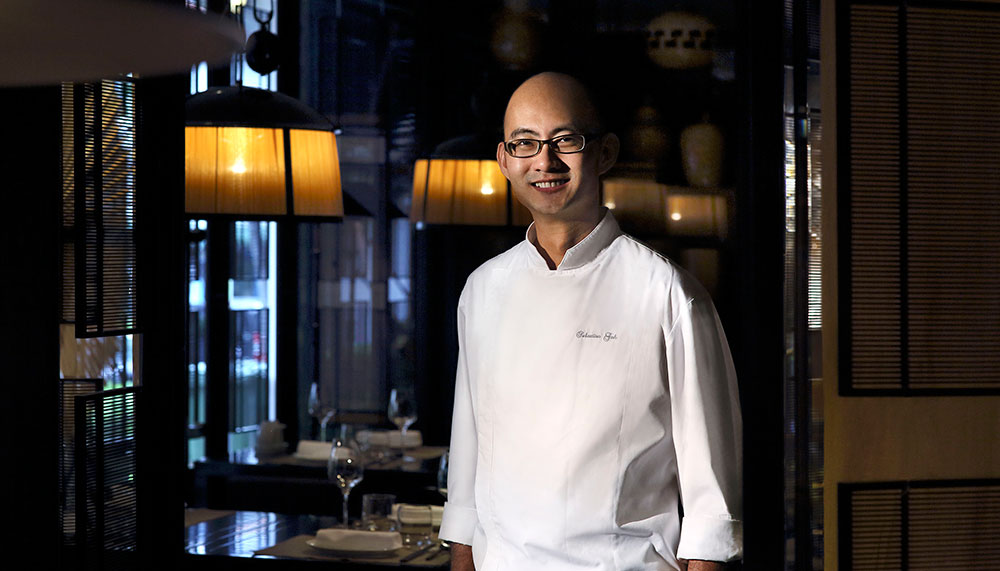 A three-course set lunch here goes for $60++ for two and $110++ for four.
Singaporean chef Sebastian Goh helms the kitchen, and has devised a menu that takes health consciousness into consideration. The dishes eschew additives and flavour enhancers, relying instead on natural flavours and textures.
At a tasting in June, I found many of the dishes to be average at best, and bland at worst. Two standouts, however, were the Chicken Soup and Roast Duck. More on those later.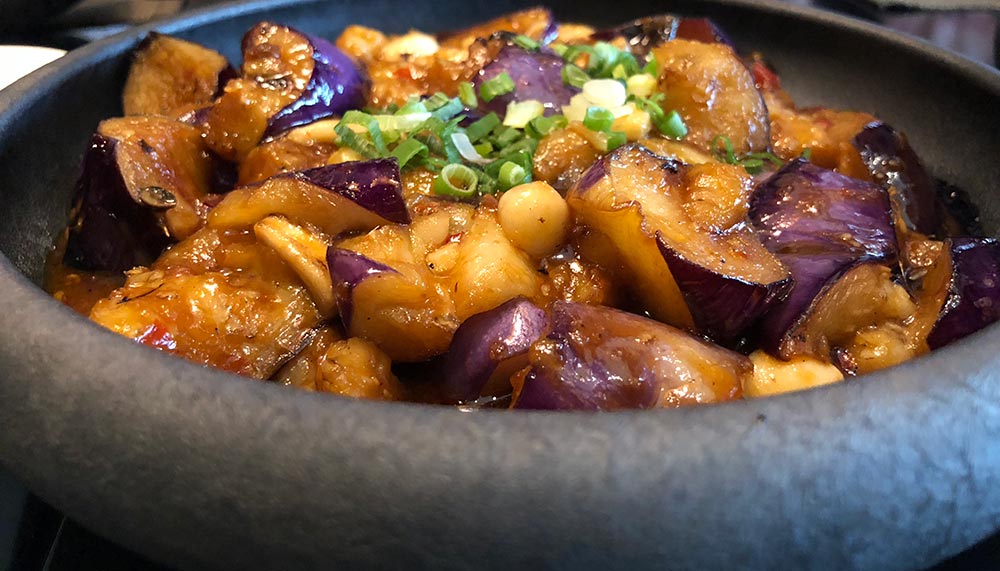 First, a recap of the average joes, the Braised Sweet & Sour Eggplant and Stir-fried Mee Sua.
The eggplant is first deep-fried then braised with a sweet and sour sauce and house-made hot bean paste. It is served with assorted mushrooms.
The mee sua is wok-fried with tiger prawns, Hokkaido scallops, beansprouts and chives. Nanyang soy sauce is added to the wok to create a burnt caramelised flavour.
However, I felt that there was nothing special about the eggplant or the mee sua, and that you can easily find similar, if not better, versions at zhi char stalls.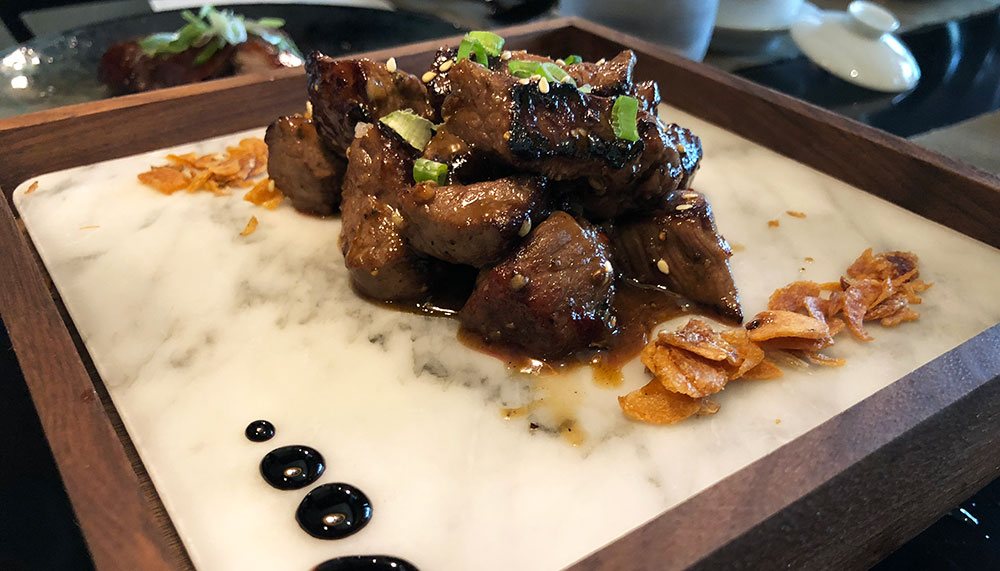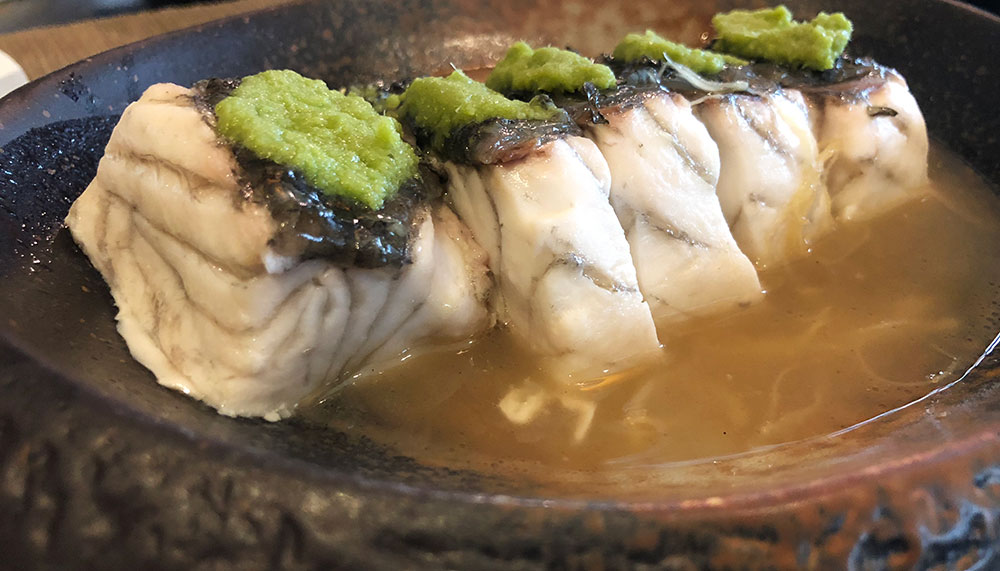 Disappointing, too, were the Wok-seared Organic Grass-Fed Beef Tenderloin and Steamed Kuhlbarra Barramundi. I had high expectations of both, considering the quality of ingredients, but was let down.
The beef, cubed and wok-seared to a medium-rare doneness, was surprisingly underwhelming given the seasoning and marinade (Sichuan peppercorns, crushed tellicherry peppercorns and organic raw honey).
Ditto the barramundi. Despite being topped with a house-made scallion-ginger pesto of ginger, coriander and spring onion – a modern take on the classic Cantonese steamed fish – it managed to be rather bland.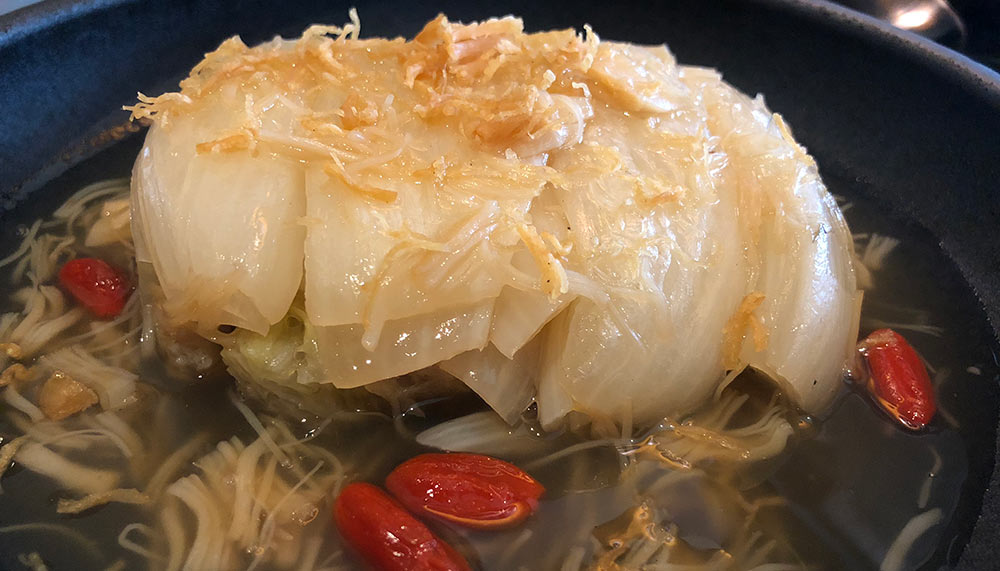 Most bland of all was the Braised White Cabbage. Admittedly, white cabbage doesn't exactly pack much flavour. Braised in a house-made chicken stock of chicken, conpoy and Shaoxing wine, it is served with wolfberries soaked in Shaoxing wine. But all of that failed to lift the dish and excite the palate.
Luckily, the aforementioned Chicken Soup and Roast Duck saved the day. The broth is simmered for three days to extract all the flavour from the bird, and then served with organic vine-ripened tomatoes that are stuffed with a variety of mushrooms.
Thick with collagen, the broth felt equal parts nourishing and comforting, the tomatoes giving a slightly spicy kick to the proceedings. Chicken soup for the soul, indeed.
My favourite dish, though, was the Roast Duck. The bird is marinated for two days with a fermented bean curd cocktail consisting of herbs, star anise, bay leaf, fermented tofu, cinnamon and locally produced five-spice powder, before being roasted in a traditional Apollo oven using hickory wood chips.
The result is a roast duck with crispy skin and tender flesh, a flavour/aroma profile that is natural, savoury and umami, with a hint of woodiness.
Kudos to chef Goh for having such an offering in an area famous for its Cantonese roasts – there's a profusion of roast duck hawker stalls within a 500-metre radius of the hotel.
Yellow Pot
Six Senses Duxton
83 Duxton Road
Singapore 089540
Tel: +65 6914 1428