Falling For Food
The Japanese have a saying, shokuyoku no aki, which roughly translates to "appetising Autumn" or "Autumn is the season for eating". Here in Singapore, where eating happens all the time, the concept comes across as rather alien. But it doesn't mean we can't appreciate the seasonal changes that bring new flavours and textures to local menus. Like the brand new kaiseki menu offered at Shima.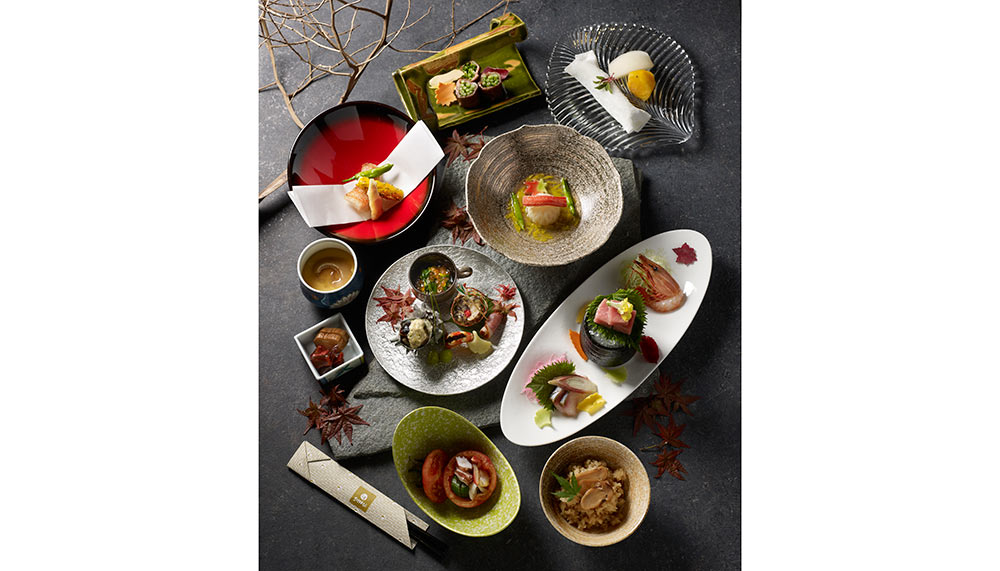 Now, Shima has been a stalwart on the local Japanese dining scene since 1980. It's better known as a teppanyaki joint, but newly installed chef Hoshiba Fumihiko hopes to change that with the introduction of kaiseki sets. Chef Hoshiba, a Hokkaido native with more than 40 years of culinary expertise under his belt, has unveiled five kaiseki sets priced at $48 and $68 for lunch, and $88, $188 and $288 for dinner.
Kaiseki menus emphasise the use of fresh, seasonal ingredients. Given the premium quality of ingredients used in the sets – fish is flown in twice weekly from Japan – we feel they offer great value for money. Prior to his current stint, chef Hoshiba worked in various renowned hotels and restaurants, such as Prestigious Tokyo Dome Hotel Sapporo. He was also the former Chairman of the National Culinary Society of Japan.
At a recent tasting, we sampled the eight-course, $88 set. Here were our highlights.
1st Course: Zensai (Appetiser)
Daryl Lee (DL): The first course always sets the tone for the rest of the meal, and the Zensai course did that in brilliant fashion. The turban whelk (sazae) cooked with miso had a lovely firm bite, with just enough chewiness – testament to the chef's skill and the crustacean's freshness. I did think it could have just done with a sprinkling of sea salt to let the mollusc's flavour shine through better, but I still found myself hankering for another.
2nd Course: 3 Types Of Seasonal Sashimi
DL: The standard by which any self-respecting Japanese restaurant should be judged, and the sashimi at Shima doesn't disappoint. Fresh wasabi makes an appearance here, but then, of course it does. Plus, the tuna (chutoro) was delicate, almost creamy on the palate.
Aaron De Silva (ADS): Indeed, the chutoro had an incredible melt-in-your-mouth consistency. So outstanding was it that it rendered the other two pieces of sashimi – Olive flounder (hirame) and botan shrimp (botan ebi) – almost forgettable. This isn't to say they were inferior, but they did fade into the background.
3rd Course: Yakimono (Grilled Dish)
ADS: As with other diners at the table, I expected the wagyu to be served as a cubed fillet. Instead, the meat – grade A5, from Tochigi prefecture – arrived as two delicate slivers wrapped around seasonal vegetables. Nevertheless, they were beautifully seasoned and hit the spot.
4th Course: Mushimono (Steamed Dish)
ADS: In Japan, Autumn heralds chawanmushi served with in-season gingko nuts. But here chef Hoshiba put a little twist on things by using sesame paste in place of gingko nuts. It worked brilliantly, the nutty, grainy paste harmonising with the silky smooth egg custard. Quite possibly the best chawanmushi I've ever had, and that's coming from someone who isn't normally a fan of the stuff.
5th Course: Nimono (Simmered Dish)
DL: Perhaps it's down to my Cantonese genes, but I do love a good soupy dish. For the nimono in Shima's kaiseki menu, chrysanthemum is added to the stock reduction and served with white radish, crab, shimeji mushrooms and seasonal greens. The flavour is incredibly subtle, almost something you inhale rather than taste. As with any good nimono, balance is the name of the game here. The crab didn't overpower the rest of the dish, something I really appreciated, since it allowed the flavour of the chrysanthemum flowers to shine through.
6th Course: Agemono (Deep-Fried Dish)
DL: Battered, deep-fried white fish is arguably one of the most uninspired things you can order at any Japanese restaurant. But it is, in my opinion anyway, one of the hardest to get right. Most people think deep frying is like sticking plaster, to paper over any imperfections in the base ingredients. But not so for Shima and chef Hoshiba. The white fish inside the airy batter was flaky and without a hint of being overcooked or less than fresh. If I'm honest, I didn't think much of the agemono course at the time. However, the more I thought about it, the more it made sense that its supposed pedestrian nature was the course's strongest point.
7th Course: Gohan (Rice Dish)
ADS: Known as Japan's answer to the black truffle, Matsutake mushrooms are an Autumn favourite among the Japanese. But they are rare and expensive, so having it as part of our kaiseki set was a real treat. Cooked in a claypot with rice and dashi stock, the shroom infused the dish with a wonderful, delicate perfume. It took me on a pleasant trip down memory lane, bringing back childhood memories of my Cantonese aunt's claypot rice that she served during Chinese New Year lunches.
Find out how other Japanese chefs in Singapore are interpreting Autumn at Terra and Tong Le Private Dining. Meanwhile, their counterparts in Tokyo also have some special tricks up their sleeves.