Golden horizons
In Latin, "aurea" means golden. In the yachting world, it now means innovative and breathtaking. Aurea, a 230-ft superyacht concept released by Pininfarina and Rossinavi Yachts, promises to be a paradigm-breaker when it eventually finds the right owner.
Aurea is a very different animal and every bit as spectacular. Revealed in June at the SuperYacht Gallery in London, Aurea has a beautiful, breathtaking exterior defined by concentric rings on its two upper decks that give it an undulating profile. The curves extend all the way to the rear transom. Besides that, the people-friendly design includes two outdoor swimming pools, three open, vast exterior decks and the largest beach-club area of any yacht its size. Pininfarina's goal was to expand the yachting experience in every part of Aurea.
The helical superstructure is a welcome aesthetic departure from the layered decks of most yachts, and the falling ring of the top deck creates a soft partition between the upper deck just below. The upper deck has a terrace that extends like a walkway over a cliff, providing unbroken views of the sea. The deck below has an alfresco dining table as well as a Jacuzzi placed on the edge, again offering exceptional views.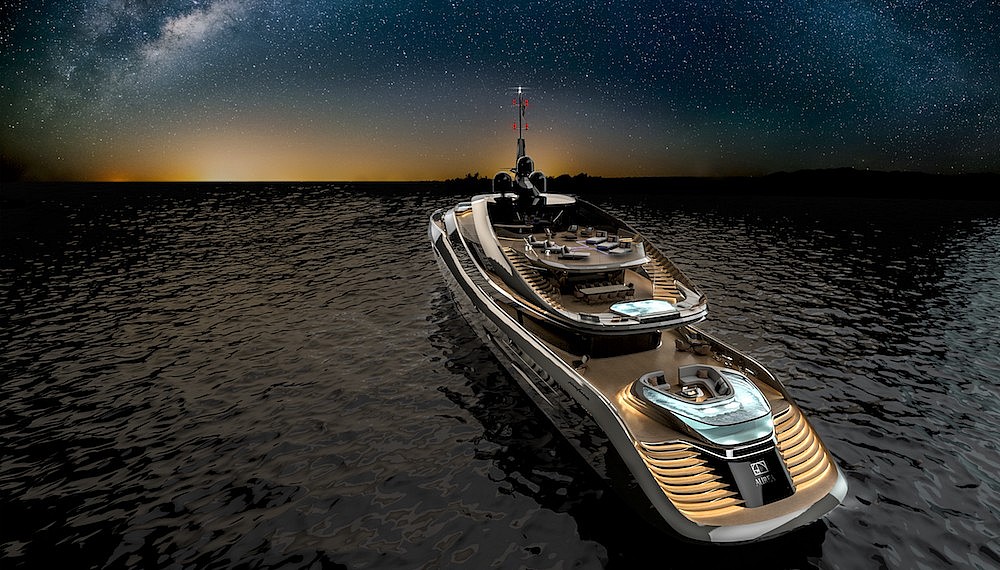 Aurea's diesel-electric propulsion is in the yacht's centre, rather than at the stern, so the designers created a virtual playground at the beach club. A semicircular social area, nudged against the transparent swimming pool, provides yet another great view.  Steps on both sides lead down to the water. The sweeping stairs give the stern a dramatic, almost regal look.
The owner's deck is integral to the new approach to interior design. Large glass doors open onto a terrace, giving the owners a private balcony to the bow area.
The guest cabins also share a private balcony, ideal for social gatherings on long cruises, and each cabin has its own large picture windows. Making the most of the yachting experience on a cutting-edge design is not an easy feat. Pininfarina's ability to enhance both form and function — and even add design cues from its Ferrari brief — makes Aurea one of the more interesting concepts this year.