Golf superstar
Tiger Woods has been breaking records on the golf course for nearly all of his 40 years. But the 14-time Major champion is a relative newcomer in the world of golf-course design. His first course, El Cardonal at Diamante, opened at a private resort community in Cabo San Lucas, Mexico, at the end of 2014. More recently, this April, he was on hand at the Bluejack National club outside of Houston to unveil his first design in the United States. Woods sat down with Robb Report to discuss his nascent career and how golf-course design can preserve the sport's popularity.
On picking Houston as the setting for his first US course
There are two reasons that I had to be a part of this project: the land and the people involved. Bluejack does not feel like a typical Houston-area course. The terrain features significant elevation change and is more like something that you'd find in Georgia or the Carolinas. Aside from the land, the team behind Bluejack National – Mike Abbott, Casey Paulson, and Andy Mitchell from Beacon Land Development – has truly delivered a special place.
On how it compares with El Cardonal
At first glance, El Cardonal and Bluejack National appear extremely different. El Cardonal is set in a desert environment with spectacular views of the Pacific Ocean. Bluejack National, which plays through towering pines and large oaks, has a very different look. But as people play both courses they will find similarities in the design. The landing areas are wide, neither course has a rough cut, and cross hazards are avoided when possible. We've also cleared a lot of the ground cover outside of the turf on both courses, making it easier to find errant shots and advance them back into play. Both are meant to be fun and playable for golfers of all skill levels.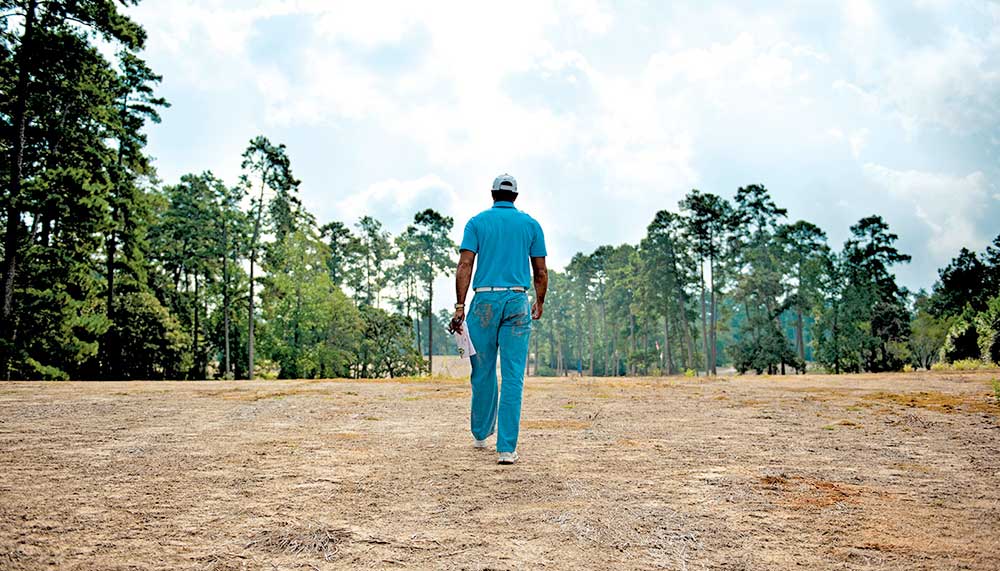 On keeping the course challenging for low-handicap players
To score, players will need to hit their approach shots from the preferred angles into the greens, which will force them on their tee shots to challenge bunkers, take risks, and play smart. The firmness of the greens and green surrounds will also add to the difficulty for better players.
On where he looks for inspiration
My favourite course is the Old Course (at St. Andrews). I love that there are so many different shots that can be played, especially shots along the ground. It's a very strategic golf course, and choosing the correct angle of approach is critical if you want to score. While there are definite spots you don't want to be, generally you can always find your ball and have a chance to recover. What I find so appealing at the Old Course are the same principles that we try to incorporate into our design efforts.
On his designs reflecting his style of play
I work hard in all of my designs to incorporate a lot of variety. I don't think players will see my courses as favouring a draw or a fade or a low or high ball. I do think players with creativity and a willingness to hit different types of shots will be rewarded on my courses. Maybe that relates to how I play golf.

On his favourite creative shot
On the sixth hole during the British Open in 2000 at St. Andrews, I was able to putt from 89 yards (81.3 metres) out and put it on the green. You can't do that on any other golf course. That's the part that I like about playing that style of golf – you have that option to move the ball up in the air or put it on the ground. That's such a great way of playing golf.
On making golf accessible to the younger generation
The best thing we can do to capture kids' interest is make the game less intimidating and more fun for them as beginners. That's what we've tried to do with the Playgrounds at Bluejack, which is a 10-hole, par-3 course. With holes ranging from 30 yards to just over 100 yards, it can be played with anything from a mid-iron to a putter. It's a great way to introduce players, particularly kids, to the game in a relaxed and fun environment.
On how golf has changed
When I was dropped off at a golf course, or when I rode my bike or my skateboard over to a golf course, I focused on golf. That was all I did. That was all I had to do. We didn't have cell phones, so we didn't have so many different distractions. Now, there are so many different things that are distracting kids once they get to the golf course.
How we can keep kids' minds engaged the entire time is by making golf fun. If it's not fun – if it's too penal and they're not able to be kids out here – then they're not going to want to play. I play with (my son) Charlie at home, and he likes it when we play fast. And the best way to do that is to not lose golf balls.