From beginners to pros, these slope-ready styles will meet your performance needs
Contrary to popular assumptions, the most important item you can own as a skier is not a pair of skis. Rather, the must-have investment is the right pair of ski boots. Think about it: Your skis are essentially two sticks. Your feet, on the other hand, provide the direction, the control, the responsiveness, the power and the precision as you glide down the slopes. Your boots are the conduit between your movements, your intention and the mountains.
If you are replacing a well-worn pair, it's worth noting that today's ski boots boast a range of innovations in comfort—heat-customisable shells, custom liners and ergonomic silhouettes, to name a few—as well as other specialised details. For example, the option to have two or three buckles in place of the typical four.
What considerations are significant when purchasing your first—or new—pair of ski boots? Everything from the type of terrain you prefer, your skill level and how often you get on the slopes to your budget, height and weight all come into play. We've taken all of these factors into account, analysing the market for the best boots for every scenario.
What to consider before buying the best ski boots
We recommend trying on the boots before purchasing. In fact, we'd even suggest paying a demo fee and taking your top two or three out to the slopes. Beyond a first-hand experience, the following elements can help guide you in your purchase.
Flex: Flex refers to flexibility. The general rule is that the more advanced you are, the higher the number and the stiffer the boot. We recommend soft—and comfortable—boots at a flex below 85 for beginners. Flex ranges between 90 and 110 for intermediate skiers seeking more responsiveness. And a stiff flex at above 115 is best for advanced skiers.
Last: The last of a boot is a form of measuring its width. These are typically divided into narrow, medium and wide. The breakdown: narrow sizes start from 97 millimetres to 98 millimetres; medium sizes come in around 100 millimetres; and wide ranges from 102 millimetres to 106 millimetres.
Weight: A simple but crucial factor: How heavy is the boot? You want some light enough to move it but hefty enough to keep you grounded and in control. Ideally, you want to find a pair of ski boots between 1.7 and 2kg.
Size: All skis are measured on a scale called Mondopoint. You can best determine your size by placing your heel against a wall or another vertical surface with your toes pointed outward, then measure the distance from the wall to your longest toe in centimetres. This is your Mondo size. When deciding on the right pair, your experience and skill comes into play. Beginners should select a boot close to their Mondopoint length or a bit longer. Intermediate and advanced skiers should look for their Mondopoint size that's slightly shorter. And expert skiers typically choose a boot half the size to a full size smaller.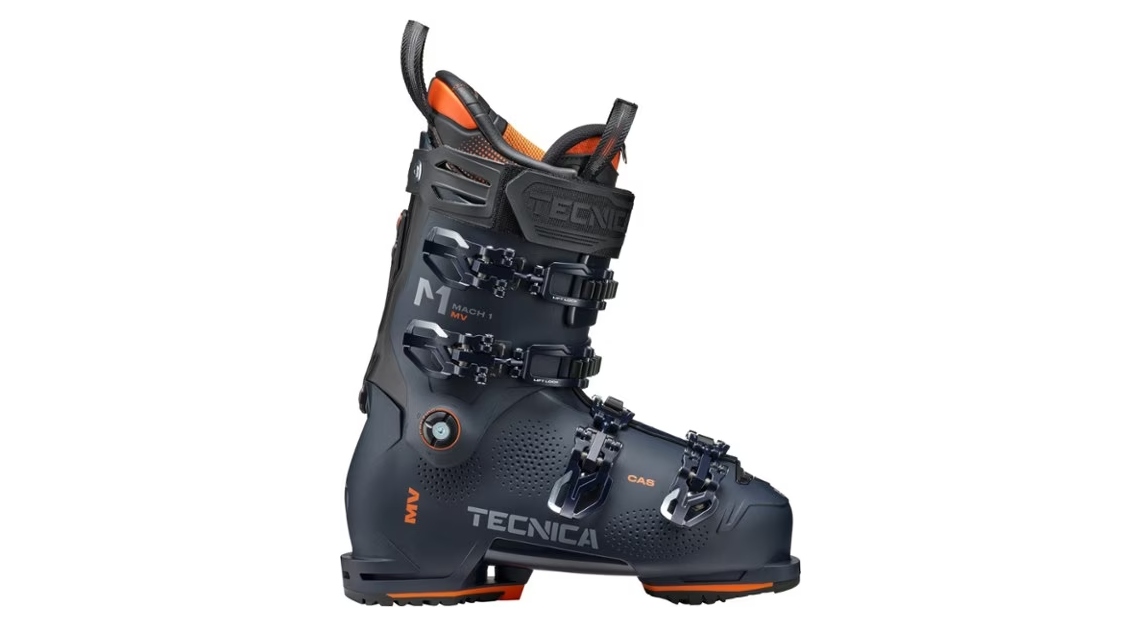 Best overall ski boot: Tecnica Mach1 MV Mid Volume 120 All-Mountain Ski Boots
Here's an extremely comfortable, high performance boot that can be customised to your needs. The power transfer is predictable (in the best way), and stiffness is secure. All around, it's a ski boot that merges seamless, precise execution with a warm, well-fit feel.
Flex: 120
Last: 100 millimetres
Weight: 1.97kg
Sizes: 24.5-30.5
Tecnica Mach1 MV Mid Volume 120 All-Mountain Ski Boots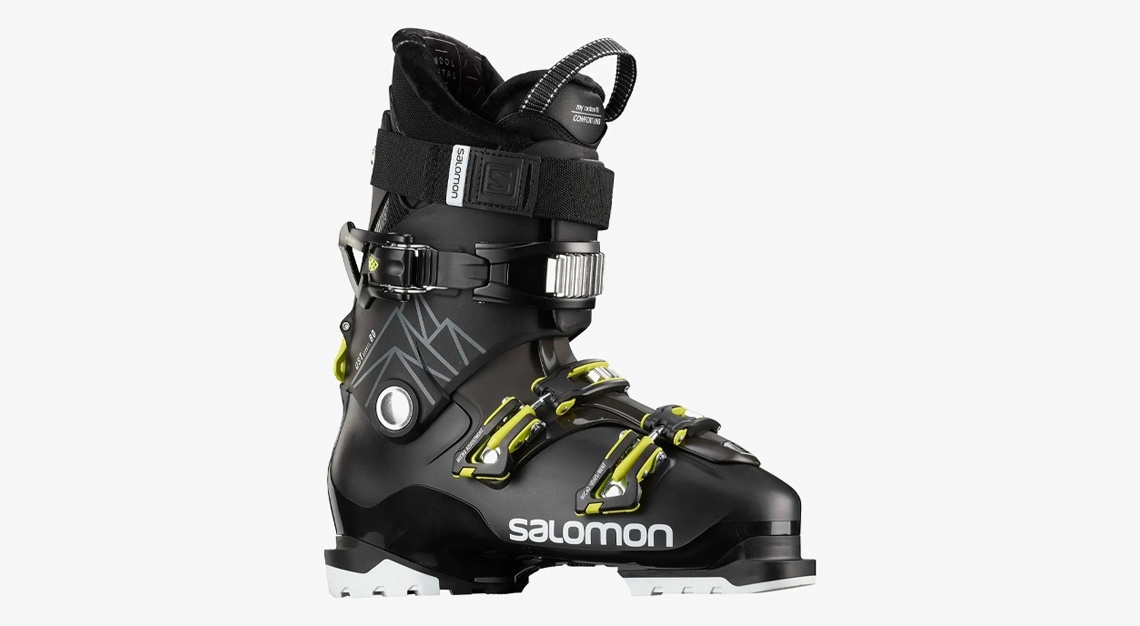 Best alpine ski boot for beginners: Salomon QST Access 80 Ski Boots
The Salomon QST Access 80, with a slide-in liner and softer petal construction, is an ideal ski boot for beginners. It's known for its comfort, lower calf support and lightweight feel. As an added bonus, it's on the affordable end of the price spectrum.
Flex: 80
Last: 104 millimetres
Weight: 1.65kg
Sizes: 25.5-30.5
Salomon QST Access 80 Ski Boots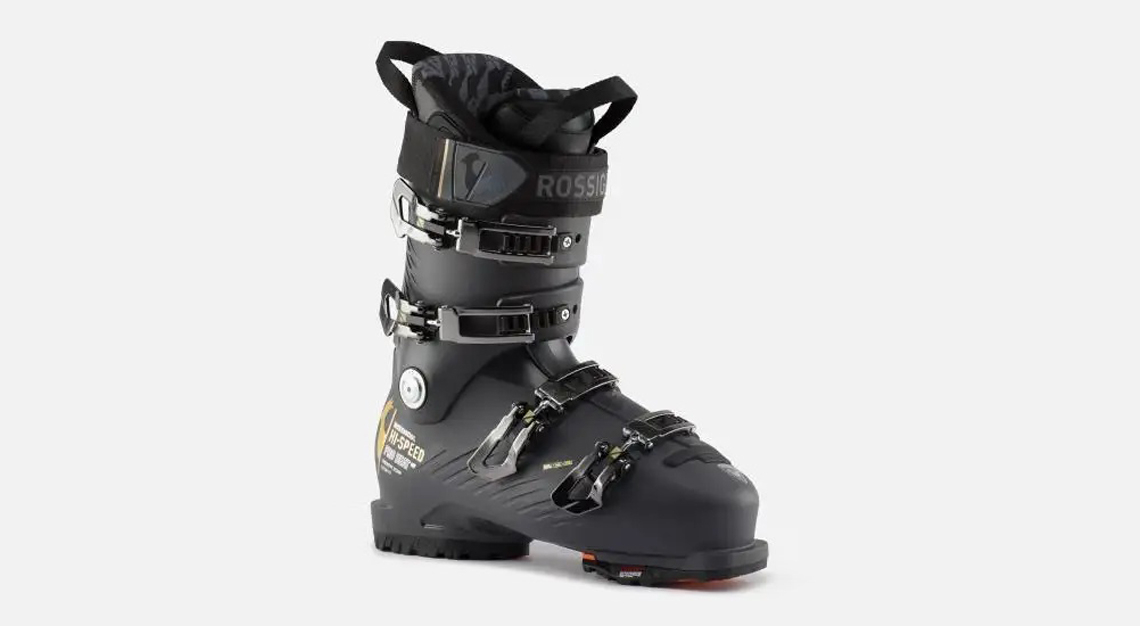 Best heated ski boot: Rossignol On Piste Hi-Speed Pro Heat MV GW Ski Boots
Built with a THERM-IC heating technology that is integrated into the liners and controlled via a button or wirelessly through Bluetooth—alongside a seamless toe box designed to reduce heat loss by 20 per cent—this pair is designed for the coldest and longest of days on the slopes. It's a well-made boot with high performance control, ideal for intermediate level skiers.
Flex: 110
Last: 100 millimetres
Weight: 2.17kg
Sizes: 24-31
Rossignol On Piste Hi-Speed Pro Heat MV GW Ski Boots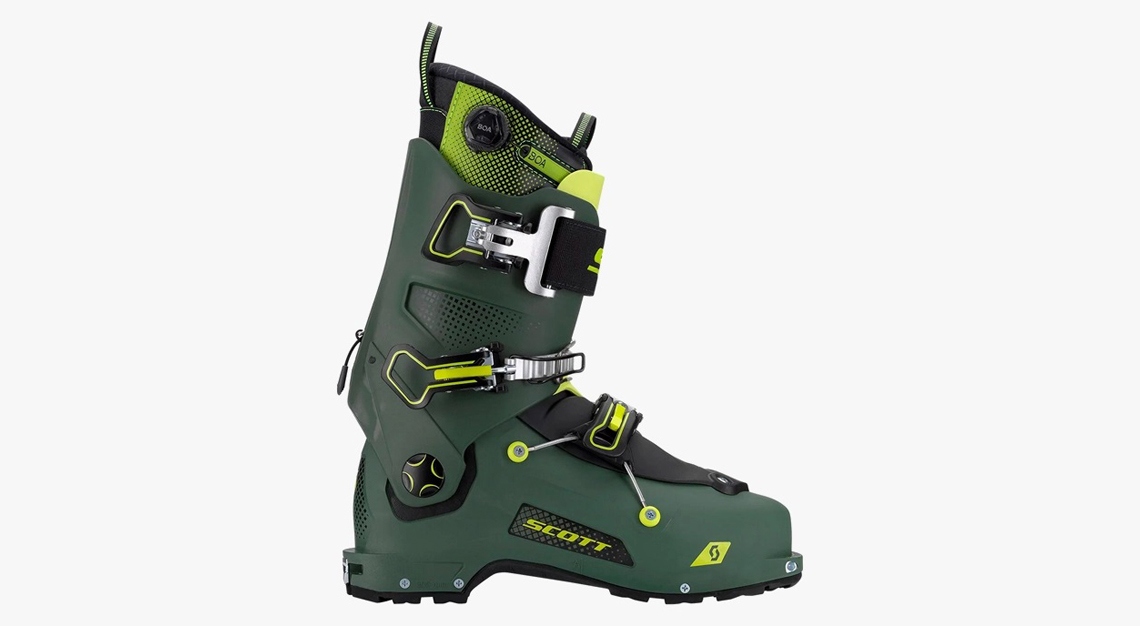 Best boot for freeskiing: Scott Freeguide Carbon Ski Boot
An ultra-light boot made of a carbon fibre in eye-catching army green with yellow detailing, the Scott Freeguide ski boot is the best touring boot. It combines strong precision and powerful energy transmission to allow for aggressive downhill skiing, along with an integrated walk mechanism for exploring new terrain. Efficient transitioning from ski mode to tour mode and back makes this pair a must-buy for adventurous sportsmen.
Flex: 130
Last: 101 millimetres
Weight: 1.45kg
Sizes: 25-29.5
Scott Freeguide Carbon Ski Boot
Best hybrid ski boot: Atomic Hawx Prime XTD 130 Alpine Touring Ski Boots
For those searching for a boot that can perform as well on the alpine slopes as in touring, the Atomic Hawx Prime XTD is an ultimate all-mountain option. The pair, crafted with 54 degrees of cuff flex to make freeskiing natural, will give you the most flexibility on the climb up the slopes and are incredibly high-performing on the way down.
Flex: 130
Last: 100 millimetres
Weight: 1.85kg
Sizes: 24.5-32.5
Atomic Hawx Prime XTD 130 Alpine Touring Ski Boots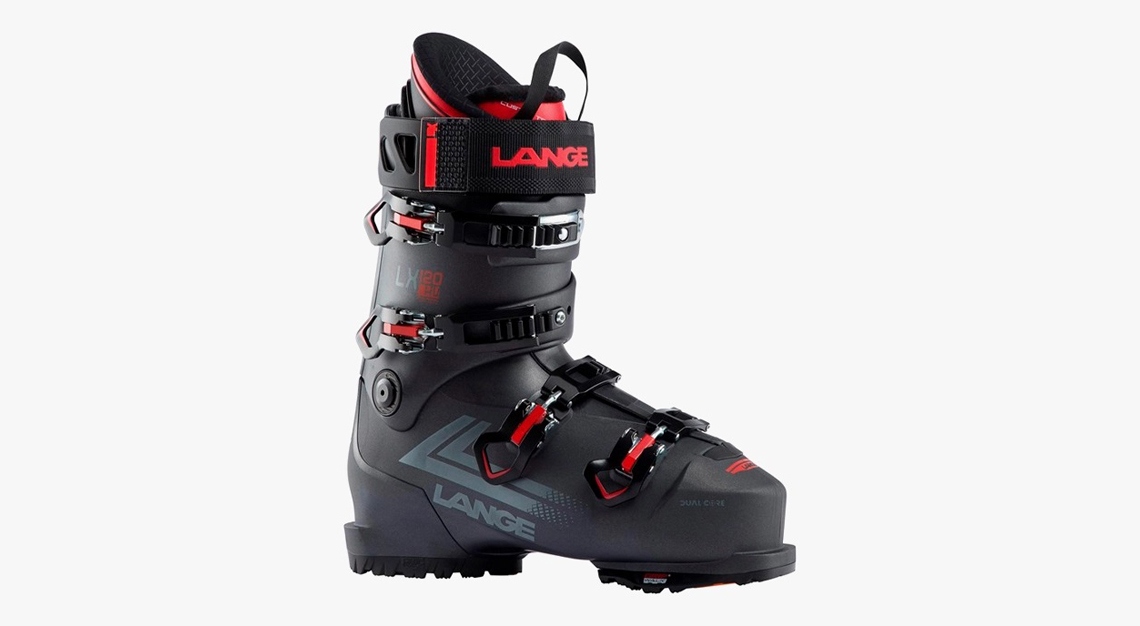 Best ski boot for wide feet: Lange LX 120 HV GW Ski Boots
The Lange LX 120 is an expertly crafted boot for "high volume" skiers. It's also great for those with wider feet. What's more, this model is known for delivering comfort and performance—especially for advanced skiers.
Flex: 120
Last: 102 millimetres
Weight: 1.85kg
Sizes: 24-31.5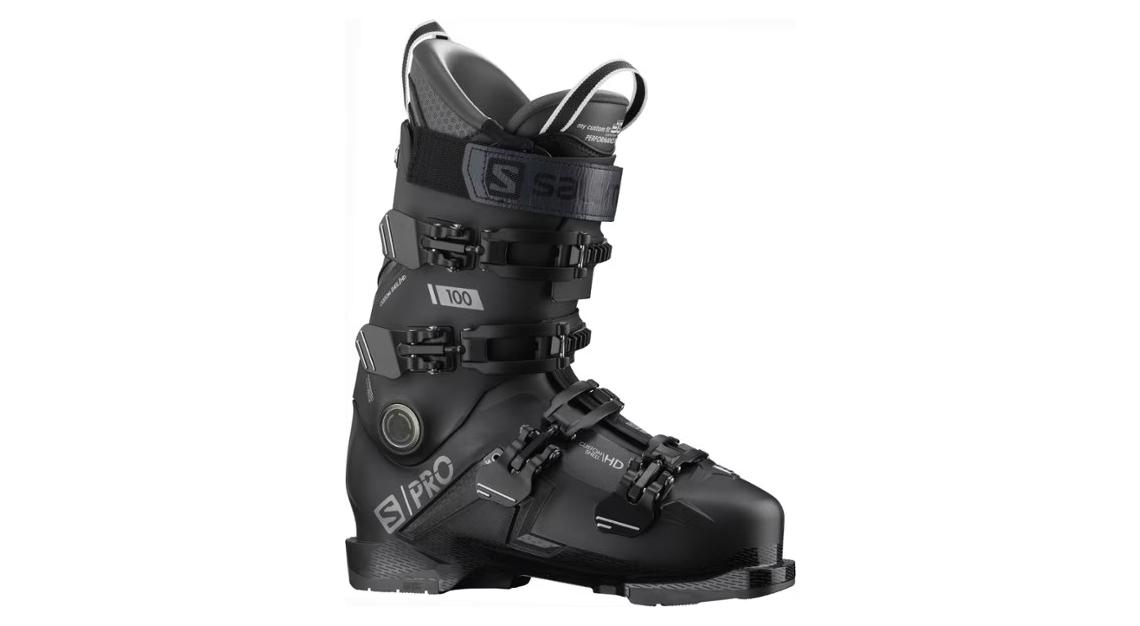 Best downhill boot for intermediate skiers: Salomon S/PRO 100 GW Ski Boots
A customisable boot, the Salomon S/PRO 100 is a slope favourite for a reason. First, you can very much make it your own. You're able to customise the cuff, shell and liner to fit your feet. In addition, the plush liner, combined with a smooth flex, make it an ideal boot for mid-level skiers—or ambitious beginners.
Flex: 100
Last: 100 millimetres
Weight: 1.85kg
Sizes: 25.5-29.5
Salomon S/PRO 100 GW Ski Boots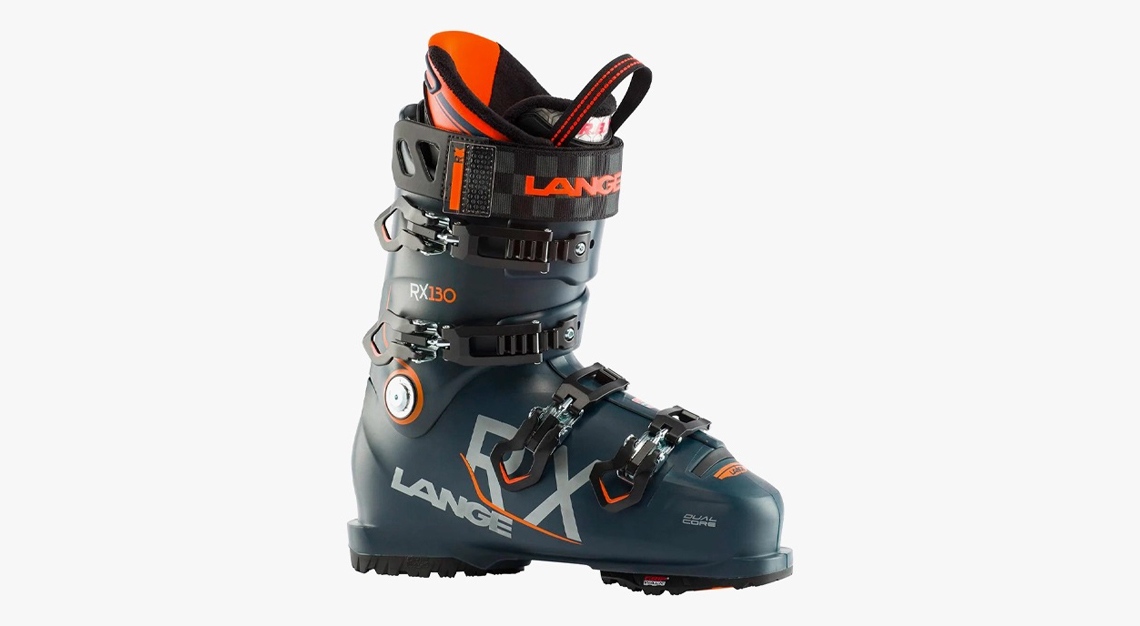 Best ski boot for racers: Lange RX 130 GW Ski Boots
If you prefer charging downhill, trying to beat your record, the ideal pick is Lange's RX 130 GW. This is a stiff, assertive boot designed for racing, with an innovative RBT tongue that delivers on energy transfer and rebounds.
Flex: 130
Last: 97 or 100 millimetres
Weight: 2.15kg
Sizes: 24-31.5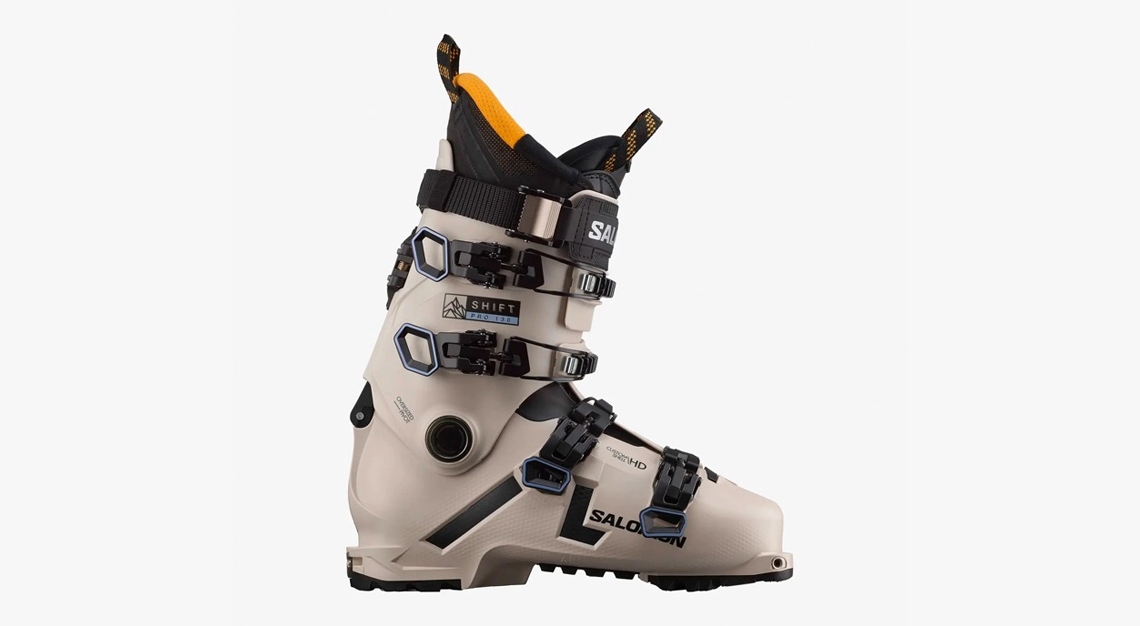 Best lightweight ski boot: Salomon Shift Pro 130 Ski Boot
Salomon's Shift Pro 130 is an advanced ski boot that delivers serious power, proper stability and the lightness required to walk and scale a mountain. It is also an extremely versatile boot with a simple and secure walk mechanism.
Flex: 130
Last: 100 millimetres
Weight: 1.69kg
Sizes: 22-31.5
Salomon Shift Pro 130 Ski Boot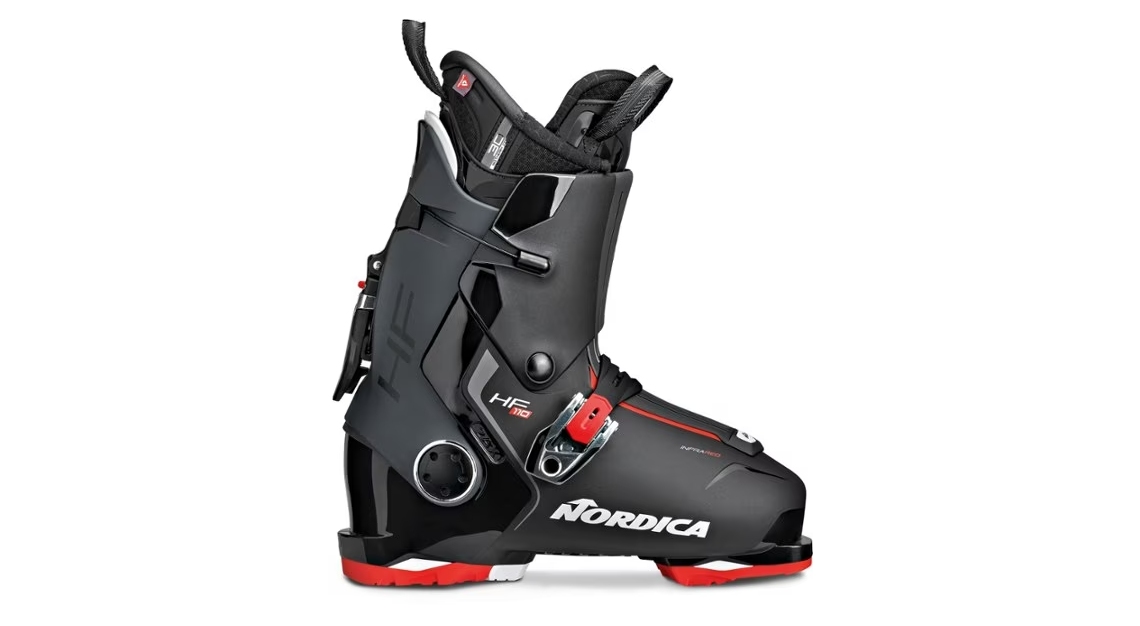 Best rear-entry ski boot: Nordica HF 110 Ski Boots
The Nordica HF 110 is probably the easiest boot to get in and out of on this list. These boots are also customisable; select your preferred level of stiffness and add a heat liner if desired.
Flex: 110
Last: 102 millimetres
Weight: 1.76kg
Sizes: 24.5-31
This article was first published on Robb Report USA