Crouching Tiger, Thunder Dragon
There are few countries left in the world that are as remote as Bhutan. Only two airlines – Bhutan Airlines and Druk Air – operate in and out of the country.
And, because of the difficulty in takeoff and landing, only eight pilots are trained to operate those planes. But then there aren't that many planes to begin with. Bhutan Airlines has a fleet of two, while Druk Air has a grand total of four.
All that adds to the country's exclusivity, and consequently, allure. It was this mystique that prompted Aman Resorts to set up camp here in 2004. In so doing, they became the first luxury hotel to stake a claim in one of the world's final frontiers.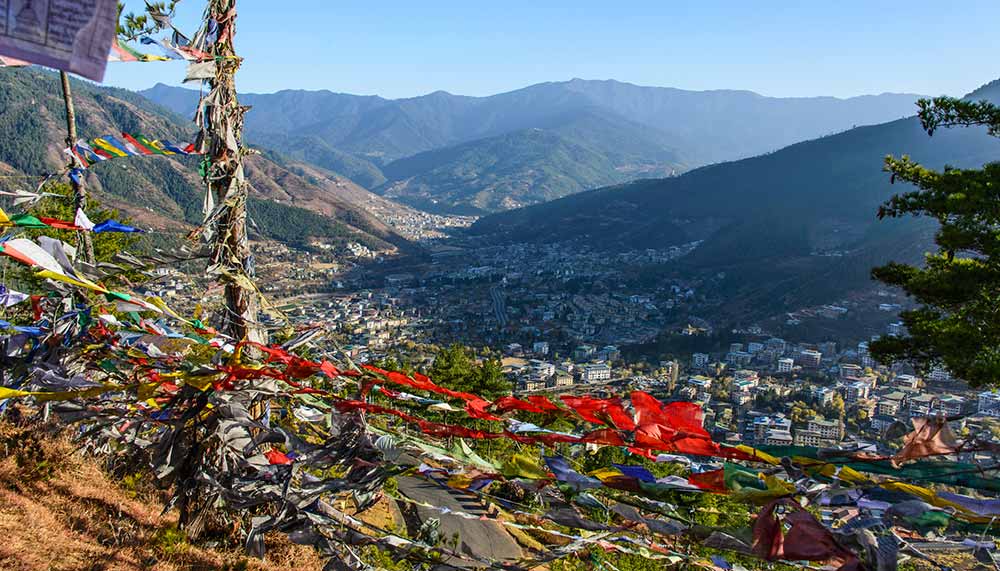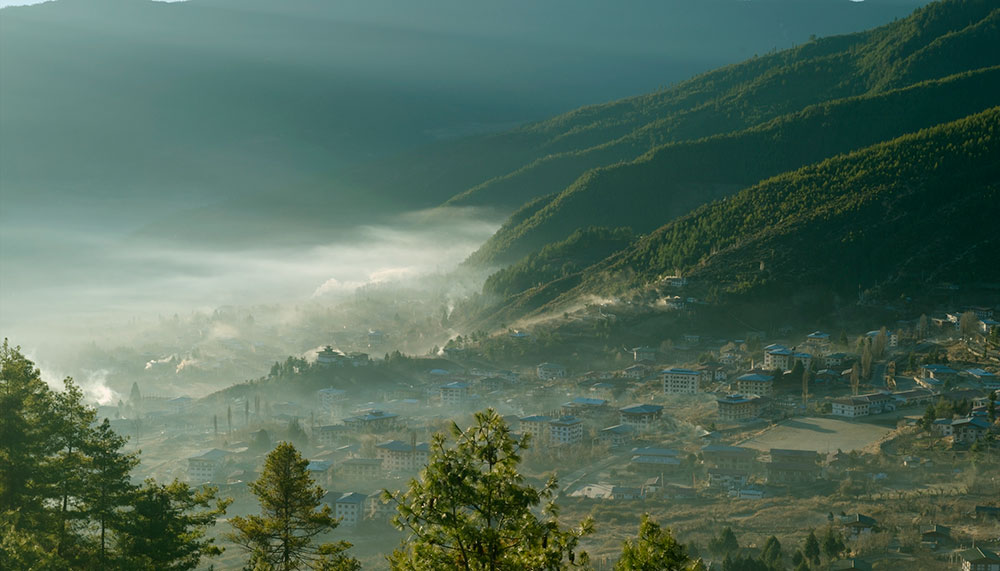 Good thing they did, because it allows visitors to experience Bhutan through an authentic lens, without sacrificing creature comforts.
In December 2017, we were privy to said authenticity and comfort at Amankora – 'kora' meaning 'circular pilgrimage'. We stayed six nights at three of the five lodges, in a kora of our own organised by Aman.
Six nights isn't enough to experience all activities that the lodges have to offer, but it did offer a good sampling. Here are 10 we found to be the most engaging.
Amankora Thimphu
Thimphu, the nation's capital and largest city with 100,000 inhabitants, offers a gateway to the Kingdom.
The city has a frontier town vibe, mixing traditional Bhutanese customs with a growing international sensibility. Most expats are based here; correspondingly, there's a clutch of food and entertainment options geared towards them.
Amankora Thimphu has 16 suites and is set in a blue pine forest just 10 minutes from downtown.
10. Play high altitude golf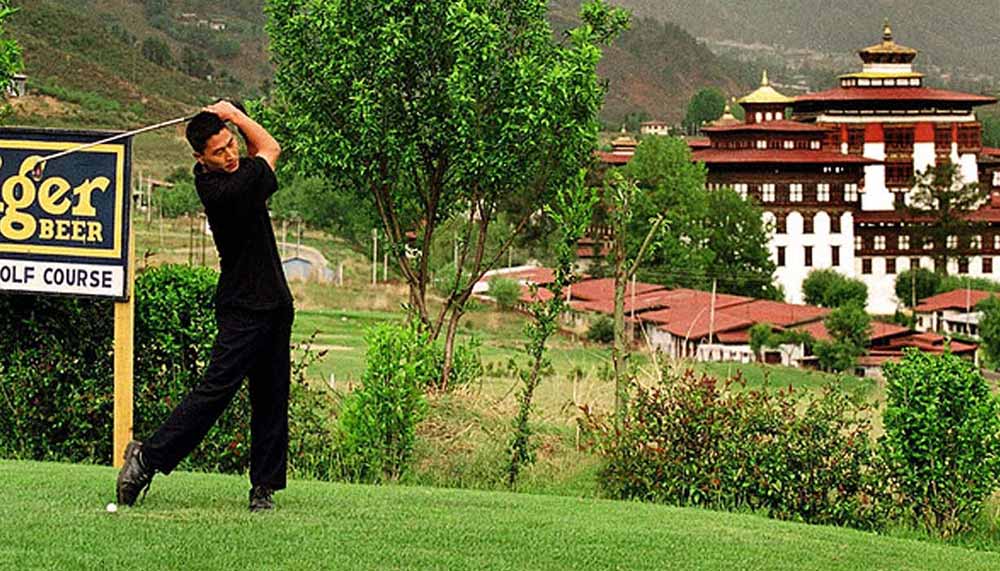 Most of the country is located 2,000 m above sea level. Thimphu itself sits at an elevation of 2,350 m. Make the most of this to swing a few rounds at Bhutan's only legit golf course, the Royal Thimphu Golf Club, and gain bragging rights while you're at it.
The nine-hole course is one of the world's highest. Advantage: the altitude gives your strokes the extra mile as balls fly further in thin mountain air.
Green fee: US$60 (S$80)
9. Chat with a Buddhist spiritual leader
While in the world's only Himalayan Buddhist Kingdom, why not take the opportunity to meet a spiritual guru?
Specifically, Mynak Trulku, the 12th reincarnate lama of Mynak Rinpoche. The affable leader represents Bhutan in various regional and international conferences, lecturing on Bhutanese culture and spiritual affairs.
You could either chat with him over a coffee or meal, or arrange a private meditation session.
Cost: US$125++ (S$167++) per person
8. Explore Thimphu nightlife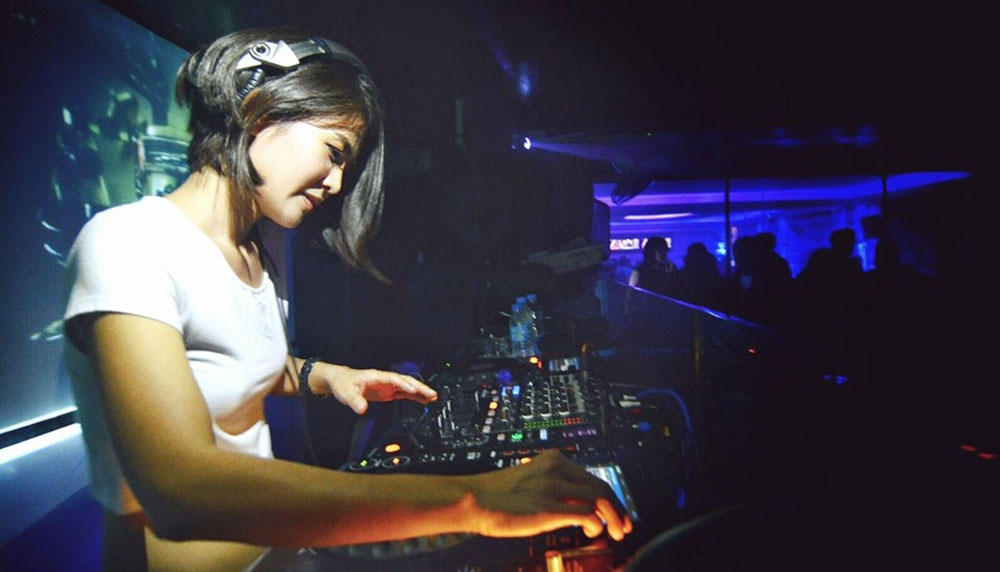 Thimphu's frontier vibe extends to its nightlife as well. Remember, this is a country that only welcomed TV and the Internet in 1999. That said, part of the fun is in discovering the city's small but growing nightlife scene.
Start off with a meal at Zombala (Bhutanese; try their famous momos), Sanmaru (Korean BBQ), or the Swiss Restaurant (fondue and Bumthang craft beer).
If you're up for live music, head over to Mojo Park afterwards. If pubs are more your thing, swing by The Zone, an outdoor gastropub that's popular with both locals and expats. Finally, dance the night away at Space 34 or Viva City!
Amankora Punakha
From hiking and river rafting to temple exploration and leisurely picnics, the mountains and valleys of Punakha offer a bit of everything for outdoor enthusiasts and culture vultures.
The sub-tropical climate is great for those who aren't accustomed to the cold. Daytime temperatures hover around 15ºC in winter, for example, making outdoor activities very pleasant.
The eight suites of Amankora Punakha are set in an orange orchard overlooking paddy fields.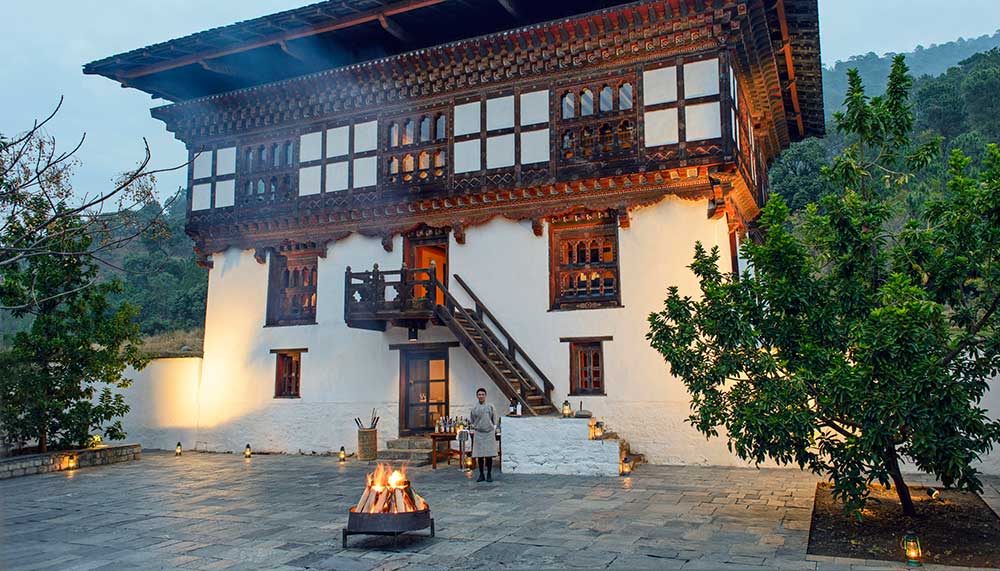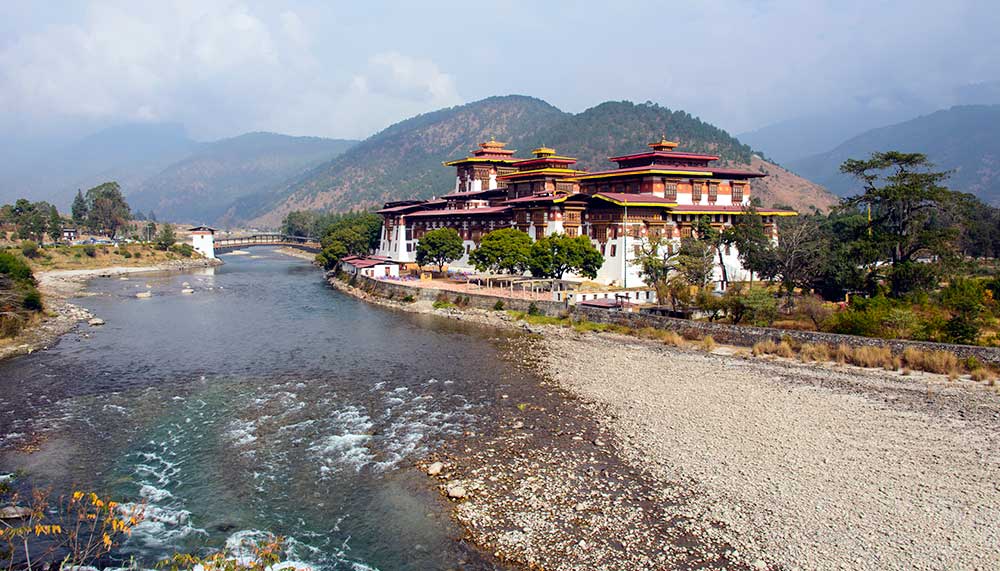 7. Hike up to Khamsum Yulley Namgyal Chorten
This 90-minute hike starts from the lodge and winds through farmyards and rice paddies. It's a great way to observe local rural life.
Your end goal is the Khamsum Yulley Namgyal Chorten, one of the most Insta-worthy sites in the country.
Not only does the four-storey hilltop stupa command a spectacular view, but it also makes a lovely picnic venue.
6. Go rafting/kayaking along the Mo Chhu or Po Chhu
Rafting/kayaking offers a way to experience Bhutan's breathtaking scenery from another angle.
For those after a more leisurely ride, the gentler Mo Chhu (Mother River) is recommended. The more adventurous should attempt the fast-flowing Po Chhu (Father River) for some quality whitewater thrills and spills.
Cost: US$475++ (S$630++) per raft for the first five people; thereafter, it's US$95++ (S$126++) per person. Each raft has a maximum capacity of eight. US$150++ (S$200++) per person per kayak; a minimum of two people is required to book
5. Private riverside BBQ lunch or dinner
There are picnics, and then there are picnics put together by the Aman. This one is particularly glorious, set along the banks of Mo Chhu in a pine forest clearing. For lunch, the resort's chef and his team will prepare a four-course menu, including mains grilled on-site. A more romantic option is the candlelight dinner, where the clearing will be decked out with lanterns and a bonfire.
Cost: US$250++ (S$332++) per couple for lunch, US$65++ (S$86++) for every additional person. US$280++ (S$372++) per couple for dinner, US$80++ (S$106++) for every additional person
Amankora Paro
Paro, the Kingdom's second-largest settlement with a population of 36,000, is a major tourist hotspot thanks to its proximity to the airport and the iconic Tiger's Nest monastery.
The town itself is an attractive, if minuscule, urban centre lined with handicraft shops and cafes obviously targeted at travellers.
With 24 suites, Amankora Paro is the largest of the five lodges. Set in a blue pine forest, it overlooks the ruins of the 17th century Drukyel Dzong.
4. Soak in a hot stone bath
While a hot stone bath doesn't sound like something too out of the ordinary, soaking in a Bhutanese one is pretty special.
River stones are first heated for eight hours before being placed in a partitioned tub filled with water. The heat gradually dissipates from one section to the other, warming the bathwater slowly and ensuring maximum relaxation.
In a longstanding Bhutanese tradition, herbs are also added to the bathwater to cure skin diseases and alleviate joint pain.
Cost: US$150++ (S$200++). Advance notice is required to prepare the bath
3. Have lunch in a farmhouse
Each lodge serves traditional Bhutanese food. And you may of course sample the local cuisine at any one of the eateries in town. But there is nothing like savouring local specialities in someone's home.
Enter the farmhouse lunch experience, where you not only get to relish authentic food, but also get to see what life is like for ordinary rural folk. The host family will allow you to explore the property and take as many photos as you like.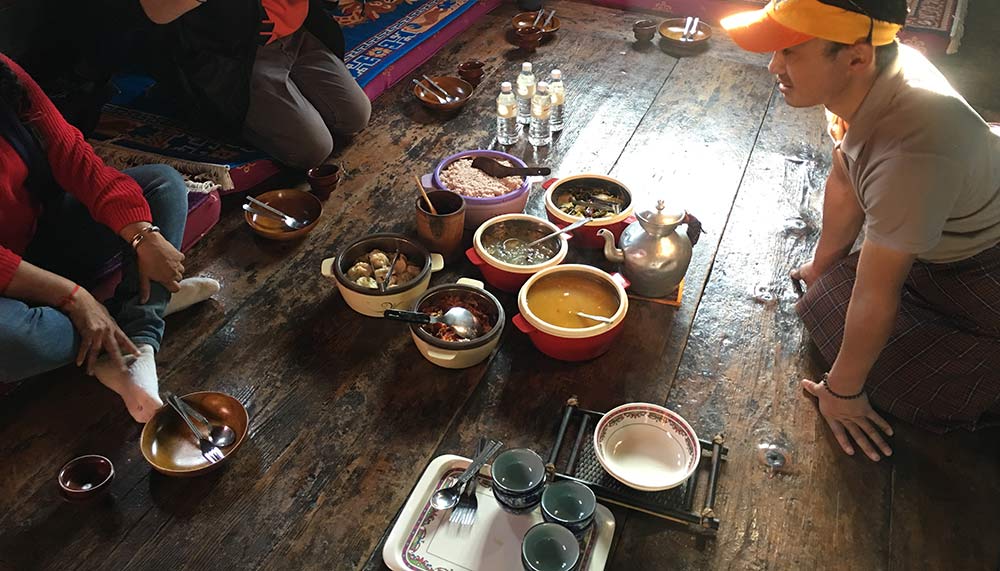 Paro specialities include buckwheat noodles and hoentoe: buckwheat dumplings stuffed with turnip greens, datshi (cheese), spinach and other ingredients. Wash it down with the local moonshine, Ara, made from rice, maize, millet or wheat that is fermented or distilled.
2. Try your hand at archery
Graceful yet deadly, archery is Bhutan's national sport, and is a lot of fun when played in a group.
Two targets are set 150 m apart in a field. Players use traditional bows made of bamboo or high-tech compound bows. To make it easier for non-Bhutanese, the targets are set 70 m apart.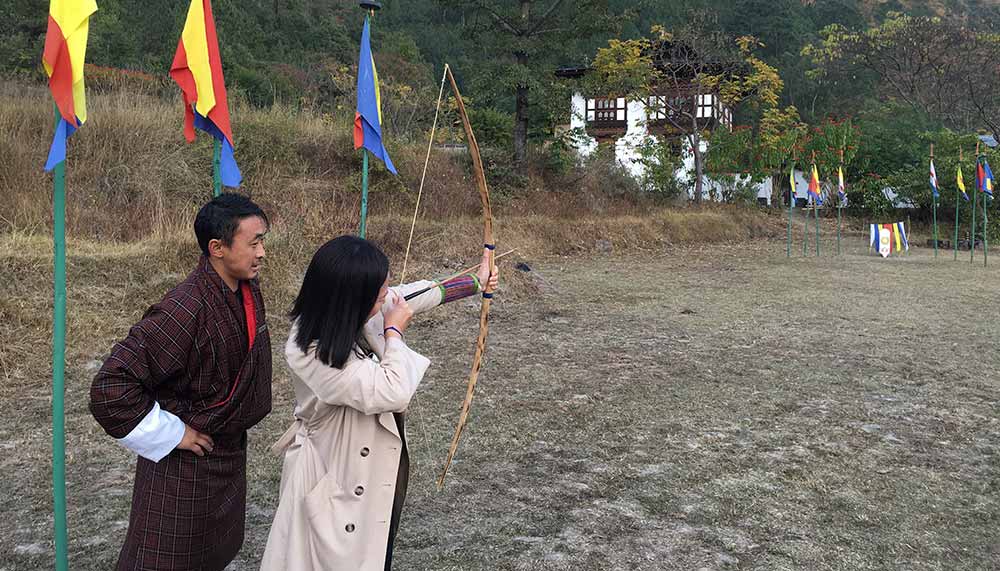 1. Hike to Tiger's Nest
It would be a shame to come all this way and not hike up to Taktsang Lhakhang, better known as Tiger's Nest.
Clinging on to a rock face 900 m above the valley floor, this complex of 18 temples is built around a cave where Guru Rinpoche is said to have meditated after having flown in on the back of a mythical tiger in the 8th century CE. After meditating for three years, three months, three weeks, three days and three hours, the Indian Buddhist master then introduced Buddhism to Bhutan.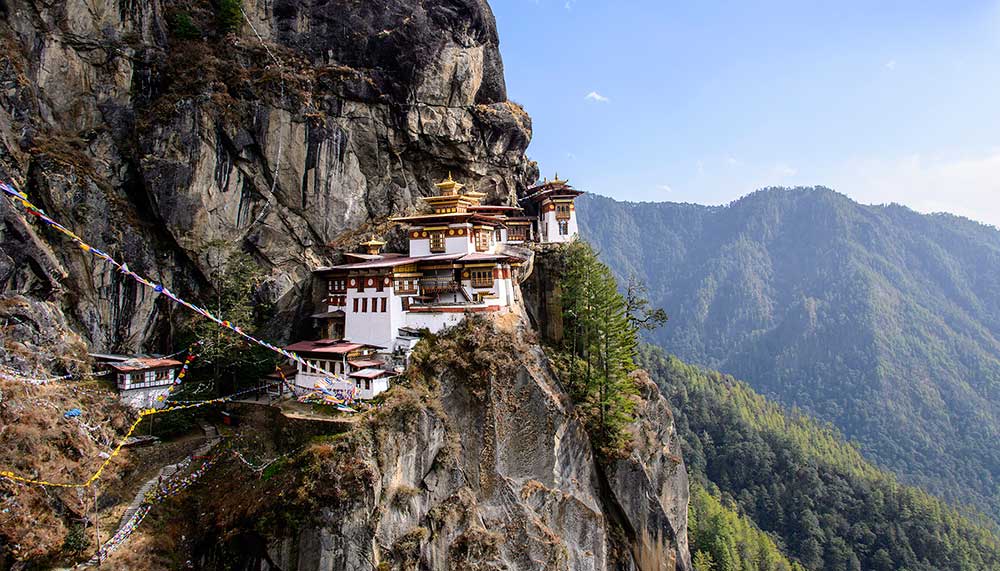 The hike takes about four hours in a round trip. The first hour of the ascent may be made on horseback. The rest of the journey, including the descent, must be made on foot.
Also check out our list of the most Insta-worthy locations in the Land of the Thunder Dragon.