Icons of Time
After an outstanding spring auction season, Phillips Auctioneers is back with a stellar line up of extraordinary watches for the autumn sale. In association with Bacs & Russo, the auction will take place in New York. It's the first time where 50 rare and iconic watches will go under the hammer.
The top lot is, indisputably, a Rolex "Paul Newman" Daytona Ref. 6239. Yes, this was actually owned by Newman. On its case back are the words "DRIVE CAREFULLY ME". The watch was a gift to Newman by his wife Joanne Woodward. Both Newman and Woodward starred in the 1969 film Winning which was the one that launched his successful auto-racing career.
In 1984, Newman spontaneously gave the watch to his daughter Nell's boyfriend at the time, James Cox. Despite not ending up together, Cox cherished it over the years. Today, the pair remains close friends and both have jointly decided to sell the watch. A portion of the proceeds will go to the Nell Newman Foundation and also the Newman's Own Foundation. There is no doubt that this watch will smash the US$1 million (S$1.35 million) estimate but the greater question is, will it exceed the US$5 million (S$6.74 million) pulled in by the legendary Bao Dai?
Key Highlights
This Rolex triple calendar ref. 8171 nicknamed Luminous Padellone is one of the most legendary, best proportioned, and most sought after vintage wristwatches of any manufacture. With a rare padellone dial, it is preserved in remarkable condition.
Estimate: US$400,000 – US$800,000 (S$538,000 – S$1.07 million)
This Rolex triple calendar ref. 6062 nicknamed Stelline was launched in 1950 and produced over a few short years. Featuring an Oyster case, it has a rare faceted star dial and is preserved in remarkable condition.
Estimate: US$250,000 – US$500,000 (S$336,000 – S$673,000)
This Rolex ref. 6284 comes with a spectacular cloisonné enamel dial depicting a miniaturised map of the Americas. Only six of these were ever made, housed in a 14K yellow gold Oyster case made only for the US market circa 1950.
Estimate: US$300,000 – US$600,000 (S$404,000 – S$808,000)
This Rolex Submariner Big Crown ref. 6200 is one of its earliest examples and features the rare and coveted Explorer style dial with 3-6-9 numerals found in the first generation model. It also does not have the Submariner signature and has no depth rating, making it all the more collectible.
Estimate: US$250,000 – US$500,000 (S$336,000 – S$673,000)
Patek Philippe's perpetual calendar chronograph ref. 1518 was the first in the world to be produced in series and only 281 examples were made. The vast majority were cased in yellow gold, rarely ever in pink gold, and only four in steel. This pink gold model circa 1951 is the first to be sold on the auction market.
Estimate: US$600,000 – US$1.2 million (S$808,000 – S$1.62 million)
Produced between 1951 and 1985, in a limited number of approximately 349 examples, this model circa 1968 is the second generation of Patek Philippe's lineage of high quality precision perpetual calendar chronograph wristwatches.
Estimate: US$350,000 – US$700,000 (S$471,000 – S$9433,000)
Introduced in 1962, ref. 3448 was the first automatic perpetual calendar by Patek Philippe. There were 586 examples produced until 1981, the majority of which were cased in yellow gold. This white gold reference is even more desirable with reversed, inward facing date numerals on the date sub-dial.
Estimate: US$250,000 – US$500,000 (S$336,000 – S$673,000)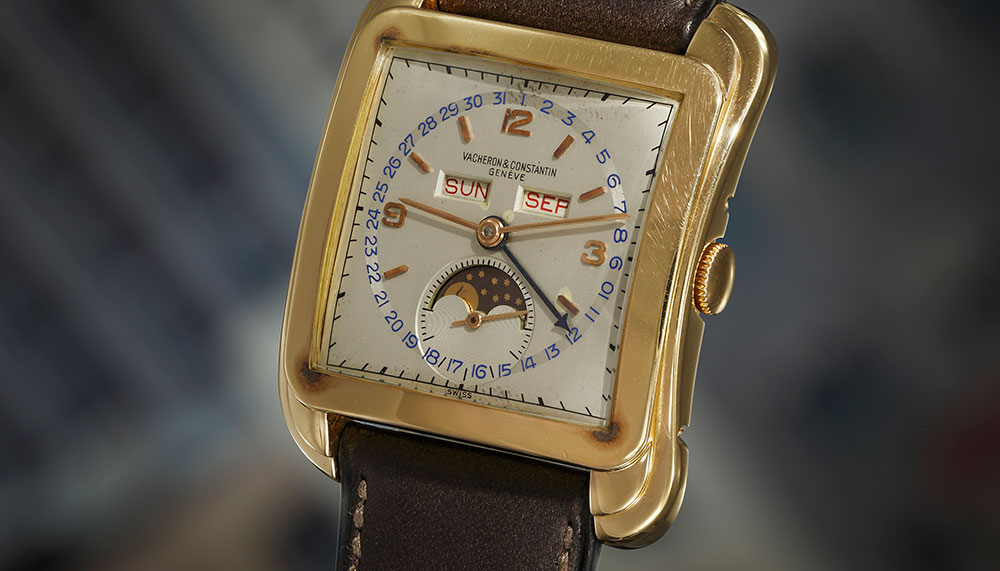 Other brands to expect include A. Lange & Sohne, Audemars Piguet, Breguet, Cartier, Omega, Philippe Dufour, and Vacheron Constantin.
Preview: Taipei (24 – 28 September), Hong Kong (30 September to 2 October), London (4 – 7 October), Seattle (10 October), Los Angeles (12-14 October), and New York (20-26 October)
Auction: New York, 26 October, 6pm
Phillips New York Showroom, 450 Park Avenue