These timepieces showcase the best of maisons who have mastered age-old techniques in the creation of their objets d'art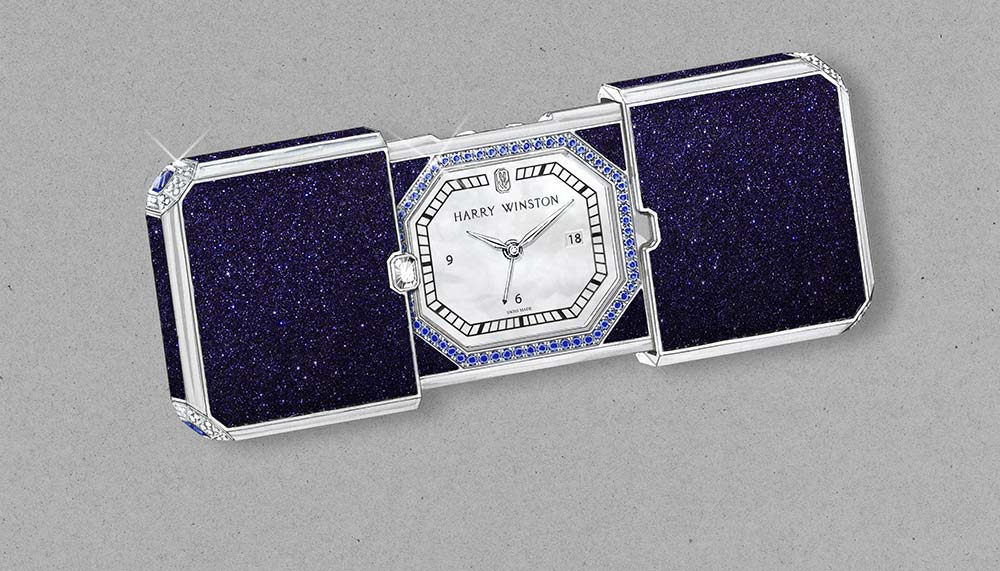 Harry Winston Travel Time
Harry Winston's roots in high jewellery has birthed this year's scintillating objet d'art – an 18k white gold case suffused with blue aventurine. Measuring 66mm when closed, this timepiece becomes fairly portable as an alarm and desk clock. It deserves its pride of place for a phenomenal amount of savoir faire invested by Harry Winston, with the jeweller's touch on corners adorned by four large blue sapphires and a frame of double-row brilliant-cut diamonds. A total of 64 brilliant-cut sapphires ring the dial in an emerald-cut shape – the favourite cut of the King of Diamonds – and two crowns allow for ease of setting: one for the time and date, and the other for the alarm.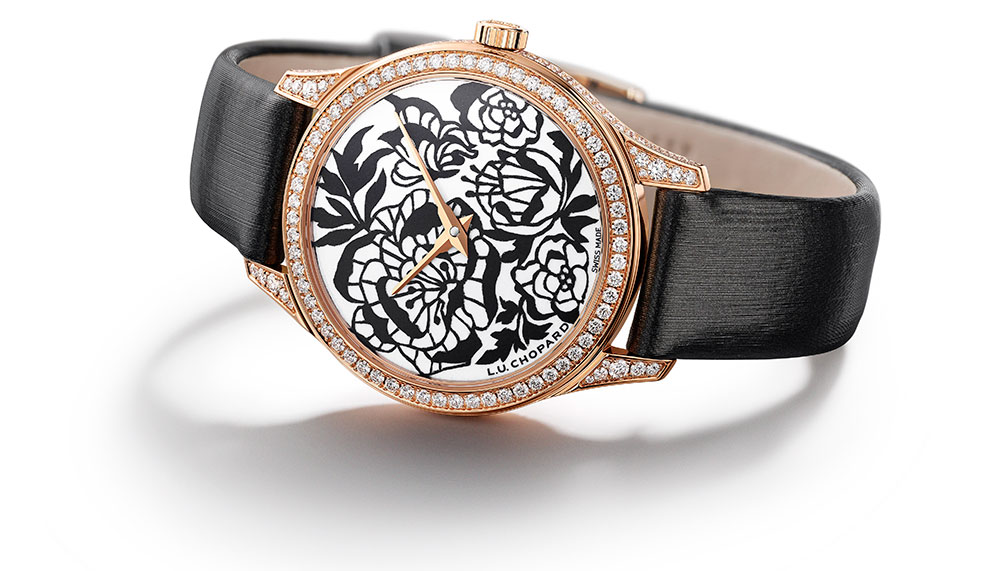 Chopard Luc Xp Esprit De Fleurier Peony
Chopard's ritualistic regularity in unveiling an ode to the peony every year leads into this year's opus – an eight-piece boutique exclusive in the LUC XP 35mm, crafted of 18krose gold (SFr102,000). In this year's artistic rhapsody, the medium of paper-cutting is used to flesh out the flower's subtle and fleeting beauty. To create this effect of a paper-cut peony in relief, Chopard had to train the expert in the art of Fleurisanne engraving, a vanishing skill where dainty peony petals and leaves are etched out across two full weeks of craft. Grand feu enamel completes the vision of a 'paper-cut' peony in the style typical of Pays d'Enhaut in Switzerland's Vaud canton, where this particular art form originated. Under this dial lies the automatic two-tone 18k rose gold movement with twin coaxial stacked barrels for 65 hours of power reserve.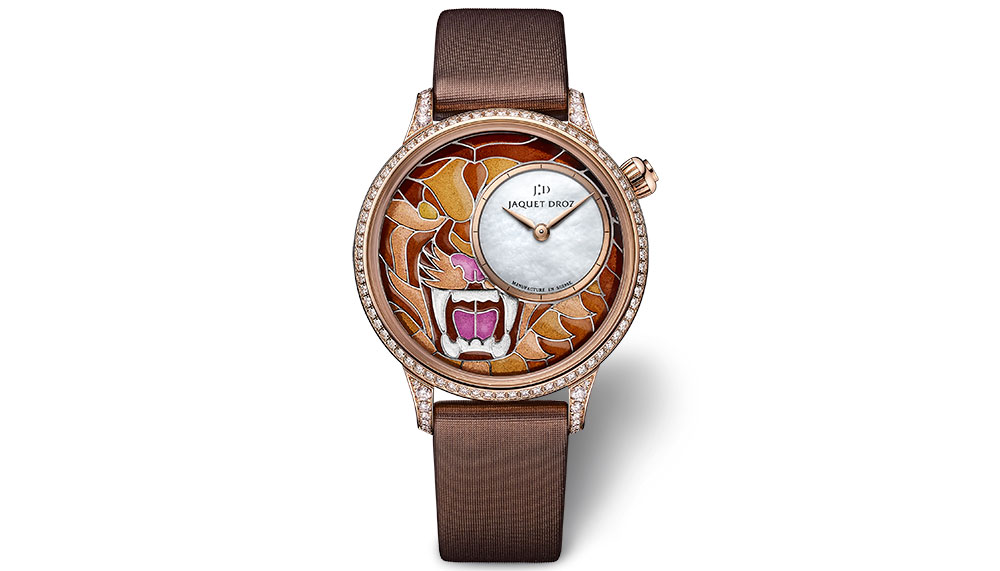 Jaquet Droz Petite Heure Smalta Clara
Plique-a-jour enamel is an incredibly demanding technique as it dispenses with a solid backing, much like stained glass. Also known in Latin as smalta clara, this technique is Jaquet Droz's tribute to its 280th anniversary this year. Firing each piece in the kiln dramatically increases the risk of cracking but the end result – approximately four days for a single dial – is worth it, as testified by this tour de force. The visage of a tiger is brought to life by at least seven colours of enamel. Two versions of 28 pieces each are available in 35mm cases of either white or red gold (SFr56,200), with 100 diamonds set into each bezel to provide extra illumination.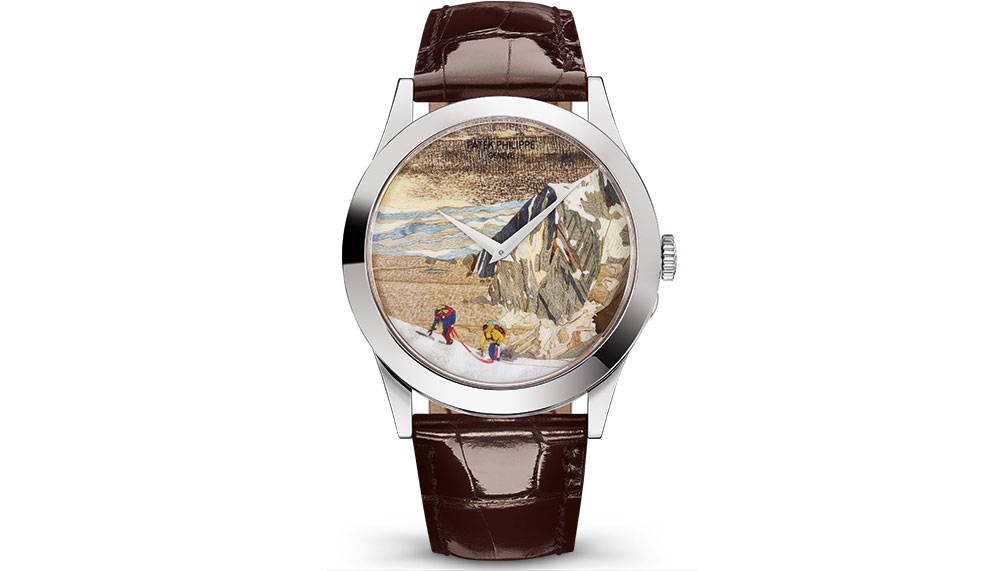 Patek Philippe Swiss Alps
Rarity comes in this release of only two timepieces from Patek Philippe's 2018 rare handcrafts. This duo of Calatrava pieces in 38.6mm white gold animate the majesty of the alpine landscape through the use of micro marquetry. Tiny pieces of wood veneer are assembled on a gold plate with Lac d'Emosson, recreating the paintings of French geologist Jacques Debelmas with 195 pieces of veneer from 22 species of wood. Meanwhile, the Roped Alpinists reference comprises 262 pieces (including 40 inlays) from 27 species of trees. The timepiece's calibre 240 ultra-thin automatic is viewable through a sapphire crystal caseback, protected by the recognisable hinged dust cover of Patek Philippe.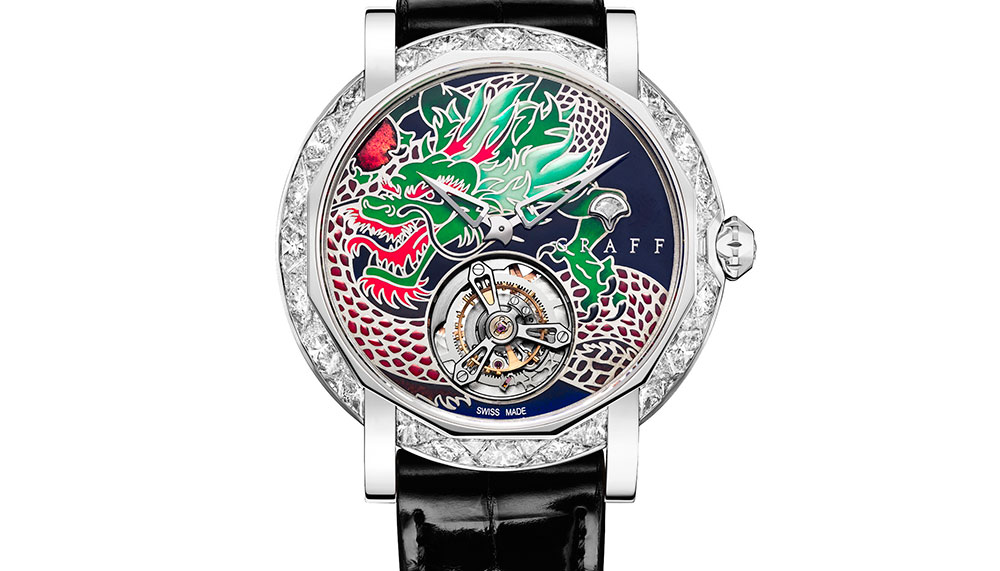 Graff Mastergraff Ultra Flat Tourbillon Metiers D'art
Always a crowd pleaser, the dragon motif on a timepiece is now brought to its apex in artisanal watchmaking through Graff's combination of grand feu and champleve enamelling techniques. On a gold base, several layers of enamel are laid onto the dial, each of which undergoes firing of up to 800 degrees Celsius. The dial is then encased with 43mm rose gold or platinum with the latter sporting a diamond bezel.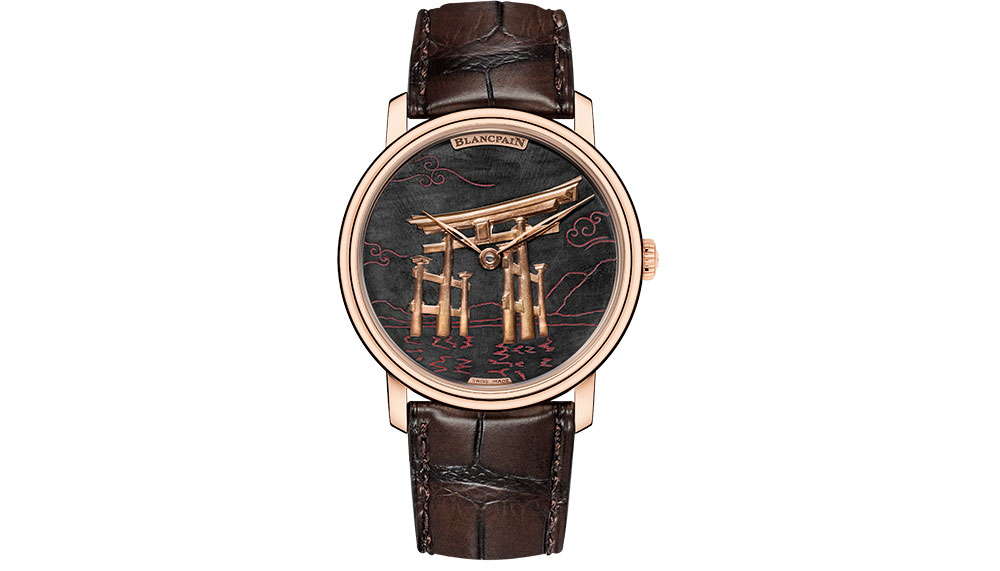 Blancpain Villeret Metiers D'art Binchotan
Binchotan, an art form conceived in the Kishu region of Japan some four centuries ago, is introduced onto Blancpain's decorative dials for the first time. The slow combustion of Ubamegashi (Holm oak) in extremely high temperatures of up to 1,300 degrees Celsius becomes the method to achieve the lustrous black of the dial, with its resulting hardness comparable to steel. Housed in a 42mm red gold case is the ultra-slim 13R3A manual-wound calibre, which powers this unique timepiece. Atop this dial is a quintessential representation of entrances to Shinto shrines all across Japan – a Torii gate which symbolises the transition from the mundane to sacred.