What better way to escape from reality than to bask in the paradise of Cheval Blanc Randheli
Editor's note: See other Escape Plan stories here.
Anyone's first trip to the Maldives ought to be dreamy. You know, perpetual sunshine, incredible seafood and that first dip into the Indian Ocean met with a friendly dolphin, splashing around and breaking the early morning ocean calm. All in the company of your best friend, your other half, your love of your life. At least, that's what I wanted for myself. I have always associated the Maldives with endless romance and, if not, a way to heal from the loss of a relationship and channel all that grief into yoga. After all, sadness can sometimes benefit from space and perhaps, flexibility?
I encountered tremendous grief last July when my sweet dog of 14 years died in my arms. She was a half-whippet rescue that was black, beautiful and, like me, never warmed up too quickly to strangers. She lived to 14-and-a-half, a decent age to go for most dogs, but gone too soon. Sleepless nights and puffy eyes ensued and, a couple weeks later, it felt like the right time to travel and be away from it all. I thought, if I were to make this great escape alone, it would ideally be somewhere with a beach, a nice pool, alcohol, and an inviting breakfast buffet of all the delicious things I like to eat. If I were to recuperate somewhere solo, it may as well be paradise.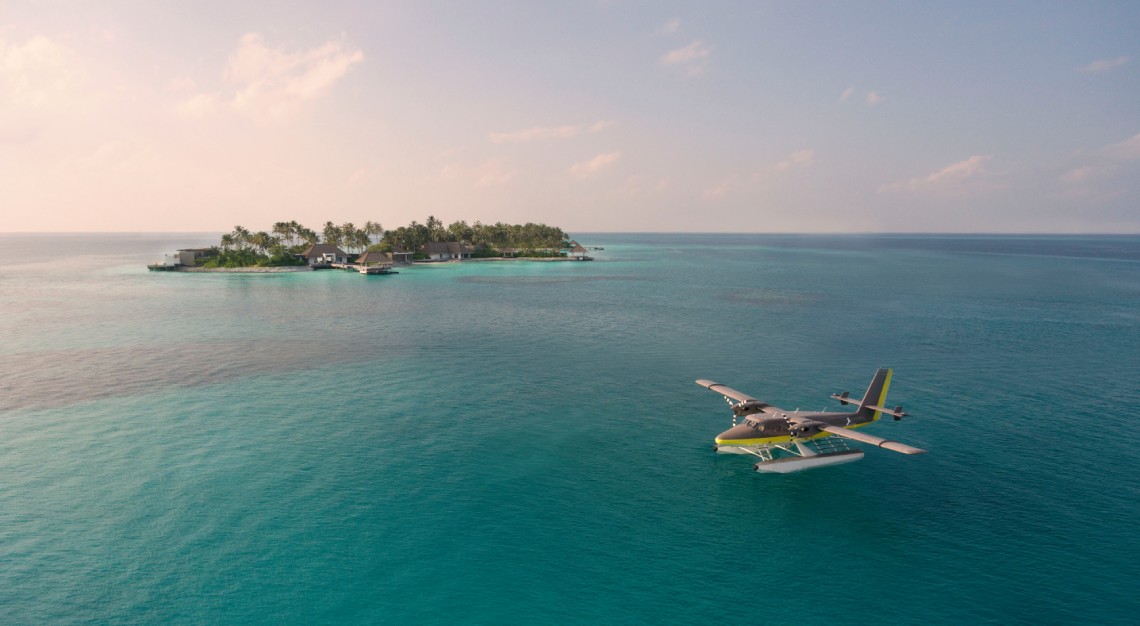 The great escape
It took me just over four hours of direct flight time from Singapore to Malé, the tiny, sober metropolis of the Maldives. It's densely packed with mosques, lively markets, newly erected high-rises and a population of some 130,000 people; hardly the white-sand dream of laid-back holidaymakers, but a fascinating way to see the Maldivian way of life. It is the only concrete jungle among a cluster of 1,200 tropical islands, of which only 200 are inhabited. Also, 164 islands are developed as tourist resorts while the rest used mostly for agricultural purposes.
At Malé's Velana International Airport, visitors are whisked efficiently to their respective island resorts. It is August, not exactly the peak season for the Maldives, but revenge travel is in. I see couples in love and in floral shirts and breezy dresses; wealthy families accompanied by nannies and au pairs; and even a group of chubby caucasian men with surfboards in hand. Little did I know that surfing is a thing at Malé. Most of the archipelago is great for the sport from April to October, with the best breaks on the outer reefs on the southeast side of the atolls.
Yes, go south, I pray, as I get shepherded into a bare, air-conditioned waiting room inside the seaplane terminal, ready to head up north. Some resorts are accessible by speedboat, though most of the time, you'll need to hop on a seaplane—Trans Maldivian Airways, Maldivian Air Taxi or even better, a private charter arranged by your resort. These tiny 10- to 15-seater propeller aircraft are fun to fly in, but unless you're travelling privately, chances are you won't be getting off at the first stop. It can be frustrating when you're that eager to begin your vacation, but the picture-perfect sea views make the journey worthwhile.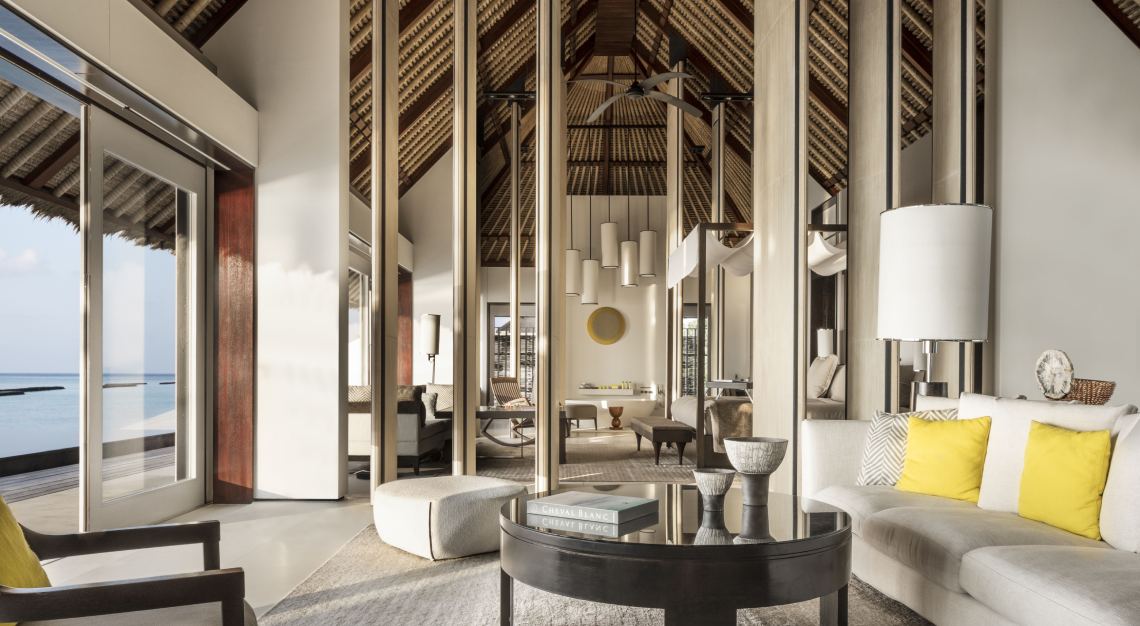 One 40-minute ride later, the plane lands with a thud on the water. I have arrived at the beautiful Cheval Blanc Randheli. I'm here, I'm actually here. Out of the resort's private plane, I set foot on the sun-bleached jetty and I'm greeted by the warmest reception since the excitement my dog displayed at my last homecoming. The team, dressed in white and shades of tan, is all smiles, shaking hands and eager to play a good host. I say hello and make small talk with Laurent Chancel, the dimpled-faced General Manager who led a previous life as a chef (he first joined the resort as the Director of Culinary and has a tremendous passion for food and hospitality), before I'm escorted to my villa in a buggy. At the speed we're going and the mighty breeze beating at us, I think to myself just how lucky I am to have real hair.
Smells like paradise
Cheval Blanc Randheli sits on six islands in the Noonu Atoll. It is part of the LVMH family and the second in its Cheval Blanc portfolio of five (going on seven) Maisons. Following the 2006 launch of Cheval Blanc Courchevel, a fine ski-in/ski-out resort, Cheval Blanc Randheli opened in 2013 and has been honing the perfect island retreat ever since.
For it to look the part, LVMH enlisted architect and interior designer Jean-Michel Gathy, the mastermind behind Four Seasons Bangkok and Capella Sanya. Here, luxury co-exists effortlessly with nature. Villas are furnished with materials from the Indian Ocean (rattan and coconut shell, for instance), and the lofty cathedral-like ceilings, framed by seven-metre-high doors, offer the "choice of openness" or "a warm and cosy atmosphere".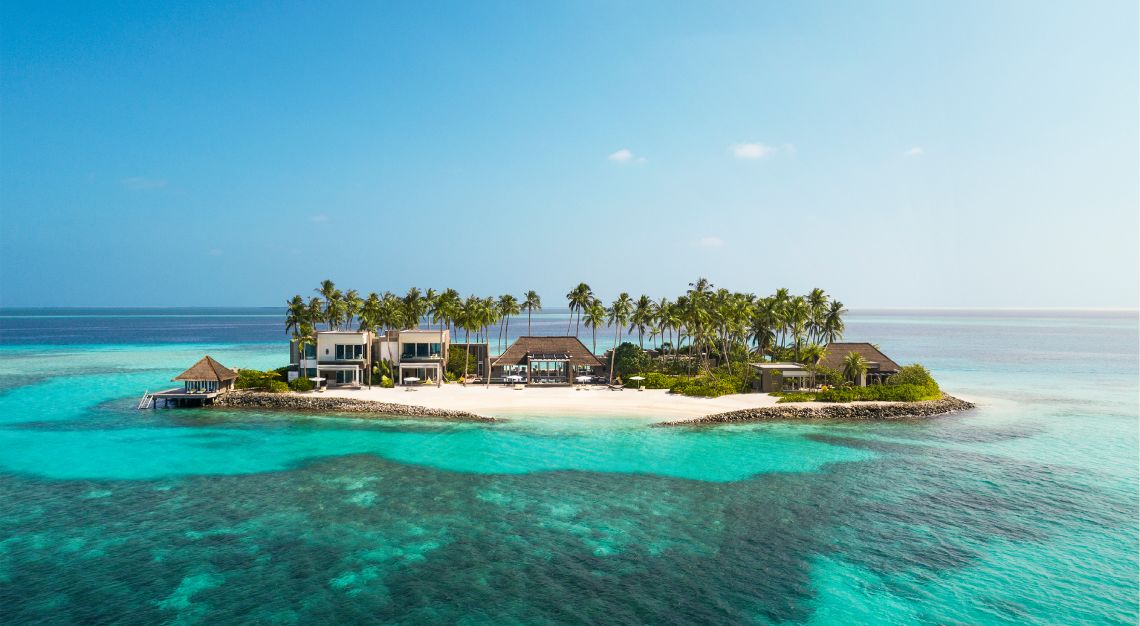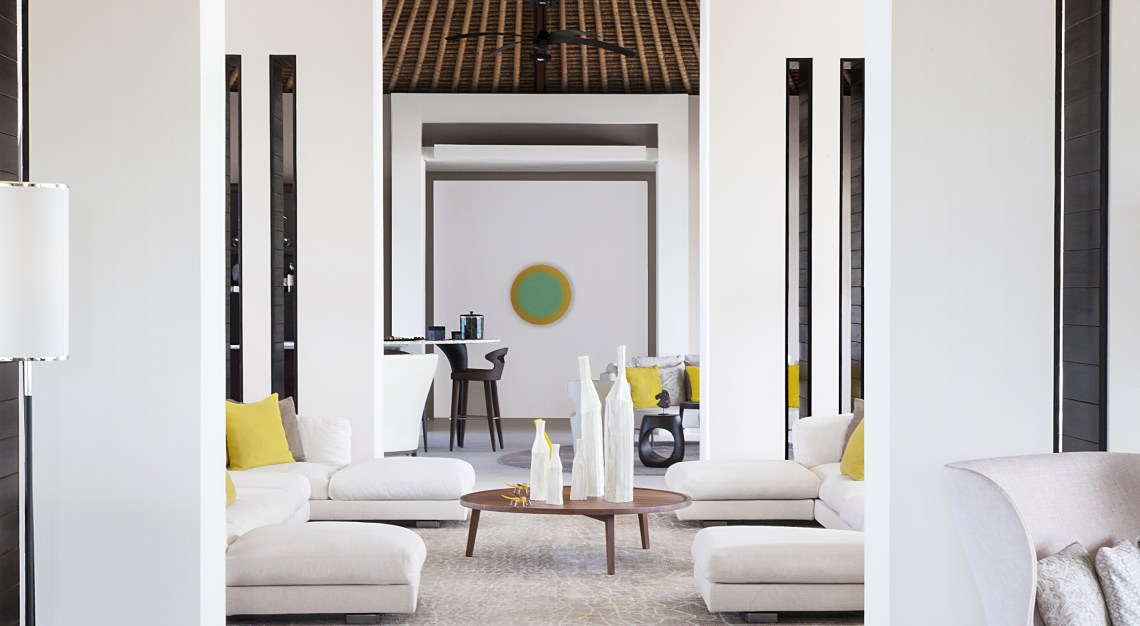 There are 46 villas in total, each hugged by breathtaking vistas of the Indian Ocean. They range from the 240-sqm Water Villa to the two-bedroom Island Villa, where the Duke and Duchess of Cambridge enjoyed couple time, right before their big Australia tour in 2014. For those who dream of even more space and seclusion, the Private Island is what you want; a four-bedroom villa sprawled over 1,000 square metres on its own private island. Everything is grand, from the piano to the views and bathrooms. It also comes complete with a separate guest villa, private spa, customisable gym, and screening room, if you can pry yourself away from nature's majesty.
My slice of paradise at Cheval Blanc Randheli is the Horizon Villa, a beauty on stilts with an infinity pool and all the space that I was hoping for. I arrive with Sam, my dedicated majordome and a local Maldivian who smiles with a twinkle in his eye. He shows me around, demonstrating this and explaining that, and leaves his number for me to WhatsApp him my needs and wants at any time of the day. He then proceeds to tell me to look out for the dolphins at sunset or at sunrise. Sure, if I can bother waking up early on vacation. "They come when it isn't too hot," I'm told, before I'm left alone to once again marvel at my home for the next three days. It is huge and it is perfect. I pace around it, occasionally breaking out in 'wow' and taking in the sights and smells, brought by the sea and Island Chic, the signature scent created exclusively by Dior.
Smells good, smells like paradise. I'm ready to overstay my welcome.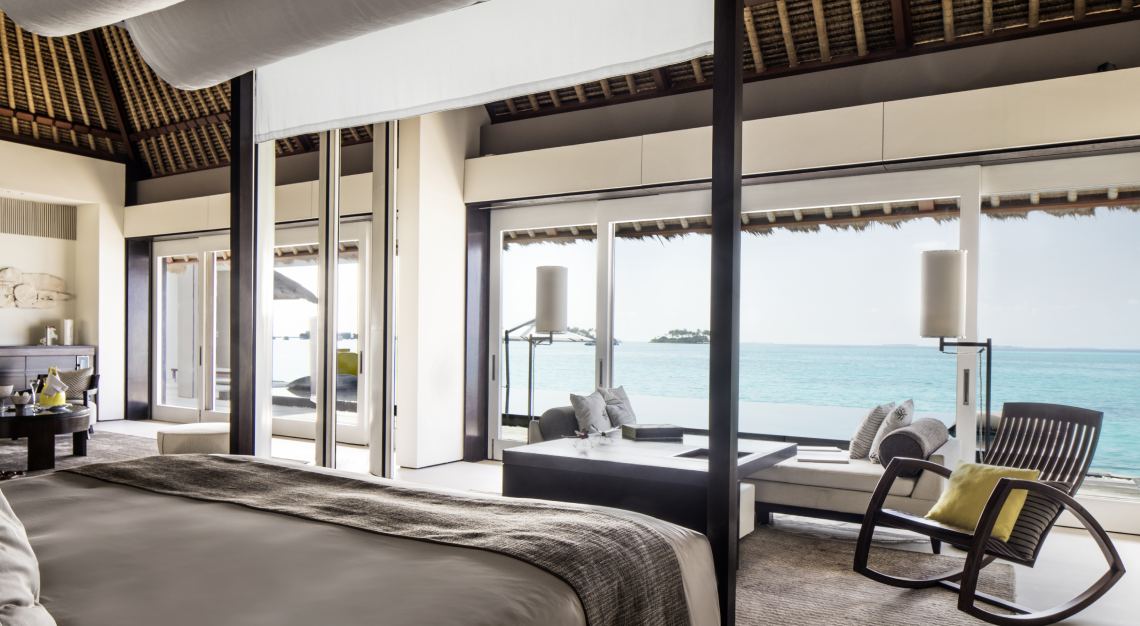 Keep it simple, stupid
Shortly before this trip, I met with Christian Boyens, Head of Operations (Urban Hotels) at LVMH. A German with a good sense of humour and massive love of hospitality, he recalled the good old American saying, that is to 'keep it simple, stupid.' I agree. What is luxury if you complicate a good thing? To me, luxury is the level of attention to detail that keeps a business a well-oiled machine, without the frills. Luxury is an honest yet elegant way of life. Luxury is good, genuine service that doesn't try too hard.
I suppose luxury is also getting an instant reply from Sam on WhatsApp. Maldivian culture, heavily shaped by those of India, Sri Lanka, Africa and even Malaysia, aims to please. These are people who will go above and beyond to make your vacation unforgettable. But so does everyone else who works at Cheval Blanc Randheli. General Manager Chancel makes plenty of effort to connect with the guests, even if it means accompanying a regular for a 12-course meal at Le 1947, the French restaurant named after Château Cheval Blanc's famous vintage. I also met Executive Pastry Chef Rémy Janicot, possibly my favourite amongst them all. Coincidence or not, he reminds me of Remy from the movie Ratatouille. He's immensely passionate about his art and willingly shares his knowledge with an infectious enthusiasm.
Later I discover a string of fun surprises. Kouign-amann gets served at breakfast and a family-size Paris-Brest magically appears in my fridge, soon after a casual conversation of "the best desserts around". I also find myself in a spontaneous chocolate masterclass. Janicot is after all, the master of chocolate who previously worked at Le Chocolat Alain Ducasse in Paris and Tokyo. One will be extremely well-fed at Cheval Blanc Randheli. The food options are endless. Sushi for breakfast? Butter chicken for lunch? A highly coordinated teppanyaki for dinner? Yes, yes and yes. Breakfast is available at any time of the day and on Thursdays, it's Indian Ocean night, when a spread of Sri Lankan and Maldivian curries (the local fish curry, packed with fresh chillies and coconut, is worth seeking out) and more is accompanied by a traditional Boduberu dance of drums and song.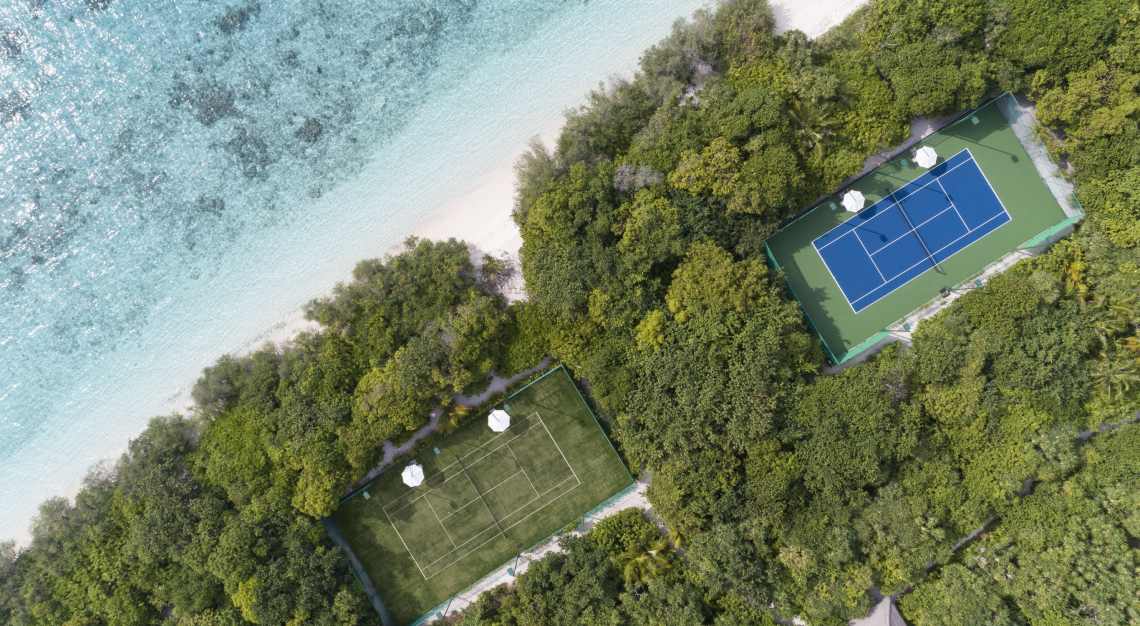 The last night
While the weather doesn't permit me to go snorkelling, there are still plenty of activities to do. On Maakurandhoo Island, a jungle with two tennis courts, I learn to play the game for the first time, under the tutelage of a very patient tennis pro from Belgrade. After that, I attempt to not humiliate myself too much on the FlowRider, a surf simulator, and later, a part of me considers challenging a stranger to a game of ping pong. I also think of all the special adventures I could have tailor-made for me, such as a sunset dhoni cruise or desert island escape, but surmise that such activities are better enjoyed with company. So instead, I retreat to my villa and order a bottle of wine to accompany another surprise that showed up—a plate of crusty sweet canelé.
It's my last night, my last sunset and still, no sign of dolphins. But I got what I wanted: a beach, a nice pool, alcohol, and the best breakfast buffet in my books. I got my slice of paradise. But unfortunately, like that plate of canelé and the many years I spent with my dog, all good things must come to an end. My great escape was never meant to last forever, and neither was my sadness. It is beautiful, then it is gone, but at least the memories are here to stay.