All that you love about the bold 1980s can be had with the bulgari wild pop high jewellery collection
Finally, the gleeful extravagance of the 1980s has inspired a kaleidoscopic high jewellery collection crafted by Bulgari's talented artisans. Remember the heady days when women wore power suits with shoulder pads, striking prints and towering stilettos? When MTV made its debut, heralding the birth of megastars, and artists pushed new boundaries in art? Now they're back in jewellery form courtesy of Bulgari and its Wild Pop collection.
Bold and irreverent, the Bulgari Wild Pop collection is exactly as it's named: wild and it pops.
Following the 2017 Festa collection, which married the notions of Roman creativity and a playful, disruptive spirit, Wild Pop continues down the path of tongue-in-cheek ingenuity, bringing forth sculptural fashion vibes, music of the era and the world of photographer and filmmaker, Andy Warhol, who famously said: "When I am in Rome, I always visit Bulgari because it is the most important museum of contemporary art."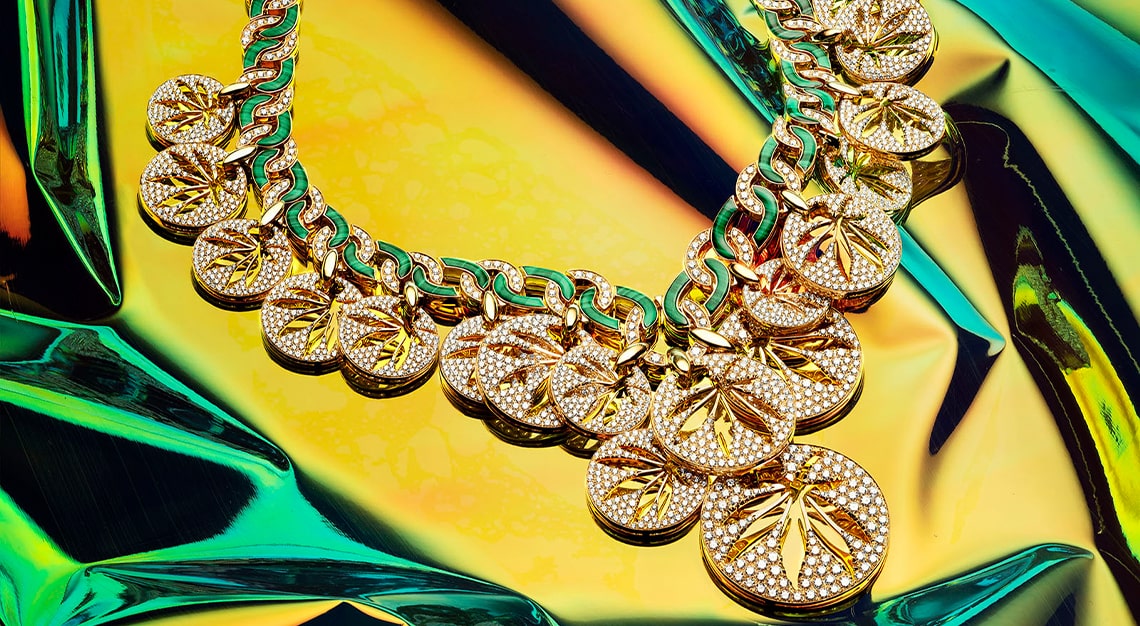 Spearheaded by Bulgari's creative director, Lucia Silvestri, the idea for Wild Pop came about when she visited the Andy Warhol Foundation for the Visual Arts in New York City. That was where she saw all the Bulgari ephemera in the artist's archive and the idea to pay tribute to this beautiful period hit her. "I wanted to do something about this fantastic dialogue between Bulgari and Andy Warhol," Silvestri explains. Together with Nicola and Paolo Bulgari, Silvestri began to revive the groundbreaking spirit of Bulgari which inspired Warhol and his work at the Silver Factory.
The entire 1980s distilled into one high jewellery collection, Wild Pop brings sumptuous coloured stones in Bulgari's favourite cut – cabochon – and turns them into the most imaginative pieces in modern jewellery design. Breaking all the rules in the book, the collection turned up David Bowie-inspired lightning flash necklaces and bracelets and gorgeous ruffles on emerald drops, futuristic  geometries and a little bit of old Roman flavour. There are also odes to the world of pop music with coloured cabochon- cut stone masquerading as microphones lined up to form necklaces or bracelets, black onyx and diamonds arranged like piano keys to encircle the neckline, and black onyx cut into flat round discs to evoke the era of spinning turntables and vinyl records.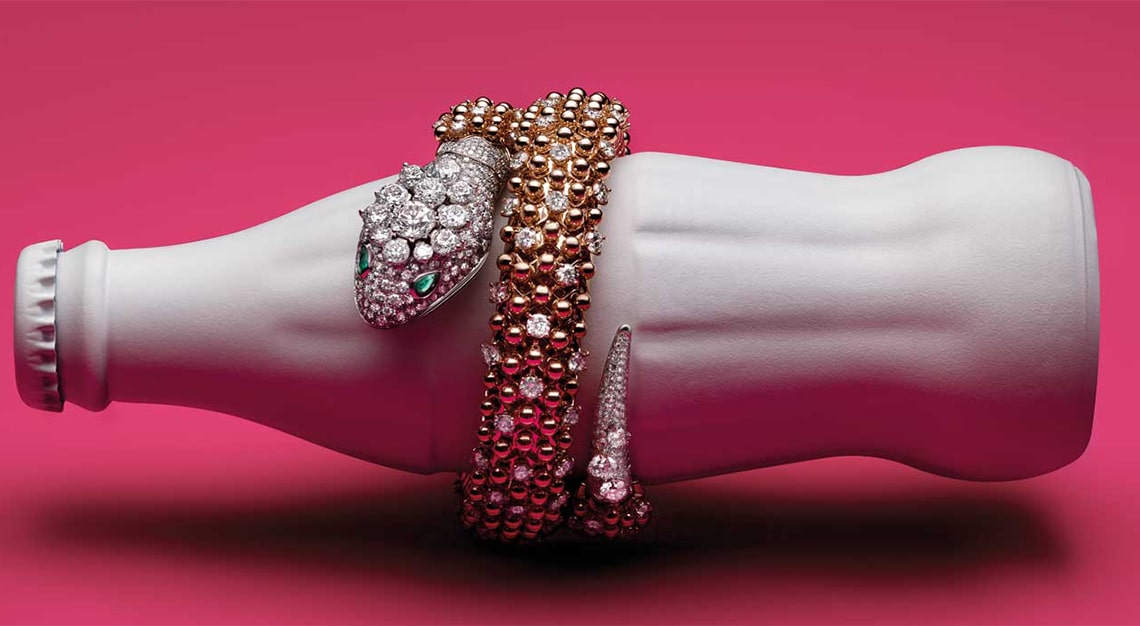 Naturally the collection wouldn't be complete without classical icons of the Italian jewellery house. I'm talking about the Serpenti and it makes an appearance here as the Serpenti Secret watch which has a gold beaded body that coils elegantly around the wrist twice. Another Bulgari favourite is the maison's habit of placing its insignia onto its creations – think the Bulgari Bulgari line – and with Wild Pop this practice was writ large in maxi style, where large and colourful letters dominate the pieces in turquoise and coral.
The necklaces are designed to stun and shock, either with their oversized proportions or their overt styling. One especially memorable piece is a neckpiece in diamonds and emerald with a hidden watch that pops open by releasing the catch. Bulgari aficionados will also not muss the 18-carat rose gold body necklace with turquoise and onyx inserts, set with a single antique Roman bronze coin that dates back to Emperor Claudius who ruled from AD41 to 54.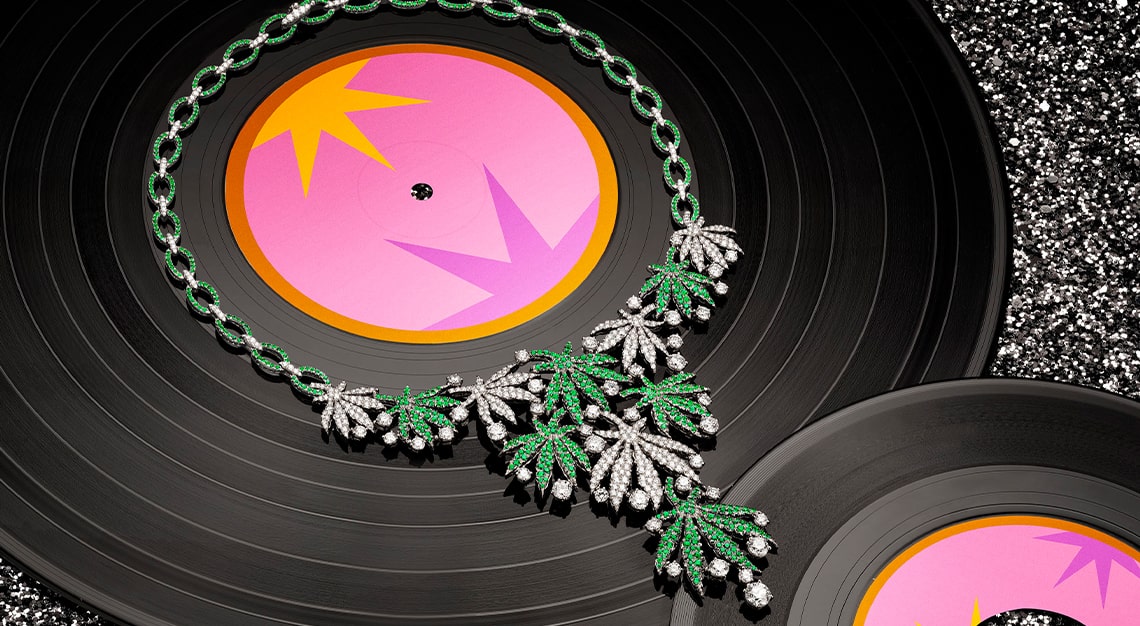 More controversially, a necklace and bracelet set in the collection named Happy Leaves is a throwback to the pot- smoking cannabis-loving cool cats of the 1980s. This probably puts the wild in Wild Pop and is a throwback to creative artists of the era, namely, Warhol. "There is something pop, almost crazy, about our jewellery," Nicola has been known to say, and the Wild Pop high jewellery collection most definitely lives up to that reputation. And not only that, it has also redefined the core aesthetic and role that high jewellery plays in a woman's everyday life. Maybe it was true that exquisite jewellery has to be reserved only for special occasions, but from 2018 with Bulgari Wild Pop, not anymore.