Innovative techniques meet unconventional materials as the Parisian jeweller revisits the natural world with fresh eyes.
The creation of high jewellery is often described as an invitation to dream, and for its latest Carte Blanche collection, Boucheron has dreamed up the impossible. Named Ailleurs, which simply yet also poetically means 'elsewhere' in French, it is an invitation to journey across exotic destinations. It has everything to do with encouraging the mind to wander—as far away as the heart desires.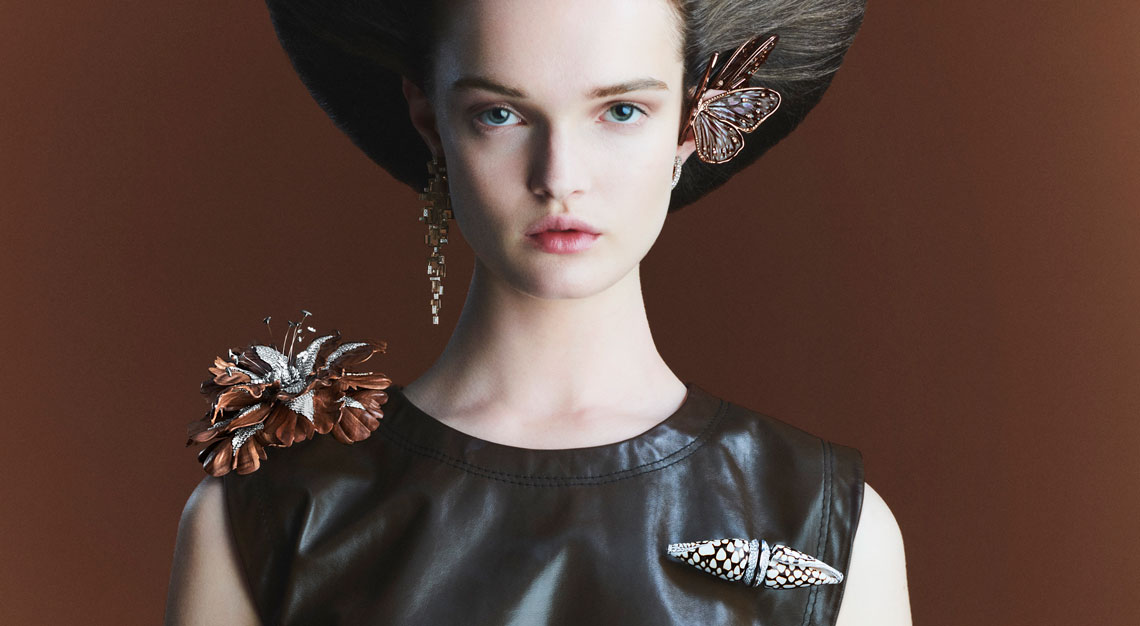 Imagined over five different worlds, Ailleurs continues with Boucheron's signature style of high-jewellery design, where technology and innovation are placed at the service of creativity. Artistic director of the Maison Claire Choisne left no stones unturned—literally—as she scoured the globe not just for ideas, but materials as well. Other than working with precious gemstones and gold, the Boucheron design studio incorporated rattan, burnt wood, pebbles, shells, and actual butterfly wings into the pieces.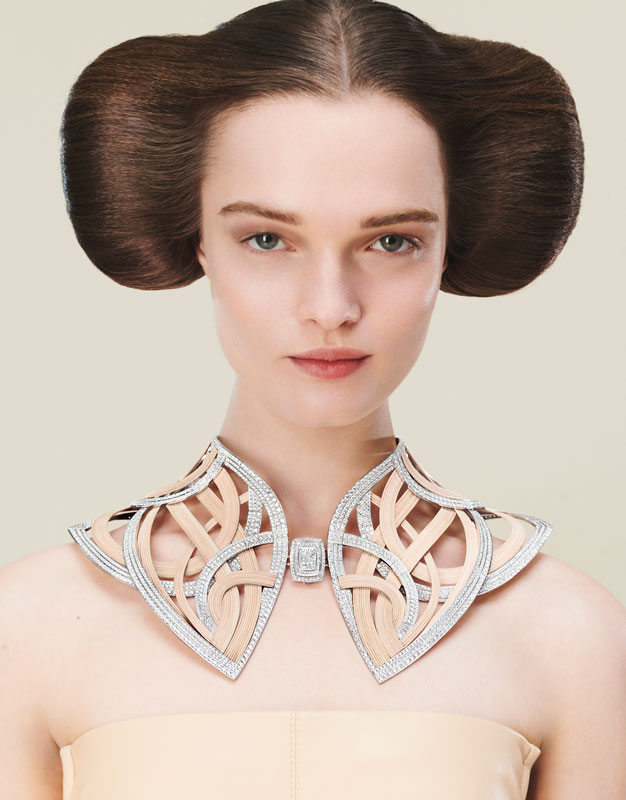 Rattan in particular was a big challenge for the Maison to work on, as the natural fibre is soft and flexible, whereas a jeweller would be more familiar with the hard and malleable. To produce the Rotin Diamant neck piece, natural rattan had to first be humidified and then dried on a brass frame cast in the shape of the final creation. Criss-crossing the neck piece in elegant arabesque lines, Boucheron manages to elevate this humble material to the point where holds its own even in the presence of diamonds.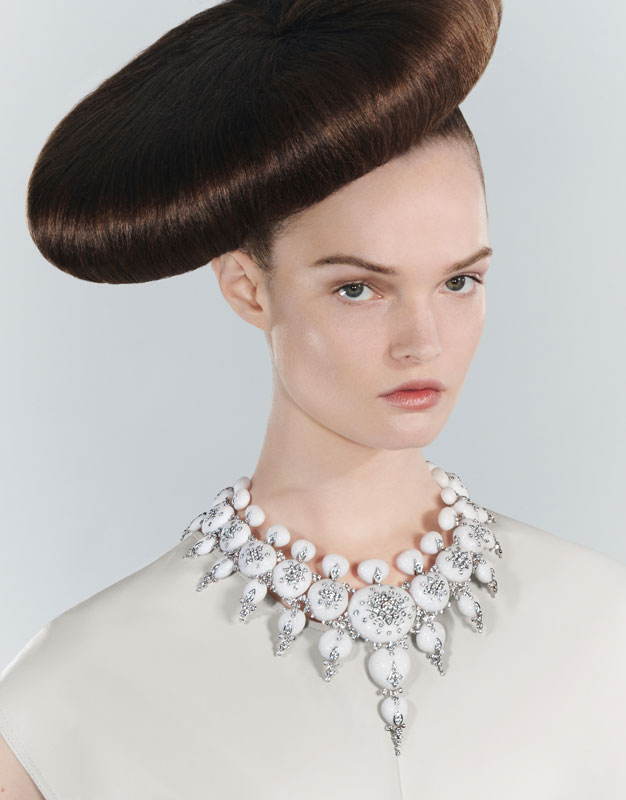 Likewise, pebbles appear in the high jewellery realm for the very first time. Handpicked from their natural environment, they are used in a breathtaking parure, but not before careful treatment by the maison. Obviously pebbles are heavy and for them to be comfortably worn as jewels, Boucheron managed to hollow out each and every one until they're thin as eggshells. Composed with gold and diamond pavé, they are worn as necklaces, rings, and earrings.
Equally fascinating is the Bois Diamant brooch, a dazzling floral art piece painstakingly crafted out of Santos Rosewood. Each one of this glorious blossom's many petals perfectly emulates that of an actual flower. Since the its 2018 Nature Triomphante collection, Boucheron has mastered the technique of scanning real flower petals and then immortalising them through precious or delicate materials. Adding to the realism of this creation, titanium pistils vibrate prettily along with every movement of the wearer.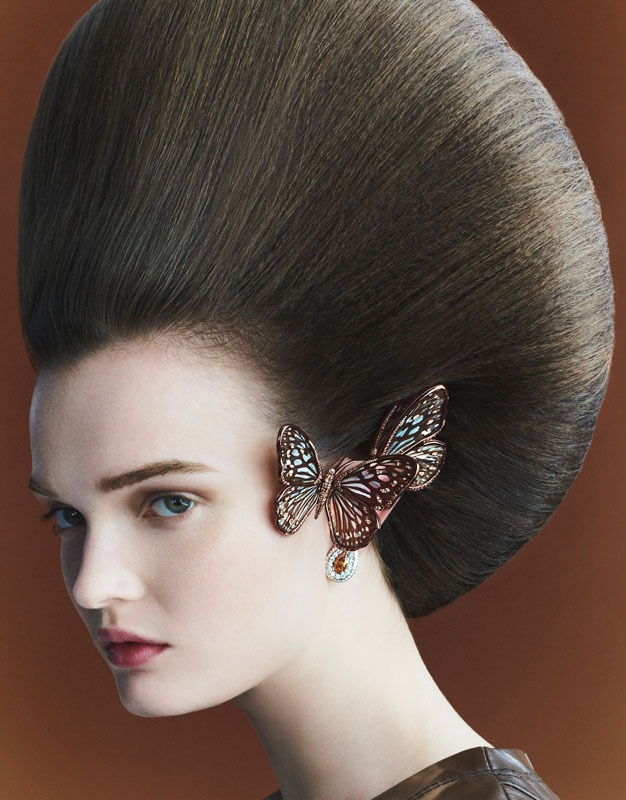 And where there are flowers, butterflies cannot be far behind, so Boucheron has crafted an exquisite Papillon Diamant single earring featuring a lovely pear-shaped brown diamond. Designed to rest comfortable atop the ear, it even trembles like real butterfly wings.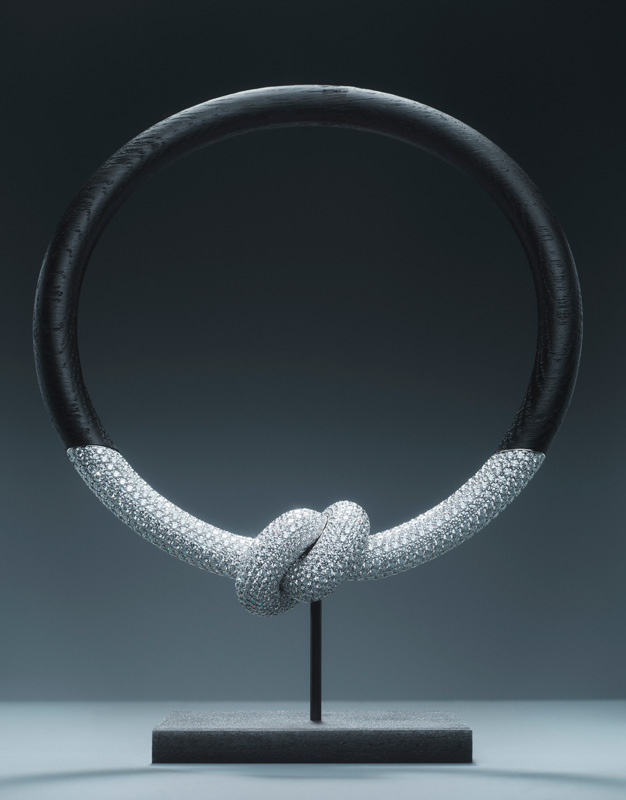 Next, Boucheron delves deep into the depths of the earth, uncovering three thousand-year-old Marsh Oak wood that's been burnished using a traditional Japanese technique. Its mellow, dark-brown-almost-black colour tone brings a striking contrast to the fire and brilliance of fine pavé diamonds.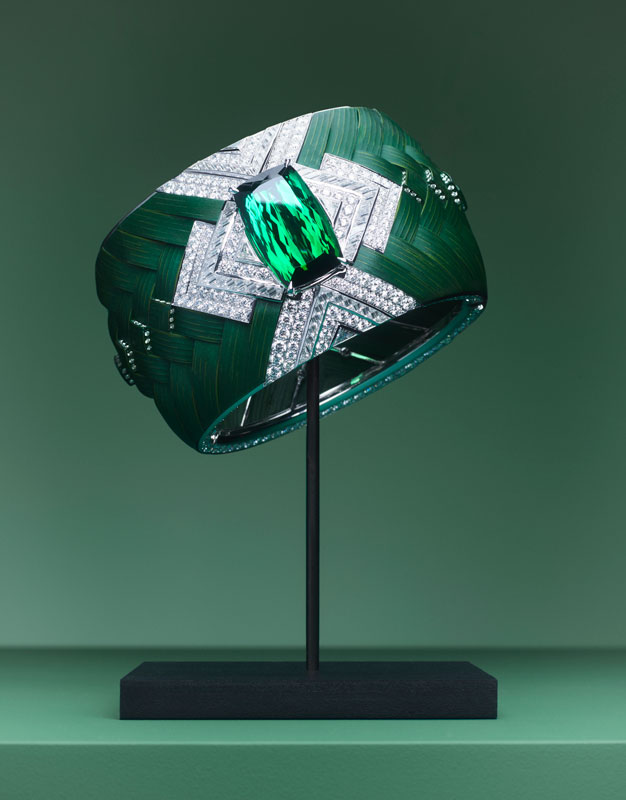 Yet it's not just exotic materials but also innovative techniques that make up Boucheron's Ailleurs collection. The Feuillage Diamant cuff bracelet creates the appearance of woven green leaves, and it was created entirely out of, no, not fresh materials this time, but aluminium. Rivalling for attention with that 37.67 carat tourmaline, the cuff's intense forest green colour tone comes from a cataphoresis treatment. It was then accentuated by thin lines emulating the veins of natural foliage.
Embodying beauty as seen everywhere on our beautiful planet Earth, from the deserts to the oceans, the rainforests to the mountains, the Boucheron Ailleurs collection will always be present in the jeweller lover's mind—even when it is, you know, quite elsewhere.