The newest collection is a playful ode to Andy Warhol and includes statement necklaces and bold bracelets
If you're one for flashy pieces of jewellery, Bvlgari's new Wild Pop jewellery collection will have you rejoice over a visually-arresting range of jewels that is clearly not for the weak-hearted. Colours have taken centre stage in this brazen collection, and played dramatically with various striking patterns to pay homage to the creative works of Andy Warhol and the likes of him in the 1980s. While each jewellery piece in the collection is a marvel to behold, we pick the five most spectacular pieces that truly speak for Warhol's legacy best.
Queen Of Pop Necklace
As the name denotes, this piece is designed to Warhol's creative prowess. Bearing a distinctive 80s jewellery silhouette, this necklace features mint tourmalines and sapphire interspersed with diamond-studded cylindrical links. Simple as it may look, the chain draws your attention to the centrestone, a 24.80-carat sapphire.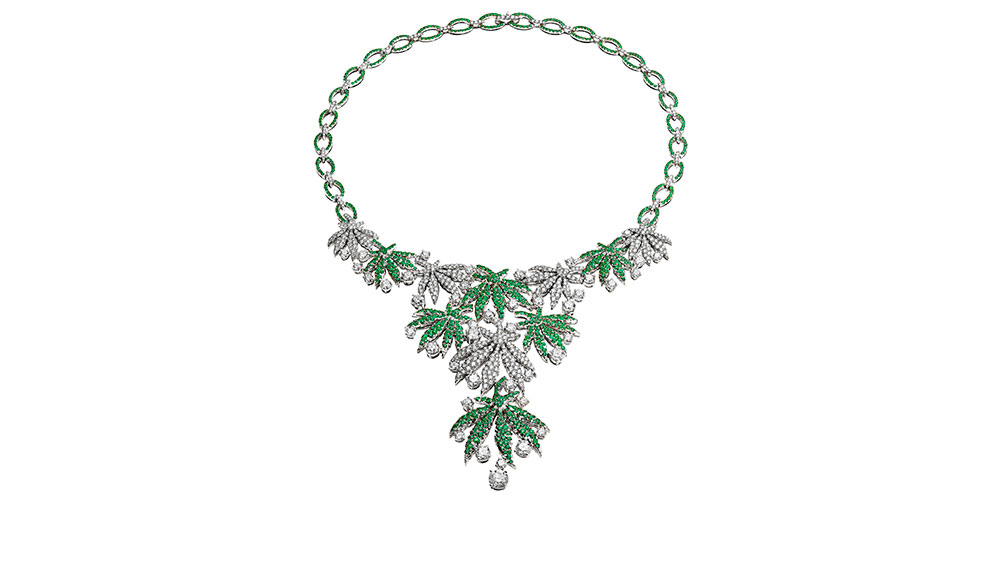 Happy Leaves Necklace
You can always trust Bvlgari to inject an element of surprise in its seemingly conventional pieces. What would you expect to see on a necklace named Happy Leaves? Something to do with plants, sure, and something that makes one, well, awfully cheery. Bvlgari's creative director Lucia Silvestri portrays her high-jewellery interpretation of the cannabis plant by assembling emeralds and white diamonds to form the leaves. While this version doesn't boast any of its 'medicinal properties, we're sure it'll put a cheeky smile on your face.
Serpenti My Handcuff Watch
Serpenti has always been a strong identity of the brand, and this time Silvestri has incorporated the signature design feature into a glamorous handcuff watch. A generous amount of craftsmanship is put into each of these mini divas — an intricate system of tiny hidden springs moves each of the 30 malachite hexagons covering the cuff. The diamond serpent is exquisitely embellished with diamonds in white gold and rubellites.
Supreme Diamond Light bracelet, earrings and ring
The Supreme Diamond Light set saves the day for those who aren't a fan of bold, flashy colours. The pieces are eye catching all the same, despite the use of just black, silver and white tones. The focus is in the body of the design, angular lines that take inspiration from Manhattan's skyline. In a tribute to the striking skyscrapers of New York City, the jewels are a combination of black onyx and white diamond, perfected with a marquise-cut diamond in its centre.
Homage to New York City Necklace
Another conspicuous piece from the collection that celebrates the beauty of the Big Apple is a necklace that looks much like an inverted tiara. Put two and two together, harbour an intelligent guess, and you'll find that it has taken inspiration from the silhouette of the crown worn by the Statue of Liberty, a landmark that was featured in one of Andy Warhol's silk screens. The necklace features a majestic geometric design constructed from rose gold, mother-of-pearl and pave diamonds.