Using traditional techniques such as Shakudo, Binchotan, Blancpain Metiers d'Art studio creates some of the most exquisite and show-stopping timepieces the world has seen
To consider the watches of the Blancpain Metiers d'Art collection without making mention of the dials is an exercise in minimalism. The cases are the most classic round, while the movements are the some of the simplest imaginable in manually-wound two-handers. They are fine movements no doubt, accurate and reliable, but few would give them a second glance. Thus, they are the perfect blank canvas on which Blancpain's artists can work their magic; the result is a dial of extraordinary, engrossing beauty.
Artistic watches are not uncommon, but few as a collection stand out like the Metiers d'Art collection. Most of the dials make use of sculpted precious metals to create three-dimensional images, in exquisite texture and detail across a tiny space (the watches are typically 42 or 45mm in diameter). To even a casual observer, there is little doubt as to the time and expertise needed to craft such a dial.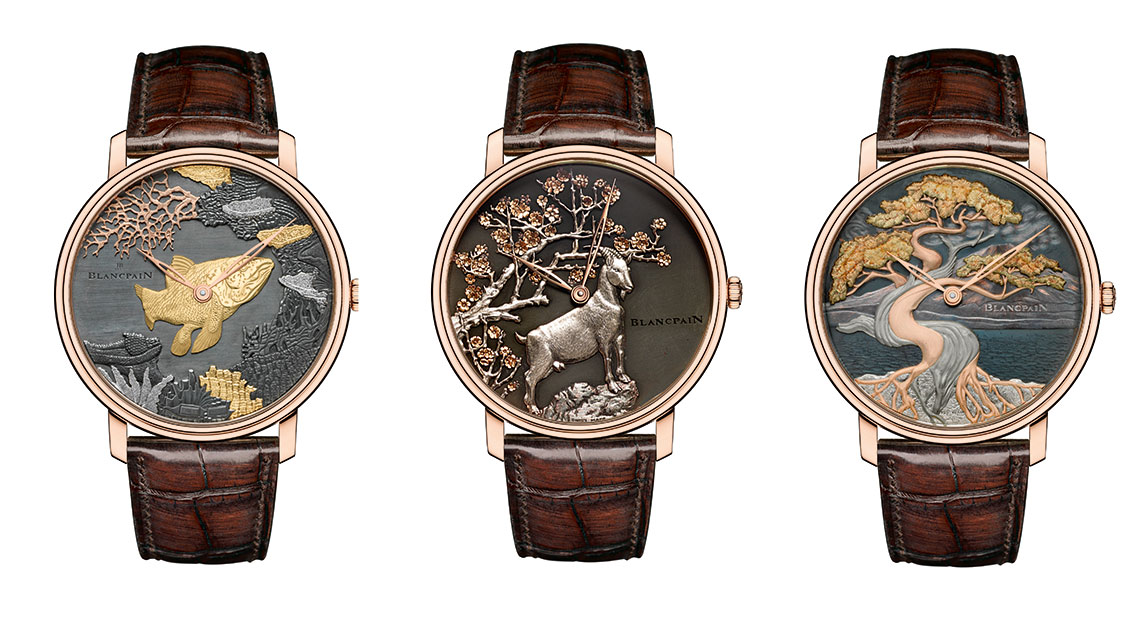 Said time and expertise is found at Blancpain's Metiers d'Art studio. Occupying a historic farmhouse in Le Brassus, Switzerland, masters of the artistic watch techniques ply their trade and handcraft one-of-a-kind pieces.
The methods may be rooted in tradition, but Blancpain's craftsmen have been unafraid to look to other cultures for knowledge and inspiration. In fact, some of their most-used techniques are derived from Asia. Shakudo, for instance, is a method of colouring metal using chemical baths that was once used by Japanese samurai to decorate their swords. The result is a nuanced but rich colouration, distinctly metallic and surprisingly vivid.
Binchotan is another centuries-old craft from Japan that puts a special oak wood into an extremely hot clay oven (at over 1,000°C) to form a hard type of charcoal that can be thinly cut and used as a textured surface. Damascening is an ancient art born in China and perfected in Damascus, whereby soft precious metals are hammered into a surface to create flush inlaid patterns. Blancpain is the only watchmaker that has mastered these two techniques.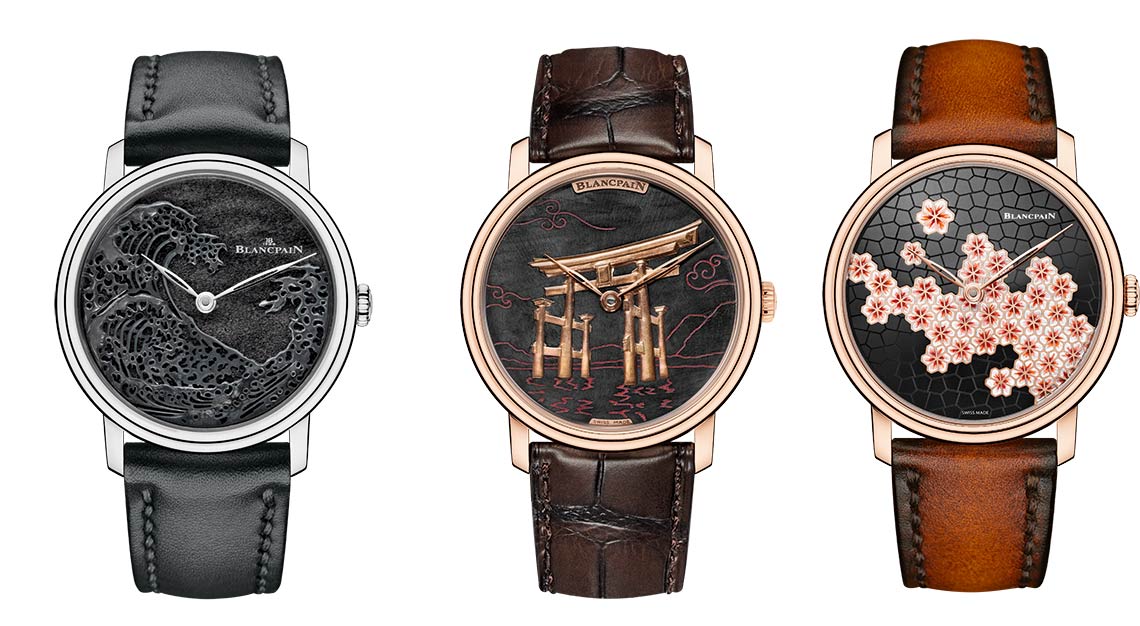 The designs also look to the East. For example, several Metiers d'Art pieces depict animals of the Chinese zodiac. Another one of the more striking pieces is a take on the classic Japanese woodblock print, The Great Wave of Kanagawa, by Katsushika Hokusai. Blancpain's version involves a three-dimensional applique of the wave, hand-carved from white gold and endowed with a shakudo-derived patina, then mounted on a silver-toned obsidian dial. This particular watch has a platinum case, while the 13R3A movement, simple as it is, can boast of a silicon balance spring and eight-day power reserve.
It is clear, though, that whether the subject or technique is from the East or West, the pieces that leave the Metiers d'Art studio are true works of art fashioned by the hands of masters.