Blancpain kickstarts the Fifty Fathom's 70th anniversary with an online exclusive
For a watch as ground-breaking as the Fifty Fathoms, the decision to commemorate its 70th anniversary this year – not once, but three times – is appropriately reverential, if not necessary. Given the ubiquity of luxury dive watches today, it is only right that Blancpain pays adequate homage to the watch that literally set the bar for all other dive watches that came in its wake.
Introduced in 1953, the Fifty Fathoms was hailed as the world's first modern dive watch. Originally commissioned by French naval frogmen, the first Fifty Fathoms model featured innovations such as a unidirectional rotating bezel to measure remaining time left for oxygen supply, antimagnetic protection, as well as a screw-on caseback and a double O-ring screw-down crown to ensure optimum water resistance. (The original model's depth rating was 91.44 metres, or 50 fathoms, hence the name.) It is no accident that, years later in 1996, the ISO 6425 standard for dive watches incorporated similar features and performance specifications established by the first Fifty Fathoms watch.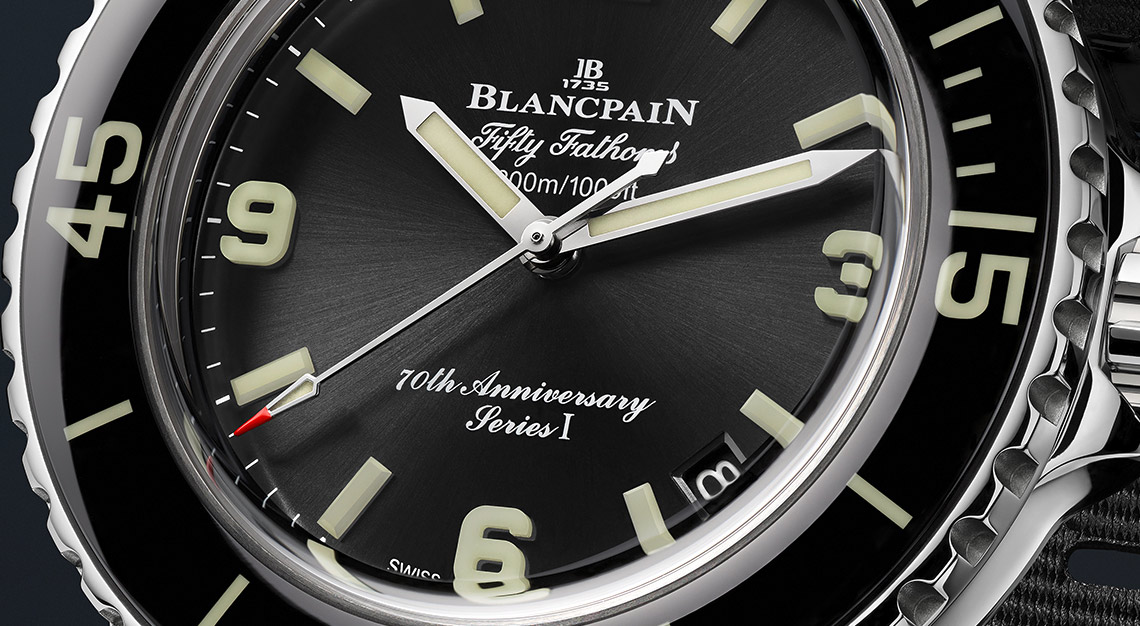 As the collection evolves – with new models bearing improved features, enhanced performance and, in some instances, refined technical complications and precious materials – Fifty Fathom's stature as a pioneering dive watch remains uncontested. To mark the watch's 70th anniversary, Blancpain will release three limited edition models this year, starting with this model that takes us back to how it all started.
Channelling the look and spirit of the 1953 original, this anniversary edition sports similar aesthetic signatures. They include the familiar high-contrast black dial with extra-large numerals and a domed bezel. On close inspection, however, one discovers numerous upgrades that render the new model a contemporary underwater tool watch.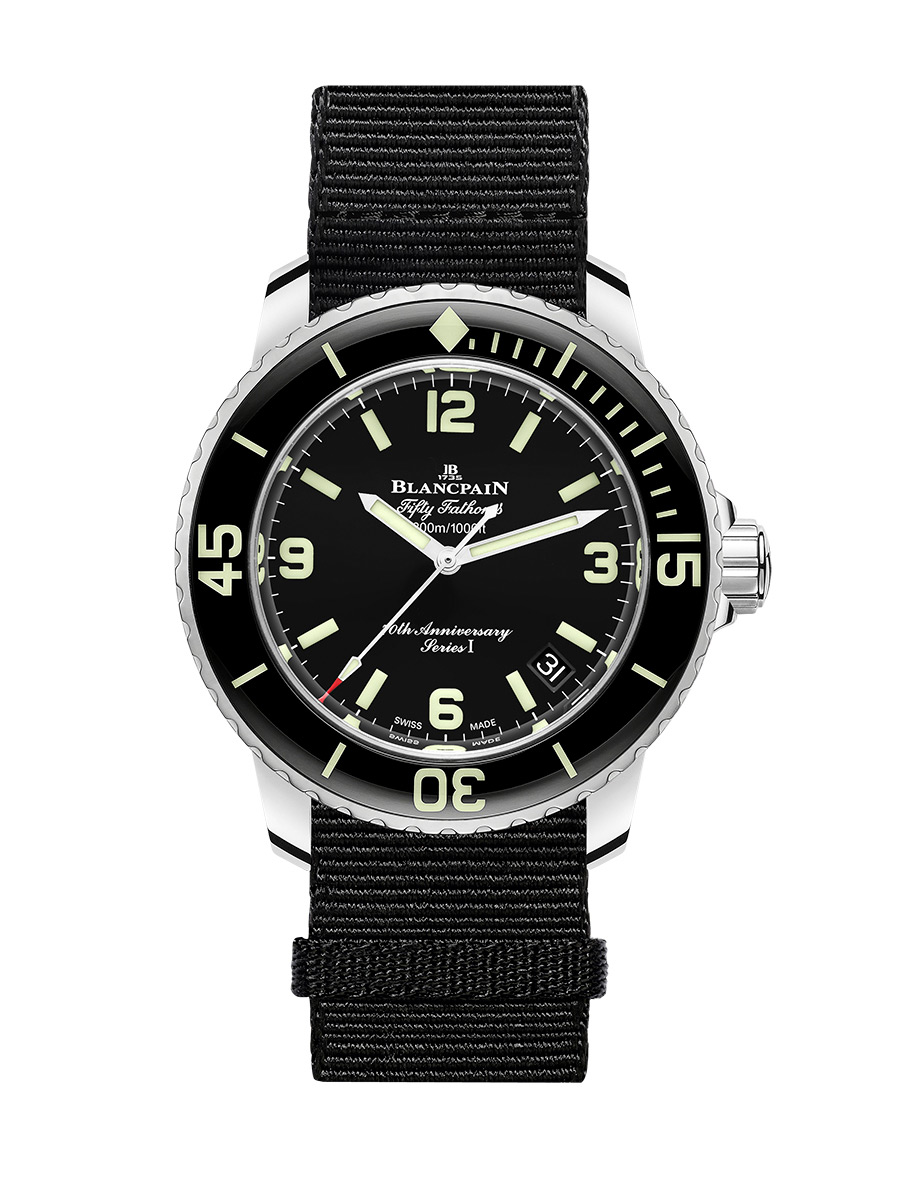 Paired with a black NATO YTT+ strap made with threads from recycled fishing nets and fortified by state-of-the-art case construction, the watch's water resistance has been increased to 300 metres. Performance-wise, its self-winding movement is equipped with three barrels that store up to five days of power reserve. The iconic domed bezel, too, is upgraded – the epoxy bezel inlay of the 1950s is replaced with a scratch-proof sapphire insert. And, for the first time, this commemorative Fifty Fathoms model is encased in a 42mm steel case. Previously, regular models came in 45mm cases or, for limited edition offerings, 40mm cases.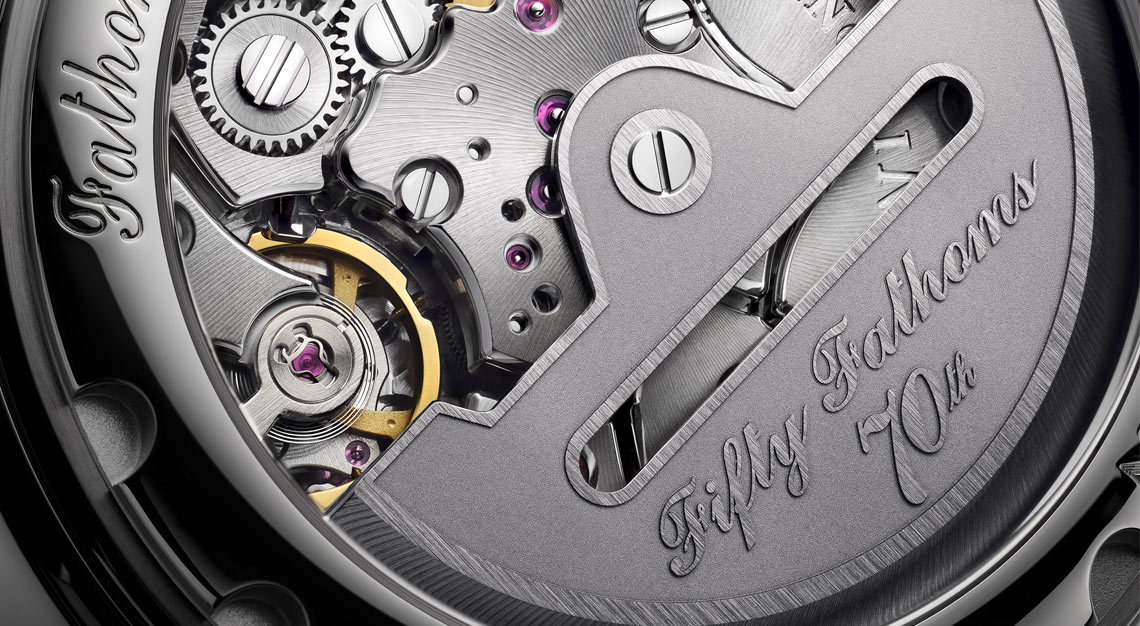 Elsewhere, there are the unabashed declarations of exclusivity that confer this model its collectability. The words '70th Anniversary Series 1' are inscribed on the dial and, on the caseback, a platinum rotor sports the 'Fifty Fathoms 70th' logo. While unobtrusive, they add to the watch's commemorative cachet. But of course, connoisseurs of dive watches would hardly require reminders of the legacy of the Fifty Fathoms – nor the coveted nature of this symbolic special edition, which is available only for online purchase on Blancpain's website.