We sit down with David Beckham, Maserati's ambassador, for an exclusive face-to-face interview
Laid over three tables is an ensemble of seemingly random objects – an elegant bottle of white powder, a strip of geometric fabric, a hardback book on space exploration. Behind them, mounted on panels, are chaotic collages of photos and magazine cuttings. At first glance the display looks like a series of unrelated odds and ends, an artistically arranged spread of upmarket flotsam. And then gradually your eyes adjust and a hardening pattern emerges from the blur, one of colour, tone, texture, emotion. Each stand is unique, each with its own personality.
There's one exhibit, however, that stands alone on its own separate pedestal, alluding to some kind of special status. A shiny, black scale-model car, and a slab of premium leather bearing an eccentric pink logo that uses heron – yes, heron – legs to form the letter "M".
We're in the customisation department of Maserati cars, a capacious industrial-style warehouse that forms part of the company's sprawling production plant in Modena, Italy. It's here, in front of these mood boards, that the marque's recently appointed brand ambassador David Beckham made the first ever contribution to Maserati's new Fuoriserie bespoke-car programme by designing his own personalised MC20 supercar. As owner of relatively new Major League Soccer franchise Inter Miami, it's unsurprising that Beckham plumped for his team's colours (black, white and pink)as the tonal basis for his new ride. And the herons? The spindly-legged coastal birds are native to the Florida city that Beckham and his family made their second home last year. And, well, if David Beckham wants herons on his Maserati MC20, herons David Beckham shall get.
"When I first saw the car, I thought, 'This belongs in Miami,'" says Beckham. "I only usually buy black, silver or gunmetal grey, so they [the design team] said, 'Okay, we'll come up with some ideas'. They came back with gloss black, matt black, all-pink, or pink and black. And I was like, 'Let's park the all-pink to the side'. I'm 46 years old, I'm not sure I can get away with that anymore."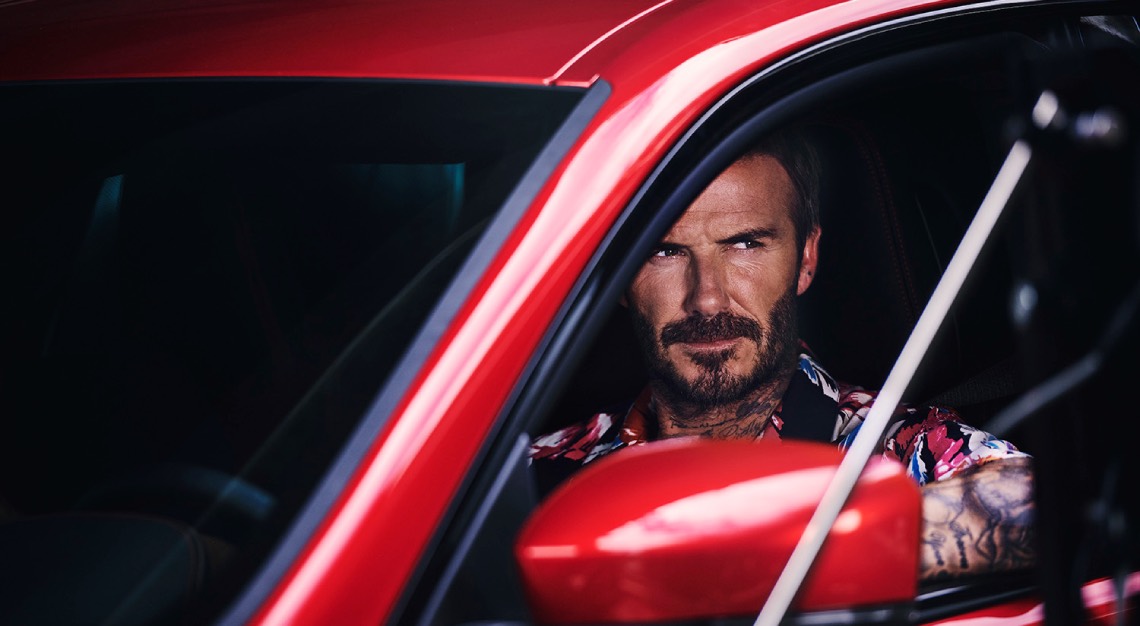 Beckham. Becks. David. Manchester United god. England soccer superhero. Tabloid-stalked celebrity. Style icon. Metrosexual pin-up. Branding powerhouse. Dabbles in the occasional lairy haircut. Everyone knows Beckham. Or at least everyone thinks they know Beckham. Because outside of his family and inner circle of friends, few people get to truly talk to the man. Even journalists, for whom posing questions informs the very basic job description, rarely get to ask Beckham about Life's Big Questions. See, you don't get to ask him, say, about living in Trump's America, or what he thinks about British soccer players taking the knee in anti-racism solidarity, or poke too much into home life with Victoria and his four children Brooklyn, Romeo, Cruz and Harper. Such topics wouldn't be sanctioned by the PR team that ring fences him. Team Beckham isn't alone in wanting to steer their client's narrative. That's just part and parcel of the modern media merry-go-round – today, one-hit wonder grime artists from London council estates now demand copy approval.
It's a shame in some ways. The mid-40s version of Beckham is a finely tuned, media-savvy machine, infinitely sharper than the awkward young guy thrust into the limelight in his early-20s thanks to a supernatural right foot and a Spice Girl girlfriend. And then you remember how caustic that glare was, how Beckham and his family were hounded by the gutter press, and you understand why he's carefully protected, why he prefers to stick to the script (today's subject: cars, preferably Maserati) and why the handful of assembled journalists each have an allotted and tightly held 15 minutes with him. More minutes equals more chances to swerve dangerously off-piste.
Even as he approaches the big five-zero, Beckham still generates his own electricity upon entering a room, evidenced when – flanked by his entourage – he fizzes through Maserati's customisation unit, between its fleet of ready-to-be-personalised MC20s, wearing high-waisted beige trousers, tucked-in mint green jumper and two-tone brogues sans socks. Dad fashion this ain't.
Aesthetics aside, he carries an impressive aura of entrepreneurial and altruistic achievement beyond the numerous sporting titles he won at Manchester United and Real Madrid; he remains an ambassador for UNICEF UK; he operates two eponymous football academies, in London and Los Angeles; he's president and co-owner of Inter Miami; Football Productions, which describes its company mission as "the exploitation of David Beckham's name and image rights" has a turnover of AU$365 million (S$355.48 million); he has numerous endorsement deals, including Pepsi, Samsung, H&M, Haig and Adidas (a lifetime contract worth AU$215 million/S$209.39 million); Beckham Brand Holdings boasts a turnover of AU$455 million (S$443.13 million). It adds up to what British newspaper The Mirror claims is a net worth of around a billion US dollars, once Victoria's earnings are factored in.
With the pick of the world's most prolific brands, then, why Maserati?
"Every time I talk about Maserati, I talk about it as being a family," says Beckham, his east London, "t"-dropping lilt occasionally breaking through. "There's the history, the heritage, they're iconic. I've been lucky to work with some great brands over the years but I only had to sit with the guys from Maserati for five minutes to know I wanted to be part of that family. I've been walking around the factory for the last few hours, seeing the MC20s being made, and it's great to see the process."
Beckham's one-off MC20 was born over a handful of pow-wows with Maserati's head of design, Klaus Busse, under the company's new Fuoriserie banner – a programme created for clients wanting more than a standard premium-car options book can provide.
Maserati call it a "car tailoring" shop. Special paint colours can be mixed; cutting-edge technologies are used to bond interior fabrics. The bodywork of a completed Quattroporte Trofeo show-car uses a monogram that projects beams of light through its windows, creating shadows that lengthen or shorten depending on the time of day. "We will allow you to do almost everything," offers Busse. "But our job is to ensure you do not regret your choice. Maserati is not about three-year lease contracts. These cars, the way we designed them with purity, are supposed to look good in 10, 20, 30 years, because they will go into your personal collection, they will go into a Concours d'Elegance. Your car has to look as good in 30 years as it does today."
Every client's journey begins in front of the aforementioned mood boards, with three basic collections used as launchpads into further creative exploration: "Corse" for those who want to tap into Maserati's racing heritage; "Unica" for modern, trend-conscious owners; and "Futura" for progressives who embrace the future and its nascent technologies. While some customers have entered the Fuoriserie scheme wanting one thing and leaving with the exact opposite, Busse insists that Beckham was, "pretty steady, he didn't change very much".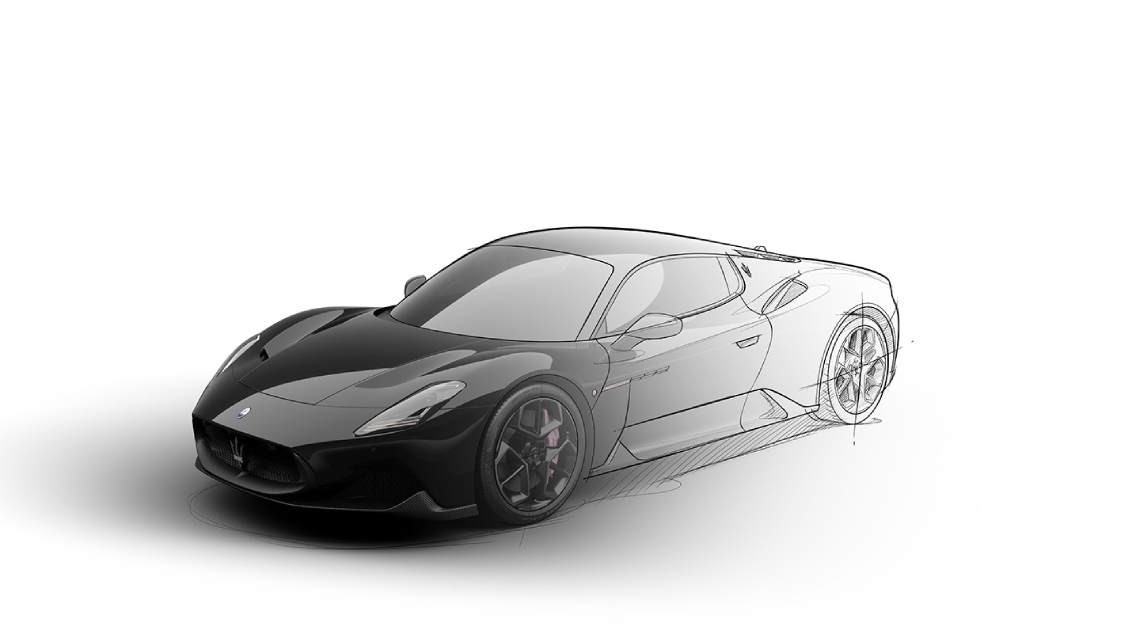 The result is a glossy "piano black" MC20 with "Miami Pink" accents, fitted with Corse 20-inch matt-black wheels and pink brake calipers. A graphic inspired by the Inter Miami logo is stitched into the seats (say hello to those herons again), while the headrest is embroidered with an "M". "I'd like to think it's more grown-up," says Beckham, referencing earlier flirts with ostentatious car choices. "Well, it's as grown-up as it's gonna get with an MC20."
Beckham's car is slated for delivery in a couple of months after our interview, but he's already had the chance to pilot a standard MC20 around the twisty, supercar-ready countryside roads surrounding Modena. As part of his Maserati ambassadorship, he's also been gifted a Levante Trofeo SUV.
"To be honest, I don't do that many driving experiences unless I'm on vacation," he laments. "We try to go on road trips with the kids, but having a 22-year-old, an 18-year-old, a 16-year-old and a nine-year-old, sometimes the older ones go their separate ways, so getting them all in one car is challenging. But I don't like to be driven. Wherever I go in the world, I like to drive."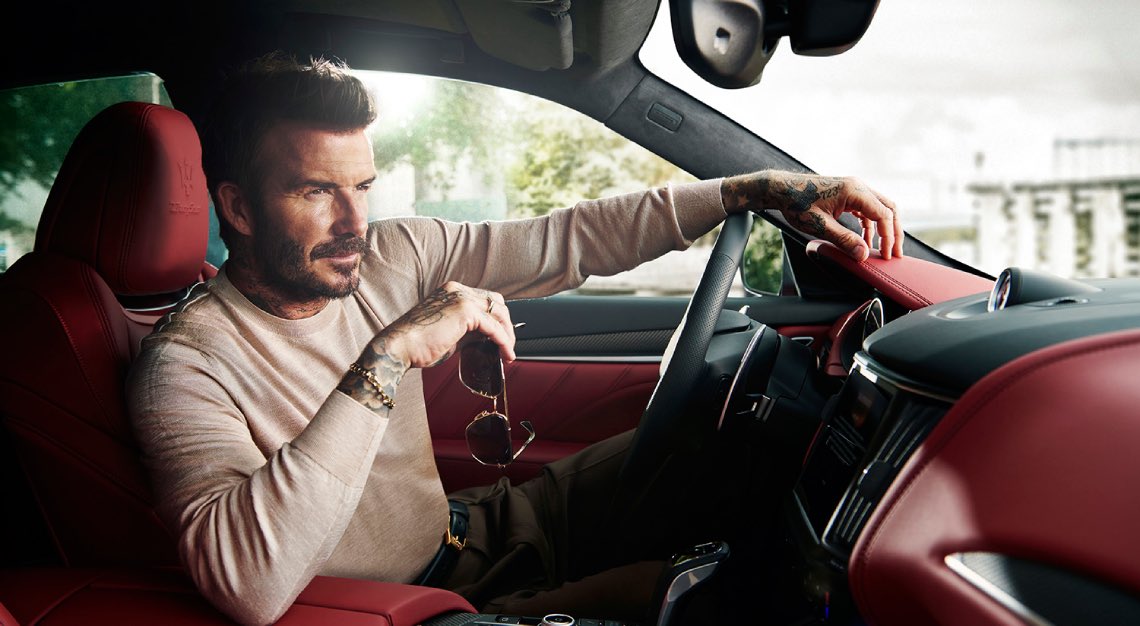 And just like that, our fleeting time is up. We'd been informed that Beckham wasn't a fan of unsolicited photo requests, but without being prompted he offers a snapshot. That's the thing about Becks – he comes across as an amiable, down-to-earth bloke who's not too famous to just shoot the breeze about the unseasonably humid Italian weather, or who's going to win the Euro 2020 soccer tournament that's being played at the time we speak.
We leave the customisation division and head into the stewing afternoon air. Hundreds of Maserati staff – from paint sprayers in messy overalls to marketing execs in tailored shirts – are jostling alongside two MC20s, waiting for a company photo op with the main man himself. The crowd are masked-up but you can see the expectant smiles behind the material. Today, at least, everyone will get a few minutes with Beckham.
This story was first published on Robb Report Australia & New Zealand