Lucky seven
Whisky enthusiasts, you may like to put your glasses down for this. Earlier this year in April, Diageo announced its annual highly anticipated 2017 Special Releases collection. Only nine of the 10 bottles were revealed, with the final blend kept under lock and key.
Until today, that is.
Diageo has revealed the bottle that'll complete the lineup: Collectivum XXVIII. It's a limited edition blended malt scotch whisky that contains blends from all of 28 of Diageo's active distilleries. Prepare your palate, for the whisky is said to start of dry and nutty, before giving way to a rich chocolatey flavour balanced by a hint of zest.
Now, for the good and bad news. Bad news first: Johnnie Walker House Singapore isn't bringing in the entire collection of 10 bottles for undisclosed reasons.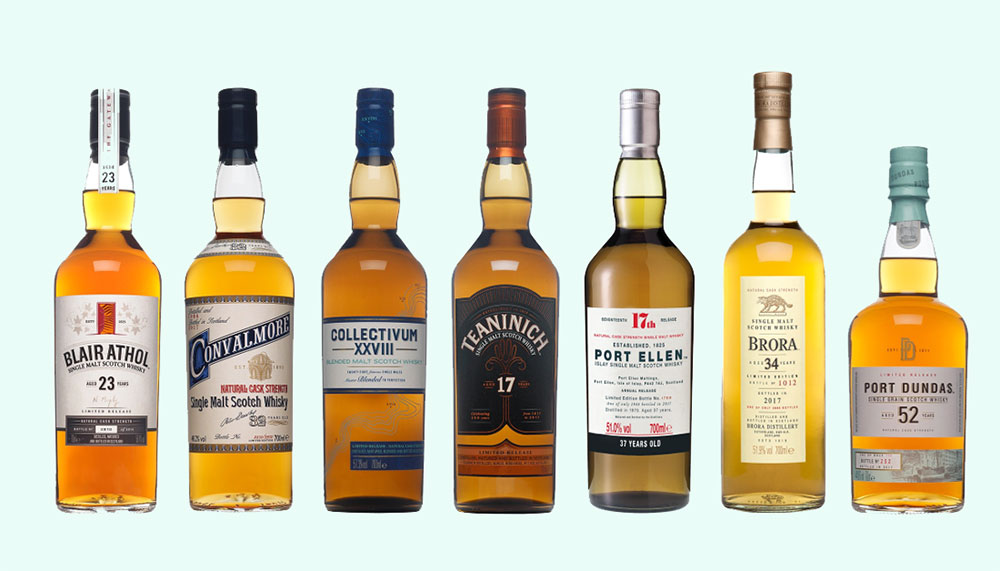 Then the good news: The house has brought in seven of the whiskies for purchase, including Collectivum XXVIII. Prices range from $250 to $4,080.
Here's a breakdown of the seven.
Collectivum XXVIII
ABV: 57.3 per cent
Region: Speyside, Islay, Island, Lowland, Highland
Cask: Blend of Refill American Oak Hogsheads, Refill European Oak Butts, Ex-Bodega European Oak and First Fill Bourbon Casks
Blair Athol 23 Year Old
Distilled 1993
ABV: 58.4 per cent
Region: Highlands
Cask: Ex-Bodega European Oak Butts
Brora 34 Year Old
Distilled: 1982
ABV: 51.9 per cent
Region: Coastal Highlands
Cask: Refill American Oak Hogsheads
Convalmore 32 Year Old
Distilled: 1984
ABV: 48.2 per cent
Region: Speyside
Cask: Refill American Oak Hogsheads
Port Dundas 52 Year Old
Distilled: 1964
ABV: 44.6 per cent
Region: Lowlands
Cask: Refill American Oak Hogsheads
Port Ellen 37 Year Old
Distilled: 1979
ABV: 51 per cent
Region: Islay
Cask: Refill American Oak Hogsheads & Refill American Oak Butts
Teaninich 17 Year Old
Distilled: 1999
ABV: 55.9 per cent
Region: Coastal Highlands
Cask: Refill American Oak Hogsheads & Refill American Oak Barrels