Venturing down the bone-crushing depths of the ocean is just the tip of the iceberg for the luxury watch maker
It's like there's nowhere Bell & Ross wouldn't go for a hit of adrenaline. After conquering the skies and dominating the race tracks, this dynamic young watch brand has returned to the sea. And why shouldn't it? After all, some of its most triumphant moments were made underwater.
1997 – Hydromax
Flashback to 1997, when Bell & Ross was just five years old. The Parisian based company led by co-founders Bruno Belamich and Carlos Rosillo had made a watch that defied all odds. It was a dive watch called the Hydromax and it is waterproof to a mind-blowing 11,000 metres.
2003 – Diver 300
The austerely-named Diver 300 was released in 2003. At that time, it was one of the few mechanical diving chronographs on the market, and although it wasn't operable underwater, this watch remains useful as a timer to calculate total bottom time.
2007 – BR 02
Since 2007, the BR 02 became its flagship dive model, which shares the same aesthetic DNA as the other lines but is clearly equipped for great depths. Its tonneau shaped case allows the watch to descend 1,000 metres below sea level while its mega-sized hands and hour markers assert pure technical performance.
2017 – BR 03-92 Diver
First introduced in 2017, the BR 03-92 Diver was – and still is – the world's first and only square-shaped dive watch. But Bell & Ross didn't do it alone; it enlisted the help of experts from the aeronautical and military domains, who worked with master watchmakers, designers and even seasoned divers.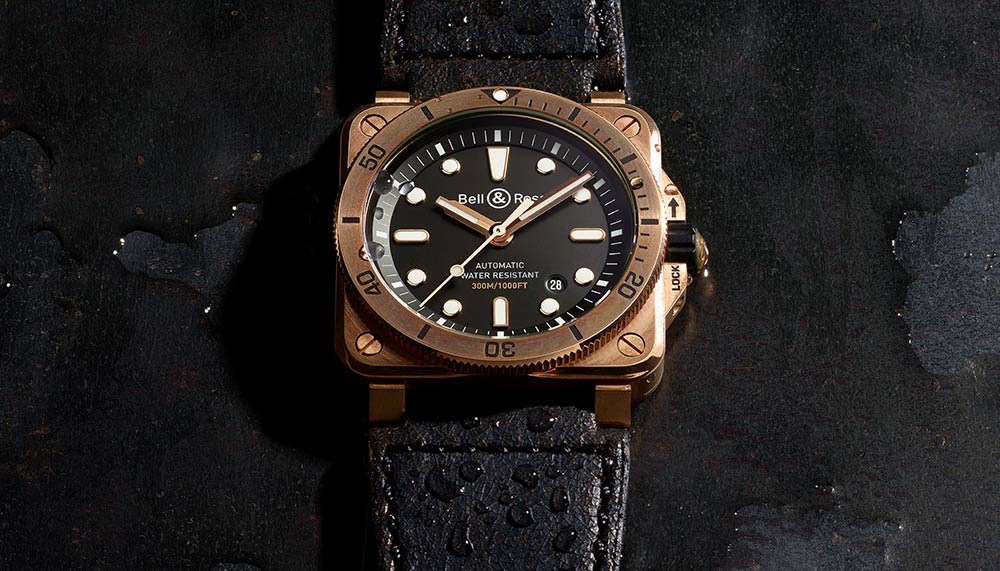 2018 – BR 03-92 Diver
The BR 03-92 Diver spawned two new variations in 2018, one in a trendy colourway and the other in an exciting case material. BR 03-92 Diver Blue is dressed in vibrant blue with touches of yellow while the limited edition BR 03-92 Diver Bronze has a case that interacts with saltwater to yield a natural unique patina.
To read more about each Bell & Ross dive watch, purchase a copy of our August issue on leading newsstands and bookstores.