The Mercedes-AMG's Project One is a road-going hypercar that the Formula 1 phenom has been championing for years
He is still wearing the last look from his earlier photo shoot for Robb Report. The black trousers and houndstooth-and-velvet coat by Colombian-​born designer Haider Ackermann are far too glamorous for our digs — a Star Waggon parked on a dusty runway in Inyo­kern, roughly three hours by car from Los Angeles in Southern California's high desert. For racing fans, Hamilton needs no introduction. In 2007, I watched from turn 10 at the Circuit Gilles-Villeneuve in Montreal as the 22-year-old rookie won his first F1 race. In 2013 he signed with the Mercedes-AMG Petronas Motorsport F1 team and went on to win three more world championships, the most recent being last year.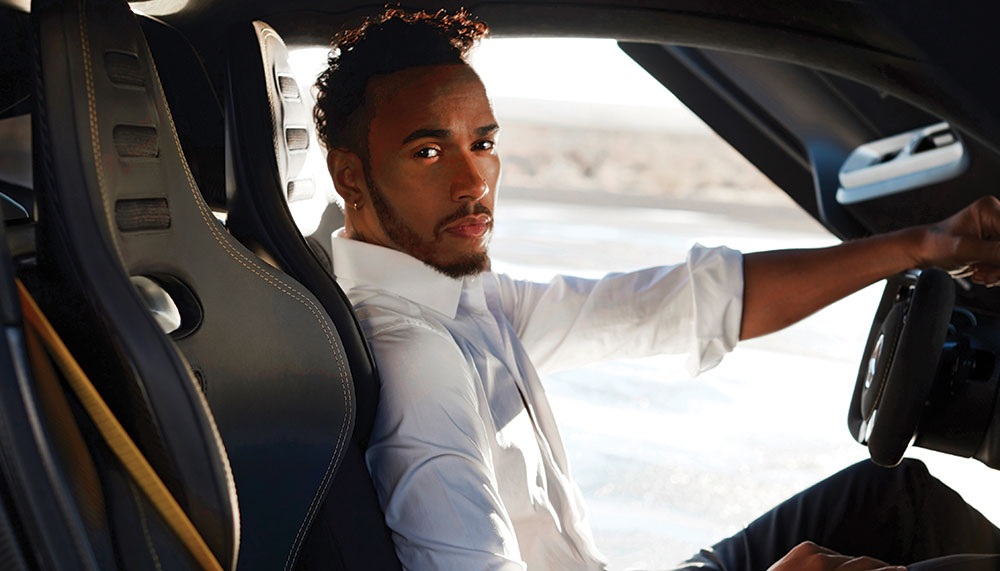 Of course, Hamilton didn't do it alone. His accomplishments are shared with the hundreds of men and women who work long, hard hours in design studios, laboratories and garages, creating and perfecting some of the fastest, most technologically advanced cars in the world. Although Mercedes dominated F1 racing in the 1930s with its famous Silver Arrows, the German automaker was absent from Formula 1 (aside from a brief return to the sport in the 1950s) until 2010, when it bought a minority stake in the Brawn GP team and kept F1 heavyweight Ross Brawn on as team principal. In a move that shocked the Ferrari tifosi, Mercedes even enticed Michael Schumacher out of retirement for its first three seasons. Since then, the Mercedes-AMG Petronas Motorsport F1 team has gone on to rule the sport, claiming the constructor's championship every season for the past four years.
But we haven't trekked to the middle of nowhere to rehash past wins. Mercedes-AMG has brought its first hypercar, Project One, to the desert and offered Robb Report an exclusive look at the vehicle with one of its biggest proponents.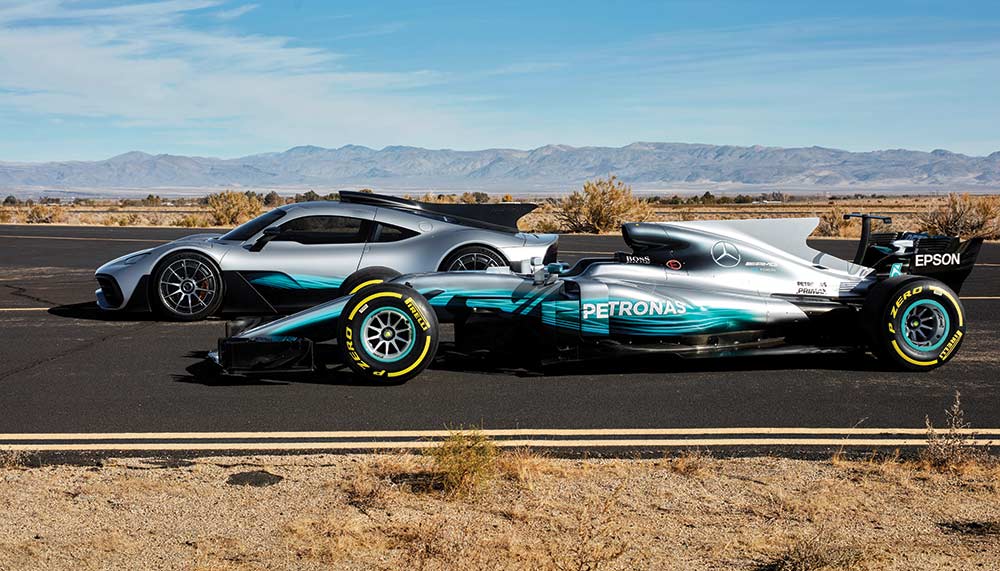 First shown last year as part of AMG's 50th anniversary, the limited-edition halo car takes most of its workings straight from Formula 1, packed into a breathtaking example of style and performance for the road.
With a price tag of about US$2.7 million (S$3.7 million), Project One will be limited to 275 examples — and the waiting list is already three or four times that number. It will use a high-performance plug-in hybrid drive system — that comes directly from Formula 1 — combined with a 1.6-litre turbocharged V6. Although exact specifications of the mid-engine production car were not available at press time, AMG chief Tobias Moers has said Project One will produce more than 1,000hp and reach a top speed of beyond 350km/hr. Hamilton says it's about time. "I've been nagging Mercedes for years because we're in Formula 1 and we have all this technology," says Hamilton, who has pulled up a stool next to the sofa where I'm sitting. His box of mushrooms lies abandoned on the counter behind him. "We're winning world championships, yet we don't have a car that can match a Ferrari road-going car. So I guess they eventually decided this is a good idea."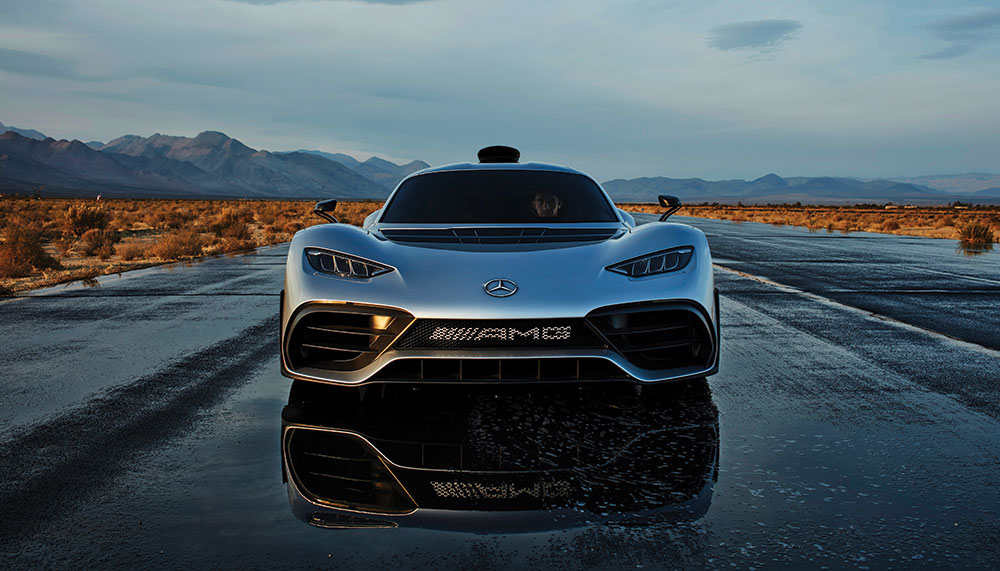 As with F1 cars, Project One's monocoque structure is made of carbon fibre. Designers, led by Daimler design chief Gorden Wagener, followed the credo of 'no styling', so every detail is functional. Flat LED headlamps frame the car's face, which is dominated by a large front spoiler. A wasp waist, vertical shark fin and long tail are all nods to racecar design. Inside the minimalist cockpit, fixed sculptural seats seem to flow out of the surrounding cabin.
Part of Project One's achievement lies in the fact that so much F1 technology will be applied straight to the production car. Certain features, like sequential (paddle-​shifter) gearboxes, have trickled down from racing to road cars in the past, but the direct lineage has never been as clear as it is now.
Project One, however, wasn't always a clear fit for Mercedes-AMG. "I always thought AMG was not at the level to have a kind of super-, hyper — whatever — car. But I was approached by customers over the last few years and that brought everything together," Moers told us in a previous interview. Once the decision was made to pursue the project, the company was unwavering in the direction it should take. "We see major transitions in the automotive industry for the future, in all segments. It was very clear for us it would not be a V8 or V12 because that's, well, I call it old school," Moers added. "We are going to move on to electrified power trains and add more efficiency. With today's spec of Formula 1, the door was opened to make this car happen."
Bringing a car from the track to the street is not without its hurdles. In particular, the longevity of the engine is a major concern. In racing, an engine may be swapped out several times each season. And although the road car, according to Moers, will be assisted by two additional electric motors and rev at 11,000rpm, the wear and tear will necessitate a complete rebuild after about 50,000km. "It's the most challenging project we've ever done," Moers said.
Never one to shy away from a challenge, Hamilton has his own opinions about the future of automobiles. When asked what he'd like to see in the next generation of F1 cars, he does not mince words. "I'd love them to bring back the stick shift, three pedals, less shit on my steering wheel and a more raw racecar, but that's not gonna happen," he says. And what about autonomous cars? Will robots usurp drivers? "I'll be long gone by then."