THE MASTER'S HAVEN
The suite life begins here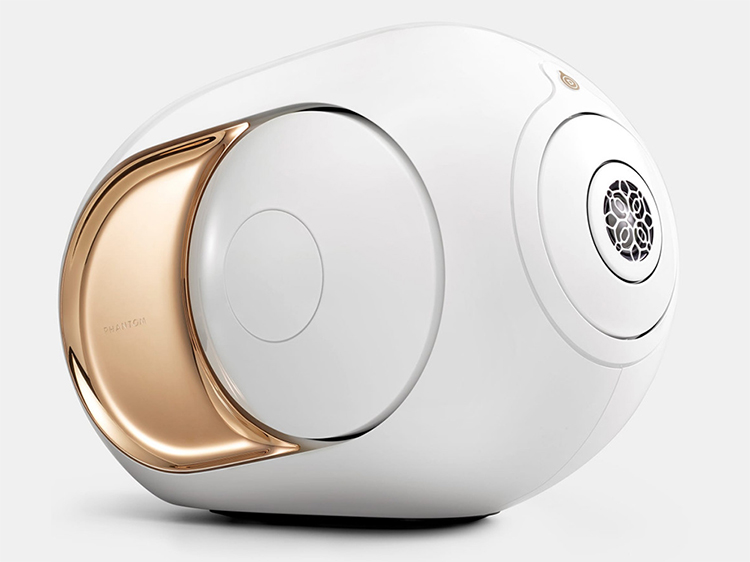 Devialet's Gold Phantom speaker is currently the world's most powerful wireless speaker with an amplification power of 4,500W and maximum sound level at 108dB. Standing at 26cm tall and 25cm wide with a weight of 11.4kg, the speaker features a titanium tweeter and delivers the deepest bass ever achieved by a system this size (14Hz). Each side of the Gold Phantom is elegantly finished with 22-karat gold.
The experience of listening to music on the Phantom is multi-sensorial, as the woofers vibrate with the bass – amazingly, the speakers themselves remain stable, making for an engineering feat.
Peony light, Candy bench and Pagode lanterns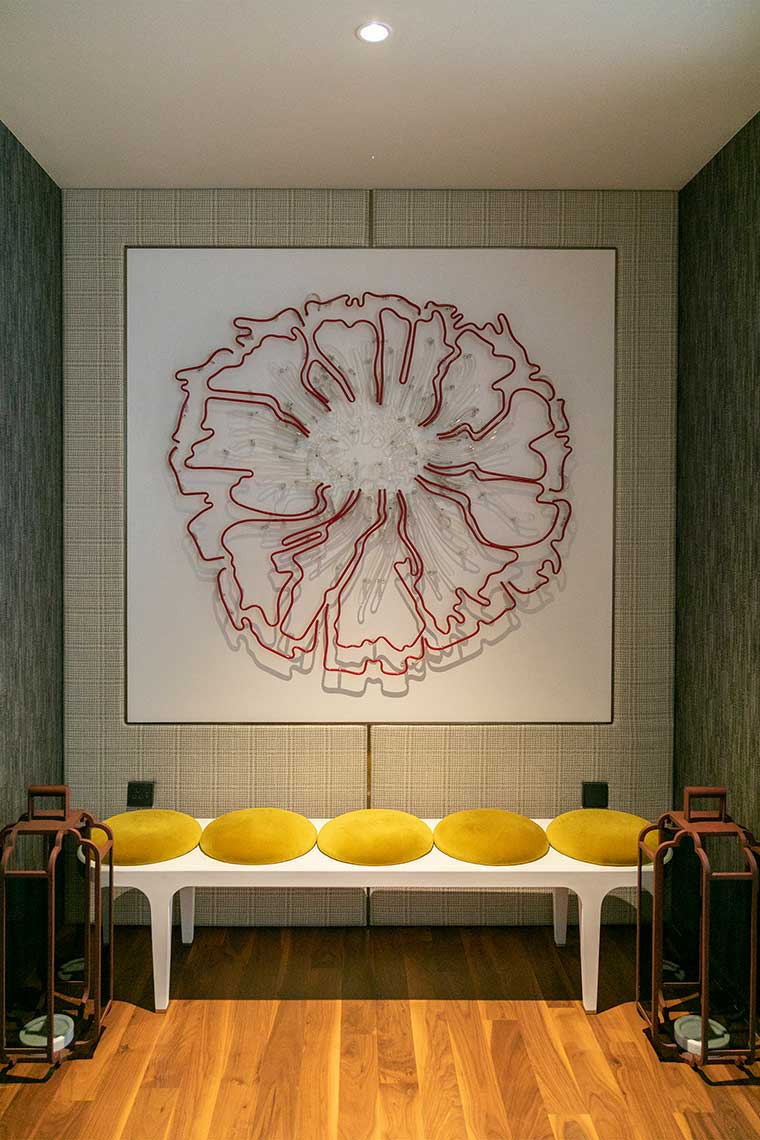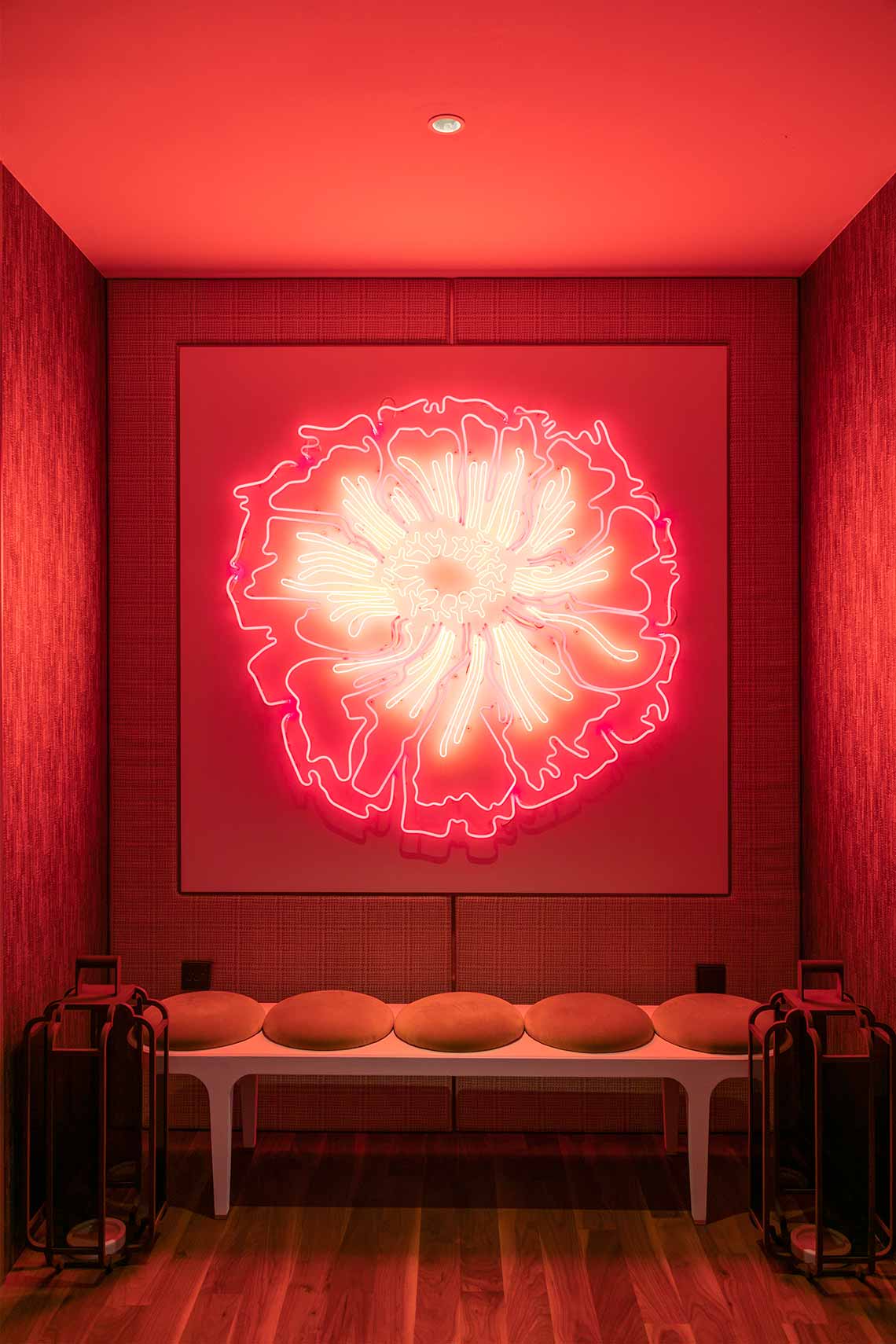 Architecture and fashion moguls Maurizio Galante and Tal Lancman have never been afraid of traversing boundaries, and this, together with the duo's unparalleled levels of creativity, have brought them to where they are today in the design world.
Galante and Lancman have together embarked on a gamut of multi-sensorial projects that evoke images drawn from nature, history and mythology.
One of their unique creations is Peony Light, a light structure elaborately put together by flexible neon tubes that have been constructed into the shape of a peony. The Peony Light is the third product of the duo's neon series.
DesignerS: Maurizio Galante and Tal Lancman
Store: Affluency
---
Every room needs a dash of colour and that's exactly what the slender Candy bench brings to the table. Just outside The Master's Haven, beneath Peony light, sits the bench. Crafted from solid oak, it comes in 12 classic finishes, with seats that are upholstered in luxe Pierre Frey velvet. Two Pagode lanterns in fine oak sit by its side. Constructed with smoked glass panels and a signature double loop pattern, the light's perfectly symmetrical frame has a marble base that houses a pillar candle.
Store: Akar De Nissim
---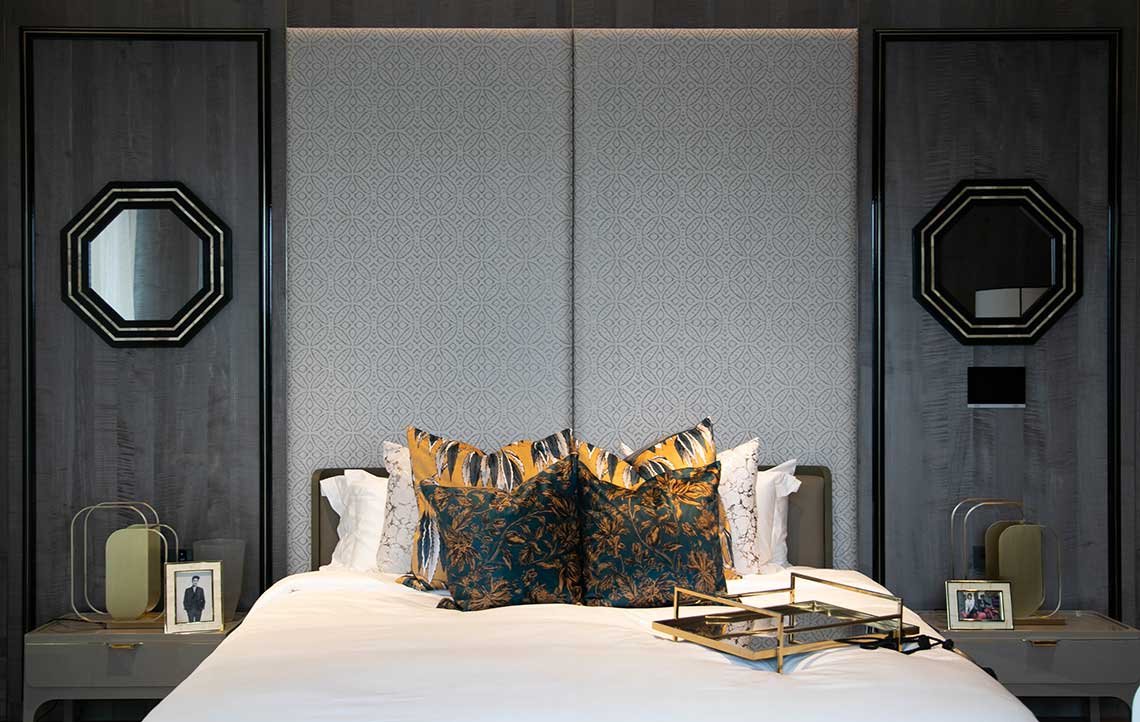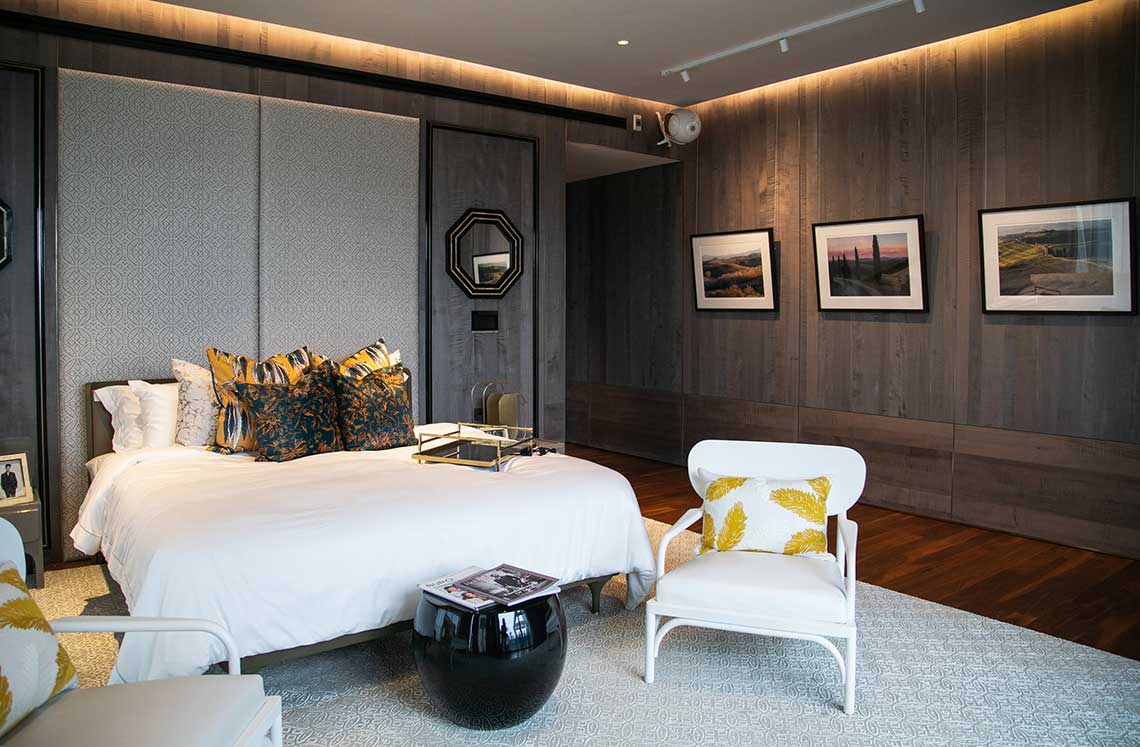 Prosper bed and Cut side tables
Sometimes, simplicity is the best remedy in creating the perfect boudoir, and that's where the Prosper bed frame comes into play. Made from solid oak, its headboard is upholstered in authentic leather with stylish brass trims at its base. The bed is paired with the Cut side tables. Formed from solid maple wood and seven layers of lacquer for richer, darker colour, the ovoid-shaped tables add a softer edge to the overall vibe.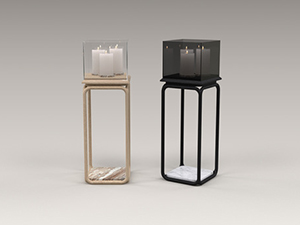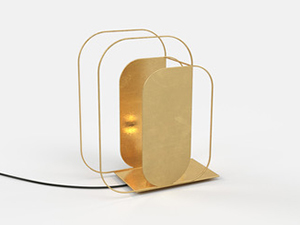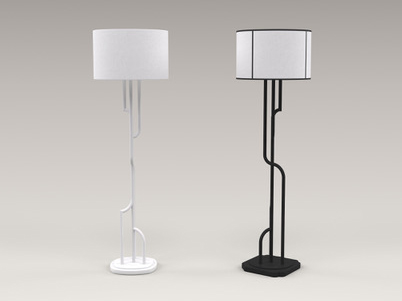 Chimney Tropical fireplace light, Narcisse wall mirror, Sequin desk lamp and Gatsby floor lamp
An actual fireplace might be excessive in Singapore's humid weather, but you can still keep warm and cosy on rainy nights with the Chimney tropical fireplace frames. With its solid oak frame and Carrara marble base, the candle holder emits a soft glow to your resting space.
The four-leaf clover is said to bring luck, but you don't have to go on a hunt for this elusive plant. Instead, it will decorate the walls of your bedroom at the Penthouse in the form of the Narcisse mirror. The slight protrusions on its four sides don't just reflect the lucky clover, as its sturdy, lacquered wooden frame also resembles the Akar De Nissim logo.
The brushed brass-panelled Sequin lamp gives The Master's Haven an Art Deco-style boost. Playing on spaces both occupied and void, the lamp emits a warm, golden light with its imitative shape and contoured edges.
An intricately designed creation, the electrical wires of the Gatsby floor lamp are invisible, hidden within the lamp's intertwining arms and precise joint manipulation. Standing securely with a steel base and solid oak frame, its lampshade is in cotton white with smart vertical trims.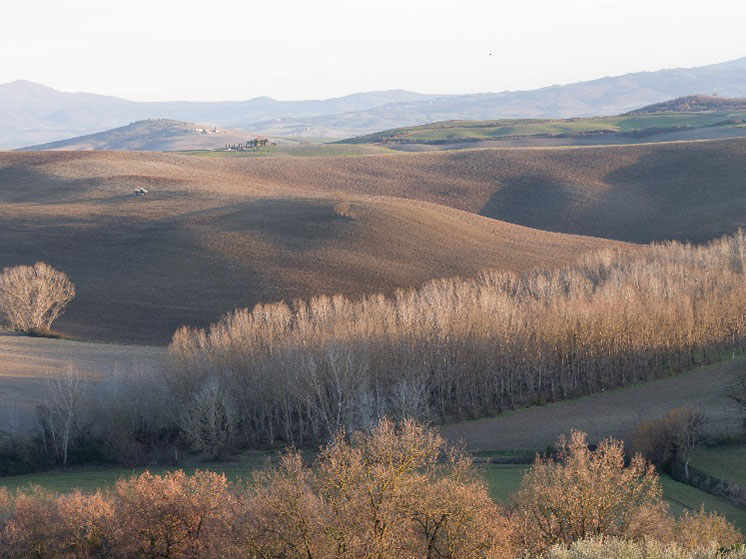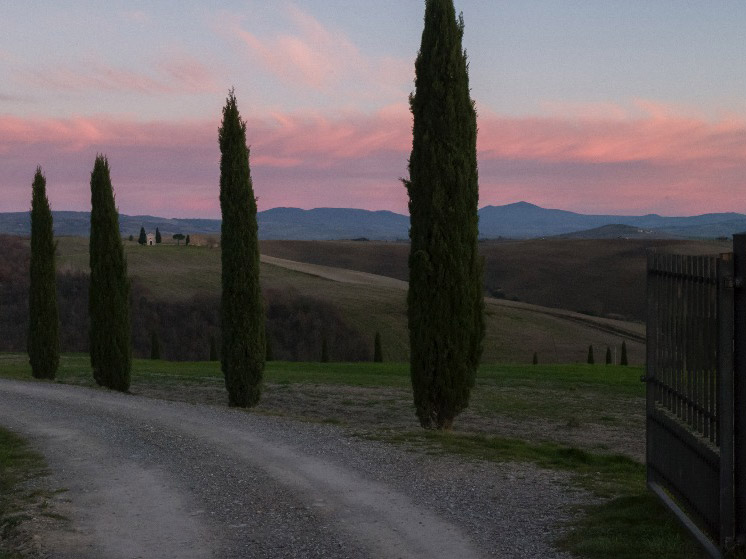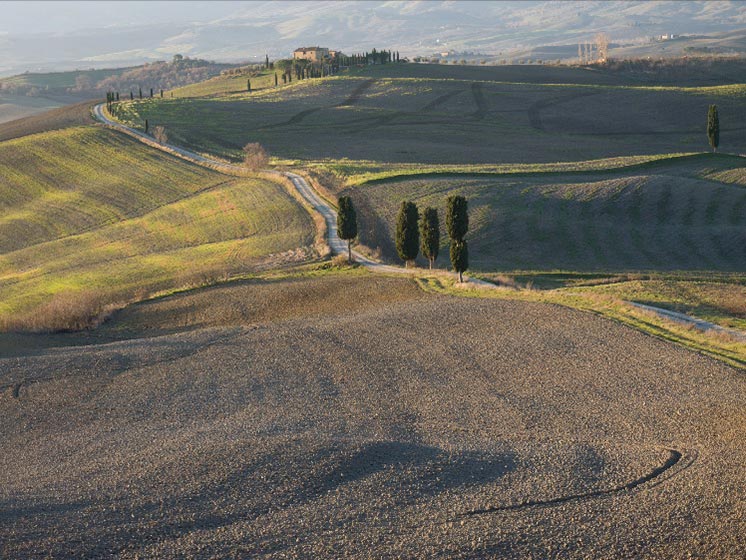 Artworks
Art can calm the senses and in The Master's Haven, you'll view three soothing landscapes of Tuscany, Italy. Shot by local photographer Rosalynn Tay, a Leica ambassador, the artworks depict winding paths that snake between fields, barren fields and pink-streaked sunsets.
PHOTOGRAPHER: Rosalynn Tay
Store: Leica
---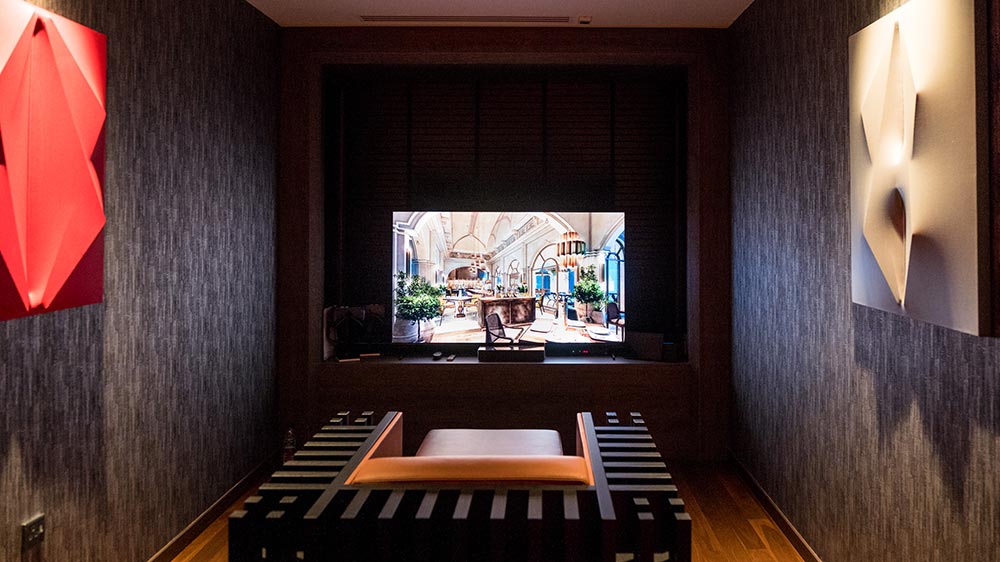 65″ QLED 8K Smart TV
Just as you enter The Master's Haven, you'll find a room to the right. Behind that door lies The Vault. Think of it as a personal digital entertainment room, with a 65″ smart television as the centrepiece. The Samsung 65" 8K Smart TV is equipped with the most advanced true-to-life HDR picture quality, AI-powered upscaling, top quantum processor and smart home ready features that allow for an enhanced TV experience. The smart home features are paired with an intelligent voice control and a master remote that controls all devices in a single click.
Store: Samsung
---
Bibliochaise
No house is complete without a cosy, go-to spot where you can unwind with a book in hand, and the Bibliochaise in The Vault allows you to do exactly just that. Visualised and created by designer duo Alisée Matta and Giovanni Gennari of Nobody&Co, the Bibliochaise can stow five linear metres of books, be mounted on wheels and manufactured in three different finishes in any colour of choice. The leather cushions are also available in various shades.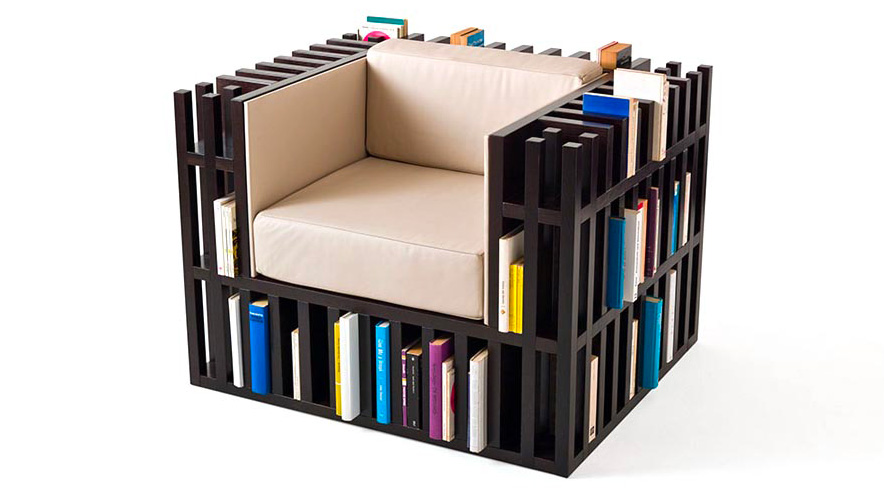 Designers: Alisée Matta and Giovanni Gennari
Store: Affluency
---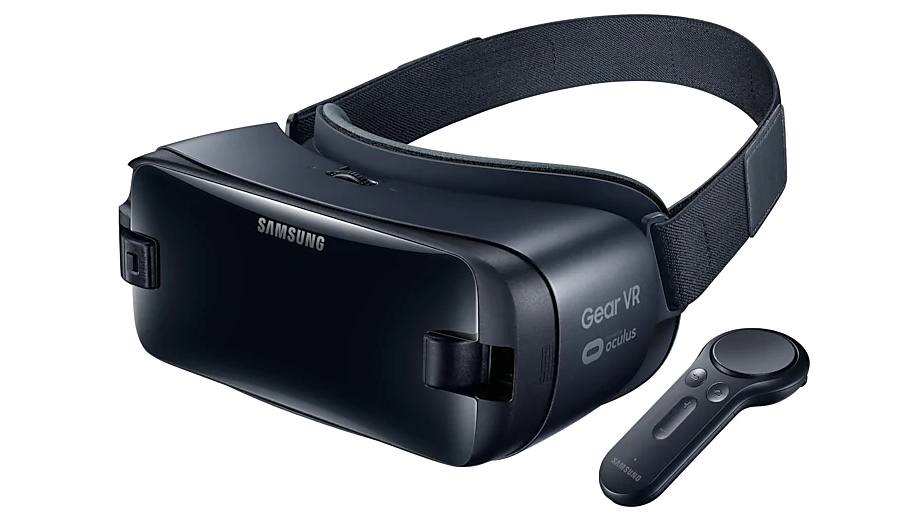 Store: Samsung
---
Gear VR with Controller and Galaxy S10+
A smart home should be equipped with techy accessories, and Samsung's Gear VR headset is just the toy for that. Weighing only 345 grams, the gear offers a 101-degree field of view and features a foam cushioning that helps prevent too much light from seeping in, allowing for an even more immersive user experience. The controller, ergonomically designed to fit in one hand, helps the user to navigate through the virtual reality experience.
Open the Oculus app on the Samsung Galaxy S10+, clip the phone to the Gear VR, and you're good to go. It's a seamless, fuss-free connection, and the smartphone boasts highly-contrasted images captured at depths you'd not have thought to be possible. We'd recommend remaining seated while navigating your way through the app on the phone.
Rosso (left) and Argento (right)
Agostino Bonalumi's work stems from his fascination for colours and the materials that were being produced in the 1960s for industrial purposes. He incorporates various elements of warp into his pieces through the use of wooden structure, adding some form of texture into two-dimensional canvases. Rosso is painted in vivid coral red, a colour which Bonalumi believed is truly reflective of the 1960s.
Argento is another testament to Bonalumi's distinctive artistic style, which circles around 'estroflessioni' – shaped and 'everted' canvases. The Italian artist once again creates perceptual patterns through the use of wooden support, portraying abstract elements of geometry. Argento brings to life Bonalumi's flair in bridging the gap between sculptures and paintings.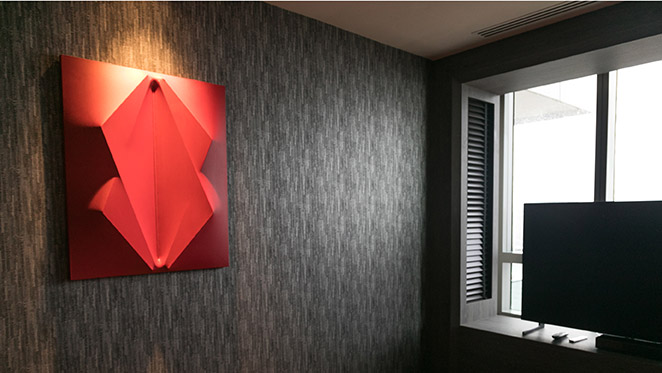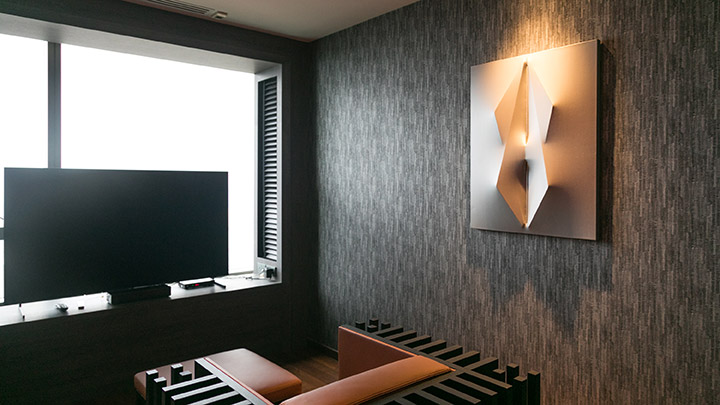 Artist: Agostino Bonalumi
Store: Partners & Mucciaccia
---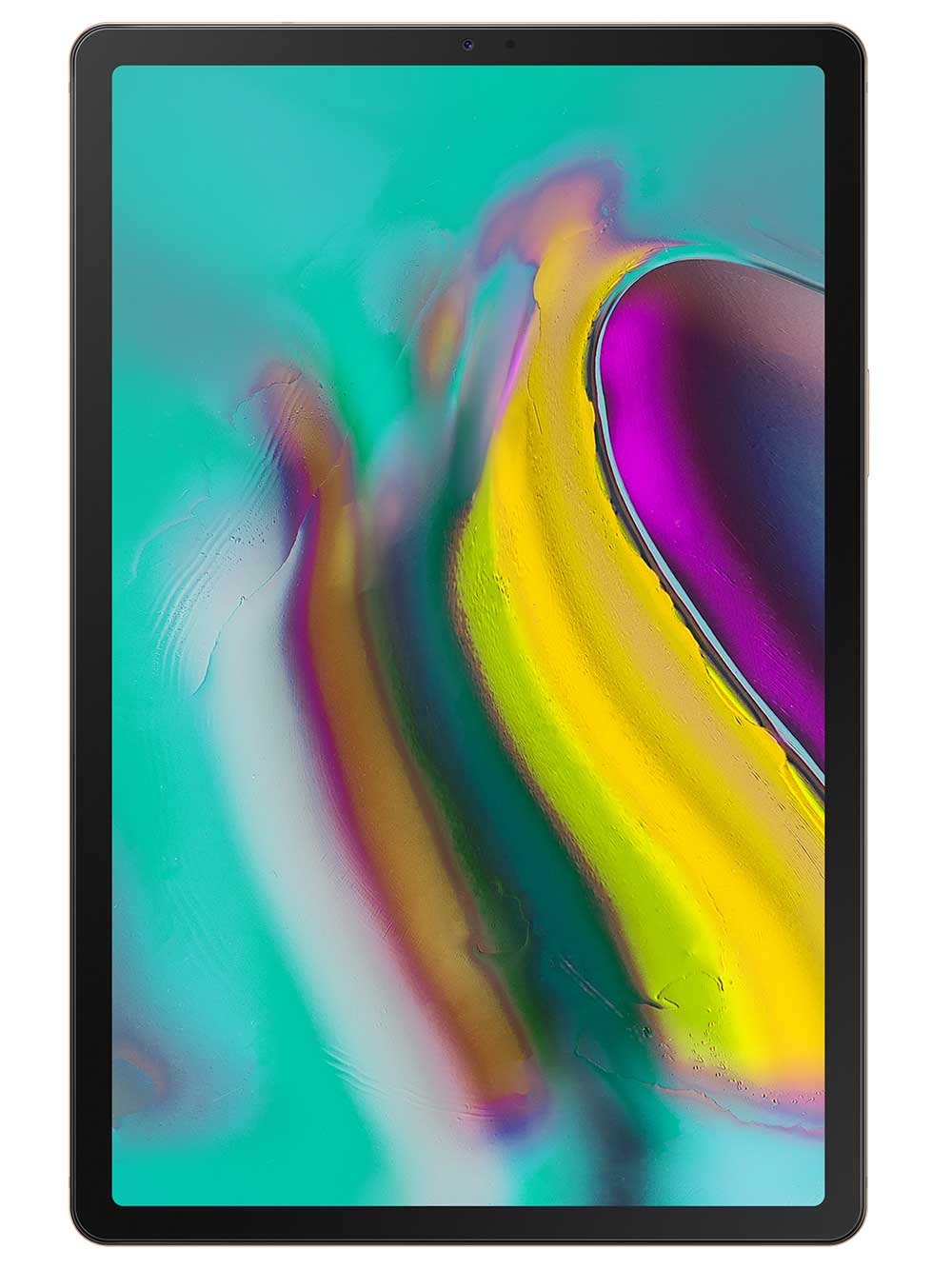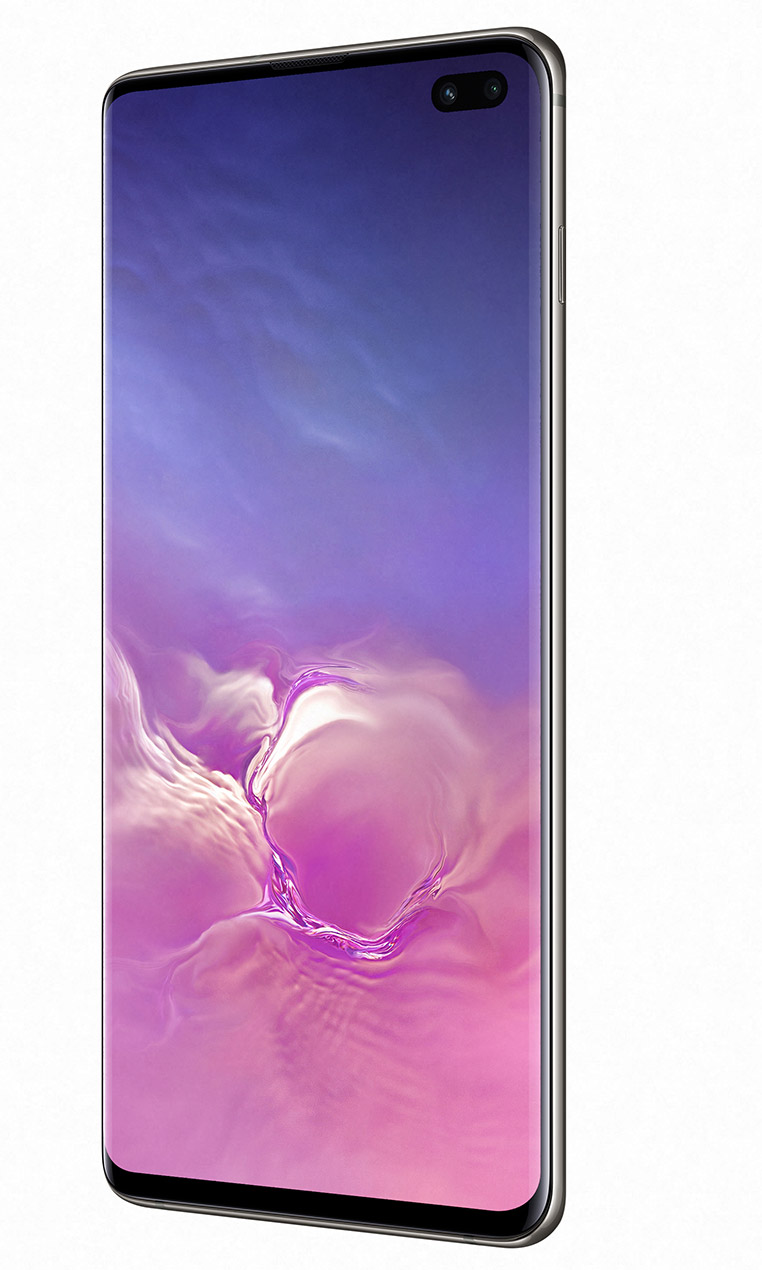 Galaxy Tab S5e and Galaxy S10+
If you're one who browses mindlessly on YouTube before deciding which video to stream, the Samsung Galaxy Tab S5e would work well for you. The tablet, released by Samsung early this year, comes with a 10.5-inch screen with a super AMOLED display, allowing you to view the utmost details in pictures and videos. Once you've a video that catches your fancy, click on screen mirroring to display the videos on the QLED 8K Smart TV for an optimal viewing experience. The tablet also functions as a smart system, allowing you to adjust the curtains and lightings for the perfect ambience.
Find the tablet a little too cumbersome? Not to worry. The Vault also hides the Galaxy S10+, a delightful device to hold in your hands. The 6.4-inch screen packs a punch; Full HD+ is the default resolution, and we're willing to bet that once you've used this smartphone, all other devices would pale in comparison.
Store: Samsung
---