Harry Winston, the King of Diamonds, offers the scintillation from an emerald-cut in this exquisite offering which merges romance, heritage and time
Embodying strength and sophistication in equal measure, the emerald cut is known to be a firm favourite of the American jeweller Harry Winston. Across all gemstone shapes it was his preferred cut from the moment he started the business. He was such an admirer of this classical gemstone cut that he insisted the gold-trimmed window displays of the company's Fifth Avenue boutique emulated the elongated rectangular shape with bevelled edges. The Harry Winston logo, too, evokes the simple but elegant lines of an emerald-cut stone.
It's a fascination and an obsession that continues to inspire the House to this day, providing a unique canvas on which some of the most spectacular time and jewellery pieces could be created.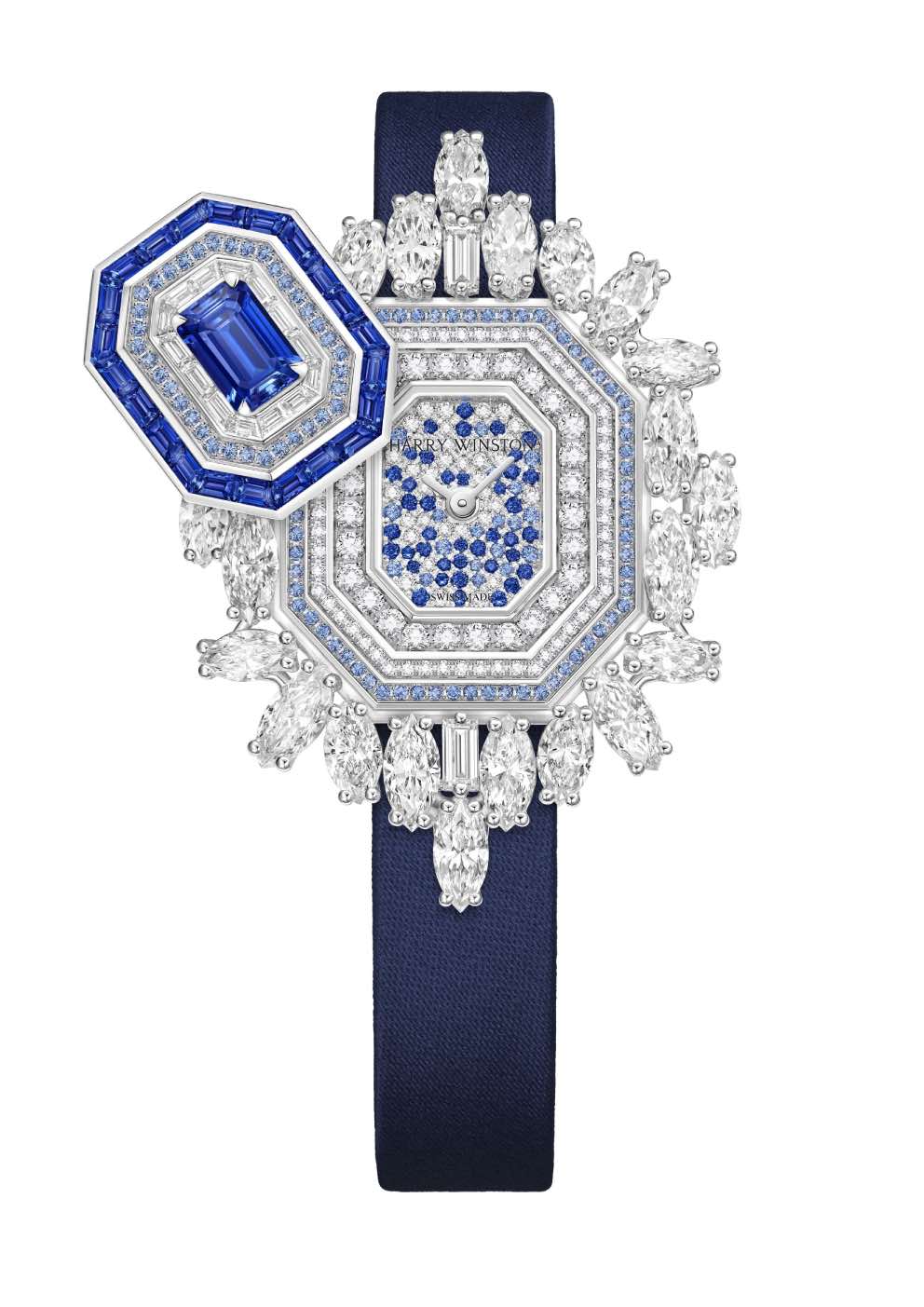 As a homage to this unique design identity, Harry Winston's latest high jewellery timepieces have bridged its founder's love for the emerald cut with its modern day watchmaking savoir-faire. The Ultimate Emerald Signature by Harry Winston combines the jeweller-watchmaker's two specialities in one mesmerising creation, with a surprise or two hidden from unsuspecting eyes.
Covered entirely with precious stones, this red carpet-worthy timepiece captures the magnificence of Harry Winston's high jewellery universe, reflecting the kind of megawatt glamour you'd expect to see at the Oscars, Cannes or the Met Gala. After all, in addition to being the King of Diamonds, Mr Harry Winston was also known as the "Jeweller to the Stars", appearing both on the red carpet as well as in the movies.
Naturally, the Ultimate Emerald Signature comes in an emerald-shaped case. Crafted in 18-carat white gold, it debuted in 2014 featuring a combination of brilliant and baguette-cut white diamonds in alternating rows, 24 marquise-cut diamonds arranged all around, while a single one-carat emerald-cut diamond took centre stage.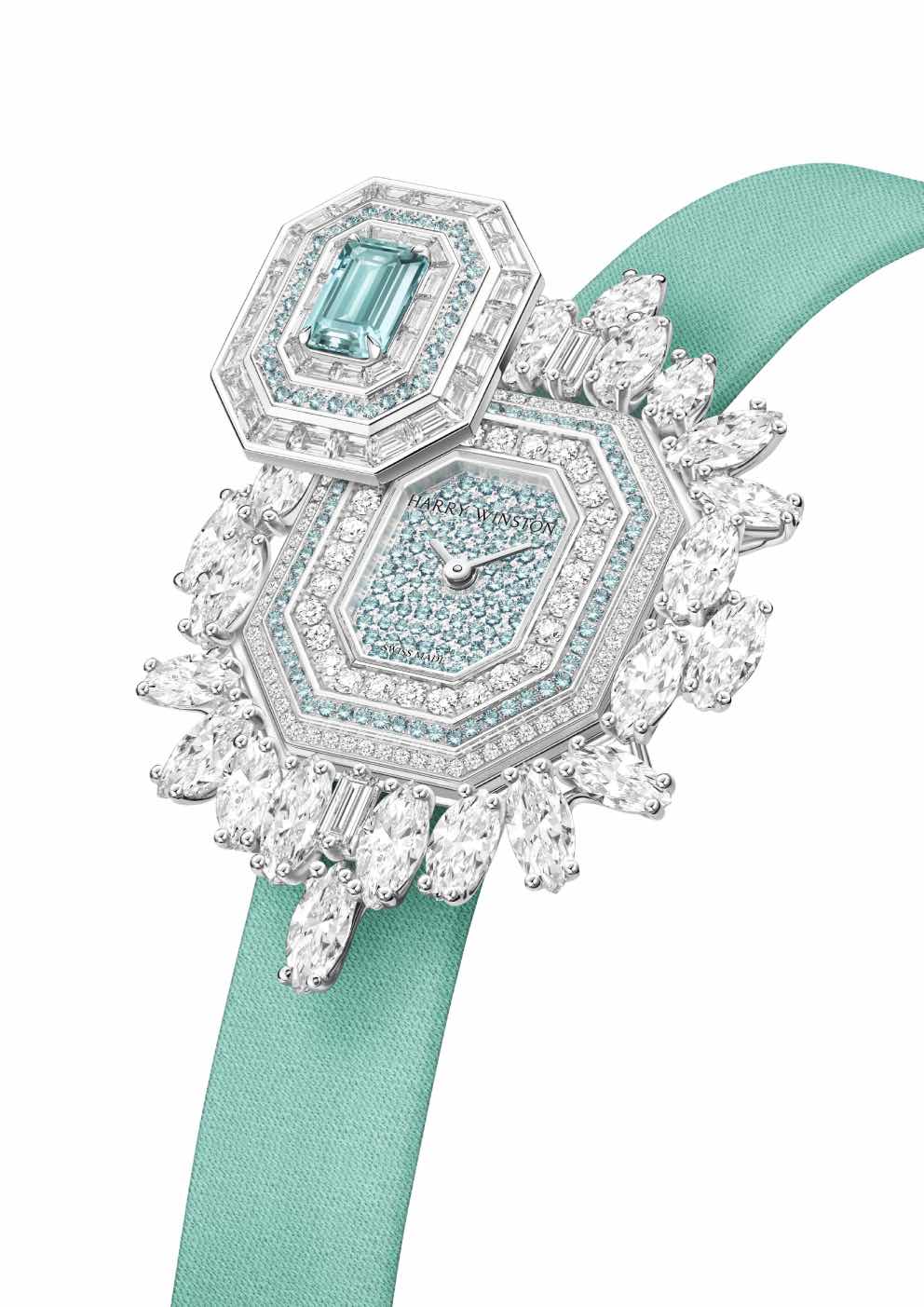 Harry Winston's gem-setting and jewellery-crafting finesse shines throughout this timepiece as the gemstones are set in tiers descending from the emerald-cut diamond centre stone, giving it a sense of volume and dynamism. With gold mounts kept to a minimum, the marquise stones also appear to be suspended around the case and arranged in various directions so that each catches the light at a different angle.
This sculptural design is faintly reminiscent of the iconic Winston Cluster motif, which goes back to the founder's belief that diamonds should dictate designs. By allowing the natural brilliance of the stones to take the lead, the pieces gained a voluminous, highly dimensional aesthetic, capturing light from all directions.
Then there's the house's watchmaking know-how that lets it reveal one of its surprises. Part timepiece, part jewellery piece, the Ultimate Emerald Signature is an object known as a secret watch – another nod to the 1930s.
Swivelling the upper part of the case reveals a hidden dial fully set with pavé gemstones that's meant to let you read the time with discretion. But given how much social norms have changed since the '30s, such a feature would more than likely be an excuse to read the time with fanfare.
Although if it's fanfare you're after, you'll be stoked to find out that there is more than one way to wear the Ultimate Emerald Signature – and we're not just talking about the choice of strap, for which there are two options, silk and satin. You could even go strapless as this watch is completely strap-optional.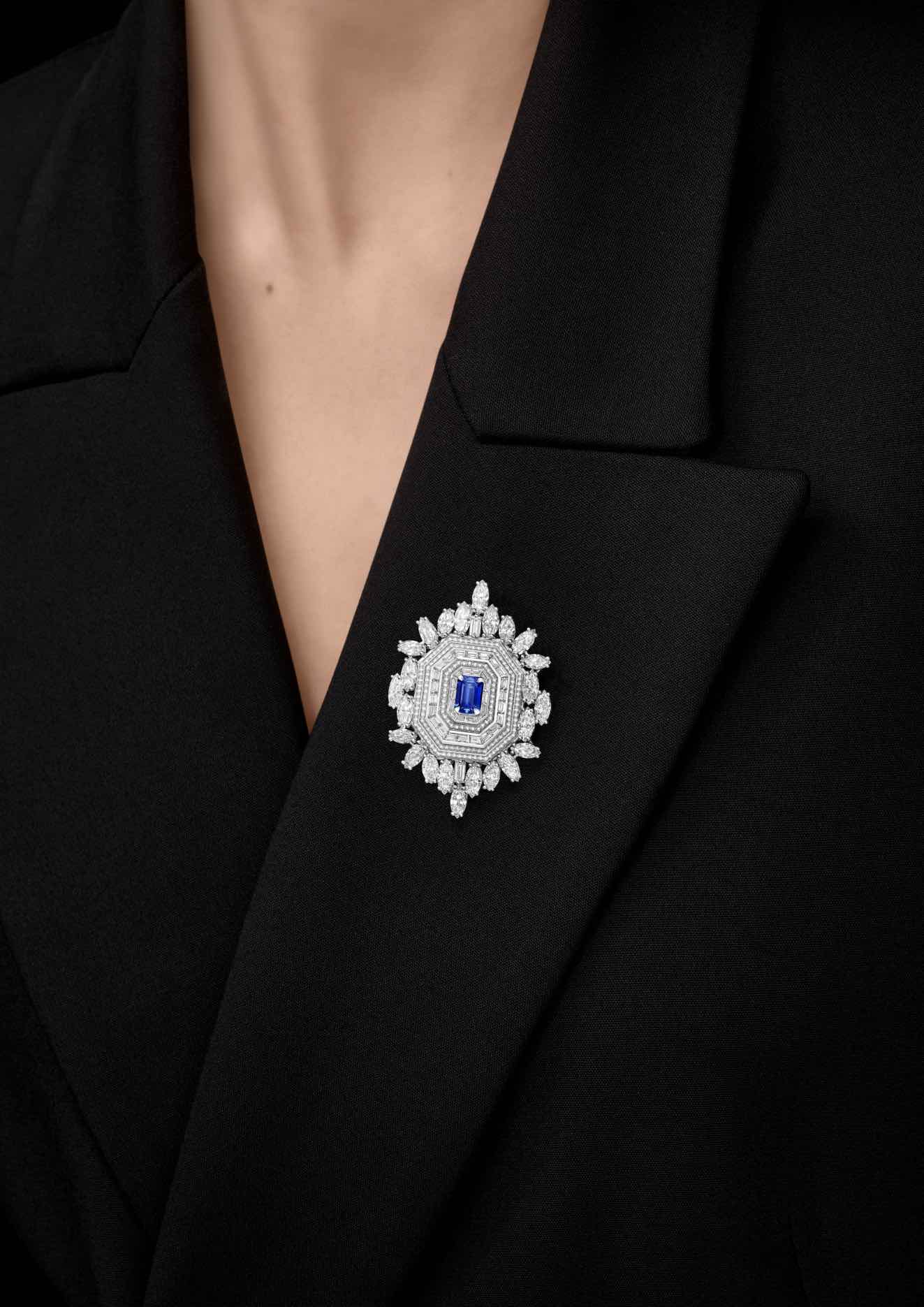 Put a gold chain through it and wear it around the neck, or wear it as a brooch to elevate a classic black dress or jacket. When the next Great Gatsby theme party comes round, make a flapper headpiece out of it.
Harry Winston's craftsmen poured over 100 hours of handcraftsmanship into setting all the stones. After pure white diamonds in 2014, the Ultimate Emerald Signature returns in 2021 with two new precious stones recalling Harry Winston's most treasured colour, blue. Many of the House's legendary gems were blue stones, including the most famous one of all, the Hope Diamond.
The new models feature sapphires and Paraiba-type tourmalines exhibiting multiple tonalities of different blues. From electric neon-turquoise hues to delicate light cornflower and rich, saturated hues of deep cobalt, all of them are accentuated by a backdrop of scintillating white diamonds, including the free-form marquise diamond halo. Instead of a diamond this time, sitting at the very top of that gemstone pyramid is an emerald-cut dark blue sapphire or Paraiba-type tourmaline.
In addition to the high jewellery Ultimate Emerald Signature, the House's love for the emerald cut extends to the Emerald Signature range, which is more sober in comparison but still very much a gem-set force to be reckoned with.
The eight-sided silhouette really gets the time of day in this watch, with alternating rows of brilliant blue sapphires and diamonds emphasising the numerous layers, lines and angles. These simulate the rectangular step-cut facets found in emerald-cut gemstones, which produce the dazzling 'hall of mirrors' effect that is proudly adored by Harry Winston.
Again, Harry Winston allows different tonalities of blue to intermingle, but also offers a choice of dark or light blue sapphire, both paired with dials in white mother-of-pearl. This piece can also be worn as a necklace but not a brooch.
The emerald cut means much more to Harry Winston than a way to file and shape precious stones. What started as a special affinity with the stone has gone on to help build one of the most incredible stories in the luxury jewellery world.
From that two-carat emerald a young Harry Winston handpicked at a pawnshop to legendary stones like the Stotesbury Emerald and the Rockefeller-Winston Emerald, this magnificent gemstone plays a starring role in the jeweller's history both past and present. Whether as a precious jewel, a watch case or a glass vitrine, the emerald always leads us to a most special place in Harry Winston's heart.
This story first appeared in the September 2021 issue. Purchase it as a hard or digital copy, or consider subscribing to us here