Shades of Passion
Maranello is, by most measures, a small town. With no more than 20,000 inhabitants, this commune in Emilia-Romagna, northern Italy, would be fairly anonymous among Italy's charming dichotomy of picturesque countrysides and contemporary urbanscapes if it weren't for a single name: Ferrari.
On a September weekend, the marque's 70th anniversary celebrations, centred at its Fiorano Circuit, saw Maranello painted red as Ferrari owners flooded into the town to celebrate their favourite brand.
RM Sotheby's Leggenda e Passione auctions had the Saturday, kicking off proceedings with art, memorabilia, toolkits and even rare Ferrari parts — an old carburettor crossed the block at one point. When the cars began to take the stage, there were all manner of seven-figure cars exchanging hands including a 1959 250 GT LWB California Spyder which notched €7 million (S$11 million) and another 250, this time a 1960 250 GT SWB Berlinetta Competizione, lifting the ceiling slightly higher at €7.35 million (S$11.71 million).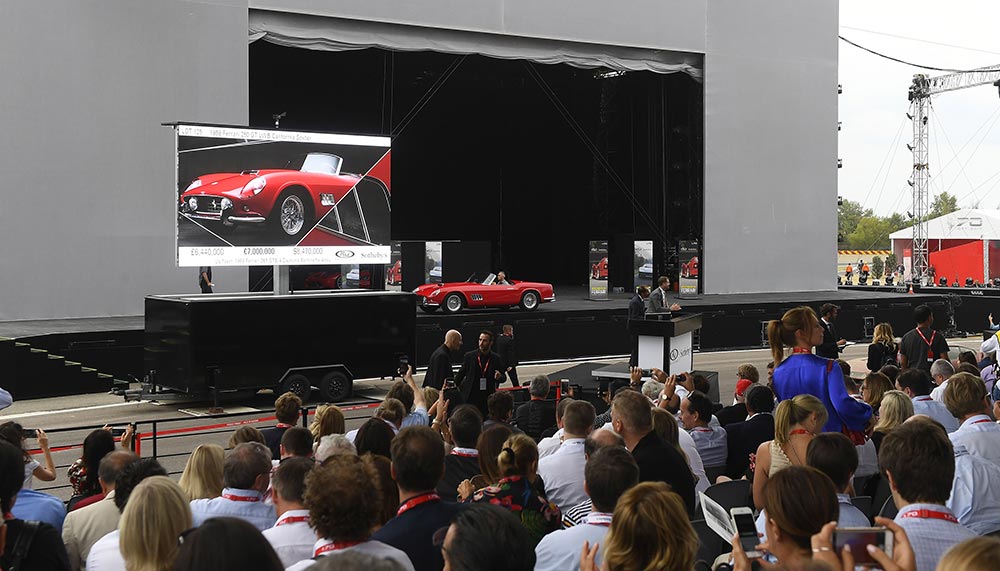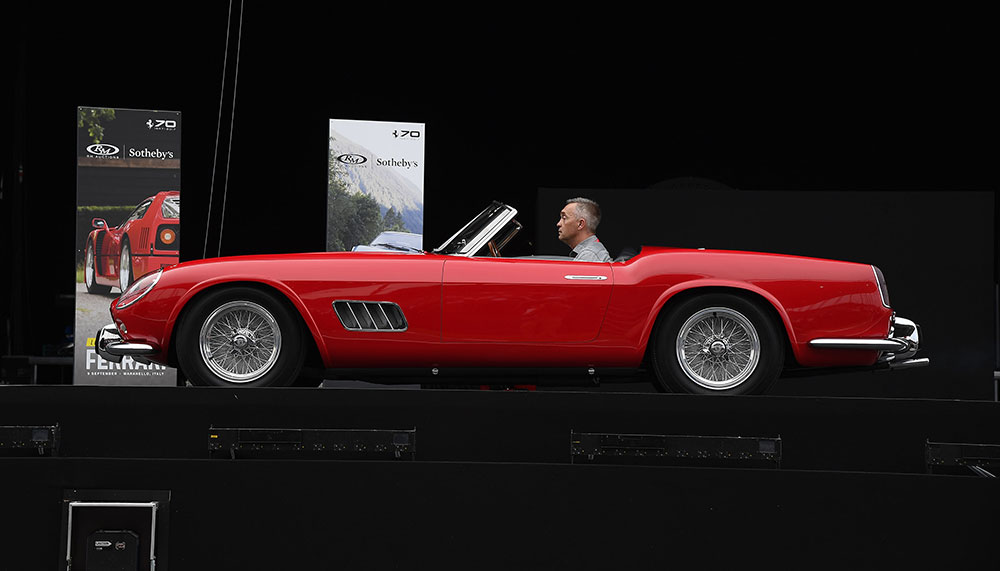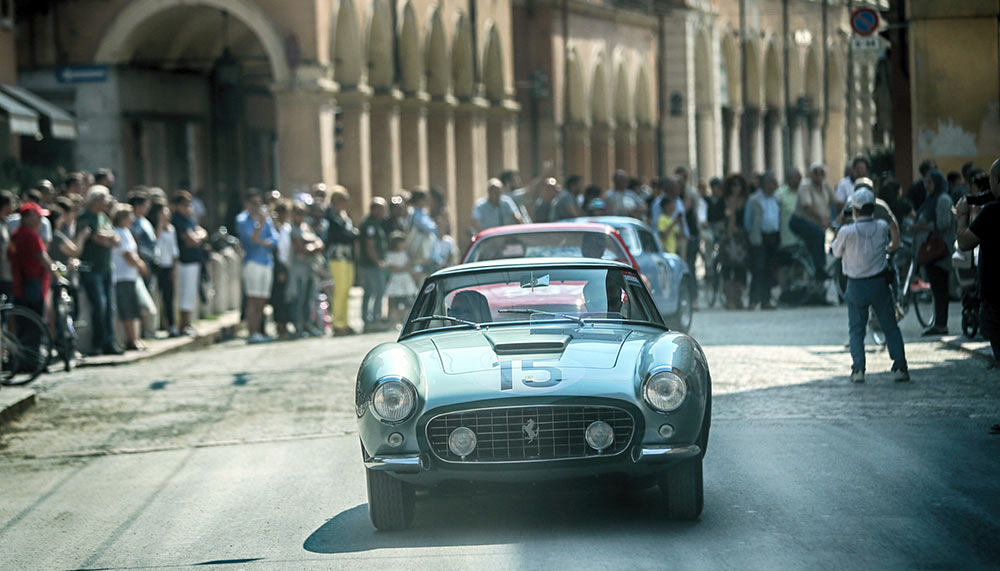 Newer cars were not left out, with an F40 and F50 closing at €950,000 (S$1.51 million) and €1.575 million (S$2.51 million) respectively. A black-on-black Enzo, the spiritual successor to the F50, was hammered down in excess of €2 million (S$3.19 million) — a figure not unexpected for its rarity and colour combination. There were even undrivable and non-road legal cars, including a half-sized wind tunnel model of an 812 Superfast which a buyer took at €500,000 (S$800,000) and a prototype LaFerrari which can never be registered for private use taking in €1.89 million (S$3.01 million).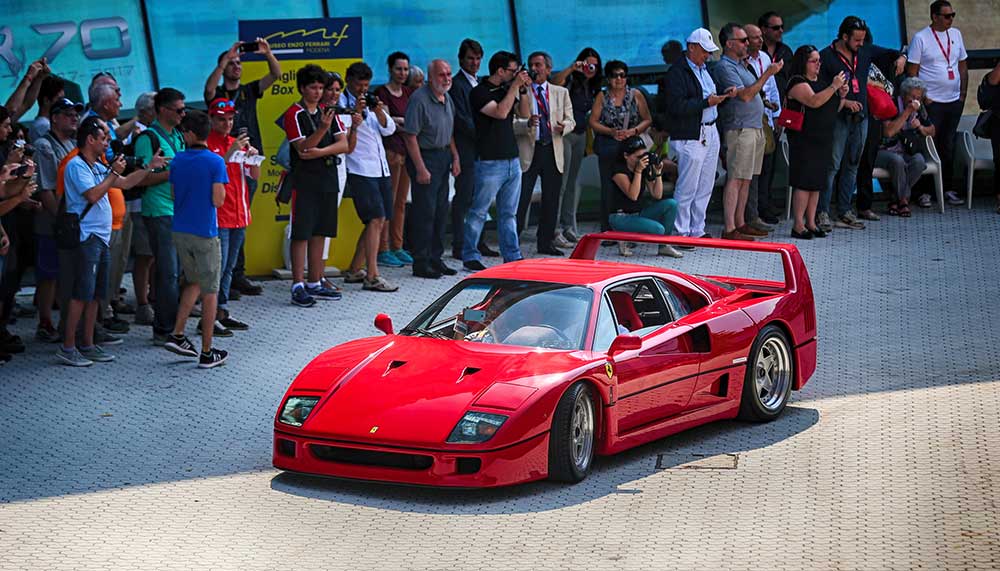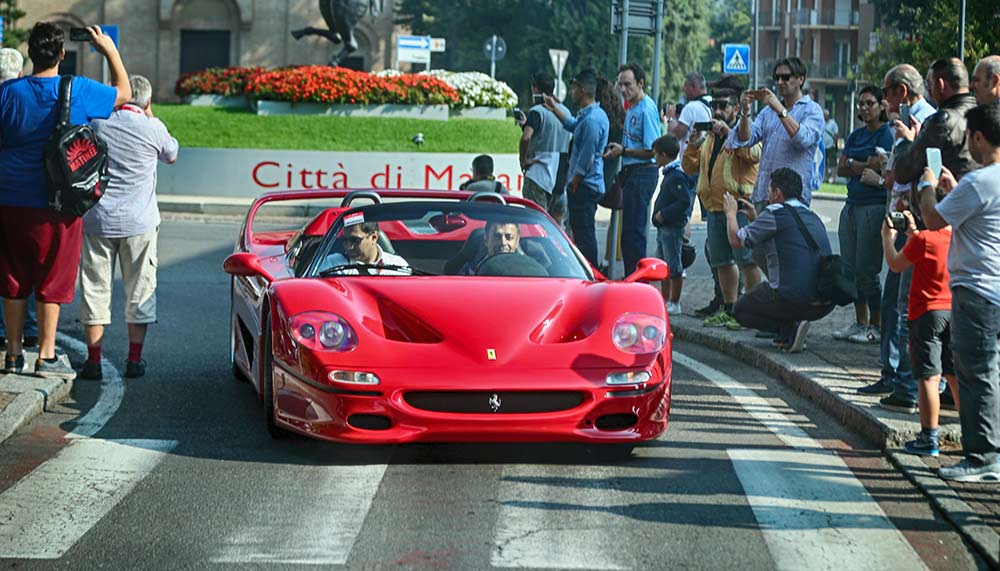 However, all these were but a build-up to the real star of the evening, the final production LaFerrari Aperta. Car number 210 was finished in Rosso Fuoco with Bianco Italia twin racing stripes, and specially commissioned for proceeds to be donated to the Save the Children education charity programme. Initial estimates, even from within Ferrari, were that the car would hit a possible €5 million (S$7.96 million). By the end of the evening however, a dramatic last-second bid saw Fiat Chrysler Automobiles CEO Sergio Marchionne in a fervent discussion on the phone with a bidder, arm outstretched to hold off the auctioneer from bringing down the gavel.
Ultimately, the call proved unsuccessful and Marchionne waved him on. The final figure was an astounding €8.3 million (S$13.22 million), made all the more special by its munificent objective.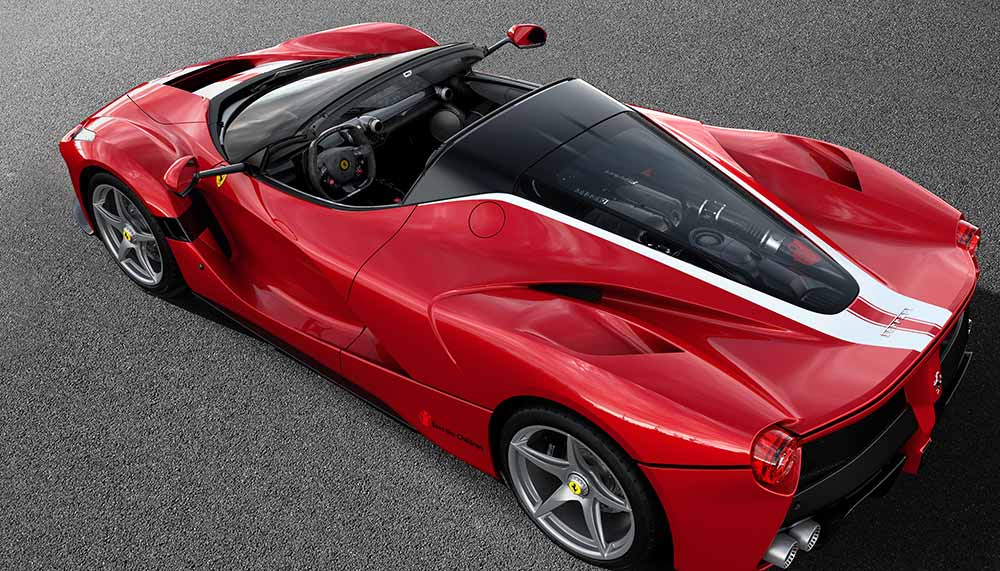 Of the presentations, guests were treated to a rousing video montage of Ferrari 70th anniversary celebrations around the world. The skies opened up at this point, feeding the mood somewhat as actors played out scenes from the life of Enzo Ferrari.
The first Ferrari, the 125 S, and LaFerrari made appearances, along with many other icons in between. Rains did nothing to ebb the energy of the crowd of cognoscenti, with lightning adding electricity to the performances.
Even Ferrari's current Formula One aces, Sebastian Vettel and Kimi Raikkonen, made appearances — reminding the crowd that top-level motorsport is where Enzo's career began. Of course, there was no need to look further than the front row for this, where Marchionne sat with no less than Jean Alesi and Niki Lauda; in the same company were former Ferrari CEO Jean Todt and current Scuderia Ferrari F1 team principal Maurizio Arrivabene.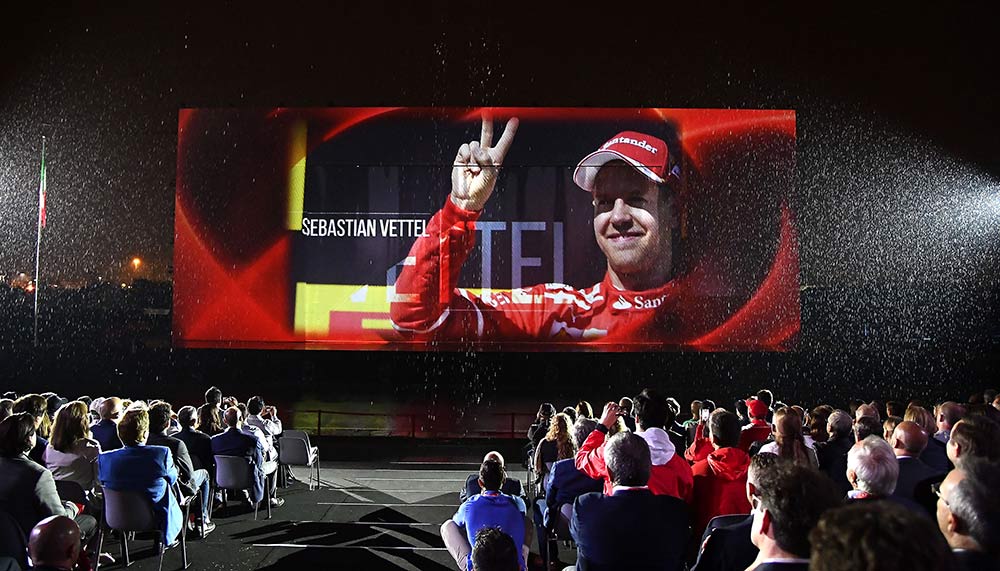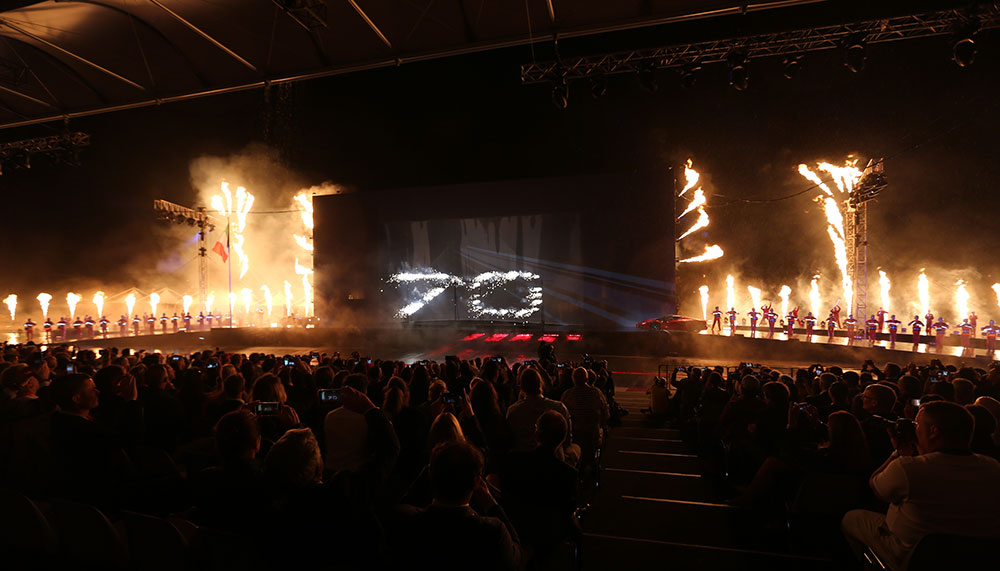 The Sunday was saved for the Concours d'Elegance. There were F40s as far as the eye could see, including at least one F40 Competition. In other motorsport examples, there was a perfectly running 333 SP, a car that marked the return of Ferrari to sports car racing after two decades of absence, and a ferociously loud 412P owned by Harry Yaeggi. Only four were built of the latter, and just two of those were original builds and not conversions.
Across the lawns that shouldered the famed test track, all manner of Ferraris awaited their turn to be judged. A gratuitous line of 288 GTOs showed homologation specials which never raced, boxer-engined steeds in the form of the 512, a smattering of Dinos and even four-cylinder 750 Monzas with Mondial and TRC variants of the 500. In 118 cars spread over 20 categories, the stars that usually shine the brightest were not in short supply, the legend that is the 250 was present as California Spyders, short- and long-wheelbase Berlinettas and even a 250 GTO — a 1962 example of this currently holds the automotive auction record at over €32 million (S$51 million).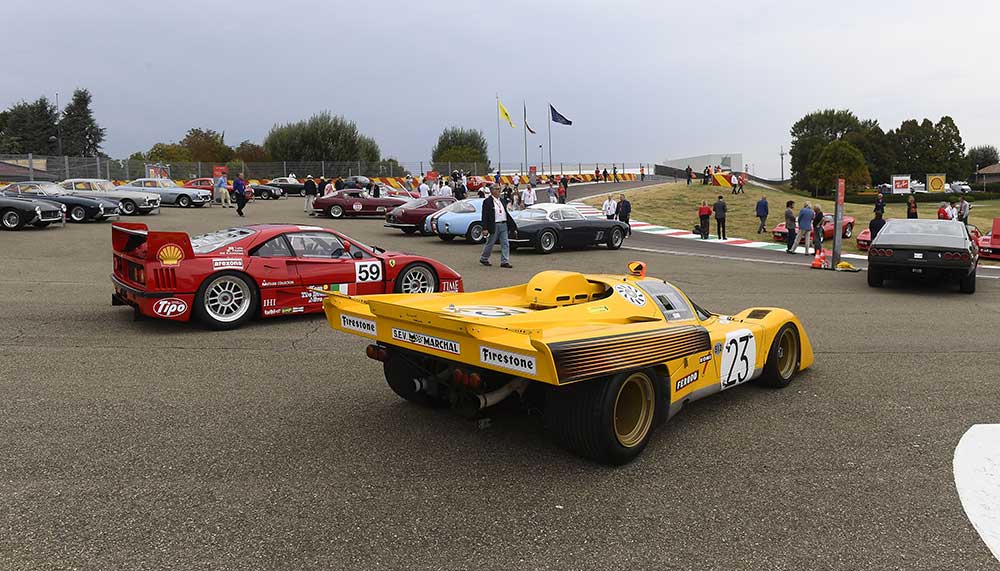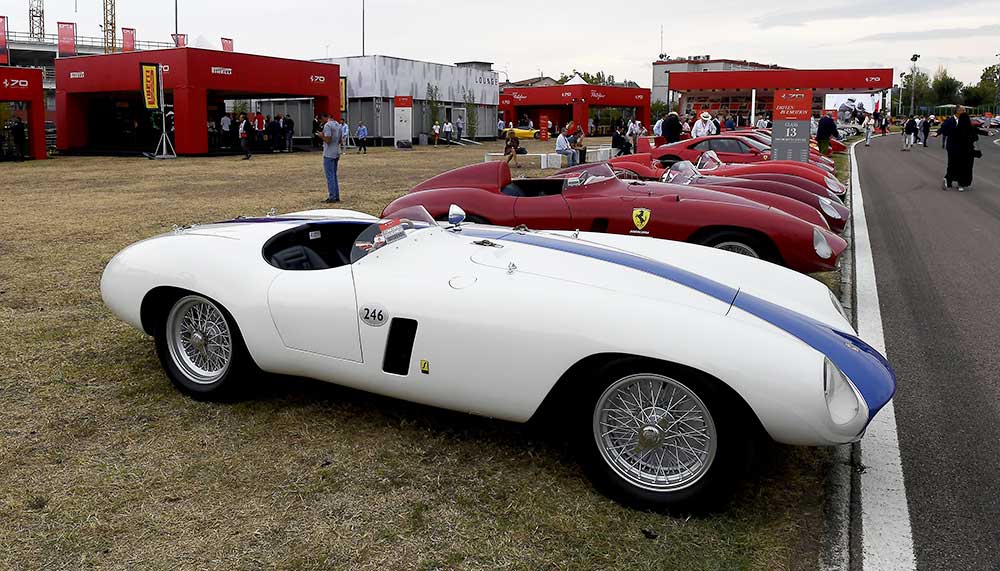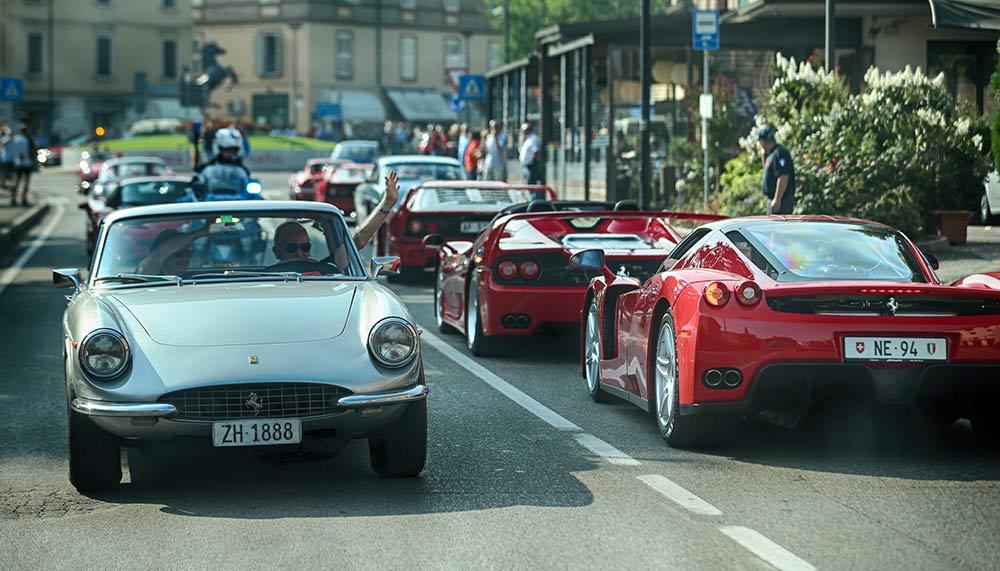 In the midst of these classics of course, the present and future of Ferrari was not left out. A selection included the 488 in both Spider and GTB guises alongside an 812 Superfast. Separately, a lone white Portofino, the replacement for the hugely successful California T, sat in a special display.
Emotion is an oft overused word whenever the topic of Ferrari is at hand, but perhaps there is no car company that can claim to engage or inspire more of it. From the elation of picking up silverware during the concourse to the heartbreak of a particular 288 GTO that suffered a breakdown and couldn't make it to the stage.
From warm incredulity at Aperta #210's winning bid to a general feeling of steadfast camaraderie surrounded by like-minded Ferrari enthusiasts from every background imaginable.
If these past 70 years are anything to go by, the next 70 are sure to be just as special for this richly-colourful, enduring marque of automotive passion.