Chef-owner Mitsutaka Sakamoto has brought a lot of his native Japan with him to the newly opened Ikkagoyo on Amoy Street
Attention to detail is in abundance at the newly opened kaiseki restaurant Ikkagoyo. Located on Amoy Street, right by Gemmill Lane, the intimate space is helmed by chef-owner Mitsutaka Sakamoto, newly transplanted from Japan, where he for over 20 years honed his cooking at high-end ryokans.
For starters, the bar counter that seats eight is crafted from 100-year-old Yoshino cypress; the woven bamboo ceiling by wicker craftsmen from Japan; the handmade chairs by Japanese carpenters; and even the calligraphy centrepiece, courtesy of Kyoto artist Reiko Rai.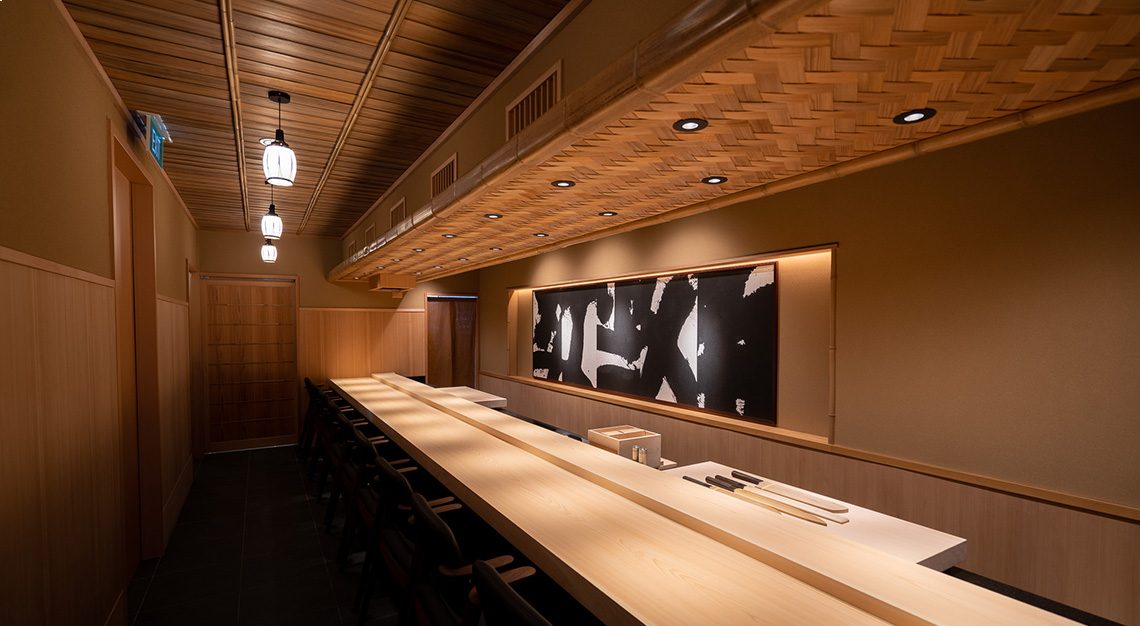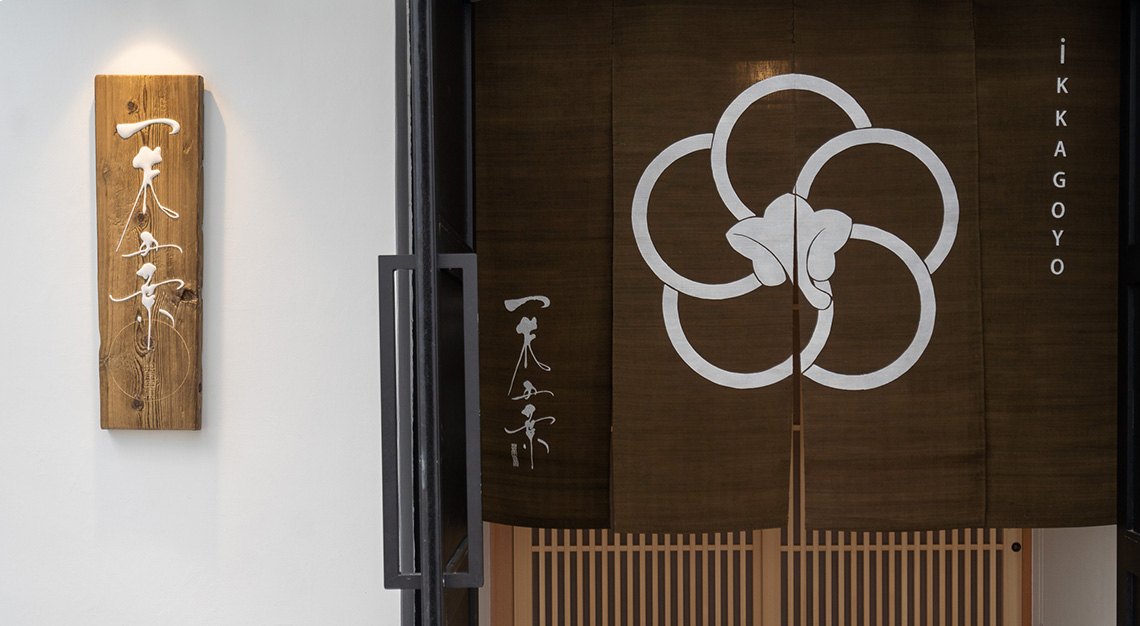 Ikkagoyo is Sakamoto's first big move out of his home country and with that, he's faithfully brought a lot of Japan with him. Meals start with a selection of chopsticks crafted by speciality Japanese makers, of which you can bring home. At present, Ikkagoyo offers a 12-course menu (S$338, before drinks). It's available for lunch reservations, but the intricacy and detail of these courses, prepared à la minute, are better taken as an unhurried dinner.
The form of cooking here is kaiseki, a traditional Japanese mode of haute cuisine. It's extremely seasonal, and Sakamoto has begun his run of Ikkagoyo with a spring menu. Like the decor and interior, every ingredient and element—save for a handful of French indulgences like truffle and cheeses—is carefully sourced and imported from Japan. Even the wines, such as the merlot and chardonnay, come from wineries in France, but are owned and run by Japanese vintners.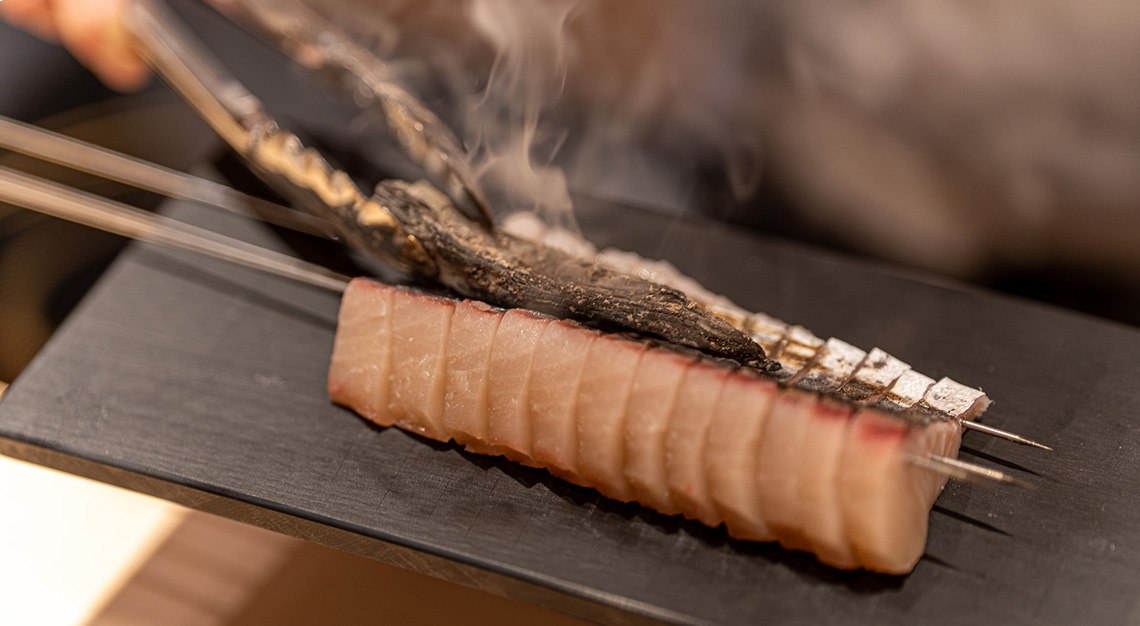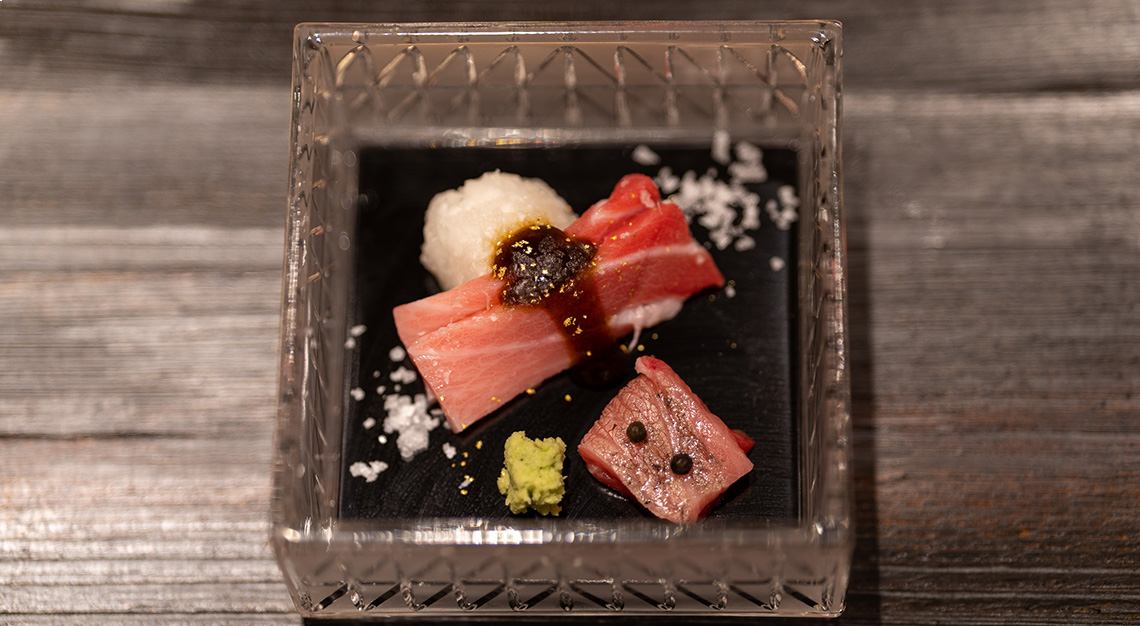 The 12-course menu follows a fairly traditional rhythm. It opens with mild appetisers. There's a refreshing chilled mix of ikura paste, rapeseed flowers, silky yuba beancurd skin and lightly stone-grilled tairagi, or Japanese pen shell. Which is followed by a warming rice dish topped with herbaceous fukinoko butterbur buds.
The food moves into heartier territory with a Dashi Broth course—soft, flaky sea bream with freshly shaved skipjack and bluefin tuna bonito flakes. Next is a seafood two-parter: Spanish Mackerel, the skin crisped aburi-style with a hot piece of charcoal; and Raw Otoro topped with an addictive kombu shoyu and tart daikon.
You'll then experience a run of courses that really showcase seasonality. The traditional Hassun Platter is presented with a flourish: a lit candle is put to washi paper to burn away and reveal a trio of seasonal dishes. Next, a medley of greens from Shizuoka cooked in different ways.
There's an interlude by the seventh course, where Sakamoto shows off some inventiveness. There was, for example, a roll of buckwheat flour presented with glistening Oigawa eel, almond cream cheese and black truffle for you to roll into a piece of sushi. It's the only course with overtly non-Japanese ingredients, and it serves mostly to nip any possible (though unlikely) sense of purist monotony in the bud.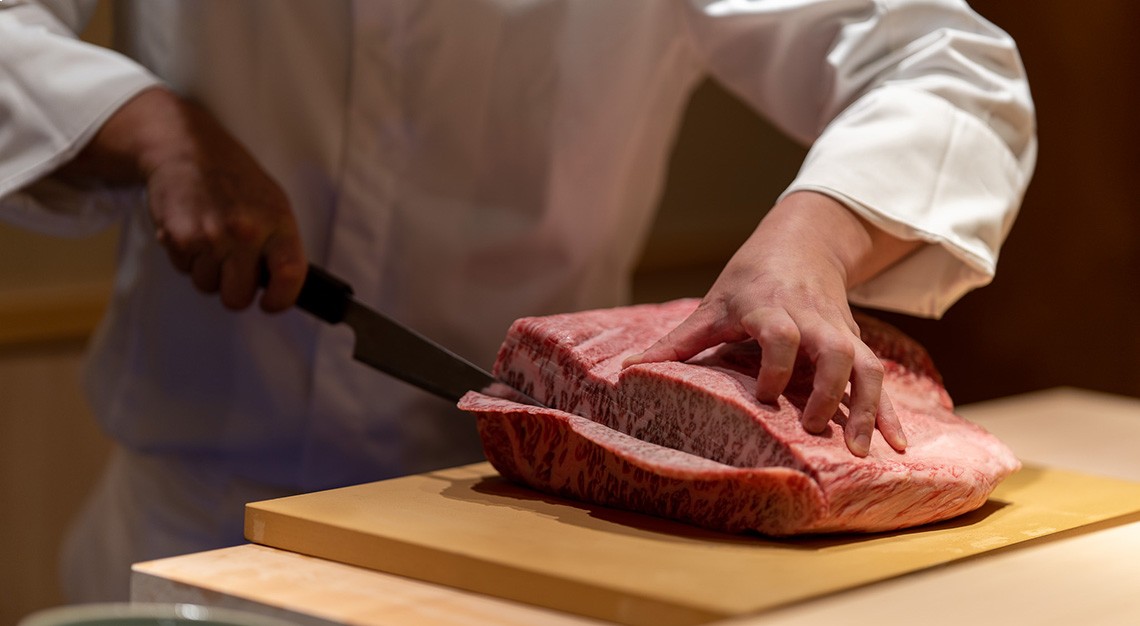 After that, tradition resumes. These courses really showcase Sakamoto's ability to cook beautiful, delicate, refined food. There's a hand-stretched Udon dish with uni, served with a lightly zesty and utterly delicious dashi soup. Then, A5 Wagyu—cooked in a katsuo dashi soup in the style of sukiyaki and shabu-shabu—served simply with an egg yolk and a nutty sauce made from sesame, walnut, almond and cashew. It's divine.
The meal then closes with an option of three rice dishes. These are meant to highlight the Hyogo prefecture and the speciality Konotori-mai organic rice from the region. The restaurant, in fact, removes the husks of the rice daily to preserve its freshness. The three options include: Raw Egg and Katsuoboshi (skipjack tuna flakes); Maguro Sashimi; and sizzling Beef Tendon and Brisket. The brilliance of all three dishes lies in the understated cooking, which allows the fantastic ingredients to speak for themselves.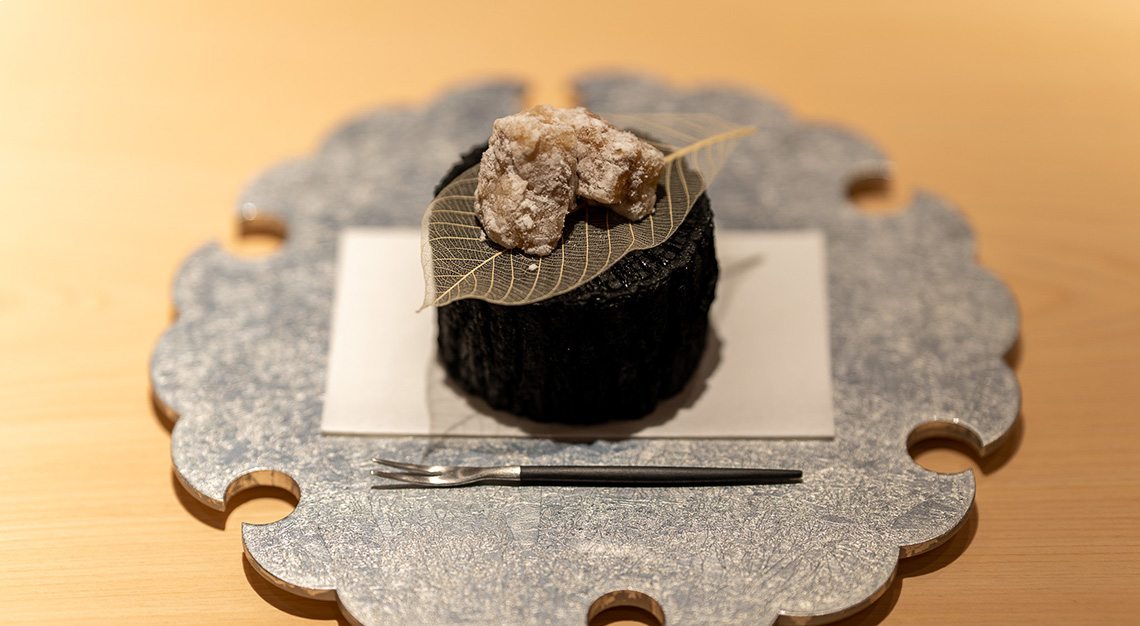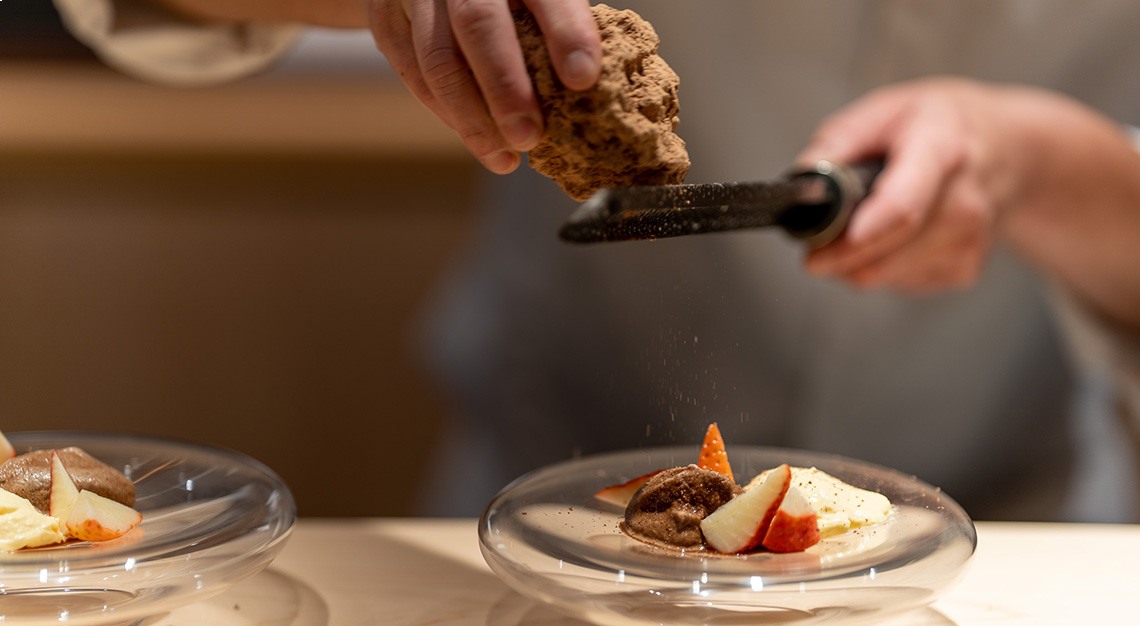 To finish, Ikkagoyo offers two desserts. There's an innocuous-looking but wonderfully earthy bit of Amazonian cacao and custard; and a handmade shiroi warabimochi, made with coconut milk, and served with walnuts and coconut milk powder—a parting nod, perhaps, to a local flavour.
The food and experience at Ikkagoyo are ideal if you're after something refined and cultivated. As is the wont of kaiseki menus, courses get switched out or updated according to seasonality and the availability of ingredients. But at its core, Sakamoto and Ikkagoyo make a worthy and exquisite claim of Japanese authenticity that's well worth checking out.
ikkagoyo
115 Amoy St,
01-04,
Singapore 069935
Tel: +65 8457 8732