Strap On, Strap Off
With these interchangeable straps, you can literally dress your wrist.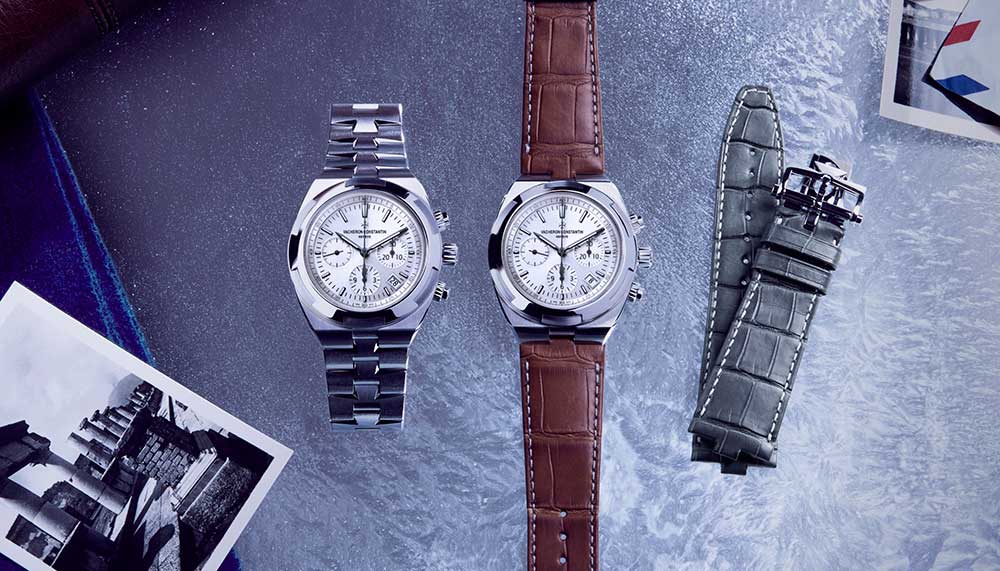 Vacheron Constantin
The Overseas collection by Vacheron Constantin went through a facelift in 2016 and the new pieces have emerged with more refined angles and new features. All the new watches come with interchangeable straps or bracelets, which can easily and quickly be switched for another. Depending on the specific model, the timepiece is delivered with two or three different options, from bracelets in steel or gold to watch straps in leather or rubber.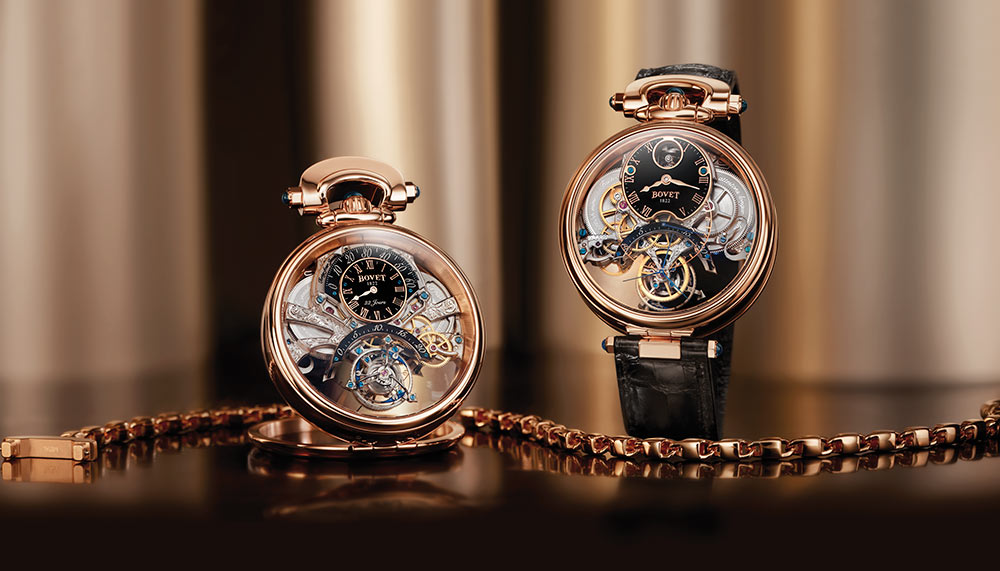 Bovet
Convertibility is the cornerstone of Bovet's Amadeo collection, where a wristwatch can transform into a pocket watch, which in turn can transform into a desk clock. The watch's lugs are endowed with a spring-loaded catch. By simply squeezing the cabochon sapphires, the straps are released and the wearer can either attach the case to a matching gold chain to use it as a pocket watch, or unhinge the hunter caseback and use it as a desk clock. Complications are a passion at Bovet, as is hand-finishing and classical movement decoration.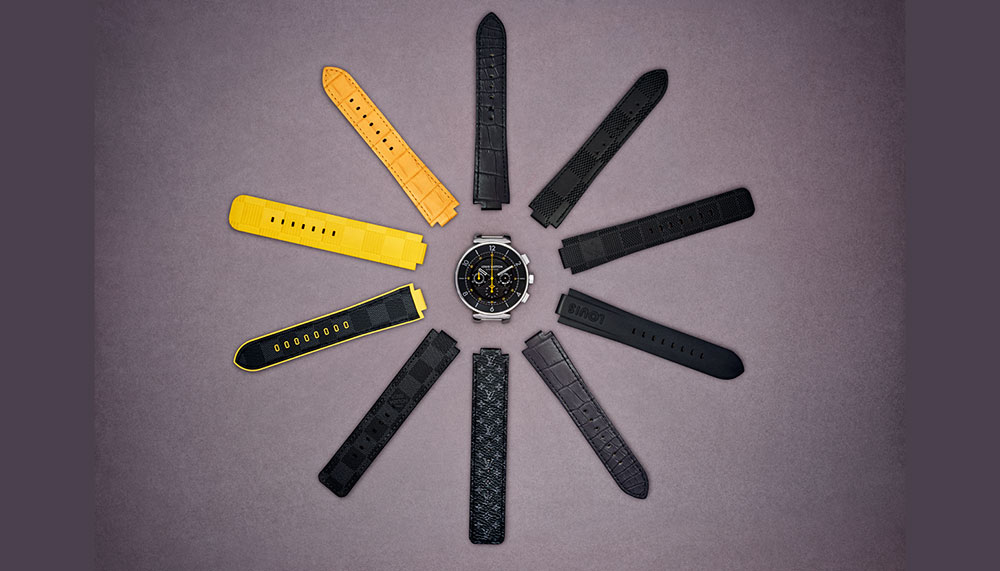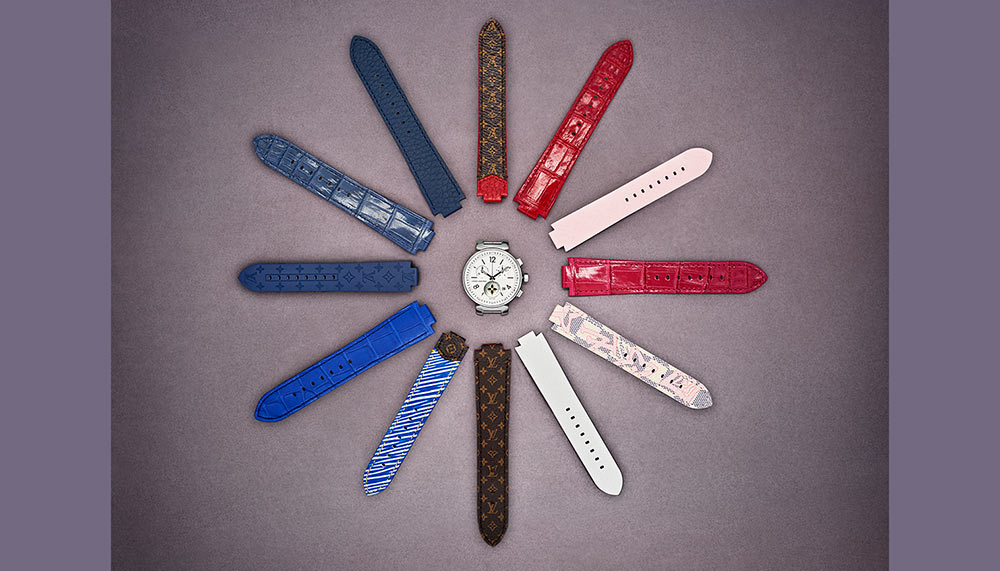 Louis Vuitton
The Tambour Moon is the second-generation version of the iconic Tambour, but there are no models proffering the moon phase complication. This new collection includes masculine and feminine models and is designed to allow for maximum personalisation. Louis Vuitton has created a smorgasbord of exciting watch straps featuring the maison's signature codes like the LV monogram. Even classic styles like crocodile leather or rubber are available over a wide spectrum of colours, textures and patterns.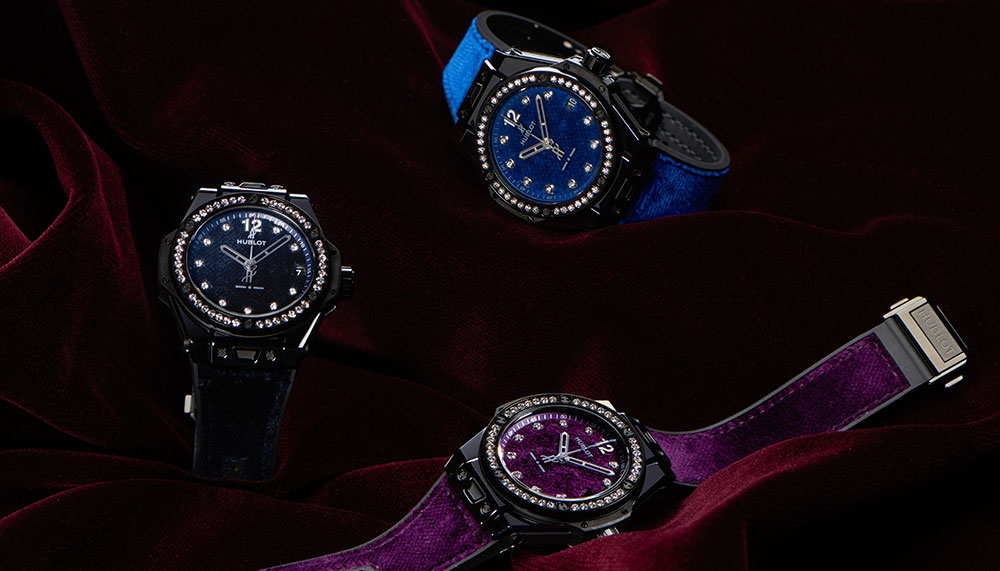 Hublot
A number of Hublot's collections have been created to be compatible with its famous One-Click patented interchangeable strap system. While Hublot was one of the first brands to offer the possibility of multiple straps per watch, not every collection or timepiece offers this feature. The Big Bang One-Click Italia Independent combines modern watchmaking codes like black ceramic with lush, smooth velvet and of course sparkling diamonds. Three variations have been introduced – midnight blue, electric blue and royal purple – and they are compatible with existing One-Click straps in the same size.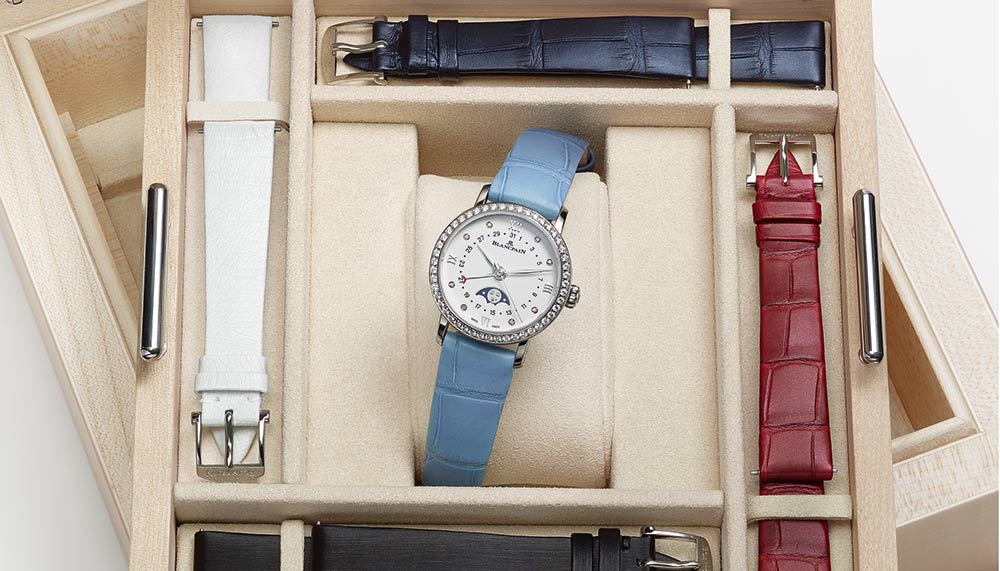 Blancpain
Feminine timepieces by Blancpain are always somewhat different from those made by other manufactures, which is why they're so greatly revered by women watch connoisseurs. The Villeret Quantieme Phases de Lune is no exception. Look closely at the moon and you will notice that its face resembles that of a beautiful woman. The manicured brows and long lashes imbue the moon with an unmistakeable feminine touch, while the coquettish beauty spot at the corner of the smiling mouth is a throwback to beauty traditions in 18th-century Europe. And since it's all about appearances with this watch, it comes with a set of five interchangeable straps: three in alligator leather, one in white ostrich leather, and one in black satin.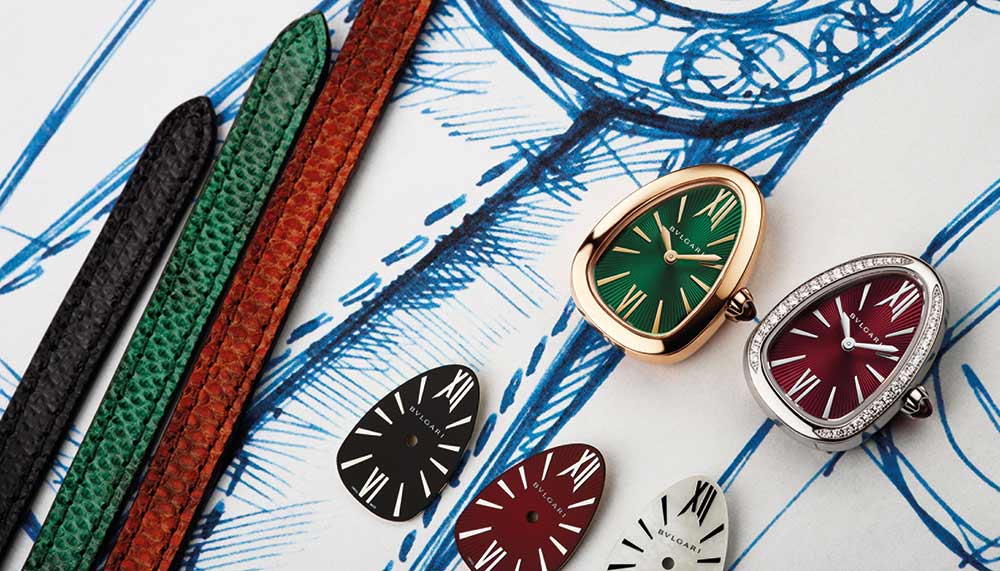 Bulgari
The case size of this quartz-powered watch had been astutely reduced and then paired with ultra-slim leather straps designed to loop around the wrist twice. The sheer variety of colours and leather type, as well as case material, dial colour and diamond setting would definitely get you hooked.
Bulgari has even commissioned an app just to help customers navigate through the infinite permutations and visualise their chosen design. Switching from strap to strap is a breeze with the spring-loaded catch on the underside of the strap. The host of exotic skins includes Karung leather, which is derived from a non-venomous water snake with slightly larger scales than ordinary snakeskin.